Are you tired of searching for the best shoes to wear with your orthotics? Look no further than Gravity Defyer Shoes called GDEFY. These shoes are designed with custom orthotics in mind, providing the support and comfort you need for all-day wear.
Read more to discover why these are the best shoes to wear with your orthotics and why you NEED a pair!
*This post includes my affiliate links
These Are The Best Shoes To Wear With Orthotics!
These shoes help relieve knee pain, foot pain, and so much more because they have awesome shock absorption. It almost feels like you are walking on a cloud they are SO comfortable.
Now you don't have to search high and low for the best shoes to wear with orthotics! One less thing to worry about if you have foot pain, right???
These shoes are great for not only supporting your feet and ankles but also are good to wear if you have plantar fasciitis, shin splints, flat feet, heel pain, high arches, and good arch support. These are the right shoes for you and the type of shoe you would need for extra support.
One of the reasons why GDEFY shoes are the best for orthotics is their unique VersoShock® Trampoline Technology. This patented technology absorbs shock and reduces impact on your feet, ankles, and knees, making them ideal for those with foot pain or other foot conditions.
The VersoShock® technology also helps to reduce fatigue, allowing you to stay on your feet for longer periods of time. These shoes are a great choice for people with jobs where they have to stay on their feet for an extended period of time like doctors, nurses, school teachers, etc.
My Son Loves His Comfy Athletic Shoes
My son received a pair of these shoes. He received the Men's GDEFY MATeeM Athletic Shoes in black (this shoe comes in 7 different colors to choose from) and they come with a free pair of Corrective Fit Orthotics!
And, this was just in time because he was injured in a football game a week ago. These shoes help to alleviate his knee pain by absorbing all of the shock in the shoes. He is able to walk around more easily than he would without these shoes.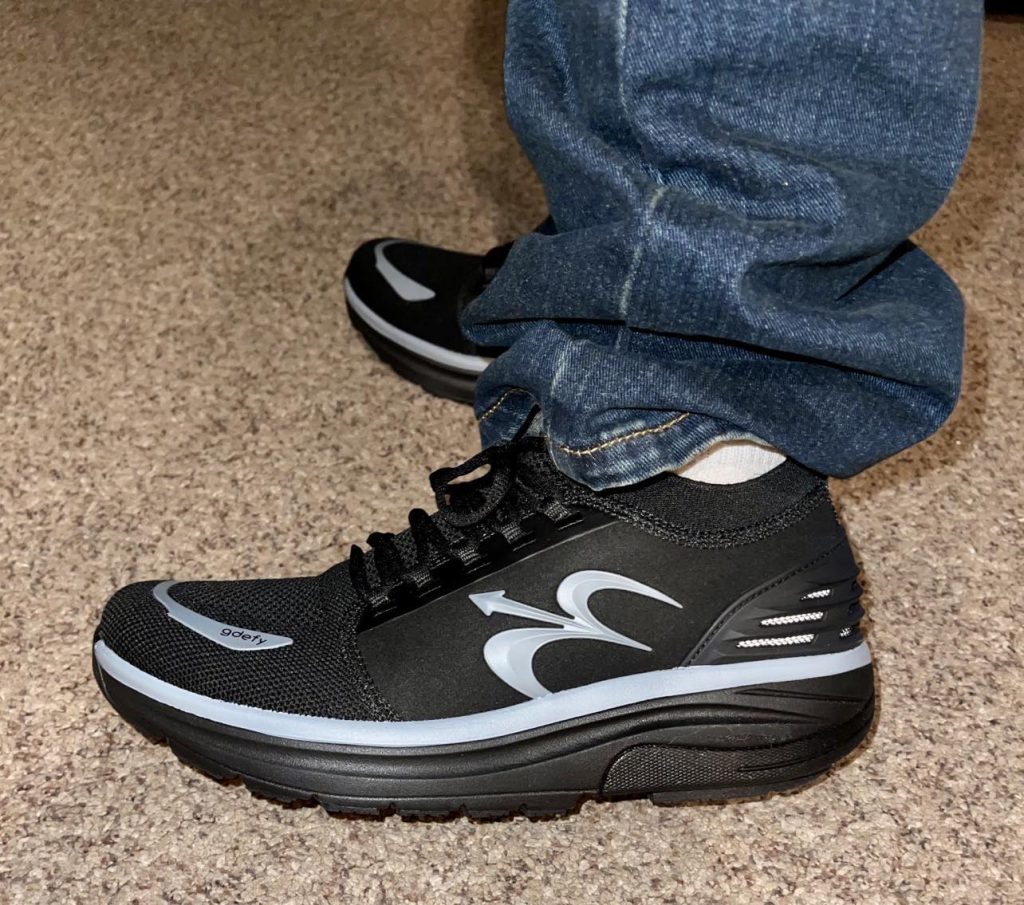 He also said they are so comfortable and have extra space in them. So I imagine these comfortable shoes would be a comfortable fit for any foot type (wide fit shoes and for people with narrow feet as well).
You can purchase many styles of these shoes in Medium width, wide widths, and extra wide widths. However, the athletic sneaker my son received only came in the medium width which was perfect for his feet and the perfect fit for him.
The MATeeM is a shoe designed to perfection, offering full-sole shock absorption, protection, energy return, and stability whether you are walking or running. It is equipped with patented VersoShock® technology (see what that is, in the video below!).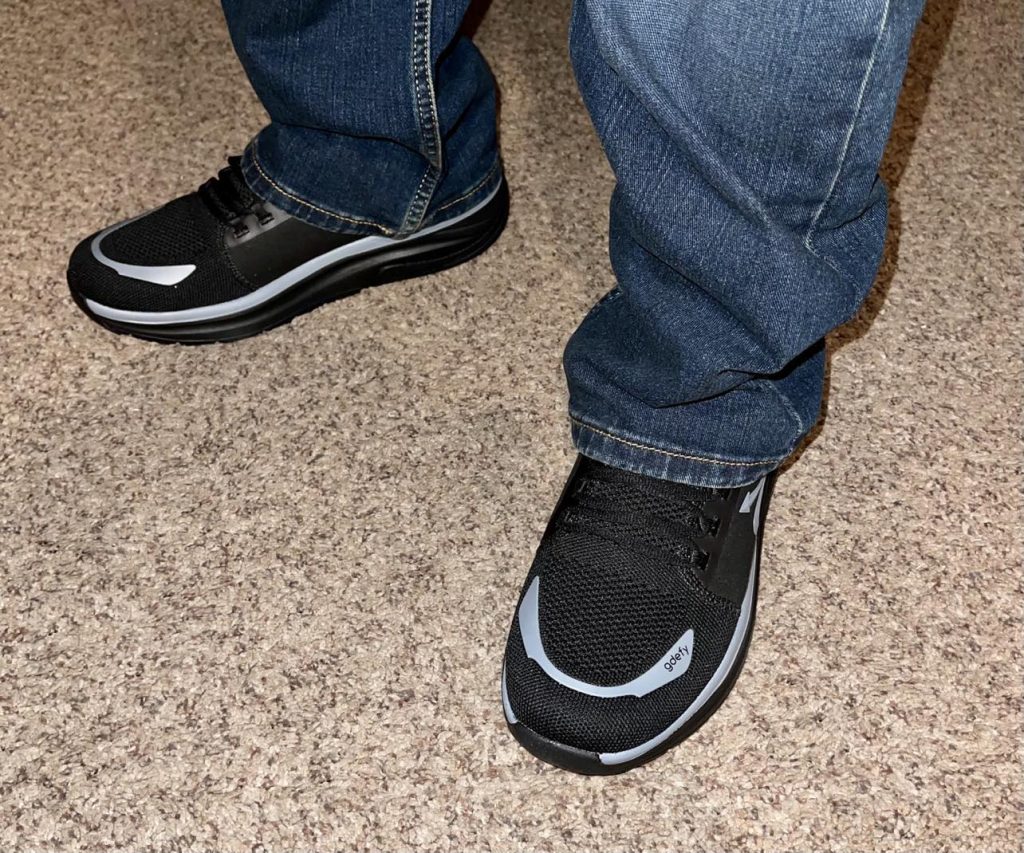 These cross-trainer, orthotic-friendly shoes are built to last, providing motion control and longevity. The exclusive multi-density polymer VersoCloud® spring cell sole and the patented VersoShock® technology combined together, create an unparalleled pain-relief shoe (which is SO important for my son right now!).
The GDEFY MATeeM shoes have a unique technology that no other shoe has. It has the best shock absorption, pain relief, and protection for various foot conditions, compared to any other shoe.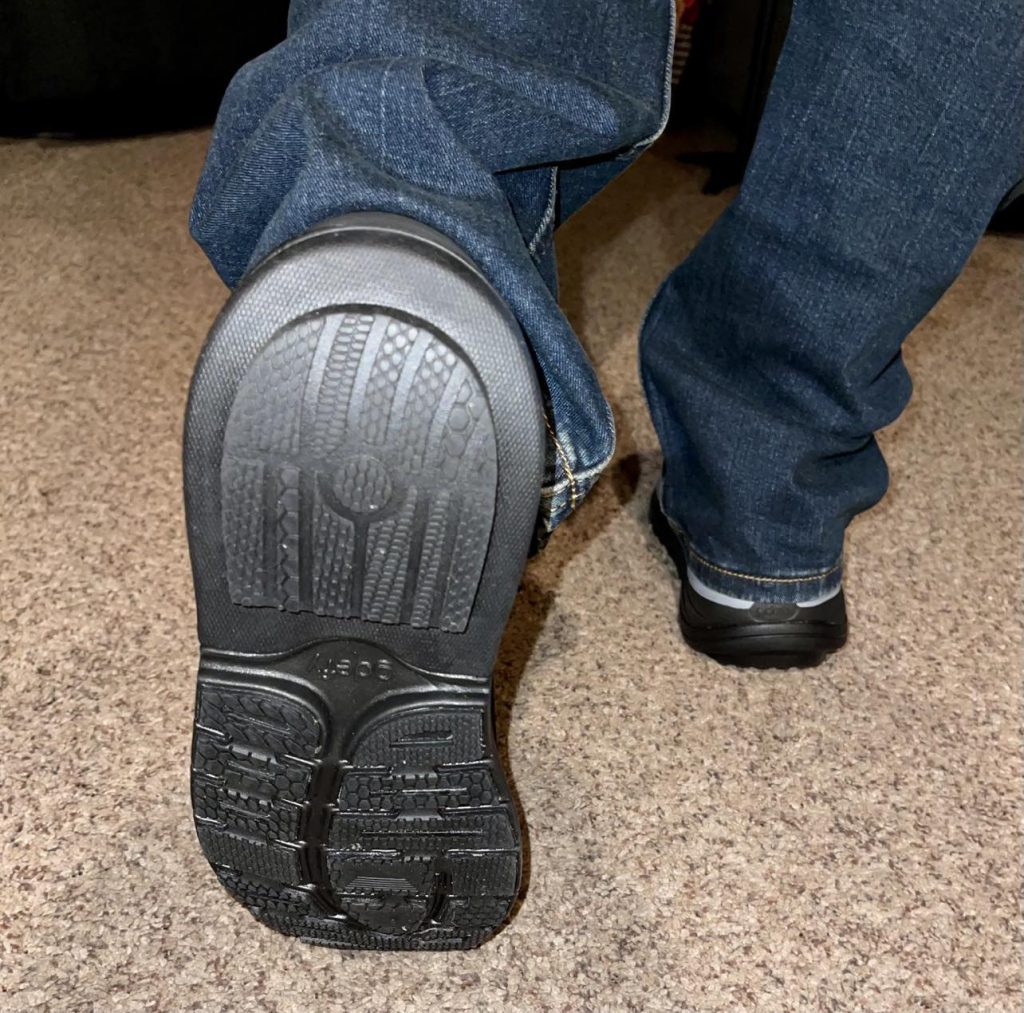 As a part of the Perfect Walk family, the MATeeM doesn't need to be broken in to relieve your pain, which is SO nice! It has a special design that helps protect your foot, along with Corrective Fit orthotics and excellent shock absorption. This gives your feet a chance to recover and feel better for a long time to come.
Key Features Of The GDEFY MATeeM Shoe
*Hybrid VersoShock® Technology A smart pain relief* cushioning and recovery technology that combines our patented VersoShock® with the full-sole shock absorption of our exclusive VersoCloud® spring cell sole. Makes it comfortable to walk for long periods of time on hard surfaces.
*Breathable Micro Fiber Upper Cool and easy to wear upper is a flexible knit with ventilated weave and ghillie reinforced instep making every step cool and secure.
*Front Rolling Design Smooth movement and stability. Designed to reduce foot stress by isolating 28 bones, 30 joints, and over 100 muscles from harm.
*Hardened TPU Full-Perimeter Shank From heel-to-toe protection against midfoot trauma and hyperflexion injuries designed to provide maximum lateral stability while walking, standing, and running.
*Seamless And Soft Silk-Like Interior Soft seamless mesh inner lining that is excellent for avoiding irritation with continued wear.
*Removable Insoles PU 3D Removable insoles with water-wicking top. Designed to aid most foot types. Removable footbed for easy cleaning.
*Free Corrective Fit Orthotics included– $50 Value. Orthotics provide full-body alignment and perfect biomechanics.
*Front Pull Tab
**VersoShock® patented technology is clinically shown to relieve pain in the knees by up to 85% in a 2017 double-blind study by Olive View UCLA Medical Center.
Video About The VersoShock Technology
Another great feature of GDEFY perfect shoe is their wide toe box. This allows for plenty of room for your orthotics while still providing a snug fit around the rest of your foot.
The shoes are also made with breathable materials to keep your feet cool and dry throughout the day which is so important and makes all the difference!
In addition to their orthotic-friendly orthopedic shoes, GDEFY shoes are also slip-resistant and have excellent traction, making them a great choice and a good fit for those who work in industries such as healthcare or food service.
Also great for people who need good traction and grip on their shoes. I hate shoes that slip around!! I know I have personally fallen in the past because of shoes such as those that slip! Ugh. Not fun!
GDEFY shoes come in many types of therapeutic shoes and styles for both men's and women's shoes, including sneakers, athletic shoe, dress shoes, and boots.
The sneakers are perfect for casual wear or for those who are on their feet all day, while the dress shoes and boots provide a more professional look for work or special occasions.
These shoes all offer great support and are really fashionable making these shoes a great option for anyone with specific needs or foot problems.
Gravity Defyer Shoes (called GDEFY) are the perfect choice for anyone looking for comfortable, supportive shoes to wear with their orthotics and custom insoles.
With their unique VersoShock® technology, wide toe box, and breathable materials, you can stay on your feet all day without sacrificing comfort. Now you can do more—stand longer, run better, walk easier without limitations!
Who Are These Shoes Made For?
Great question! Really, these shoes are made for anyone who wants extra comfort for their feet! But, the most common reason is foot pain, ankle pain, knee pain, back pain, etc.
Finding the appropriate shoes doesn't have to be hard! Give these shoes a try. You will love them, I promise! They really are great for foot health.
About Gravity Defyer
Gravity Defyer shoes were created by Alexander Elnekaveh, a mechanical engineer and inventor, to solve his nephew's debilitating foot pain.
He assembled a team of experts to create the VersoShock sole, which is a powerful shock-absorbing technology designed to bring comfort and pain relief to everyone's lifestyle and occasion.
The company was created in 2008 and offers an assortment of sole types and styles tuned for almost any activity, special cases, and lifestyle.
FAQs (Frequently Asked Questions)
Here are some frequently asked questions about The Best Shoes To Wear With Orthotics:
Q) How do Gravity Defyer shoe sizes compare to other brands?
A) Their unique shoes have been tested comprehensively to fit standardized U.S.-allocated shoe sizes. If the shoes do not fit just return them for a free exchange. They carry so many different styles of shoes so there is sure to be a pair perfect for your feet!
Q) What about width options?
A) Most of their shoes offer additional width options (and have a number of styles available) and their exclusive Perfect-Fit Insole. In the event of any sizing issue, return them for a free exchange.
Q) Do I need time to adjust to the shoes?
A) To maximize the benefits of our Gravity Defyer shoes, it is important that you try them on in the comfort and safety of your home to ensure proper adjustment to the shoes. Some customers have previously experienced heavy pressure on the balls of their toes and minor motion sickness when initially wearing the shoes. A simple solution that customers have found is to simply remove the shoes and try them again after 24 hours.
Q) How do I claim reimbursement for my Medicare diabetic shoes?
A) All medical reimbursement claims for A5500 Diabetic shoes are handled through Medicare. Please contact Medicare directly at 1-800-633-4227 or the best choice might be to reach out to your primary care physician if you have any questions about this process.
Buy The Best Shoes To Wear With Orthotics
I love that they offer a 60-Day Try Defy Guarantee, so you have nothing to lose by giving them a try. You can purchase the Gravity Defyer shoes (GDEFY) on their website, in retail stores, or on Amazon.com! Orthotics wearers no longer have to search for shoes! Yay!
VIP Rewards
GDEFY also has a VIP Rewards program! Just for joining their VIP Rewards program, you will automatically receive 500 points in your account.
You accumulate points by following them on social media, for every purchase you make and TONS of other fun ways! You can use your VIP points to receive a FREE pair of shoes (online or in-store) OR you can redeem your points for discounts on their site. What a deal!
Win!
Two lucky individuals will each win a pair of GDEFY shoes! One person will win a pair of women's shoes and one person will win a pair of men's shoes (their choice in style, color, and size). There are a variety of styles to choose from! WOOT!
Rules
The contest is open to the US, 18+. The giveaway will end on November 1, 2023, at 11:59 PM. I am not responsible for lost or stolen mail.