Climb aboard the Summer Movie Express at over 340 locations! Regal Entertainment Group announces $1 movies for 2015 Summer Movie Express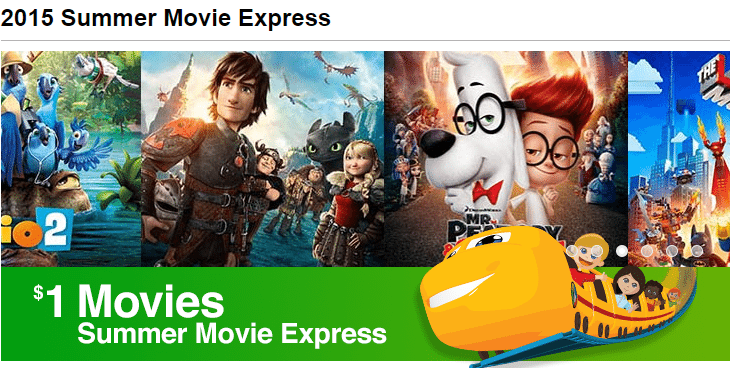 Don't know what to do during the long, hot days of summer? Why not take your littles to a movie? I know when my kids start to get bored or the weather is just too hot to do anything, we go see a movie!
And, Regal Entertainment announced that the $1 movies for 2015 Summer Movie Express is back! Yay! Who could resist a $1 movie????
The nine-week film festival takes place at 10:00 a.m. on Tuesday and Wednesday mornings. The start dates for Summer Movie Express vary based on local school schedules. A portion of each $1 admission goes to assist the Will Rogers Institute.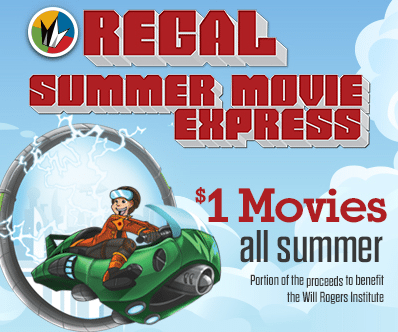 Each week, there will be two featured films at the early morning matinee show time of 10:00. The titles for this year's Summer Movie Express are:
Week Title Rating
1 Nut Job PG
Annie PG
2 Earth to Echo PG
The Boxtrolls PG
3 Paddington PG
Turbo PG
4 Rio 2 G
How To Train Your Dragon 2 PG
5 Mr. Peabody and Sherman PG
The Book of Life PG
6 Night at the Museum: Secret of the Tomb PG
Penguins of Madagascar PG
7 Madagascar 3 PG
Dolphin Tale 2 PG
8 Muppets Most Wanted PG
Alexander and the…Very Bad Day PG
9 The Lego Movie PG
The SpongeBob Movie: Sponge Out of Water PG
To find out more information about the Summer Movie Express $1 Movies click HERE.
What Movies Are You Excited To See, For $1???