I love it when the sun comes out here in Washington. Finally, last weekend it decided to show its mug to us here. We had a fabulous weekend because of that! Since the sun doesn't shine all that much here, I don't have a selection of sandals and flip flops to choose from. In fact, I have 3 pairs of flip flops and that is it! Heck, I spend most of my days in THICK woolen socks…
ShoeDazzle has some great shoes. It is a really fun site and you get to choose your shoe style. When you are done choosing your style and answering a few questions, ShoeDazzle will put together a showroom, just for YOU! Including high heeled shoes, sandals, cute stylish bags, and accessories! I had way too much fun with this site!

ShoeDazzle
The Run-Down:
*Now, after you complete your profile (joining is FREE), in about 24 hours, ShoeDazzle will email you your showroom. On the first day of every month, you will be emailed with a new style selection, keeping it fresh and new for you! Choose your favorite style (or styles!) and your order will be processed immediately (you can't change your order once it has been placed, so be sure you are sure!!!).
*After you place your first showroom order, you are considered a ShoeDazzle client and your style status is officially upgraded to membership.
*Once you become an official member of ShoeDazzle, your billing information will be kept on file and you will be charged $39.95 on the sixth day of each month, which includes a credit for one item in your showroom or DazzleAvenue, our stylists, and the benefits of membership. If you don't find a resist-me-not item in your showroom, you can easily opt to skip the month at no cost to you.
*You can skip a month at ANY time, easy! Just visit your showroom before the 6 days of each month and select "Skip this Month". You WILL NOT be charged!
*If you don't really like what ShoeDazzle selected for you (which you will!), then simply click on "Alternate Selections" and it will bring up more awesome goodies for you to look at!
*You can also "build credits". Credits expire after 12 months. You can accumulate up to a maximum of five credits, which can be used over time or all at once. After you accumulate five credits, you will not be charged until you redeem a credit.
*Shipping in the US via ground shipping is free and usually arrives within 3-6 business days.
*Returns are easy and painless!
*You can cancel your membership at any time!!

I really enjoy this site. It is fun and I get to browse things that I am interested in buying. I decided on some really cute sandals! I chose the Fame Sandal in the charcoal color. They arrived in about 3 days and came in the prettiest pink box! Inside was a reusable shoe bag and underneath were my pretty sandals!!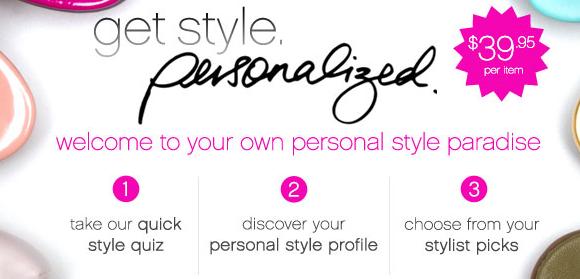 Pretty pink, girly box 🙂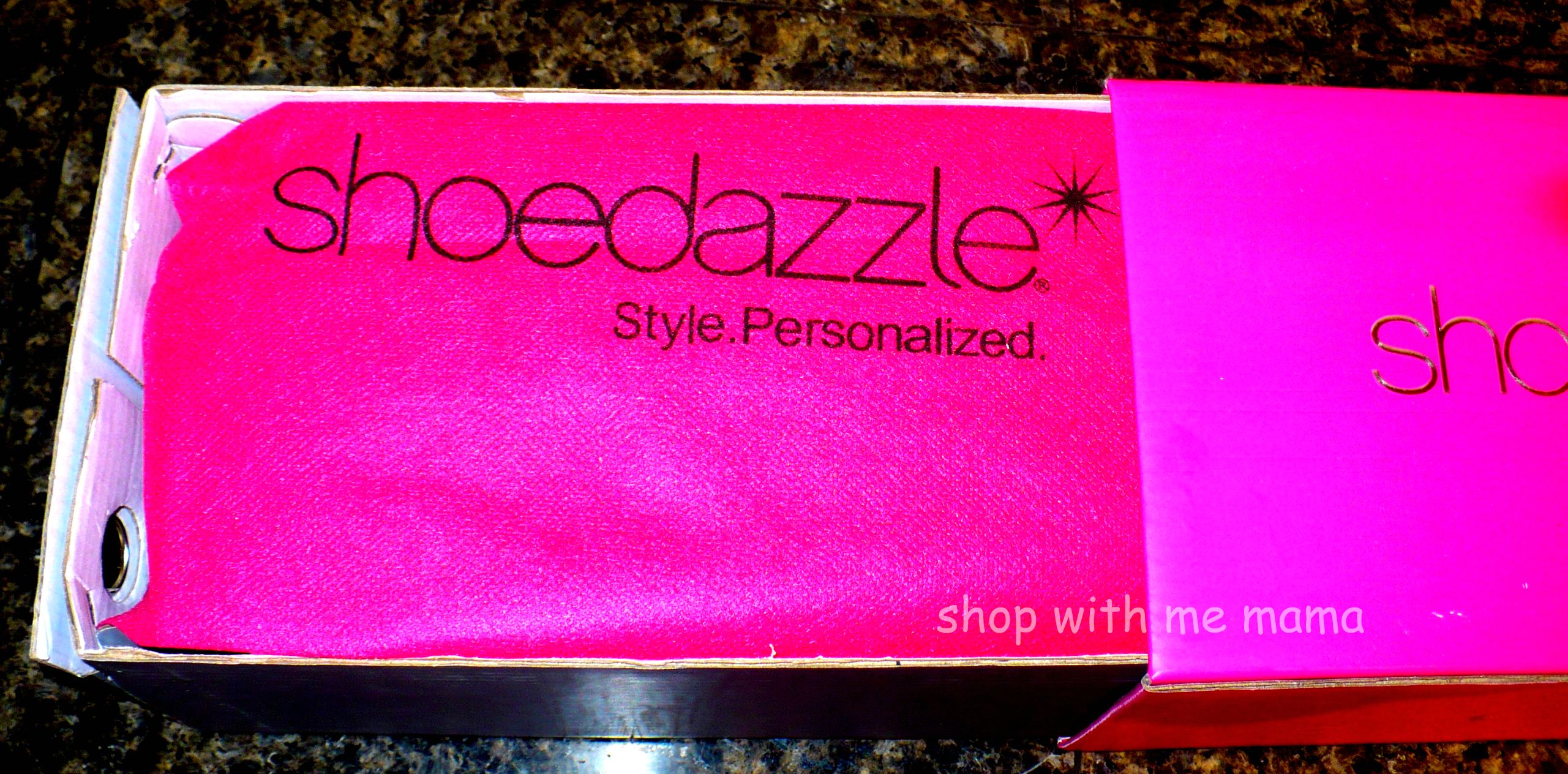 My sandals nestled in the pretty pink box…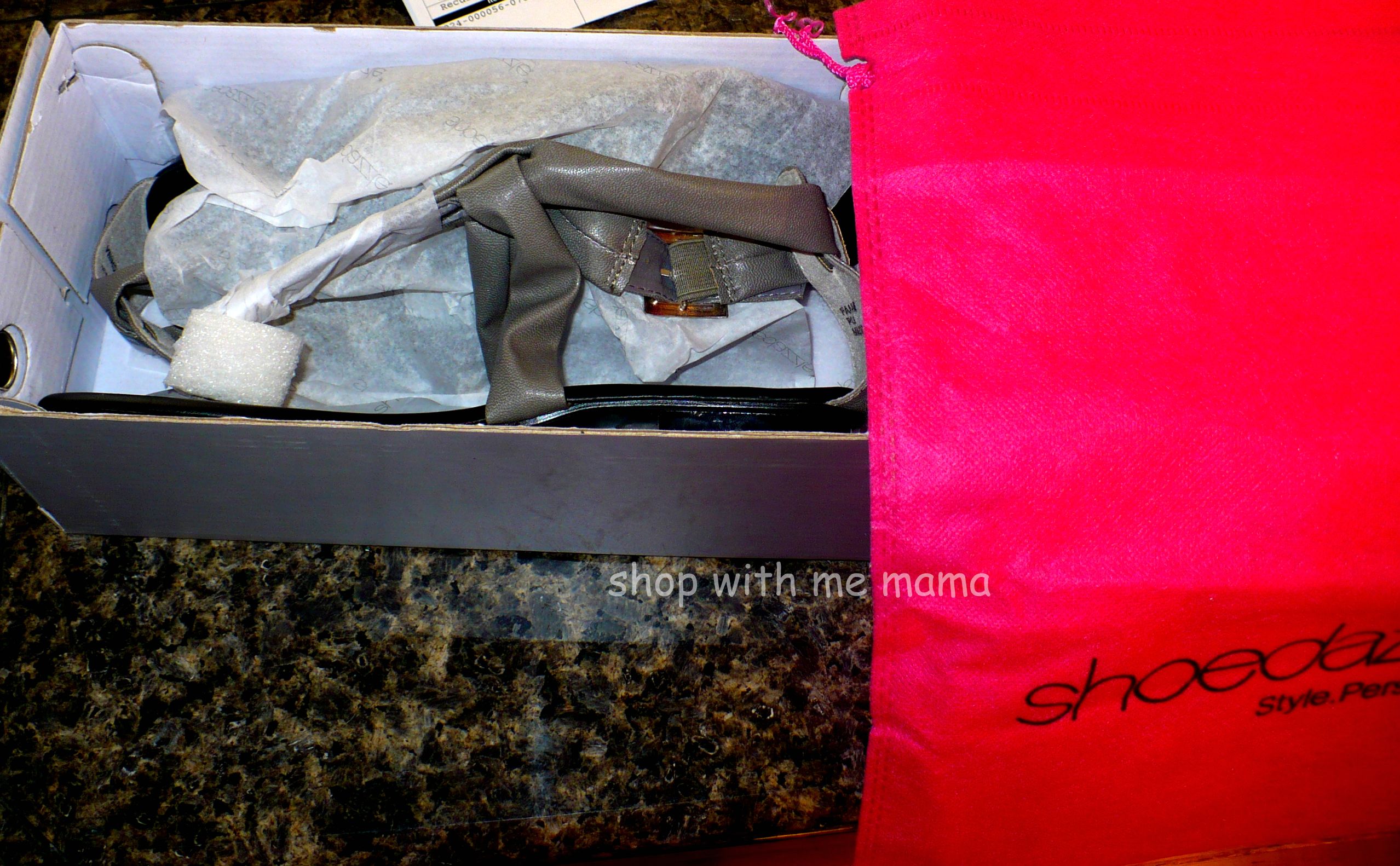 They are cute! They have a buckle that lets you adjust them around your ankle easily. They fit true to size, with this style anyways, and they have really pretty reflective tiles on the front part of them!
Fancy, Schmancy!
I like the barely-there heel too… heels tend to frighten me a bit…
Now, I cut out my toes, 'cuz toes are just not cute, let's be real here… No, my toes are not curled up and have THICK nails that are yellowing, but they are toes none the less..
These sandals are loud when you walk too! I was walking ALL over my wood floors just to hear them!!!
One thing I did not see on the ShoeDazzle site, was a "search" button. Maybe I overlooked it? But I would love to be able to search for a pair of sandals. Other than that, my experience with the site and the actual product being delivered was great!
The sandals I received are fun and stylish. Time will tell how long they will last me! Now, to get my little girl some shoes!
Buy Them!
You can create your own showroom and purchase the fun ShoeDazzle products by visiting them online!