*Product was received. Opinions are mine. This post includes my affiliate links.
Yes, my little one can walk. Heavens, he has been walking since 10 months but really started running around at the 11 month mark. He was an early one! My other two did not start walking until 13 and 14 months. I think it helps that my little one has older siblings to help him out and it makes him WANT to move earlier!!! He loves the Silver Flames All in One Entertainer !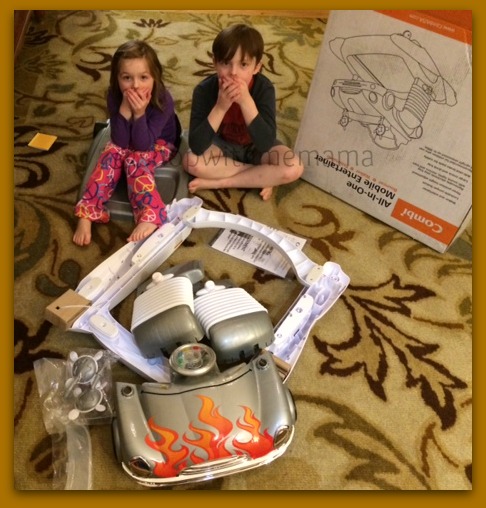 I swear my baby also learned to walk more quickly with his all in one entertainer from Combi

. We received one a while ago and he started using it. At first he was not to sure about it, but he quickly figured it out and was gliding SO fast across our kitchen floor! We all had to wear slippers so that he did not run our feet over!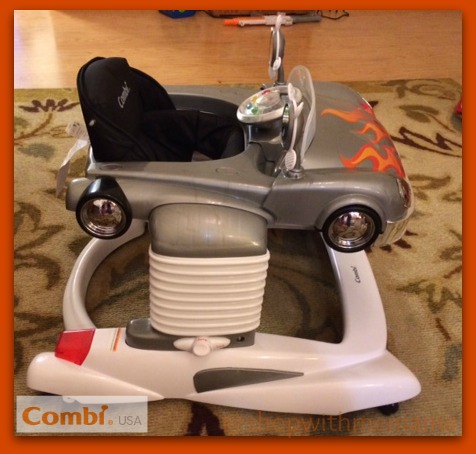 We recently received a new Combi All in One Entertainer (cannot have too many!) and this one is so cute too! It is the Combi All in One Entertainer in the Silver Flames (this color is exclusive to Walmart). It is soooo adorable! It is a little car that is really nice looking!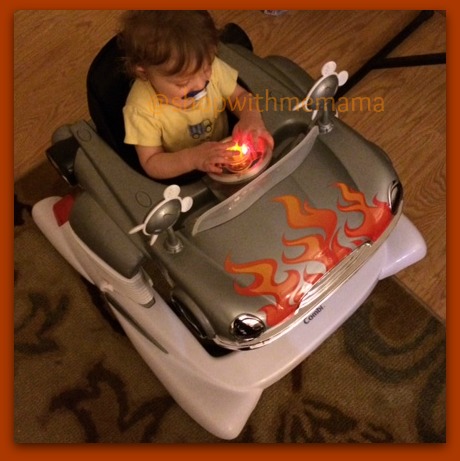 I put this together when he was napping (so easy to put together) and I had totally forgot about it, when I got him up from his nap. I put him down and I went into the kitchen to get something. When I came back to him, he was bent down, with his tiny hands on his knees, looking at his new Combi All in One Entertainer. It was SO adorable! He found his new toy on his own and was checking it out! I wish SO bad I had a camera in my hand at that time!!!! So, I could tell he just loved his new toy/walker!!!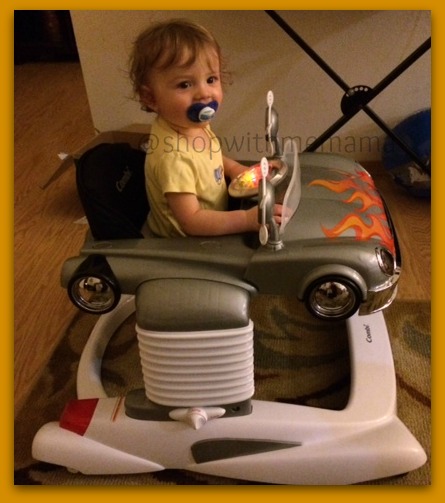 You are probably wondering why I have walkers for my little baby boy? It is because he gets in to EVERYTHING. So, when I am cooking, cleaning or doing dishes, I put him in his walker. I know he is safe because I can see him AND he has fun gliding across the kitchen floors being with mommy and honking his horn! LOL. I get honked at A LOT…
The Combi All-In-One is a classic car-themed entertainment center allows your child to stand, jump and explore his or her surroundings. The mobile entertainer has a three-position height adjustment and functions as a walker with a lockable jumper feature. The electronic play tray features fun sounds, lights, mirrors and toys to entertain and stimulate your little one.  The car hood can be removed to create a large tray surface for snacks and drinks which is so nice to have that extra room (it is a nice sized tray!) for baby to have his finger foods!
 The All in One Entertainer comes in different colors too:
black
red- coming soon!
purple
pink
blue police car
black police car- buybuybaby exclusive
flower power- buybuybaby exclusive
silver flame- Walmart exclusive
So you have lots of choices! This product is good for children up to 30 lbs and is recommended for babies that can already sit up unassisted.
The only thing I do not like about this all in one entertainer is that the little plastic windshield comes off very easily. My baby pulls it right off and throws it on the floor. So, we just keep it off now.
Buy
You can purchase the Silver Flames All in One Entertainer at Walmart.com or Amazon.com

They retail for around $120.00.
 Connect with Combi on Twitter and Facebook!