We have an update on Special FX Master, the very cool augmented reality special effects product that is available now on Kickstarter.
Special FX Master
We tried out the prototype and it was incredible! The kids loved it! Check out the videos that show off the product from the team at Special FX Master, below!
The big news is that now you can reserve a full Special FX Master kit on Kickstarter for just $25 (discounted from $40) if you act soon! If you haven't used Kickstarter before, it's very simple and trustworthy. The great thing is that your credit card won't even be charged unless the pledge goal is reached. Try it out and help Special FX Master reach their goal before time runs out on November 5th, so they can finish the app and ship the product.
We have a feeling that there are going to be a lot of very surprised and happy kids out there when their Special FX Master kit arrives out of nowhere and they can start making videos like never before!
Check out what some others are saying about Special FX Master and pledge to their Kickstarter here!
Plastic and Plush writes:
I've spent well over $25.00 on DLC for several smartphone apps-based video games (that I no longer play). I'm looking at my children and you, Pokemon Go. I thought $40.00 was a pretty good price for the SFX Master kit, but $25.00 is a no-brainer in my opinion.
Since we do live in this new world of posting photos and videos on Facebook and other social media platforms, I see this as a way of stepping up your game. You think your kid riding a bike is so great? Mine just blew a hole in the wall with his wrist-mounted laser gun.
Pretty Opinionated said:
Have you seen the Kickstarter for the SpecialFX augmented reality system yet? Guys, this thing is beyond cool! The geniuses behind it sent me a prototype to try out and let me just tell you, this will be on every tween's wish list once it hits the shelves. I had so much fun playing with it myself, I almost didn't want to hand it over to my son!
The entire concept is just so incredibly cool. I love how it really encourages kids to use their imaginations while still allowing them to use their favorite thing: technology. Our children live in a digital age, and while we want to limit their screen time as much as possible, we really need to come up with more ways to incorporate their passion for tech into our desire to keep them both active and imaginative. SpecialFX Master does both.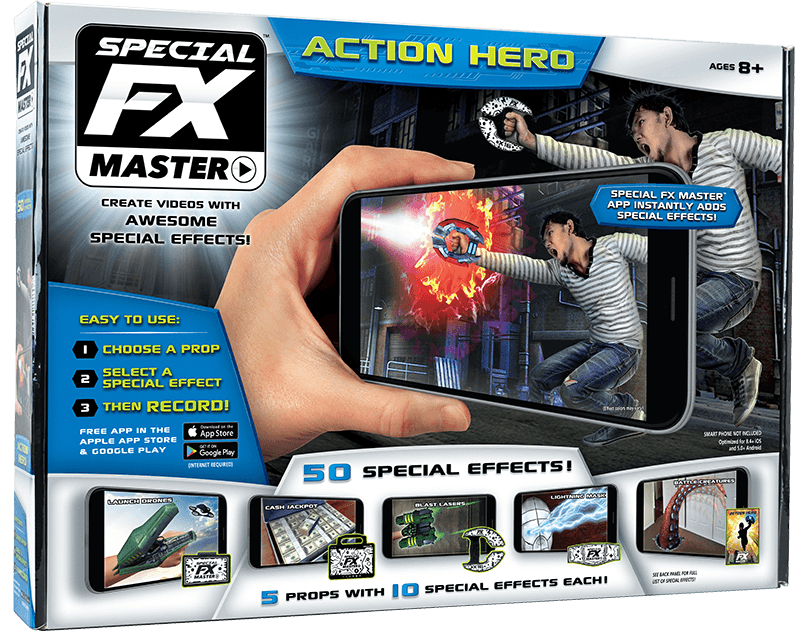 Support them now at KICKSTARTER!