I participated in an Influencer Activation on behalf of Influence Central for DermaWand. I received product samples to facilitate my review and a promotional item to thank me for my participation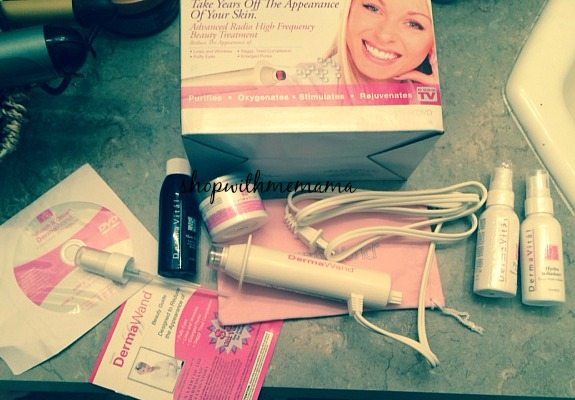 One thing I know all to well, is that you WILL age. No matter what you do to your skin, it will age. That is just a fact. Yes, you can SLOW the process down a bit, but you cannot stop it.
One thing I have found to be very useful, to help slow down the signs of aging, is by using the DermaWand daily. It is a helpful tool to help maintain the youthful appearance of my skin.
Let Me Explain!
The Derma Wand
is a handheld device. You plug it in and it is totally easy to use. It uses the same technology as the big radio frequency machines that Doctors and Medical Specialists use for treatments to help manage the signs of premature aging. BUT, there is a difference in the two.  The DermaWand uses lower amplitude that's perfect for everyday in-home use.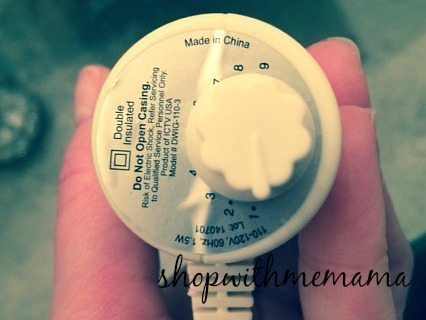 What Does The DermaWand Do?
DermaWand provides instant stimulation, thereby providing a massage effect while at the same time delivering thermal energy and enriched oxygen to your skin.  The results – younger looking skin with only 2, three-minute treatments a day.
My Experience Using DermaWand
I have been using DermaWand for going on three weeks now. I use it EVERY night after my shower. I use it SOMETIMES in the mornings, but those are more difficult because I don't have a lot of time in the mornings as I have to get the kids off to school, etc. So, night-time is best for me.
It is so easy to use, just plug it in and set the knob on  how high you want the frequency to be. I started off on one because I did not know what to expect.  First, you smooth on your favorite facial cream, or you can use what it comes with. The cream that came with this, made me break out, so I opted to use my own facial cream and that worked better for my skin.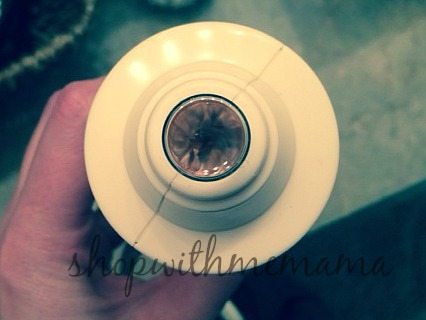 After watching the DVD it comes with, I was all set to start my treatments! I just sort of  smoothed the wand over my face in the areas I felt needed to be stimulated. Radio Frequency is now considered one of the most accepted methods of helping to reverse the visible signs of premature aging and that is what the DermaWand uses.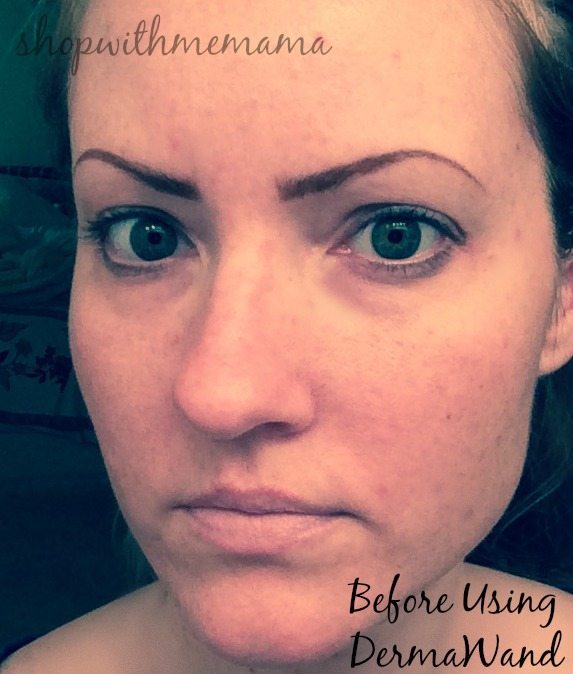 I used this on the furrow between my eyes, my laugh lines and some little lines by my eyes. You can also use this on your eyelids, for a little 'instant' lift. I did not really see an instant lift when I did that, but about the second or third time I used the DermaWand on my face, my face 'felt' alive and stimulated. I could 'feel' something going on. It was kind of neat!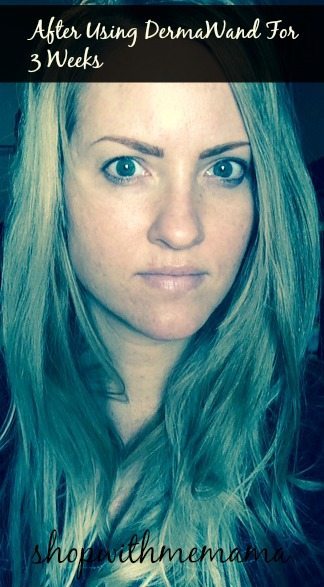 They say you can use this three minutes a day and see results, but I used it probably 10 minutes each time. I think that is better for me. You can also use this to firm up your jaw line and on your forehead to take away those annoying lines. I also used this on my lips! I put on my favorite chapstick, then I turned the  knob to 2 and rubbed the wand on my lips, like I was putting on lipgloss (the same movements). It made my lips all tingly and they appeared more plump, when I was done doing this. I thought that was sort of neat!
You can pretty much use this anywhere and it is a neat device to use. You can also use the DermaWand over your makeup, before going out, for a quick 'pick-me-up'! So simple to use. When you first use it, you notice a different smell. They say it is the pure oxygen you are smelling and you do get used to it! I did.
Does It Hurt To Use?
This does not hurt to use at all. Just make sure you have the knob turned down on the more delicate areas like your eye ares, lips, etc. Start on the lowest setting and gradually go up from there, once your skin gets use to it. It just feels like little pulsing 'shocks' to the skin, but does not hurt. Like electricity and when you use it, it crackles.
There are so many things on the market, for your skin, that have SO many parts to them and once you use them for a certain amount of time, you have to replace the pieces. I was so pleased to see that this was not like those other products. Simple to use, no extra parts to buy or worry about. Just nice to not worry about those things!
So, Does It Really Work?
That is the question EVERYONE wants to know, right? Does the DermaWand Really Work? I have to say, after using it for a solid 3 weeks, I have noticed my skin to be super soft feeling. I have noticed the furrow between my eye area to be LESS noticeable then it was before I started using this. Those are the more noticeable things. I also watched the DVD and did some suggested facial exercises that it says to do. I am sure if I did those EVERY day, along with the DermaWand, I would have seen more dramatic results. But, I am happy with the results I have received, so far. The more I use it, the better results I will see! Excited!
DermaWand Special Offer!
Since it is the holidays, why not give the DermaWand a try or as a gift to a loved one? There is a special going on right now for a limited time only.
○ The first payment will be for $9.95
○ At 30 days the second payment will be $39.95
○ The final payment at 60 days will be $39.95
○ The total cost for the DermaWand- $89.85
Connect with DermaWand on Facebook and Twitter!
Based on my DermaWand Review, What are your thoughts on this device?