Jonathan Jafari, better known to the internet by his YouTube handle of JonTron, has come a long way since his initial videos of reviewing games in a humorous yet detailed manner. One thing I personally admire about JT is that throughout his content creation journey, he's always been able to balance humor, satire, and gags with quality and honest analysis as he gracefully slinks across the tightrope of criticism.
In today's era, his chiseled New Yorkian face adorns the Mount Rushmore of Gaming content on YouTube, perched in pensive pondering next to faces like PewDiePie, Videogamedunkey, and AVGN.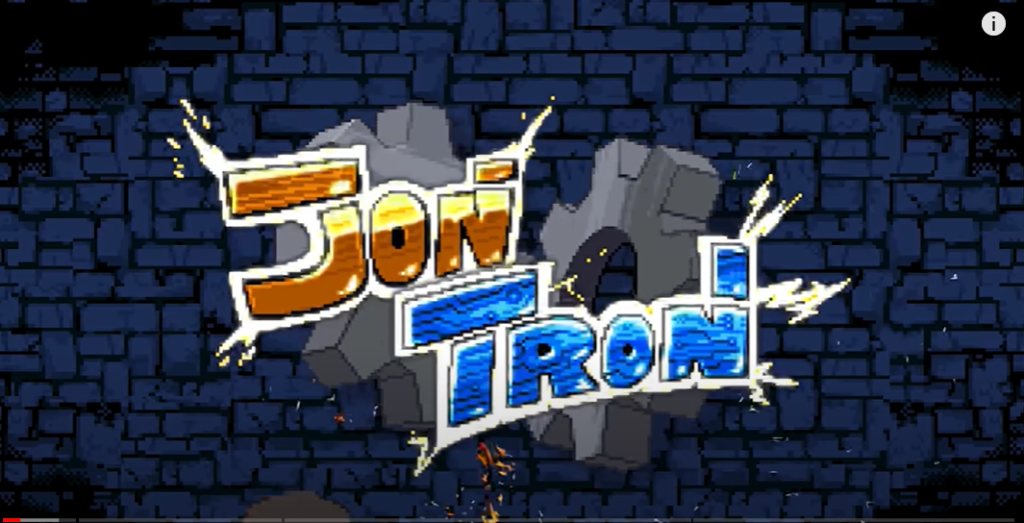 Even though his content has (naturally) evolved into videos that cover topics that are adjacent to gaming but not strictly constrained by video game-centered subjects, e.g. his videos covering Gwyneth Paltrow's GOOP wellness brand and how worryingly easy it is to acquire a boating license, JonTron's back catalog of gaming videos remains timeless.
TronTastic – The Best of JonTron's Gaming Videos
Being something of a constant YouTube consumer, I thought I'd curate some of JT's videos that are more than a delight to watch and have entertainment flowing out the wazoo.
So that's exactly what I did.
Takeshi's Challenge
Before watching this video, going on the title and/or thumbnail alone, you may make the educational guess that this game is based on or around the popular insane hard gauntlet game show Takeshi's Castle. If like me, you did that, you would be wrong.
You'd be very very, very wrong.
This is in fact about a game designed by Takeshi Katano, AKA Beat Takeshi, a Japanese renaissance man who had the skills of directing, acting, singing, stand-up, and poetry under his umbrella to name but a few. In 1986, he decided he wanted to add "Video Game Designer/Creative Director" to his resume, so he teamed up to make a game with then-industry big bodies Taito to create a game for Famicom.
The game is insanely deliberately difficult and as confusingly cryptic as it is unnecessarily open-ended.
To give some context, the intended path of the game is to immediately get divorced from your wife and take shamisen lessons. For those that don't know, a shamisen is essentially a Japanese banjo but with only three strings.
It's impressive that Jon is able to complete the game as the road to victory is both convoluted and inexplicably tough, and it's much more entertaining and much funnier to hear JT's commentary on the whole thing rather than myself butcher the comedy with my feeble virtual ink.
Bootleg Pokémon Games
Being one of Nintendo's most cherished children, Pokémon is (nowadays anyway) not a license to be handed out lightly. Ranking in importance in terms of both reputation and financial income for the Japanese video game giant, Pokémon is probably in the top 3 when it comes to Nintendo IPs, right up there with Super Mario and The Legend of Zelda.
In the age of the internet with emulators commonplace, and indeed with many entities in the real world, Nintendo is swift to take legal action against anyone using their intellectual properties without their consent. However, in the early days of Pokémon's inception and in the resulting Pokémania that engulfed the world, all manner of people wanted a slice of the Pikachu pie, both legitimate and otherwise.
Rife with reskins, clones, and things that just don't really make sense, Jon takes a look at some definitely illicit Pokémon games that you'd only be able to find either on the Dark Web or from a Team Rocket Grunt in a dark alley in Saffron City.
THE BLIZZARD RANT
Living as an anomaly on JonTronShow's Channel in between satirical examinations of Ghostbuster Skull Vodka and his other high production value material lies an impassioned video that was born from Jon's personal frustration after years of bottled rage was shaken too hard, exploding in a froth of unscripted yet impassioned verbal foam.
Cited specifically by Jon himself in the video as aimed at people who have held World of Warcraft accounts since 2004 onwards, his roughly 8-minute dissection of a game he once loved has become tortured by Blizzard's treatment of procedural updates, and how the people who took many, many hours to build servers dedicated to the "vanilla" version of World of Warcraft were crushed and taken down by the industry giant.
As much as Jon's videos about FlexTape and corporate logos are amazing and hilarious, this personal take from Jon about how a cherished entity from his youth has become twisted into a grotesque profiteering abomination.
It's an unscripted piece of content straight from Jon's heart, and I think it's really refreshing to get videos like this now and then from big content creators that show they're still grounded, and their love of video games is what continues to drive them to make the content they do.
Bubsy Collection
One of the most classic JonTron videos on this list in that it was published all the way back in 2012, the man himself and his feathered partner in crime Jacques look at one of the most infamous series of games that has ever graced the media of video games. The ever-annoying platforming bobcat, Bubsy.
Bubsy was created with the intention of being the face and de facto mascot of the former video game company Accolade (that was, fun fact, founded by the two guys that started Activision), more than likely intended to compete with Nintendo's Mario and Sega's Sonic the Hedgehog games.
Jon soldiers on through each of the Bubsy games, critiquing each one as he goes. This video for me epitomizes JonTron's style that made him so popular. His exaggerated irritation and comical delivery are punctuated and underpinned by genuine points about the games he's playing that is packaged in a digestible and honest manner.
The video shines a revealing spotlight on the flaws and, to be honest, bewildering and unusual design choices that plagued the unfortunate series. Bubsy tries to get by with its fourth-wall-breaking dialogue and self-referential humor like a Deadpool-esque experience, but the sheer absence of quality and polish makes it come off as ironic, unwarranted arrogance.
Plug and Play Consoles: The Best of JonTron's Gaming Videos
It's almost become a rite of passage that any gamer has to endure from other family members who either aren't that well-informed with regards to their own tastes or haven't been given specific instructions on what purchases to make when the holiday season rolls around. And that thing is the purchase/gifting of either a Plug and Play console or a "5000 Games in One" console.
While they've been around for a number of years now, even dating back to the late '80s and early '90s, the PnP boom kicked off in the early 2000s, and initially, they were a revolutionary idea that was drenched in merit, more than worthy of a substantial chunk of your parent's income.
In this video, Jon looks at a number of different consoles, their foibles, the expanding bubble that grew from the initial popularity of scaling down nostalgia-laden arcade games of yore like Space Invaders and Pac-Man, and some of the egregious businesses practices that spawned from companies wanting to eagerly cash-in on the latest toy craze.
You'll also learn how Shrek became a member of the Justice League in this video. Or to use their actual name, the "Sense of Right Alliance".