There is a lot of chatter about Kratom. Is it safe? What are the side effects? Does it get you 'high'? Can it help with my chronic pain? Those are just a few questions about Kratom that I have heard. I have been taking Kratom capsules for over a year and they do help with my chronic pain. However, EVERYONE is DIFFERENT. Do your own research (there are plenty of resources over on Kratom.org that you can browse at your leisure), talk to your doctor, and do what is best for you and your health!
With that said, I have been taking Kratom capsules for over a year now. I get horrible neck pain so bad that it makes my whole head, from the base of my skull up to the front of my head (forehead) hurt so badly. I hate it! There is nothing that touches that pain except for kratom. And, I have tried almost everything!!
*Product received. This post includes my affiliate links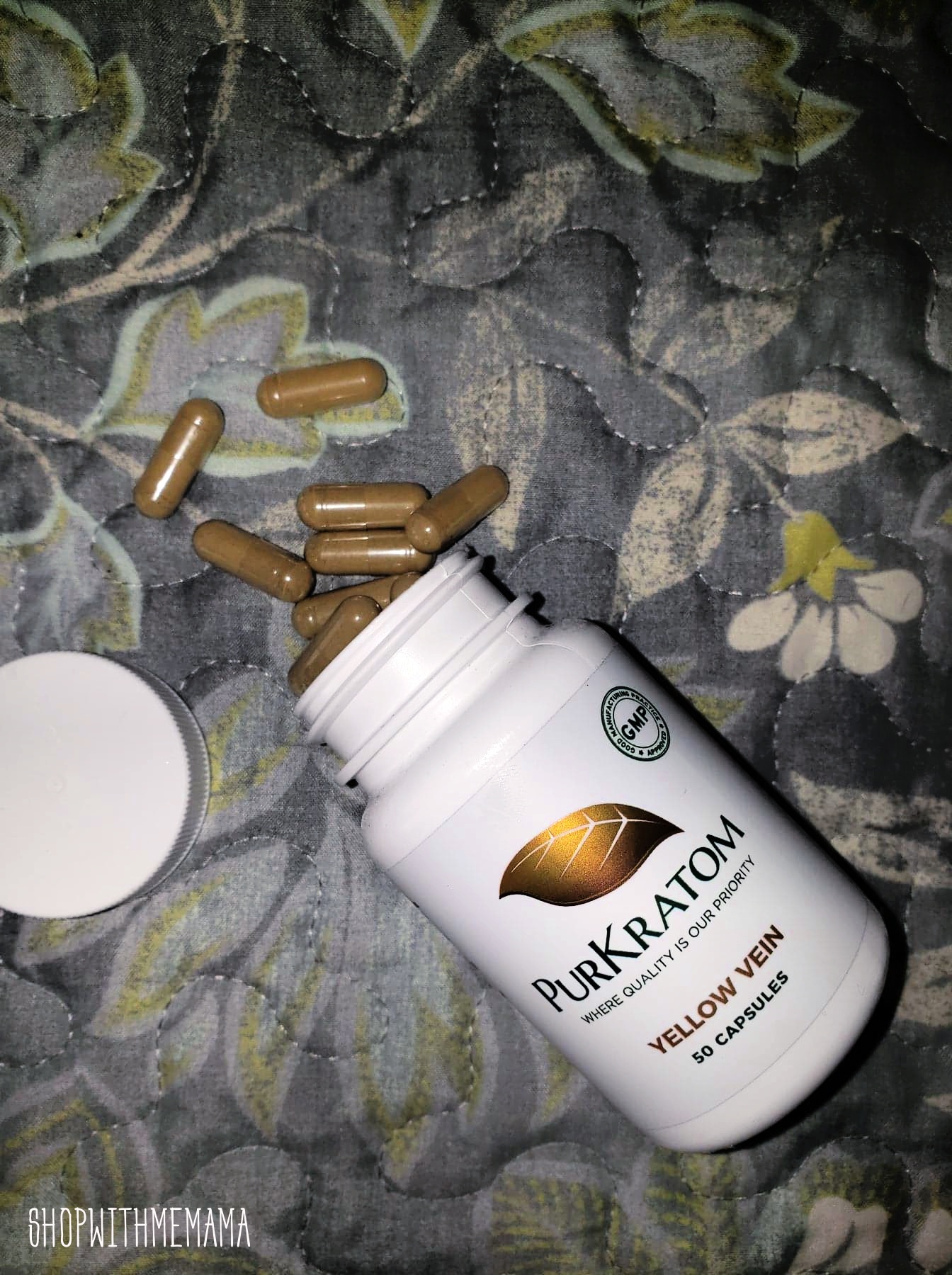 Why I Take Kratom Capsules
I am thankful that I found out about kratom because I was sick of feeling sick all the time! I get really bad headaches and just don't feel good most of the time. I HATE it! Kratom helps alleviate some of those hard-to-alleviate body parts and makes them more bearable.
Of course, Kratom capsules don't take it completely away, nothing does, but it is the only thing I have found that helps make it more bearable. I take kratom powder and kratom capsules. I have tried both and really like the convenience of the kratom capsules and I like how I can easily throw a bottle of the kratom capsules in my bag and go.
I also have horrible anxiety and feel anxious a lot, I hate it! Taking kratom capsules helps ease my anxiety and kicks me back a notch so I feel less anxious and more like myself again.
There are MANY different types of kratom to choose from. You can read and do your research on what strain is best for you. You can get kratom in capsule form, tea, or powder. As I said, I take kratom capsules and the powder (not on the same day), I just switch it up depending on my day.
What Is Kratom Used For?
For me, I use it to help with my aches, pains, and anxiety. I also will take it for my migraine headaches. The list below is what people take kratom for:
*Pain relief
*Anxiety
*Depression
*Opioid Dependence
*Insomnia
Users of kratom for managing their pain, suggest a lower level of abuse potential compared with opioid withdrawal symptoms (if any because every person is different and each person has a different tolerance). I don't ever get withdrawal symptoms if I stop taking it for a while. You can check out the survey for more information about kratom, here.
I received several bottles of kratom capsules from PurKratom and have been testing them for the past several weeks to a month. As I said above, I do already take kratom, but from a different online store, so I really wanted to try out another brand.
The bottles of kratom capsules that I received are:
1. Red Vein Cap 50 count: Red vein leaves from a trusted source are great for beginners because kratom they produce pleasant calming effects. These kratom capsules are great for anxiety, insomnia, and gives peace of mind. the red vein is known to relax the body and relieve pain. It relaxes the muscles and can be used as a supplement or replacement of pharmaceutical painkillers. I use this for my neck pain and anxiety issues.
2. White Maeng Da Cap 50 count: The white kratom is a known stimulant and positive mood enhancer. Of course, it is different for everyone and each strain depends on numerous factors (quality of the product, etc.). This strain is stimulating and euphoric of all kratom strains. You can take this instead of coffee for alertness and concentration. This strain is also good for depression. Be sure to take this strain early on in your day to avoid insomnia!
3. Yellow Vein Cap 50 count: The yellow strain of kratom acts similarly to the green strain because it helps with pain relief, anxiety, etc. It also lasts longer than the red strain kratom. This is also great for a mood enhancer. Don't take it too late in the day because if you do, like the white strain, will leave you with restless sleep.
4. Green Maeng Da Cap 50 count: Green Vein Kratom can best be described as somewhere in between the red and white kratom strains. It is a mild energy booster. This strain is good to help enhance alertness and to help you focus better. This strain is also good for pain and other discomforts. This strain is also used for social anxiety because it gives you a comfortable feeling.
I mix the above kratom capsules to suit me for that particular day. And, I do take the kratom powder from time to time when I really need it most. You will always hear bad things about something, but there are a lot of good things too. Do your research and do what is best for you. I am not a doctor and I do not know how your body will react, so, DO YOUR OWN RESEARCH 🙂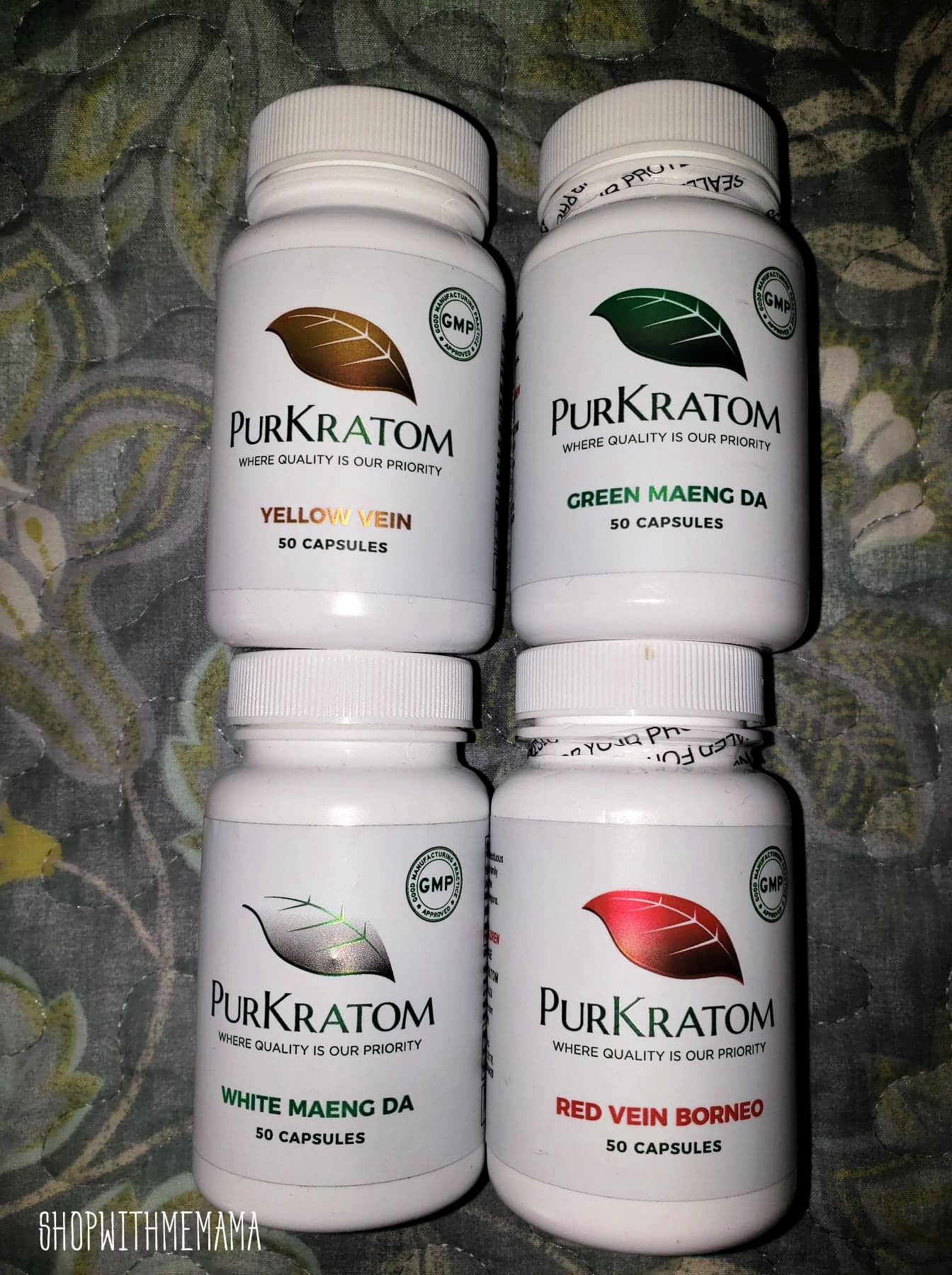 Who Should Take Kratom?
Individuals who are looking for natural pain relief medication, to help replace opiates. Kratom also has alternative beneficial values. Always consult your doctor and do your own research before starting ANY supplements and/or medications.
About Kratom
Kratom is a tropical deciduous and evergreen tree in the coffee family (Rubiaceae) native to Southeast Asia in the Indochina and Malesia floristic regions, and leaves are chewed to uplift mood. M. speciosa is indigenous to Thailand and, despite growing in the country, has been outlawed for 70 years and was originally banned because it was reducing the Thai government's tax revenue from opium distribution.
It was first formally described by the Dutch colonial botanist Pieter Korthals. The genus was named Mitragyna by Korthals because the stigmas in the first species he examined resembled the shape of a bishop's miter. It is botanically related to the genera Corynanthe and Uncaria and shares some similar biochemistry.
Mitragyna speciosa trees usually grow to a height of 12–30 ft tall and 15 ft wide, although some species can reach 40–100 ft in height. Mitragyna speciosa can be either evergreen or deciduous depending on the climate and environment in which it is grown.
The leaves of the kratom tree are a dark green color and can grow to over 7 inches long and 4 inches wide, are ovate-acuminate in shape, and opposite in growth pattern.
The flowers are yellow and round and tend to grow in clusters at the end of the branches. The leaves of M. speciosa are elliptic and are smaller at the end of the branchlets and are pointed at the tip.
The leaves have a round and heart-shaped at the base with the petioles between 2 to 4 centimeters long. The flowers are crowded in a round terminal inflorescences which are three to five centimeters long. The calyx tube is short and cup-shaped, with round lobes. The corolla tube is five millimeters long with three millimeters long lobes and smooth and revolute in between.
Kratom has certainly helped with my aches, pains, and anxiety. I am thankful I found these kratom capsules. Without them, I am not sure what I would do. I also just made an appointment to see an acupuncturist, so hopefully, that will help alleviate my aching neck even more and possibly get rid of it. Who knows, but I certainly have to do something for the long-term pain as I don't always want to take something to make me feel normal!
Buy Kratom
You can purchase kratom capsules and kratom powder online at PurKratom.
Have you ever taken kratom before? If so, what are your thoughts?
Pin It!