This post is all about how to spoil your dog! Your furbaby is your baby no matter what anyone says! And, what better way to celebrate your precious pup than spoiling them with all the goodies! I know our Daisy sure loves to be spoiled daily!
I've rounded up everything from pool floaties to CBD treats and cute leashes to help spoil your dog every day of the year. Every fur baby deserves to be spoiled at one time or another, am I right??? (I am saying spoiled A LOT... 😉 )
*This post includes my affiliate links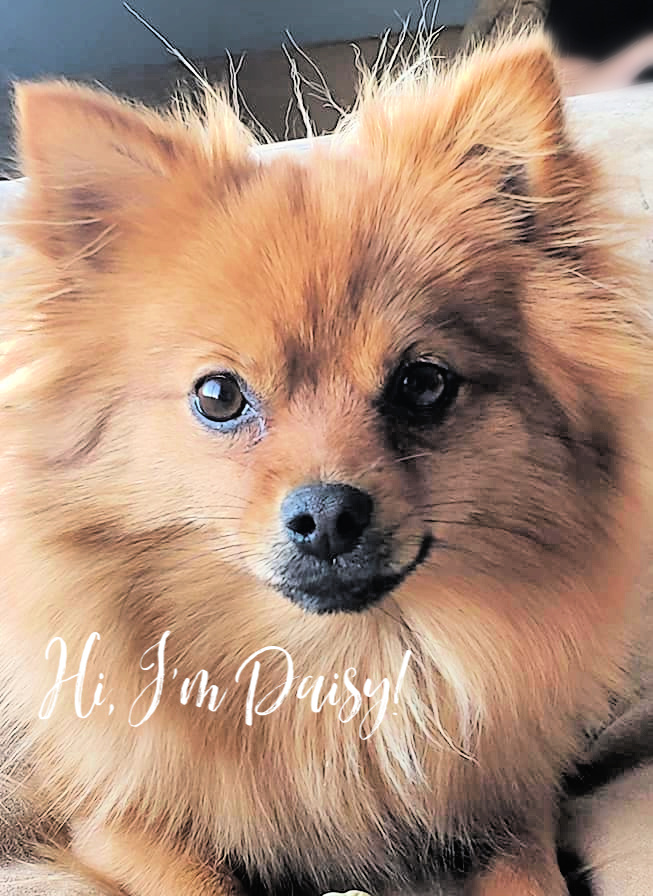 How To Spoil Your Dog
Below, you will find some amazing, dog-approved products your pooch will fall in love with!
Archie & Alfred is a brand your dogs will LOVE! Archie & Alfred is more than a dog product line! It is a lifestyle brand for the on-the-go pet parent searching for everyday products that blend effortlessly into an everyday wardrobe all while keeping the comfort and safety of your pet in mind!
We received their Complete Everyday Dog Walking Collection in the color Matcha, and Miss Daisy loves it! The Complete Everyday Dog Walking Kit includes dog walking essentials to make you feel comfortable and confident leaving your house with your dog. Supplying you with all the gear needed for your adventures with your dog.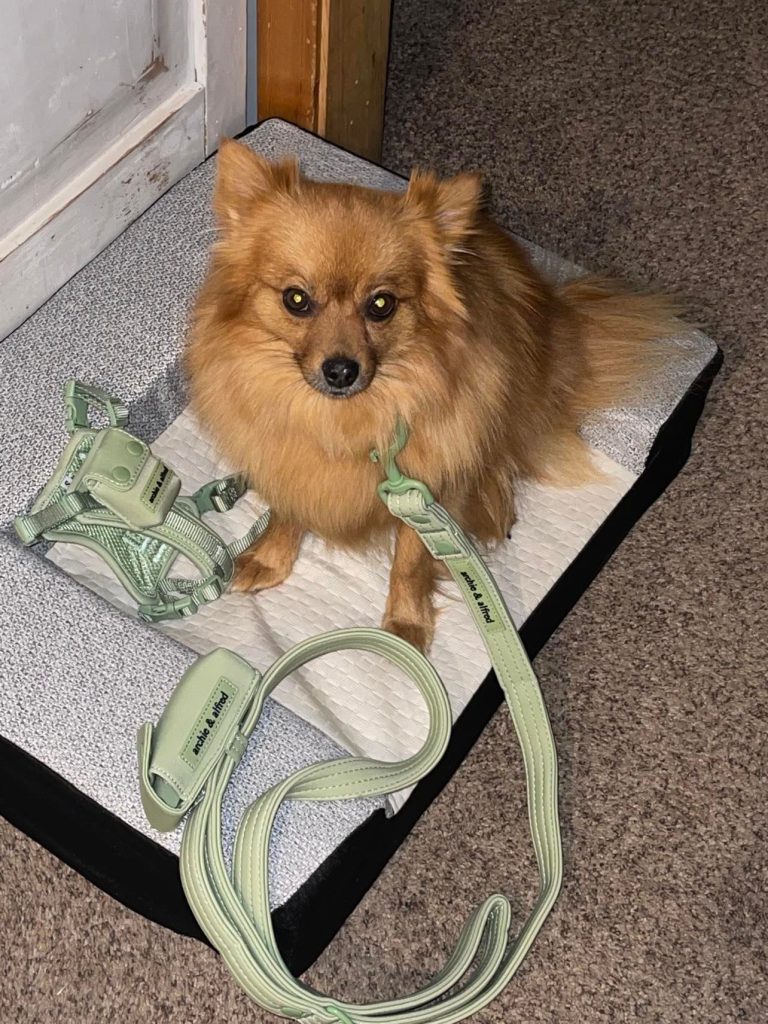 Products Included in the Complete Everyday Dog Walking Collection:
Everyday Dog Harness
Our Everyday Harness was designed with the daily needs of your dog in mind. Fully adjustable and made from a soft neoprene fabric lined with nylon, our harness provides maximum comfort and strength for your dog.
Featuring three separate leash attachment points, our Everyday Harness has a D-ring on each side of the back for easy walking, and a ring on the chest to help prevent pulling. With an additional nylon handle on the back of the harness, you will have extra control when your dog is particularly excited.
Plus, an added front pocket that is perfect for storing all of your dog's essential accessories such as treats. The front pocket is scaled to the harness size and is removable if it doesn't fit your dog's current needs.
Everyday Dog Collar
The Everyday Collar provides your dog with maximum comfort and support, while the soft fabric makes it gentle on your pup's skin. This collar is made from neoprene and reinforced with nylon throughout, this collar is made to last. The D-ring allows for secure attachment of your dog's name tag and leash, while the buckle attachment ensures that it will stay the size you set it at.
Everyday Dog Leash with Attachable Poop Bag Holder
Our Everyday Dog Leash and Poop Bag Holder is the perfect dog leash for daily adventures with your pooch. Made out of durable nylon wrapped in neoprene to provide comfort and support for you and your canine. We even added an extra gripping loop at the top for extra support and control while you walk your dog.
Yes, the pop bag holder is included! No more fumbling for a poop bag when it's time to clean up. This durable nylon leash features a poop bag holder that snaps onto the leash and fits snugly against it. It's perfect for easy access to your dog's poop bags! I love this so much! Miss Daisy has been known to take a poo (or two!) on a dog walk!
The Complete Everday Dog Walking Collection retails for $96 (on sale from $110!).
Keep Your Pet Smelling And Looking Their Very Best with Zoop!
The revolutionary pet brand, Zoop, is a non-toxic pet solution that is made from simple formulations that keep your pet feeling and smelling fresh! Zoop products are made with natural ingredients to keep your loved ones and pets safe while getting rid of pesky odors. They have a variety of products from odor grooming wipes, to grooming towels, odor eliminating spray, and much more!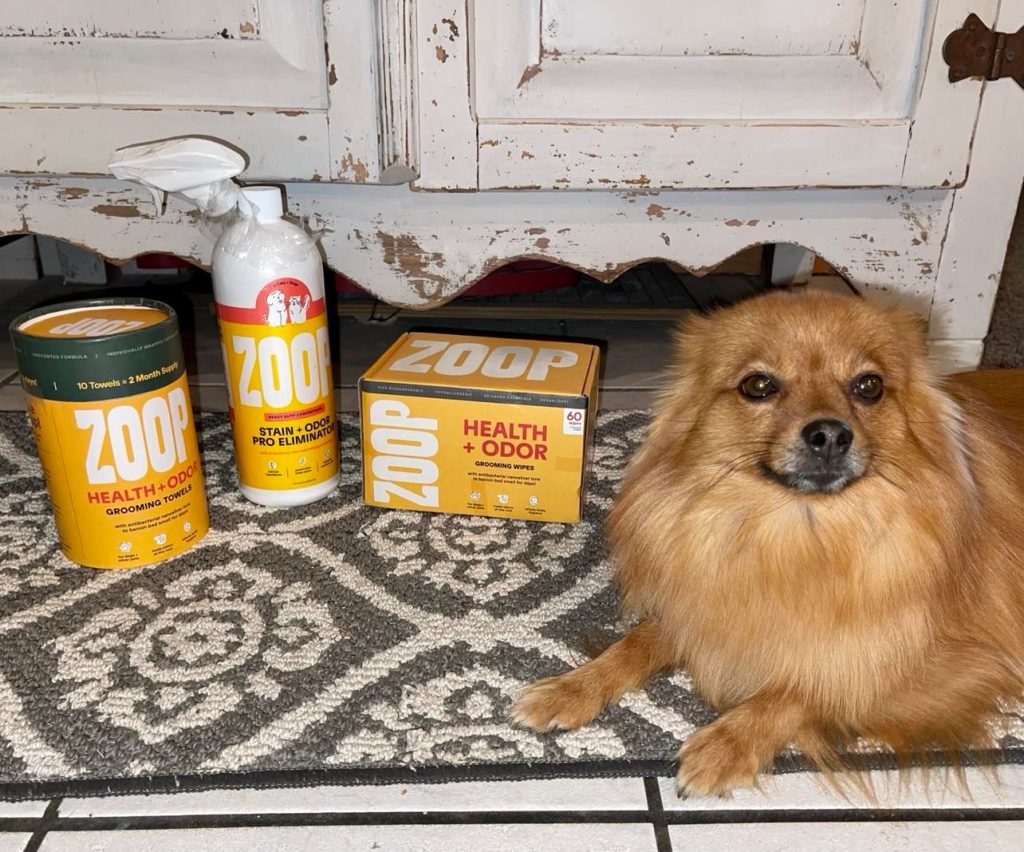 Daisy sure loves to be kept clean! With the Zoop products, I can tell Daisy feels extra pampered! We received the following products from Zoop:
*Zoop Health + Odor Grooming Wipes
*Health + Odor Grooming Towels
*Enzyme-Powered Natural Stain and Odor Pro Eliminator
I don't always have the time to bathe Daisy, so having the Zoop wipes and towels, I can keep Daisy clean in between bathing. Have a stink-free healthy skinned pet, forever, when using once every 6 days. Zoop Health + Odor Grooming Wipes eliminate the main cause of bad body odor and many other skin problems. These are so easy to use and Daisy looks clean and smells fresh all the time now!
The wipes retail for $14.99 and the towels retail for $14.99!
The Enzyme-Powered Natural Stain and Odor Pro Eliminator are great to have on hand in case Miss Daisy has an accident in the house. She is usually REALLY good about not having any accidents, but of course, there will always be a time when she does and that is where this spray comes into play! No more stains and bad odors where Miss Daisy left her dog food results… 😉
The spray retails for $14.99.
Bundle Of Dreams Dog Bed!
Miss Daisy is all about comfort and when she gets a new product that makes her comfy and warm she will tell the world about it! She received the Bundle Of Dreams Dog Bed and she is in doggy heaven! Look how HAPPY she looks in the picture and video below!! That will tell you EVERYTHING about this dog bed!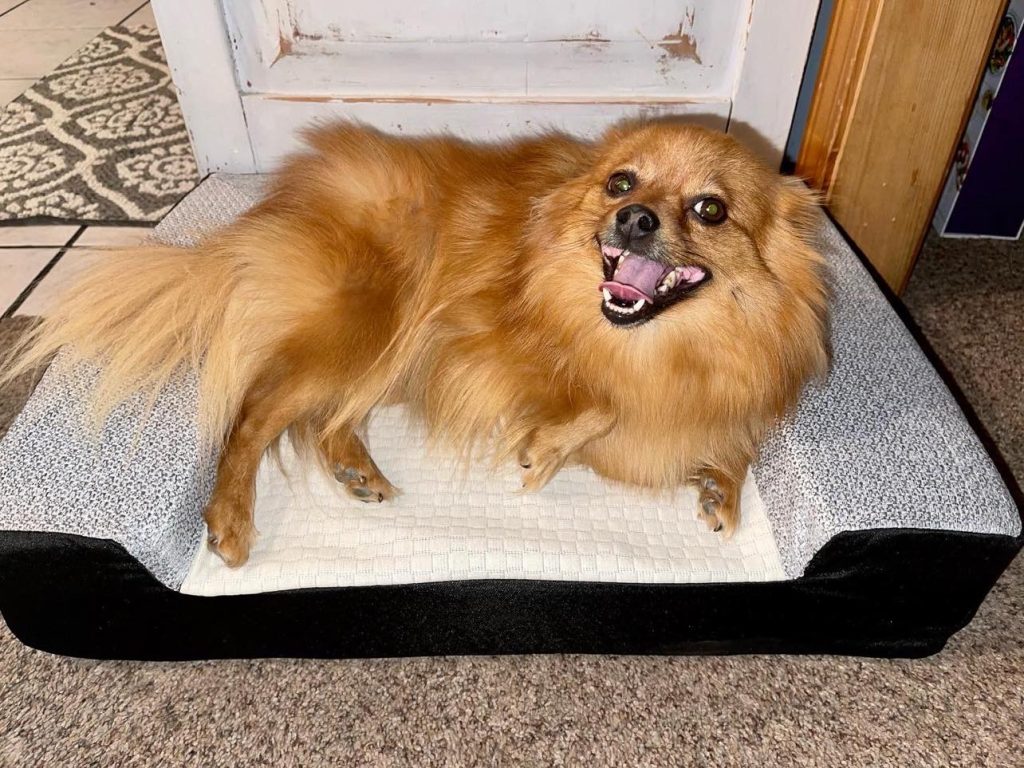 She is SO happy! Ever since receiving this dog bed, Daisy has slept in this every night so far. She goes right to it and is jealous if one of the cats do near it! She will bark and bark until the cats run away from it. It is so funny to see! Check out this cute video of Daisy and her dog bed, below:
This dog bed is made from Bundle Fiber and is a 100% breathable dog bed that has an Organic Cotton sleep surface that is water and stain-resistant. The cover is also removable and washable. This dog bed is a size small and retails for $89.99.
Aquapaw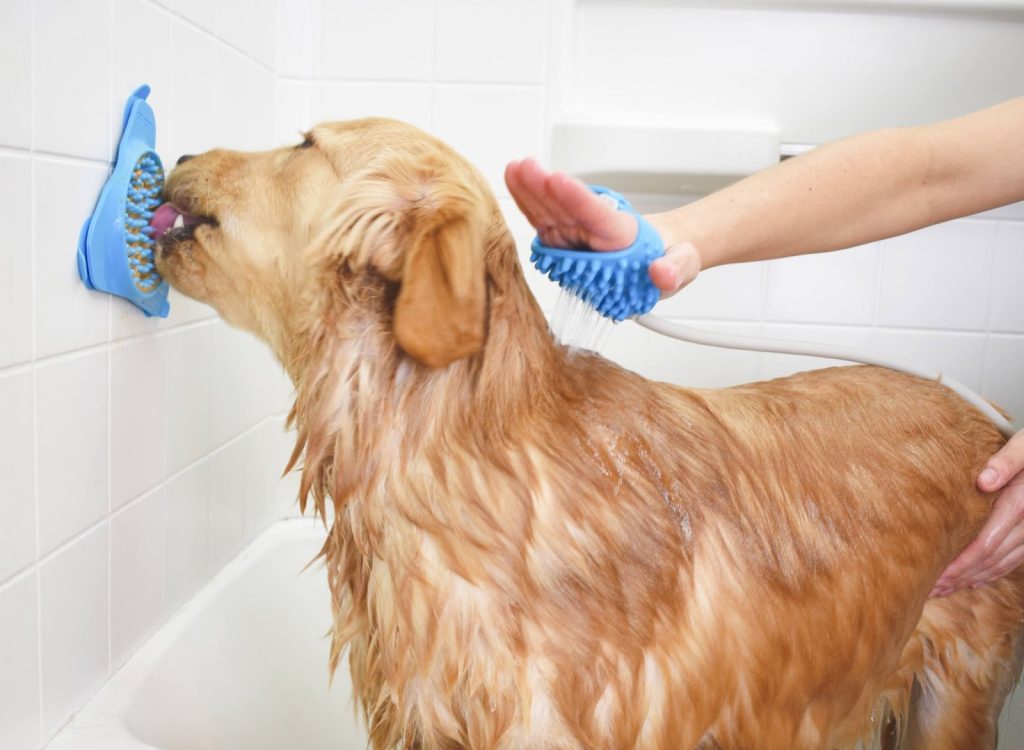 Reinvent how you bathe your pets from the animal's perspective, serving thousands of happy pets (and pet owners!) worldwide. Aquapaw is the world's first wearable combination sprayer scrubber that can be turned on and off by simply making a fist. Stay in total control over your pet and the flow of water during the entire bathing process. One-size-fits-all design straps quickly and easily to either left or right hands. It includes adapters to connect to either your shower or garden hose!
Price: $24.95+
Treatibles Hard Chews Extra Strength Sweet Potato Flavor 10 mg CBD for dogs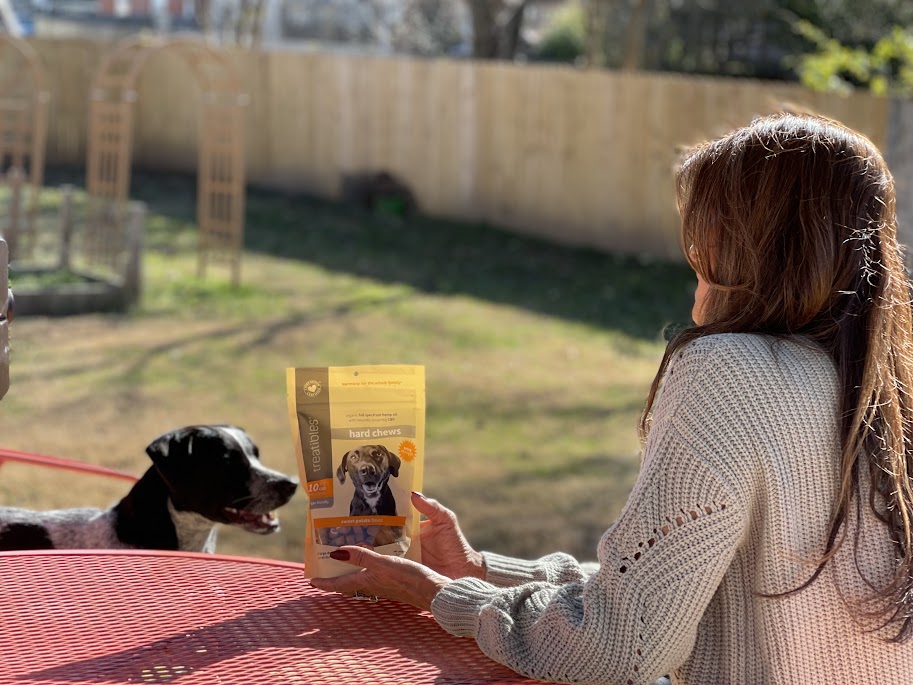 Extra Strength Hard Chews are ideal for any size dog experiencing discomfort or stress and needing extra support. The powerful combination of 10 mg of Organic Full Spectrum Hemp CBD extract and turmeric is delivered with the sweet potato flavor dogs love.
Price: $10.00-$45.00
Tips On How You Can Spoil Your Doggy!
We all love our dogs and want to give them the best life possible. Here are some tips on how to really spoil your dog and make them feel loved.
*First, always make sure they have plenty of food and water. They should never go hungry or thirsty. (DUH!! but some people NEED to know this, unfortunately!)
*Second, give them lots of attention and affection. Dogs love nothing more than being with their humans, so spend as much time as you can with them.
*Third, provide them with a comfortable place to sleep and relax. This could be a nice bed, a soft blanket, or even your own bed!
*Fourth, take them on fun outings and adventures. Dogs love exploring new places, so take them on walks, hikes, and to the dog park.
*Fifth, give them regular baths and grooming sessions. This will help to keep their coat healthy and prevent mats and tangles. By following these tips, you will be sure to spoil your dog rotten!
I hope you enjoyed my post about How To Spoil Your Dog! Now, onto a fun giveaway! Yay!!
Giveaway Time!
One lucky person is going to win the Zoop odor pro-eliminator spray! Yay! No more stinky carpets or rugs, couches, etc!! Woot!
Rules
The contest is open to US 18+. The giveaway will end on October 31, 2022, at 11:59 PM MT. The winner will have 48 hours to confirm their win after I email them, or a new winner will be chosen. I am not responsible for lost or stolen mail.