*Update: Just wanted to let you all know that now I am not so sure about my Literati eReader. It is acting up a tiny bit and it is very frustrating to me. For one, it is pretty slow when I load ebooks, the page turn buttons work, but not all the time and I just get frustrated with it lately. That is all for now, but I just wanted to update on my continued use with this device*
I really love reading my books and fashion magazines. What I don't like is waiting for them to come in the mail or having to go to a store and purchase one! Especially this time of year when the lines are LONG, I just don't feel like waiting for my magazine or book! I was excited to learn about the Literati eReader and to be able to try it out for myself!! Woohoo!
Literati eReader by The Sharper Image Review!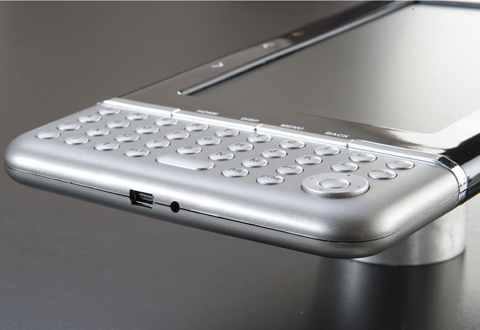 I received the Literati eReader by The Sharper Image. The first thing I noticed about it was that it is a pretty nice size! I was thinking that it would be a lot smaller then it was, and that reading it might be difficult, but no! The screen is a nice size and so is the Literati eReader! I love that you can make the text larger or smaller, depending on how you need it to be. I also like that it has a little keyboard towards the bottom of it. Easy to use and not small so that I have to retype.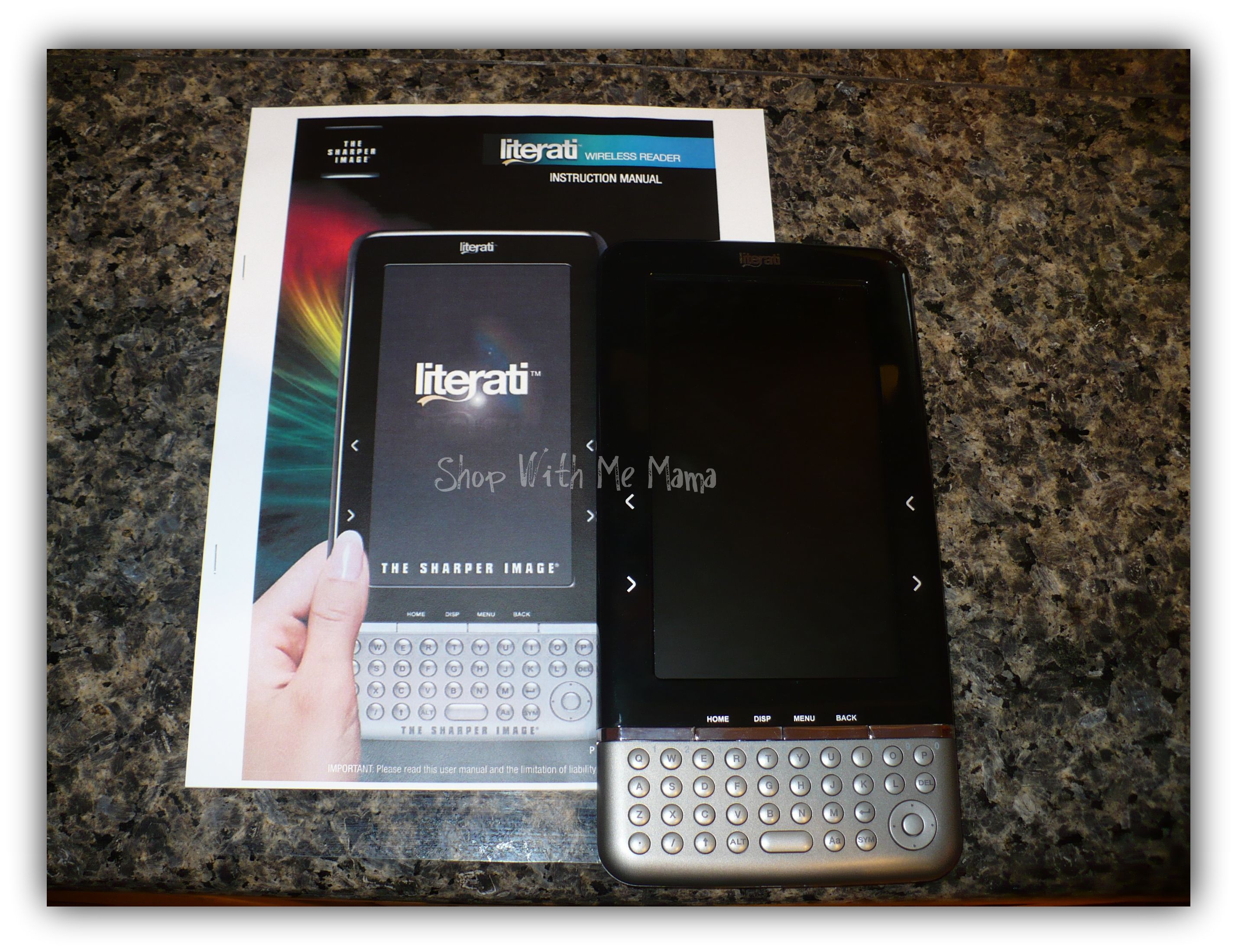 Some Awesome Features of the Literati eReader:
· Features a 7" backlit color LCD screen
· Comes pre-loaded with 25 classics and includes a special coupon code for automatically loading another 125 pre-selected free titles directly into the Literati user's account
· Has a built-in connection to Kobo, a global eReading service with access to nearly 2 million titles (1.8 million of them free)
· Has a list price currently set at $159 (which will likely drop as we approach the holiday season and Black Friday)- making it a great holiday item for the teens heading off to college or frequent travelers on your holiday shopping list
———————————————————————————————————————————————-
LOVE the Cookbooks with Fabulous Recipes I can get on here!!!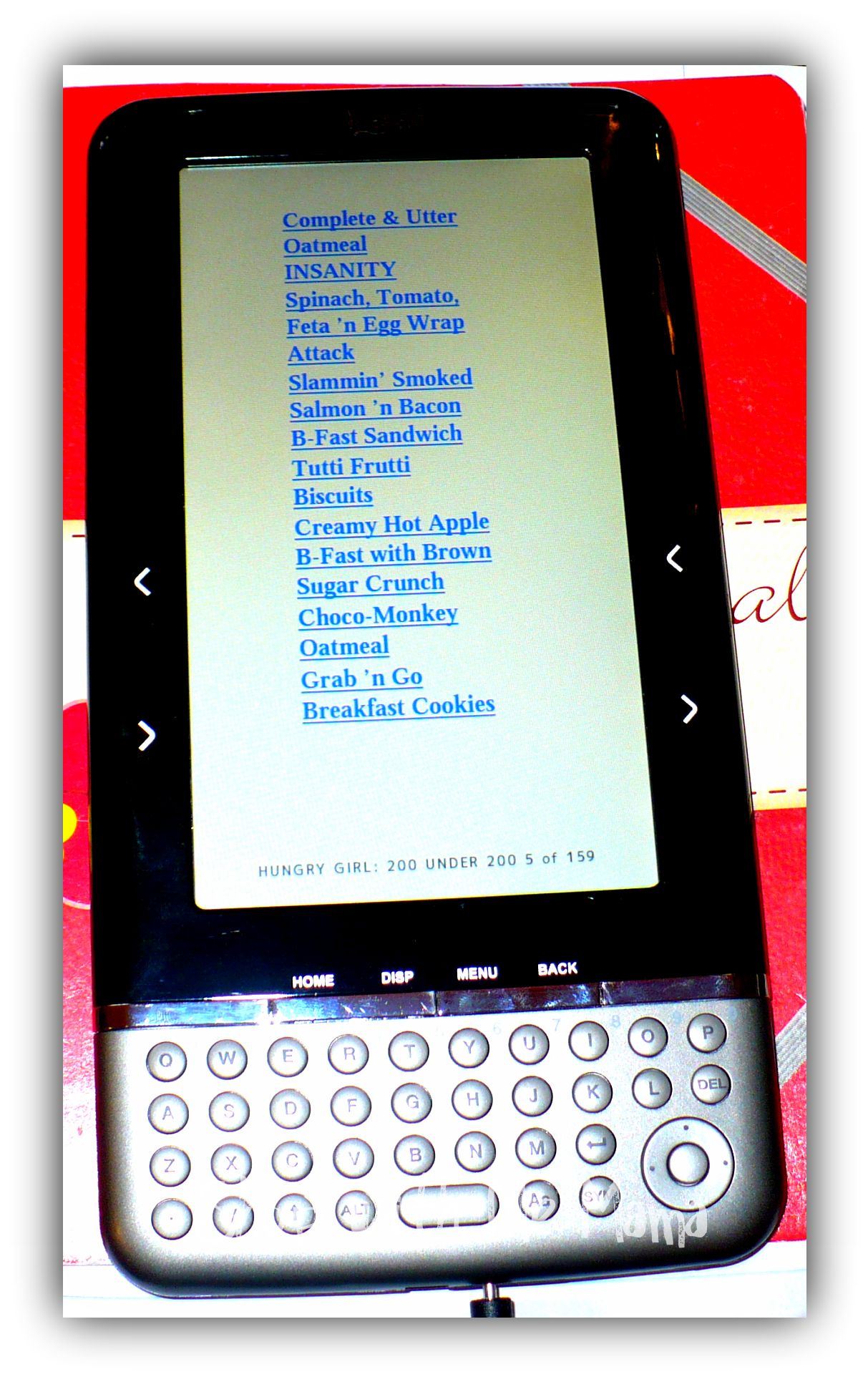 I find it very easy to navigate the Literati eReader and find what I am looking for. Purchasing a book can take as little as one minute to do!! The color screen is much better on my eyes, I think. Now, when me, my hubby and kids go somewhere, and my hubby takes too long, I can just pull out my Literati eReader and scroll through what I want to read, and I am one happy Mama! I also love that it has children's books on it, so my kids can read a book with me! Using and reading the Literati is as easy as taking a book off the shelf and opening it up! Really, it is.

The Literati eReader is from The Sharper Image. It has a built-in bookstore, which gives you access to more than 2 million books, magazines!!! An SD card slot allows users to add storage (up to 8GB), so store away all your favorite books and magazines!!
And, ongoing updates and new features will regularly be added, so you will always have the latest stuff for your Literati eReader!! The Literati brings great flexibility to the reading experience. Not only can the Literati store hundreds of titles, but it also lets users enjoy those titles on their laptop, smartphone, and desktop computer!
You have to charge the battery for several hours, before use. I think mine charged for 2.5 hours before I used it, couldn't wait! The battery lasted for me, for about 4.5 hours before I had to recharge it (wish it lasted longer).
I love that I can dim the page or lighten the page to my preference. I also love the fact that when I have to put down my eReader, it will bookmark that page for me so that when I want to read again, it is in the same place for me! So many great features, but I am just getting started. There is so much more to learn and so much more features I want to play around with.
So far I don't notice anything I dislike about the Literati eReader, as I have only had it for a few days. But, so far everything is good. I will let you all know if that changes. I have read that some people (Zippy, from Champagne Living), did have problems with a key sticking, which would make it hard to order books, and someone else said that it was a bit sluggish at times, so I wanted to mention that to you…
I do want to get a screen cover for it, as I don't want me (or the kids) scratching up the screen. But all in all, this is one very nice and entertaining eReader! Oh, and I do wish the price was a lot lower, that might be some factor for people, such as myself.
Shop
You can purchase the Literati eReader online at Amazon.
Disclosure:
"I wrote this review while participating in a blog tour campaign by Mom Central on behalf of The Sharper Image and received a Literati eReader to facilitate my review." This post includes my affiliate link.