You post one recipe about bacon and it goes viral. No kidding. What is it with Bacon
and people? I swear I have not met one person who dislikes Bacon
! So funny! Anyways, I saw this delicious recipe on another blogger's site and HAD to make this for my own family. It is Meatloaf Wrapped In Bacon
and oh my goodness it is GOOD. I will NEVER make meatloaf without it, ever again!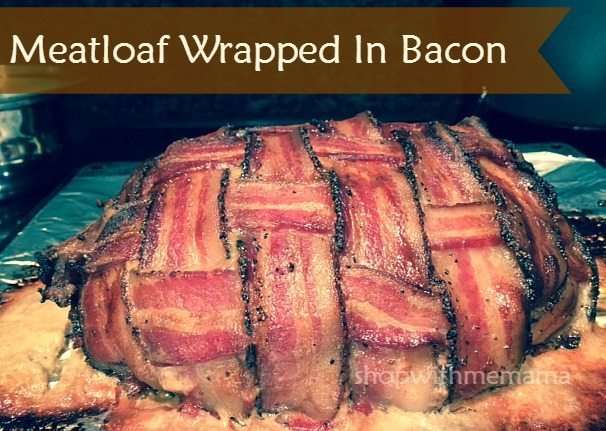 The Recipe (I changed it up a bit for my and my family's liking, you can too!)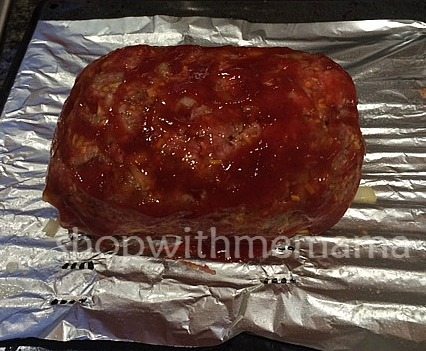 Meatloaf Wrapped In Bacon
This meatloaf is so good you will never make it without bacon again, promise!
Author: Kim Delatorre
Serves: 10
Ingredients
1 package of bacon (I used ½ regular bacon and ½ peppered bacon)
Ground Meat 1.5 lbs
2 slices of bread, cut up into small bits
salt and pepper to taste
garlic powder to taste
2 eggs
1 medium onion, chopped
1 teaspoon thyme
3 teaspoons of Worcestershire sauce
For Glaze:
1 teaspoon chili powder
1 cup of ketchup
3 teaspoons of prepared mustard
2 teaspoons (or more) of white vinegar (I used rice vinegar and worked fine)
3-4 tablespoons of brown sugar (just taste and see what you prefer)
Steps to make Meatloaf Wrapped In Bacon:
For Meatloaf:
In a large bowl add:
Ground Meat
eggs
slices of bread cut up
salt & pepper (to taste)
Garlic Powder (to taste)
medium onion, chopped
teaspoon thyme
Worcestershire sauce
Mix all together with your hands (squish it up good!!)
Take ground meat out of the bowl and form it into a loaf and put it on a wire rack, covered with tin foil.
Weave the bacon on a cutting board and set it aside
How To Make The Glaze:
In a small bowl mix the following together:
Ketchup
Chili Powder (optional)
prepared mustard
white vinegar or rice vinegar
brown sugar
Pour ½ the glaze mixture over the meatloaf
carefully pick up the weaved bacon and set it on top of the glaze/meatloaf
Tuck the bacon under the meatloaf to secure
Put in oven at 350 for 1 hour and 20 mins, uncovered
About 10 minutes before the meatloaf is done, take it out and add the remaining glaze to the top of the bacon weave
Put back in the oven on BROIL for 2-5 minutes, watching carefully!
Take out of the oven and let sit for about 15 minutes then serve!!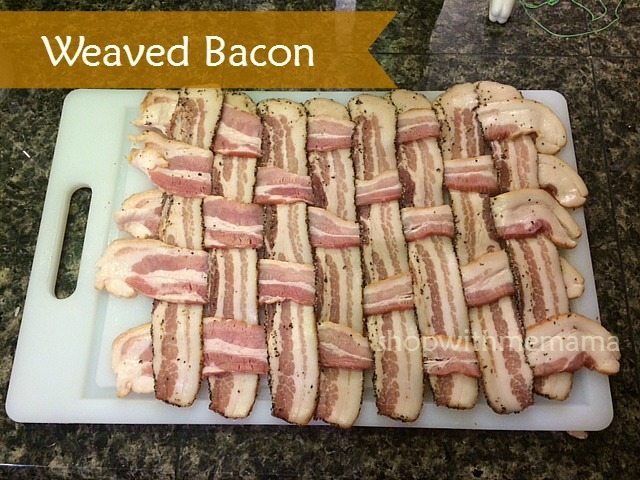 Please let me know if you make it and take pictures to show me your Meatloaf Wrapped In Bacon!!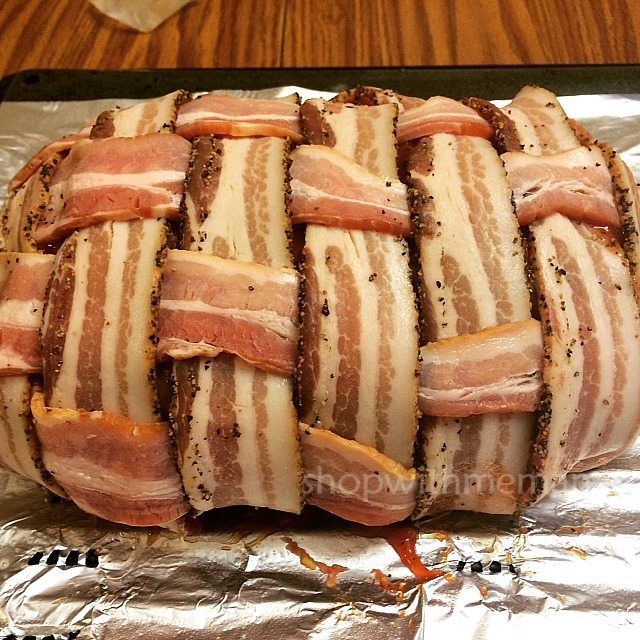 Because I broiled this for the last 4 minutes or so, the bacon was crisp and really good! So, I highly recommend broiling it!!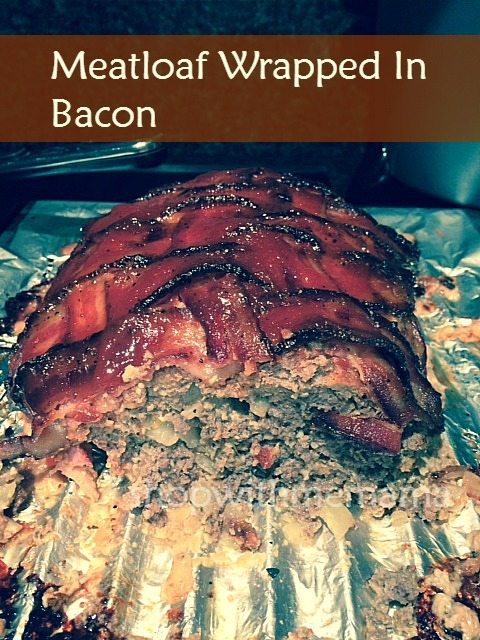 Have You Ever Made Meatloaf Wrapped In Bacon?