Congrats to Darlene Carbajal
*Product was received. Opinions are my own.

Since we cannot afford a new mattress right this moment, having soft sheets will have to do it for us. My hubby cannot stand flannel sheets, yet I adore them. So, we have to meet in the middle. It is hard to find sheets that we both like and feel comfortable sleeping on.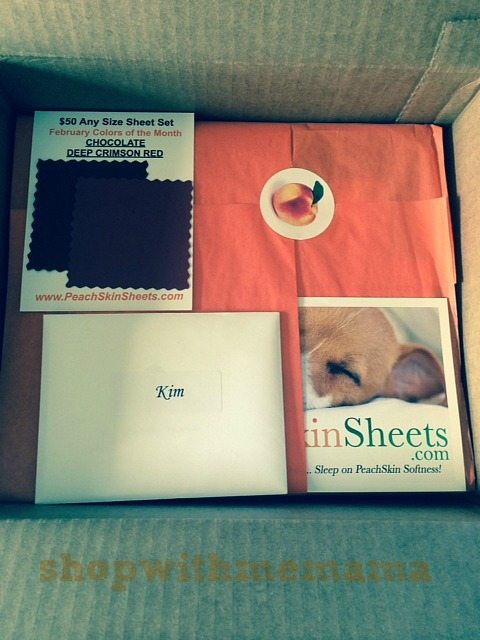 Me and my hubby have never heard of PeachSkinSheets before. I wanted to learn more about them because they were said to be sheets that are as soft as peach skin. If that were true, that would be nice, right?
I was sent a black set of sheets to check out with hubby. What I loved about their packaging was the little peach on the zipper with their name. That was really cute. I love little details like that. Also, when I opened up the package (the initial mailing package), they had some swatches so I could check out their other sheets (colors, etc), a cute peach sticker on the peach colored tissue paper (oh! would if it also was scented like a peach?) and a little pamphlet talking about the sheets. All of this was so well put together, I just adored it!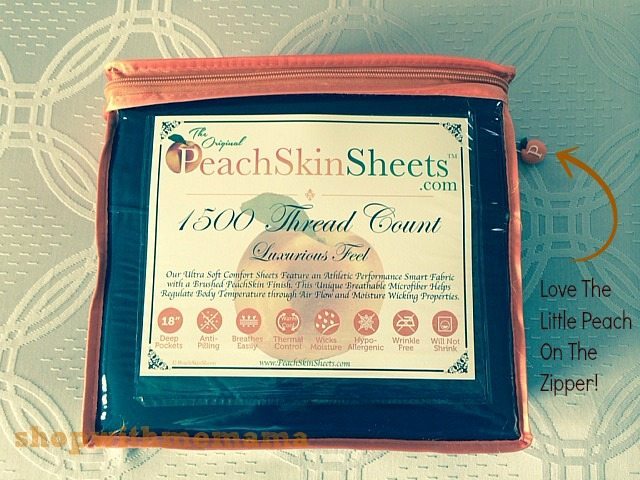 Once the package was opened and I actually was able to feel the sheets, I knew me and hubby would like them. They are very soft and comfortable feeling. We have a Cali King sized bed and finding sheets to fit our big bed, is often times, difficult to do. They sheets will pull off on the corners and it drives me and hubs NUTS. I was hoping that these sheets would not do that and they don't!
PeachSkinSheets have deep pockets that allow them to stay put on mattresses like ours. They have 18″ deep pockets with elastic all around. They will fit memory foam, custom number and double pillow top mattresses up to 22-24″. Isn't that fantastic?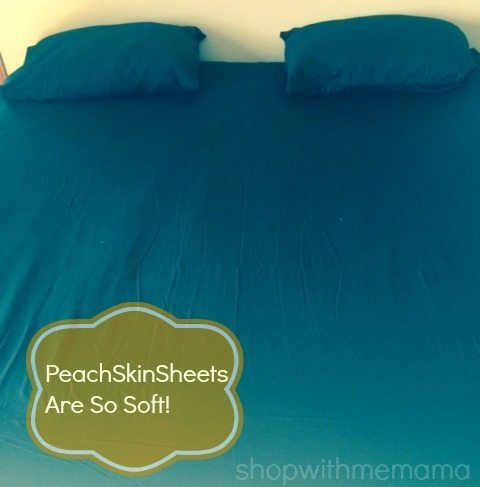 Our first nights sleep was awesome. The comfort of these are absolutely like none other I have ever felt. They are SUPER thin, yet strong, luxurious and  soft. It almost feels like the top sheet is not on me when in fact it IS on me. Just total comfort that is the only way I can explain it.
I also wanted to mention that these sheets are not supposed to pill up on you. They won't get little balls all over them after they are washed or slept on for a bit. I am very excited about that, because when that happens to our other sheets, we just don't use them anymore because we can't stand the feeling. With these, if that is true, we will be having one very comfortable bed for a while!
Another thing I liked, was that you can put these on your bed right after you pull them out of the packaging. No weird scents or stiffness at all. Like other sheets, where you must wash them first, before putting on your bed, with PeachSkinSheets, you simply pull them from the packaging and put them on your bed! Love that!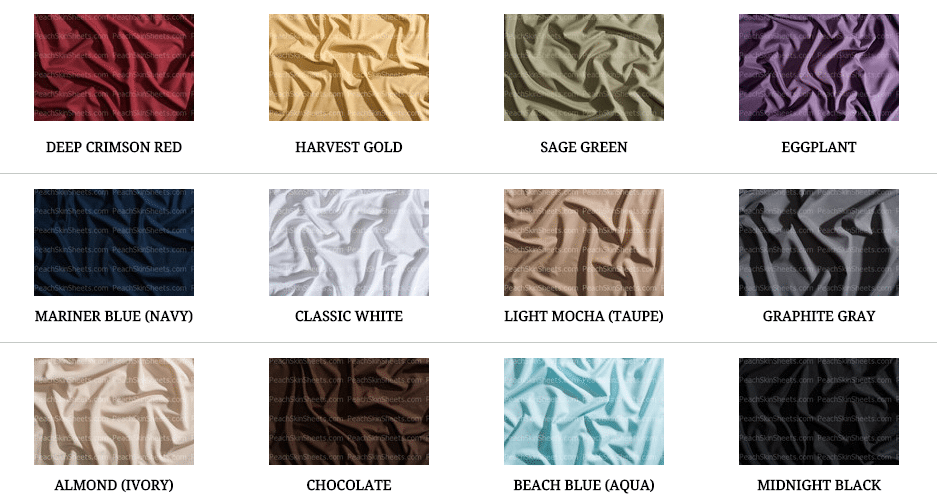 More Features I Like Are:
They are Hypoallergenic and Great for Allergies, Sensitive Skin, Eczema (all of which we do have)
Anti-Slip, Non-Sateen Finish Means Softness Without Slipping or Sliding Off Your Bed
50% More Breathable than Most Fabrics Including Cotton. Advanced Poly Microfibers Breathe Like Workout Clothes to Keep You Comfortable All Night
Perfect for Night Sweats…Athletic Grade Performance Fabric Wicks Away Moisture Rather than Just Absorbing Like Cotton (I sweat lots at night, so this was nice to find out)
Stain Resistant and Lightweight
No Shrinkage Means No Fighting Down The Road with Your Fitted Sheet to Make it Fit
Pet Hair Does Not "Weave" Itself into Fabric, and High Performance Yarns Offer Better Protection Against Claws
There are truly so many great things about these sheets, I cannot name them all. If you buy some, you will see what I mean.
Always A Deal Going On!
They always have at least 2 Colors of the Month priced at $50 for any size set, and their regular sale price is $69.95 for any size set.  So, you can always get these soft sheets for a great price no matter what day! PeachSkinSheets also has a free swatch program that you should check out!
Buy
You can purchase PeachSkinSheets online at http://www.peachskinsheets.com/. See prices mentioned above.
Win!
One lucky person is going to win a set of PeachSkinSheets in their choice of color and size! Yay!
How?
Easy! Just use the Rafflecopter form below! Please wait for the widget to load if you do not see it right away. Good luck to you!
Rules:
Contest is open to US 18+. Giveaway will end on March 12, 2015 at 12 am PST. Winner will have 48 hours to confirm their win, after I email them, or a new winner will be chosen. Sponsor is responsible for sending out prizes. I am not responsible for lost or stolen mail. Sponsor is responsible for shipping out the prize.