I always needed a Standing Laptop Desk with USB Plugs And Cup Holder! I don't have a home office and when I work, I am on my bed with my laptop on my lap! My neck has suffered because I am always looking down and typing. Some days are really bad! I am sure some of you can relate. I was searching for a good-standing laptop desk that I could use instead of just staring down at my laptop and injuring my neck further.
I finally found a good one and it arrived a couple of days ago. I can use this standing laptop desk on a counter or desk or I can just use it over my legs when I am sitting on my bed or couch. Now, my dang neck doesn't have to suffer anymore.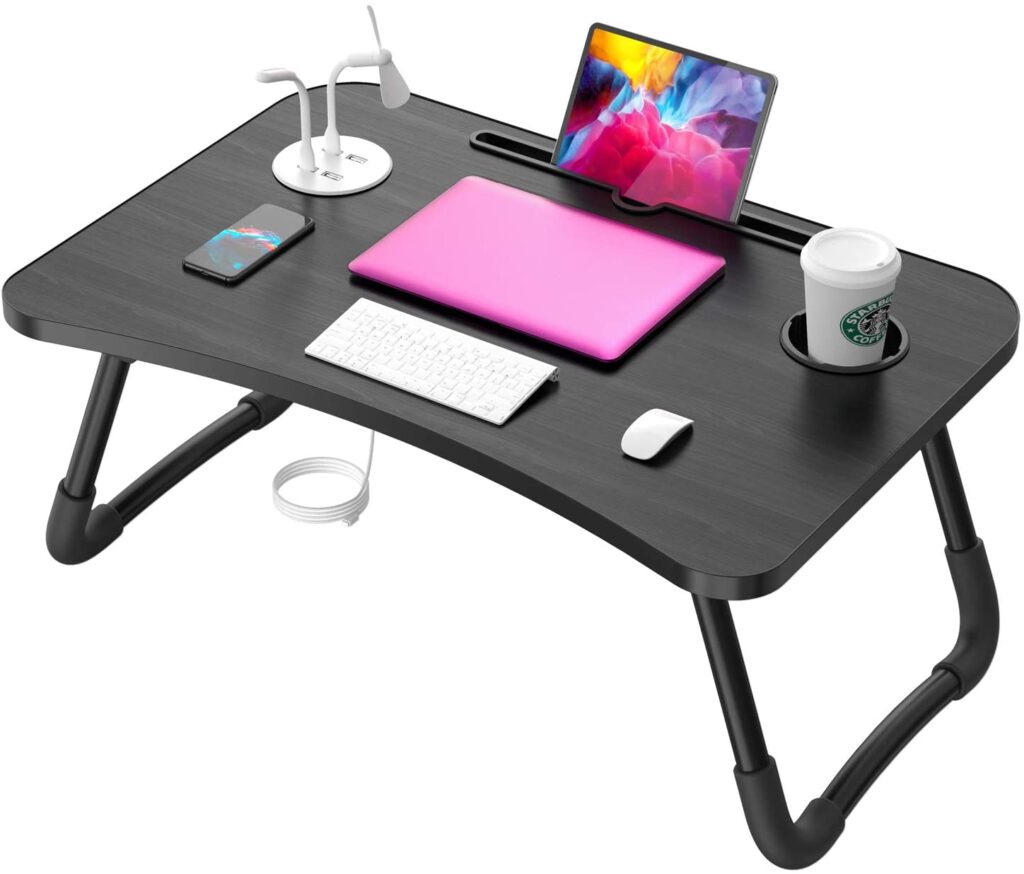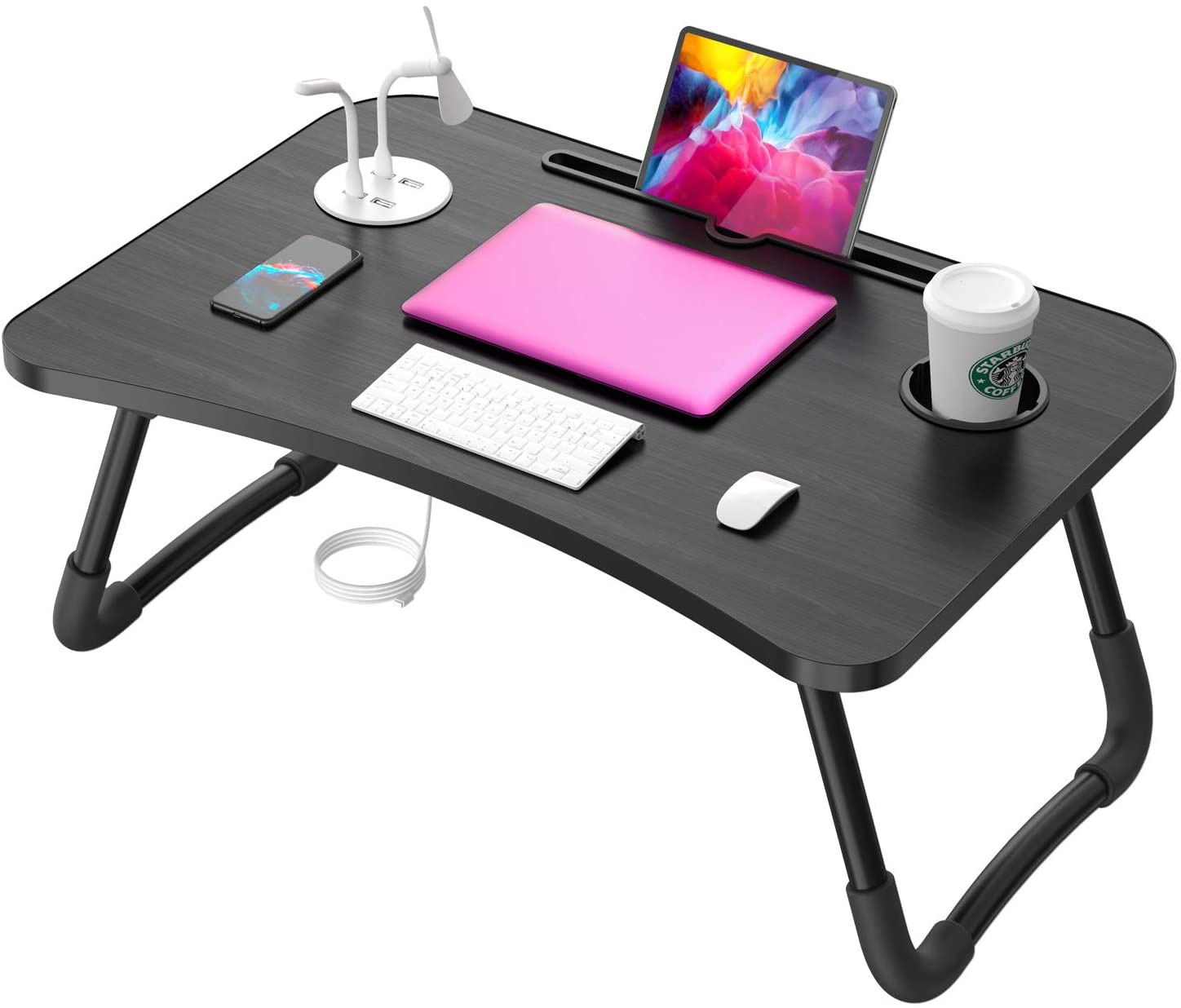 The standing laptop desk I got also has USB hookups and a cup holder, and it has a long slot towards the front of the desk, where you can easily put a tablet or phone so you don't have to hold it up! This is really a great laptop desk.
It is a little wobbly when being used on the bed only because beds are cushy and soft. I don't mind it though because it is so much better than what I used to have! However, it is VERY sturdy when used on a countertop or table.
*This post includes my Amazon affiliate links
Standing Laptop Desk with USB Plugs And Cup Holder
This can also be brought on trips with you so you can have a desk with you when you are on the go. I love this portable table because you can also use it for food when you don't feel good and someone has to bring you a meal, use it as a drawing or writing table, or use it to read books! Plus, it also comes with a little light for nighttime work AND a cute little fan to help keep you cool during those hot summer days and nights.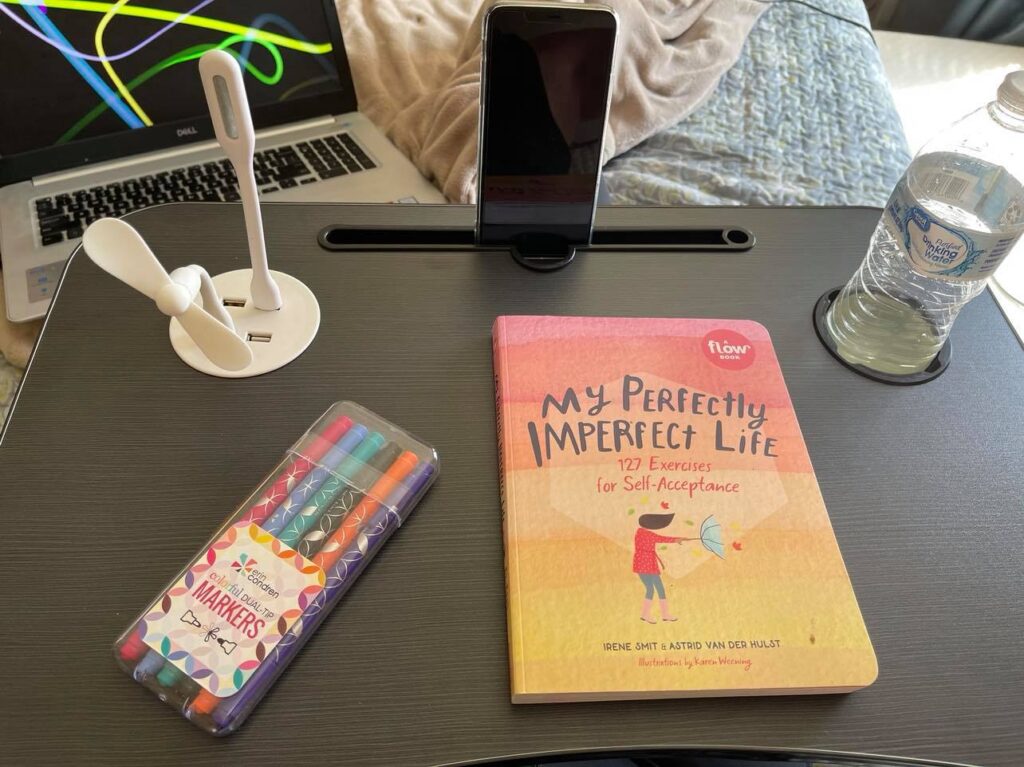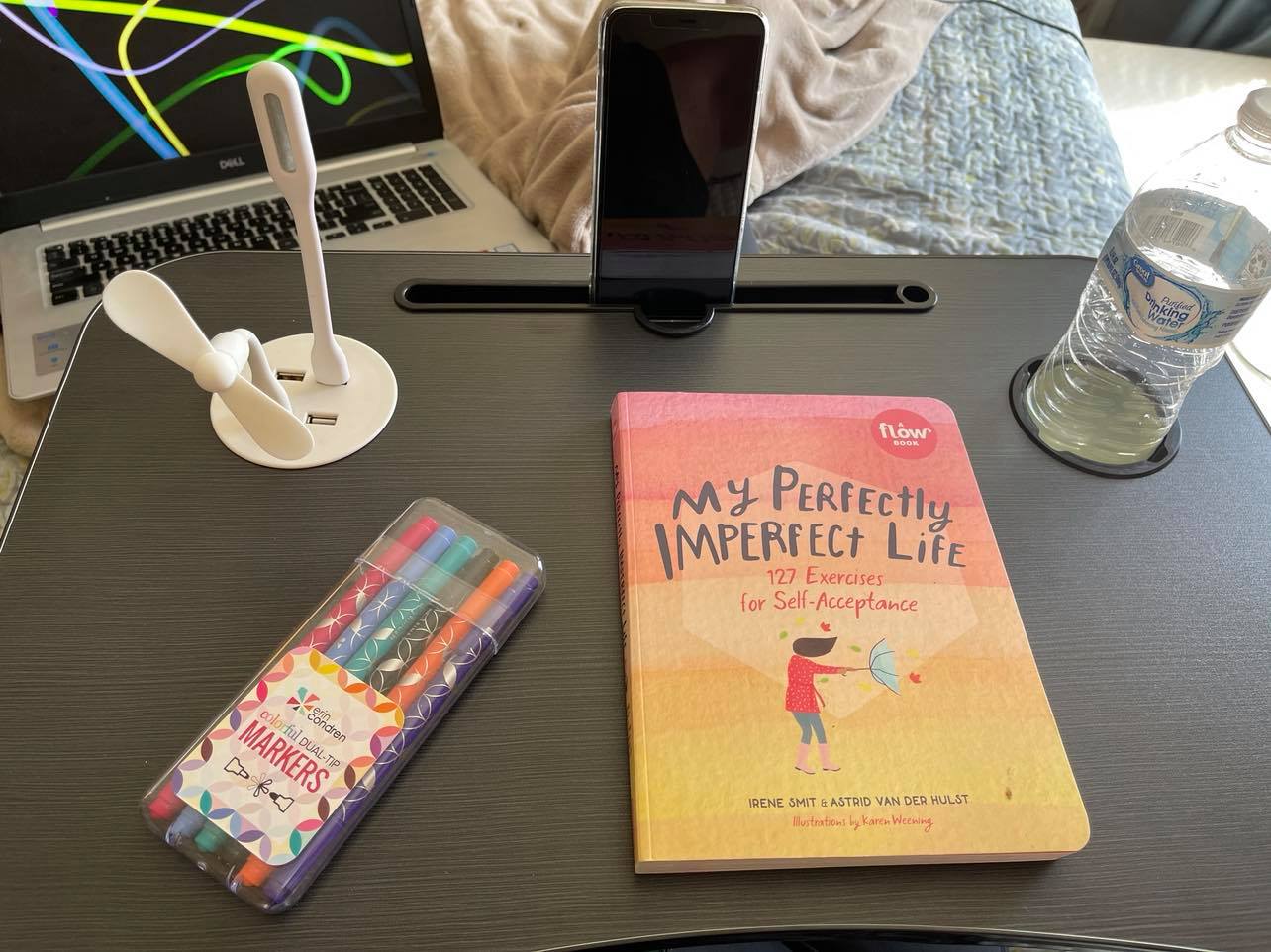 Homeschooling
I know many kids are still not back in a regular classroom, so this desk would be perfect for a child during their online learning. It is sturdy and is great to have when your child isn't feeling well or doesn't want to sit at a table. Do school work from their bed! Why not!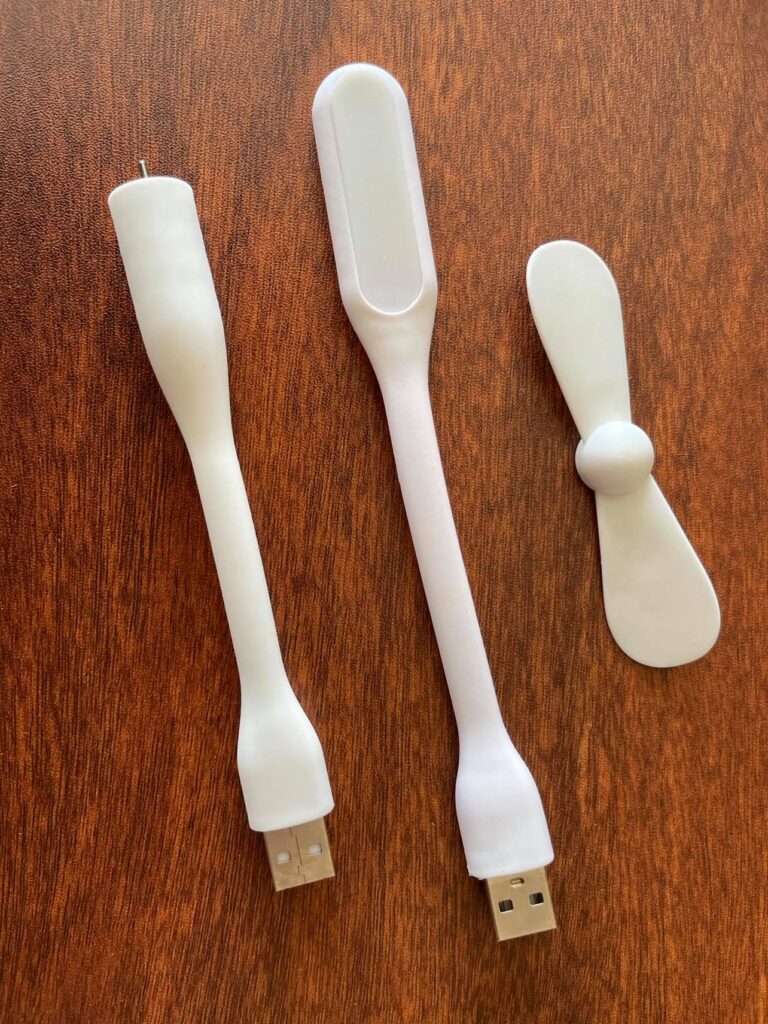 More Features Worth Mentioning Are…
This is certainly a clever folding desk! You can also fold up the portable desk legs and have the desk just sit on your lap or it can be put on a flat service.
It is lightweight and not super heavy. You can easily use the USB slots to charge your laptop, cellphone, or tablet too.
The table edges are wrapped and smooth so there are no sharp corners. The user-friendly handguard design fits your arms comfortably.
This laptop table standing is measured at 23.6″(L)x15.7″(W)x10.8″(H), It is perfectly suitable for a notebook of 17 inches and below, and there is ample space for stretching your feet under the table. It has no problem bearing 88lb! So it is tough!
I love how sturdy it is and how much better my neck feels after using it for a full day. At night, I oftentimes have to ice my neck, but hopefully, this will help my neck and I won't have to ice it so much anymore. We shall see!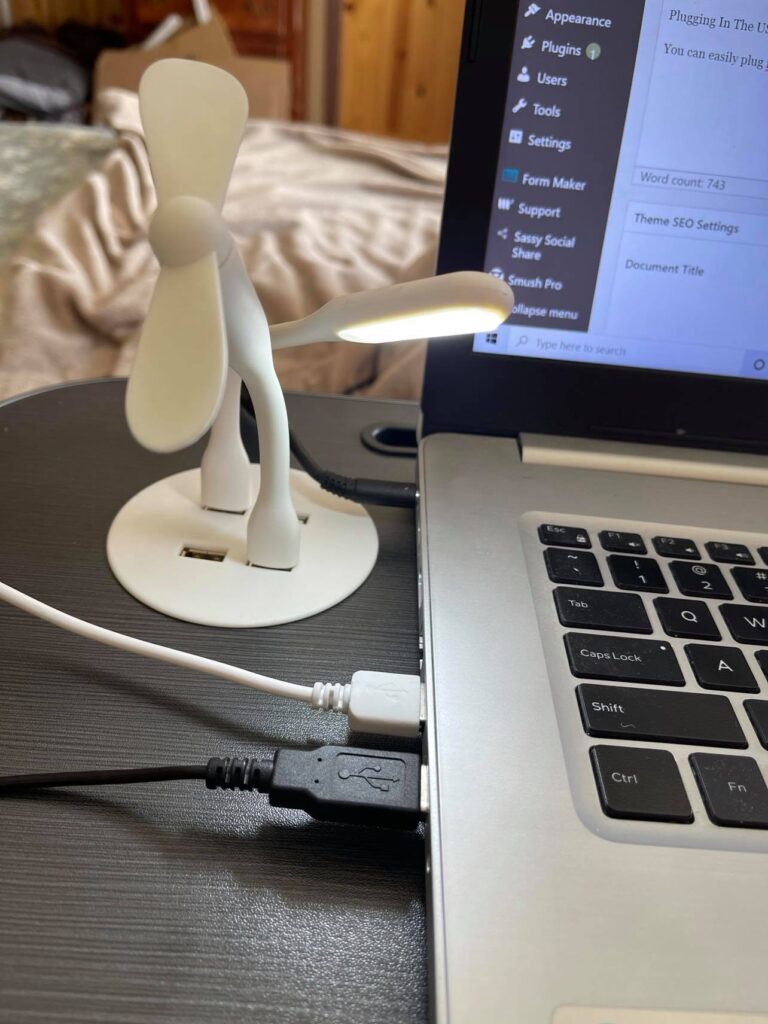 This Elekin Laptop Bed Table Portable Laptop Desk with Cup Holder and USB outlet for Bed, Floor, and Sofa is my new BFF. What did I do without this?! My goodness, I love it.
Why Use A Portable Table?
Below are only a few reasons why you should use a portable table:
Use a laptop on the bed -this table provides a firm base for you while writing, reading a book, or working on your laptop
As Couch Desk–this table is perfect for a snack tray while binge-watching TV, or working on your laptop from the couch
Laptop table on the floor–You can watch movies and nibble on snacks with your family
Stand desk for work–Prolonged sitting can make you sore. It is good to get up and stretch once in a while and standing is good for you
This Table helps you to be more productive, it's a fun and easy way to get more done on your laptop every day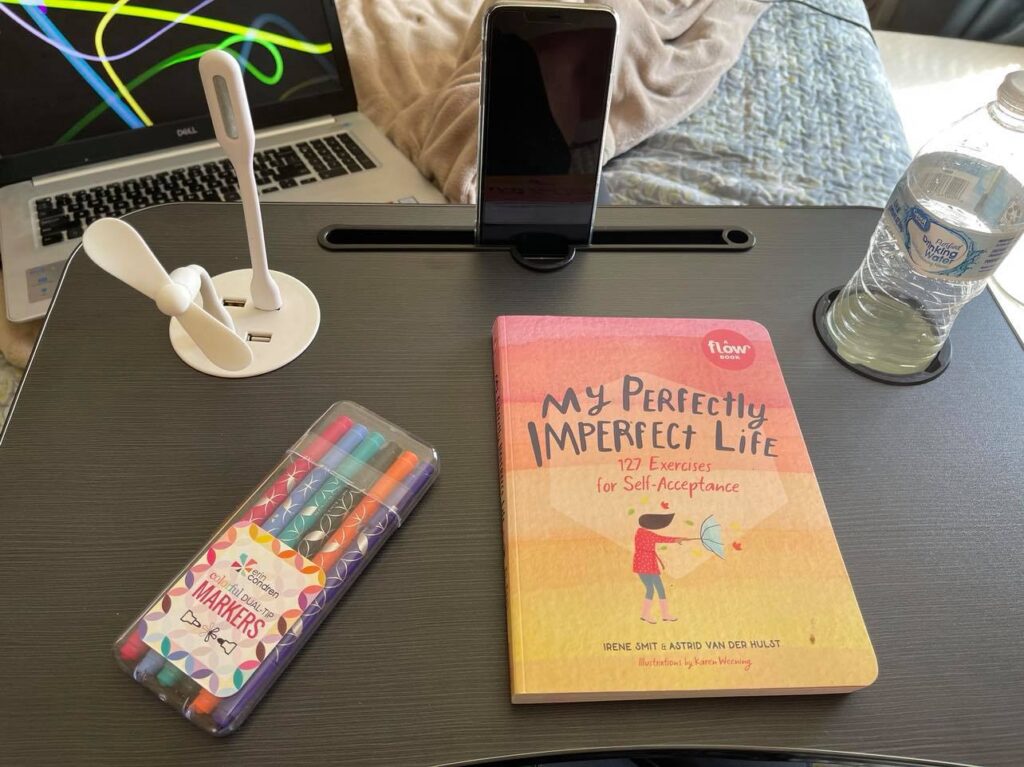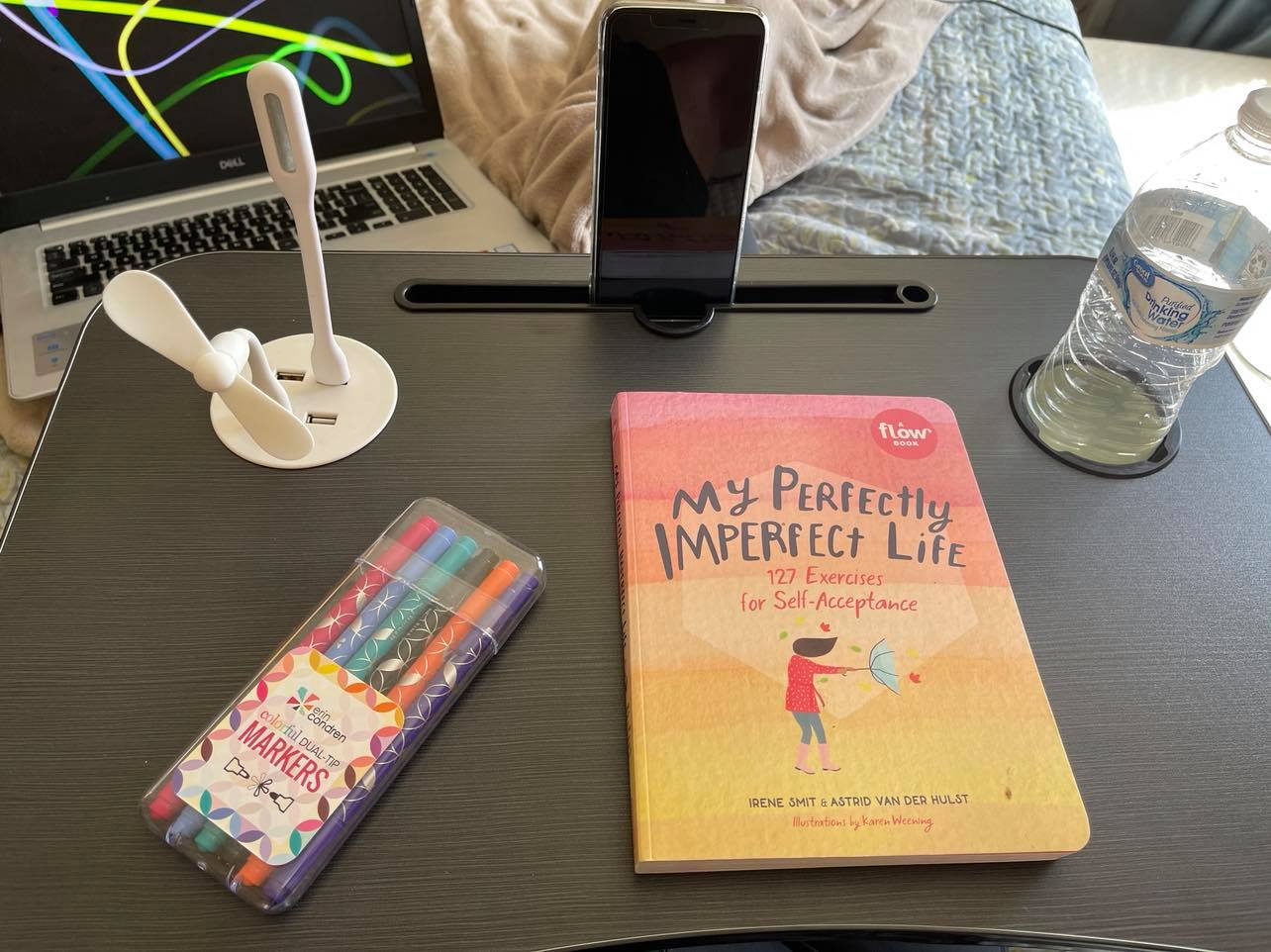 Desk Specifications:
Compatible: Up to 17″ Laptop
Material: MDF + Aluminum Alloy + Silicone Gel
Tabletop Dimension: 23.6″ x 15.7″ x 0.47″ (600 x 400 x 12 mm)
Table stand height: 10.8 inches (275 mm)
Net weight: 2.65 kg
I have a big laptop and this desk holds my laptop with no issues. However, since my laptop is on the bigger side, when I am using my laptop I cannot use the USB charging outlets because my laptop covers them. But, that is okay with me!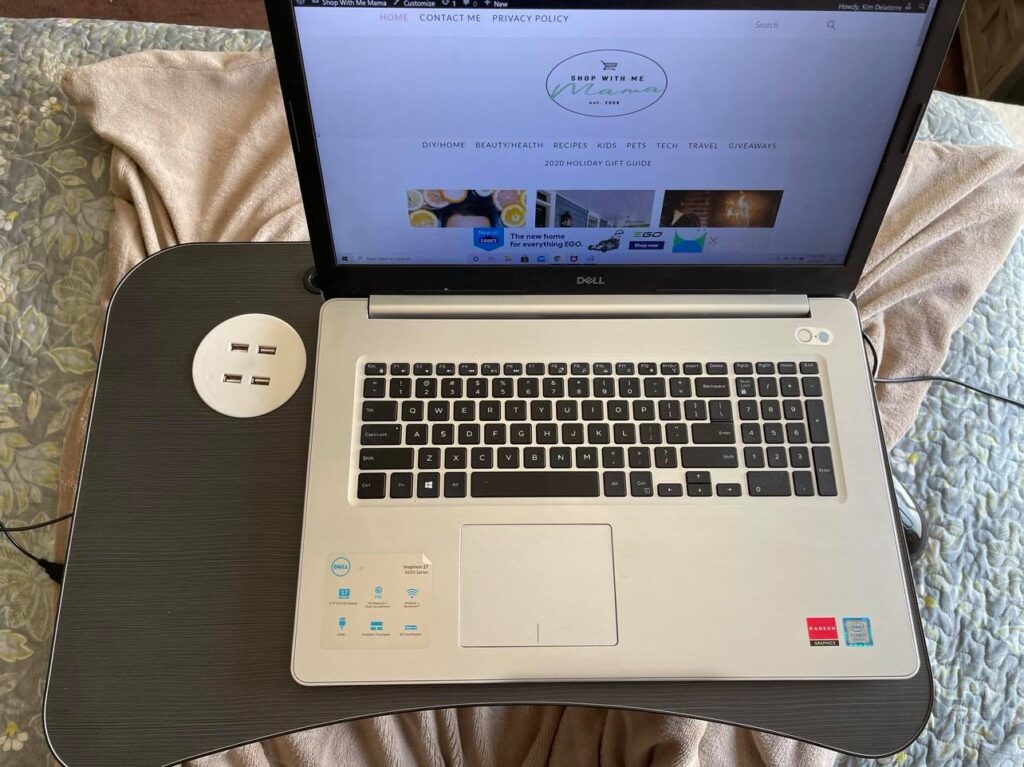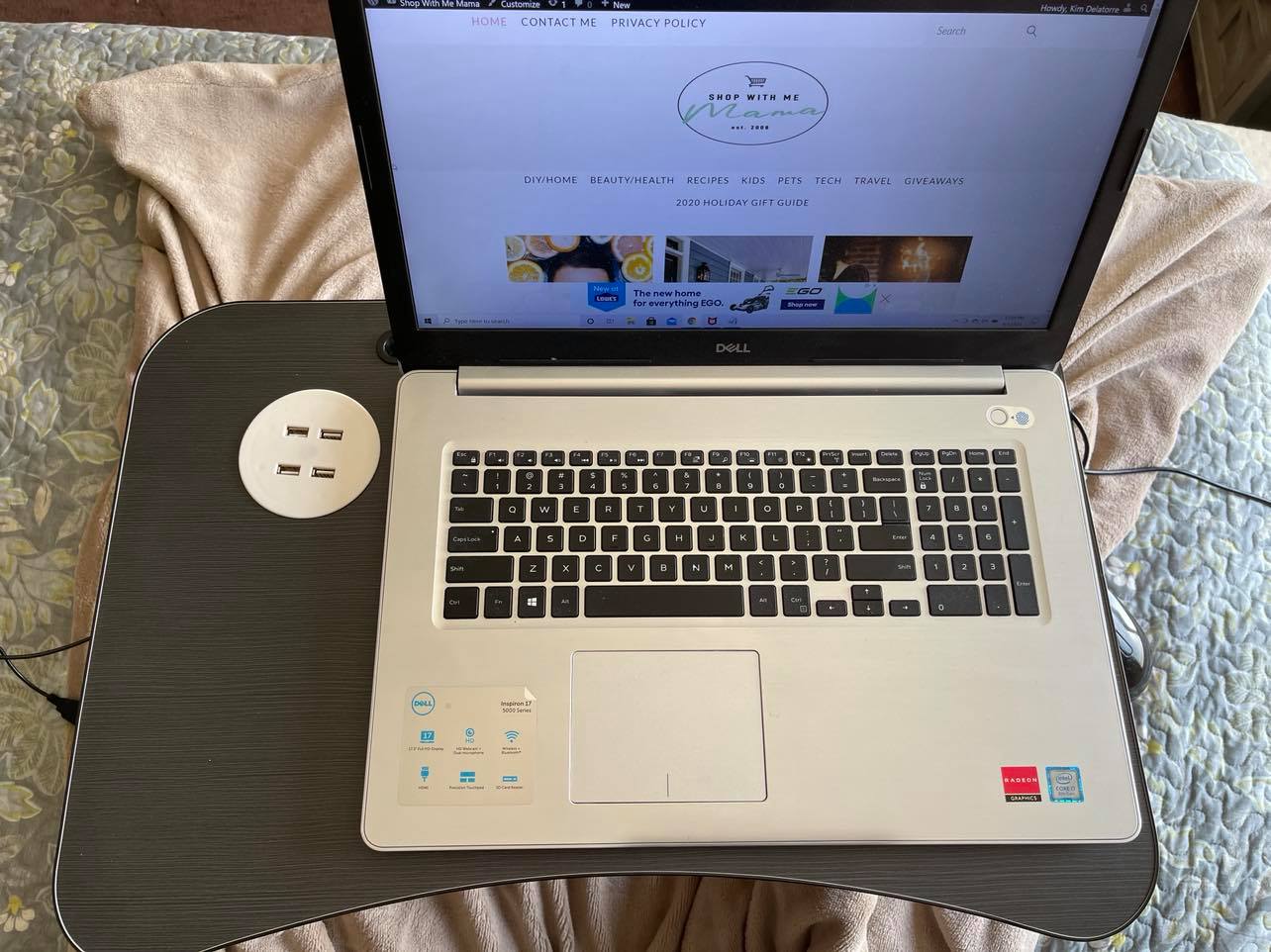 The USB outlets allow you to charge your Android or iPhone quickly and easily. I think it is a great feature that they added because you can never have too many USB outlets, right?!
Plugging In The USB Outlet:
You can easily plug the USB outlet cord into your laptop, tablet, or phone and have instant charging. Also, when you do plug in the cord for the desk's USB outlets (there are 4 of them!) you can then plugin the little light that it comes with and a little fan too! So neat.
Of course, you can always just plug the USB cord into a regular wall outlet too. You will just need to have the actual plugin to plug it into. I hope that makes sense!
What Comes With This Standing Laptop Desk?
It comes with a little fan that can be plugged into the USB outlet on the laptop desk. It also comes with a very bright little light that can also be plugged into the USB outlet on the portable desk.
Buy!
You can purchase this online on Amazon.com. It retails for $39.99 and if you click the little coupon box under the price, you can save an extra 10%! Gotta love those clickable coupons! It comes in black and pink.