The holiday season is upon us, and what better way to celebrate than with a cup of tea? Adagio Teas has just released their limited edition 2023 Tea Advent Calendar, and it's the perfect gift for tea drinkers.
This advent calendar is not your typical chocolate-filled calendar. Instead, it contains 24 individual servings of fresh tea leaves, with enough tea for an 8oz pot each day until Christmas morning!
You can drink a cup of tea each day as you continue to do your holiday preparations with this tea advent calendar. The teas are gluten-free, dairy-free, nut-free, and vegan, so it's a great gift option for anyone with dietary restrictions.
*This post includes my affiliate links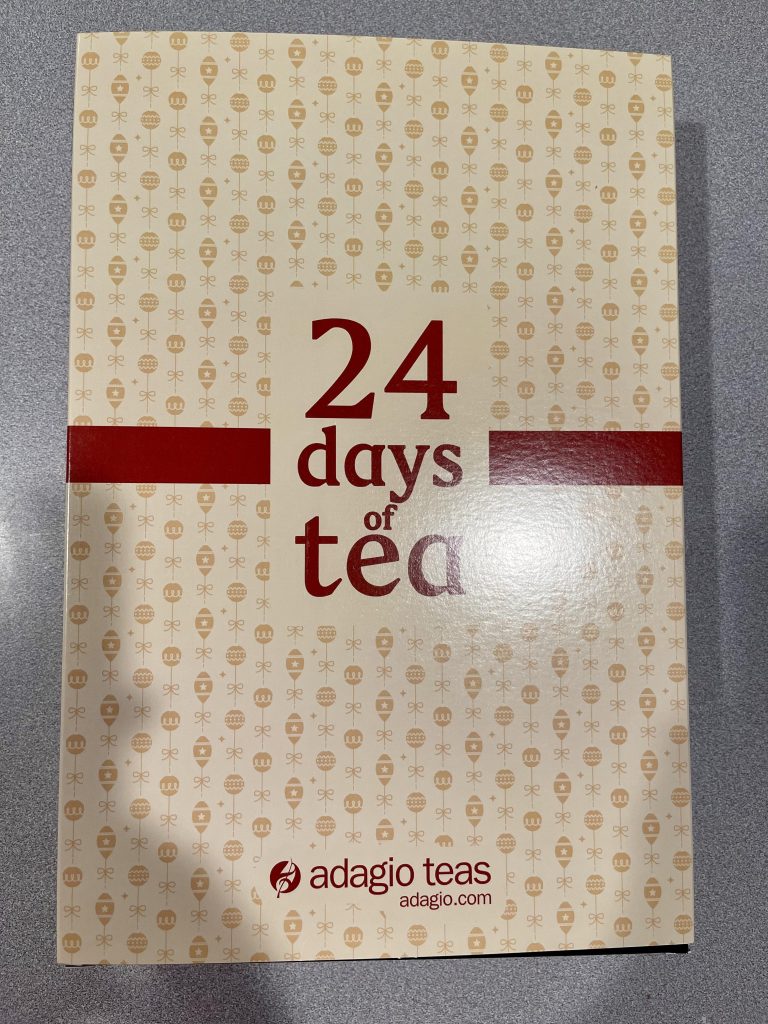 The Best Christmas Tea Advent Calendar for 2023
This is going to be a hot gift item for all you tea drinkers out there and your friends! The 2023 Tea Advent Calendar from Adagio is unique and brings you a new organic tea each day with a festive selection of new teas and blends you won't find anywhere else.
These are loose leaf teas (available in both loose leaf and tea bags) with their natural flavorings and they are ready for brewing during the most festive season of the year!
Loose teas are my favorite because you can mix them up a bit too. Or, you can use a little bit (or a lot!) at once. So, you can choose your tea potency and flavored tea blend, which I love.
This tea advent calendar for 2023 comes with various types of teas for the serious tea lover, nestled behind a little numbered door!
It has different organic herbal teas hidden and each days of Christmas (up to Christmas day!), you get delicious teas! Who could ask for more? Certainly not me!! Such a great way and the perfect way to show someone how much you adore them 🙂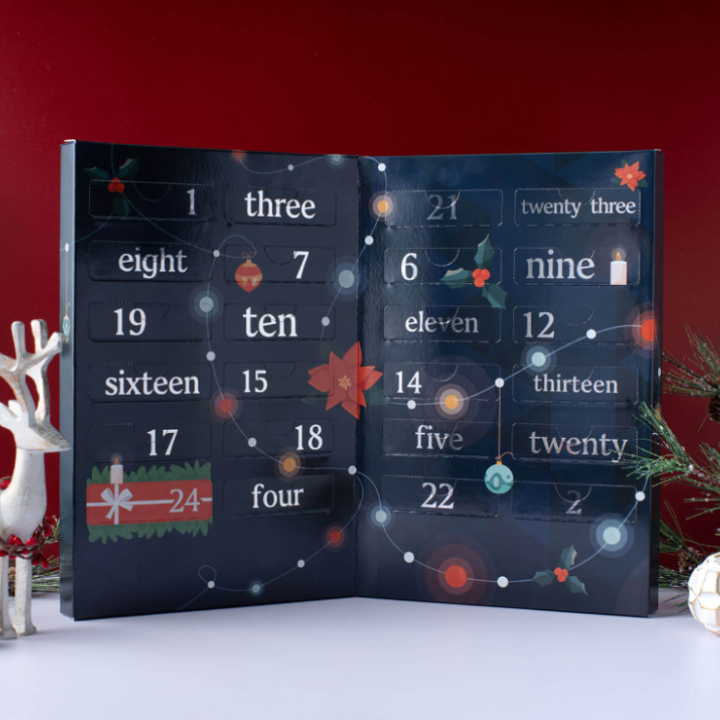 This luxury advent calendar is perfect for your tea-loving friend or loved one. It would make the perfect gift for a favorite tea lover this holiday season. The teas come in a festive tea advent calendar that is ready for gifting.
This advent calendar allows you to experience different teas and flavors each day. You will find your favorite teas and will find a new favorite tea blend too, I am sure of it! All you need is hot water and a teacup or glass mug. The type of tea you choose is up to you! Duh!
Video Of The 2023 Tea Advent Calendar
Fresh, Festive Blends Of Tea
The 2023 Advent Calendar from Adagio features a variety of festive blends and fabulous selection (picked by tea experts), such as Candy Cane, Gingerbread (like a gingerbread treat!), and Mulled Wine.
Each day, you'll get to try a new tea and discover new flavors. It's a great way to sample different teas and find new favorites (as I mentioned above!).
I was pleasantly surprised by all the varieties and flavors of teas that came in this wonderful tea advent calendar! So many variations and yummy flavors/scents!
Teas Included In The Advent Calendar
I don't want to ruin the surprise of what teas come in this unique advent calendar for tea lovers, BUT, if you really want to know what teas are nestled snuggly inside, then you can check them out HERE! Shhhhhhhhh!!!!
I can say though that these loose leaf teas have delicious herbal infusions of different teas in them like black tea, green tea, rooibos tea, ginger, hazelnut, peppermint leaves, rose petals, orange peel, etc!!!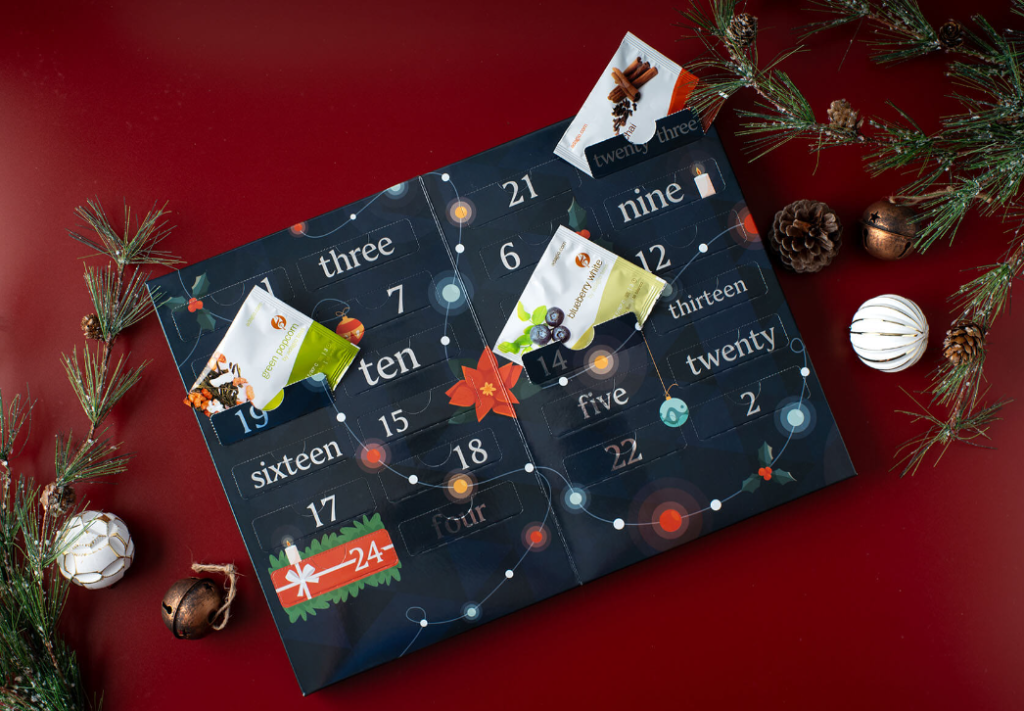 SO many different yummy blends and curated selection! You will love them all! They also have some delectable caffeine-free blends too.
One of the best things about this advent calendar is the quality of the tea. Adagio Teas is a family-owned company that sources high-quality tea from around the world. Their teas are fresh, flavorful, and aromatic, making them a great choice for any tea lover out there.
The advent calendar itself is beautifully designed (a festive design of lights and garland), with a festive box that will look great under any Christmas tree.
The box measures 8.5″ x 12.75″ x 2″, so it's easy to store and won't take up too much space on your counter or tabletop! You can even hang it up on the wall!
I think the 2023 Advent Calendar from Adagio is the perfect gift for tea drinkers. It's a fun and unique way to celebrate the upcoming holiday season, and it's a great way to try new teas and discover old favorites of herbal blends!
Whether you like hot teas or iced teas, this tea advent calendar is sure to be a huge hit with tea lovers everywhere and for people who want to try different blends of teas! So good! What a way to get into the holiday spirit! Yay! What new flavor of tea will you find in this tea advent calendar???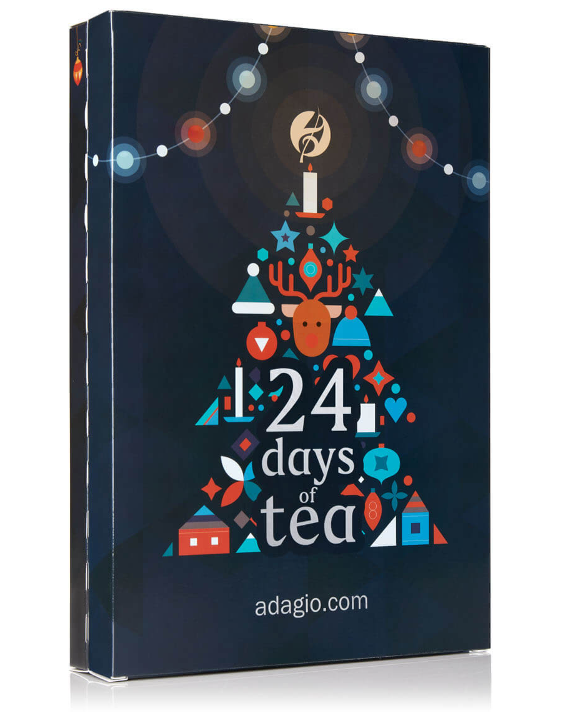 Buy
You can purchase the Christmas Advent Calendar for 2023 from Adagio on their website.
Win
One person is going to win the Christmas Advent Calendar for 2023! Yay!
Rules
The contest is open to the US, 18+. The giveaway will end on November 15, 2023, at 11:59 PM. I am not responsible for lost or stolen mail.