This post is all about The Best Plus-Sized Bathing Suits Online! If you're planning a winter vacation this year or are dreading another summer of poolside hangouts, you'll be happy to know that finding a great plus-size swimsuit doesn't have to be a chore. This time, take control of your style and shop online. If you're new to the world of online shopping, internet swimsuit retailers showcase the latest looks designed to rock your curves and make you feel great.
It can be difficult to find fashionable, affordable swimwear at a traditional department store. Instead of traveling from store to store, only to end up disappointed when the only thing in your size is the same boring black one-piece, you can search for a variety of trendy styles that are available for everybody.
Designers understand that plus-size women want to wear everything from a bikini to a sexy strapless one-piece. They aren't shy about showing off their assets and they want these styles in attention-getting prints and patterns. Plus-sized women with an hourglass figure will love how their figures look in this season's high-waisted bikini.
Best Plus-Sized Bathing Suits Online
Modeled on the classic pin-up photos of Bettie Page and Marilyn Monroe, this look is all about the timeless vintage appeal. Another popular trend is tie-dye. Look for that design in everything from halter-style tankinis to strapless one-pieces. Some even have an updated ombre color scheme.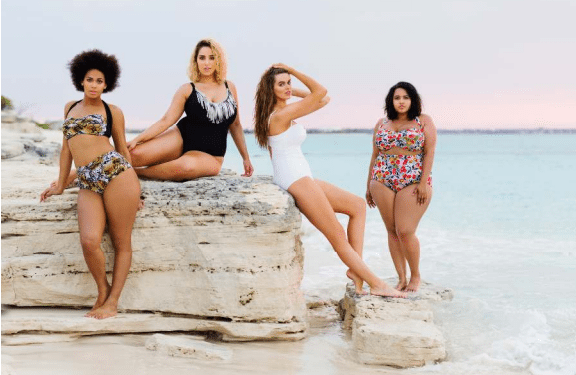 If you're apple-shaped and are self-conscious about your large stomach, play up your long legs with a high-cut one-piece swimsuit. Pear-shaped women will look spectacular in halter-top swimwear which brings the emphasis to their sexy clavicles and shoulders. They can even flirt with leopard print or tribal patterns, which are trendy this year.
Women who are more rectangular or square-shaped can bring femininity back to their figure with a ruffled skirtini. This update on the tankini offers a full-skirted bottom, giving solid figures the illusion of extra curves.
Lastly, women who don't need as much support for their chests can try a strapless bandeau bikini top. Add a pair of funky sunglasses and pastel wedge sandals, and you have an eye-catching outfit made for the beach.
Designers know that their fashion-forward clientele isn't afraid to try on daring, sexy styles. Wild looks are coming to the forefront this season. Look out for one-piece designs that flatter several body types by incorporating studs and jewels on solid-colored designs. Last season's neon trend isn't going anywhere either. Vibrant colors are easy to wear and instantly get attention.
If you're the kind of fashionista that isn't afraid of setting trends, loads of designers offer swimwear in quirky iconic prints. A high-waisted bikini with a watermelon or flamingo print is a cheeky nod to the 90s but still looks as cool today. No matter which style you like to call your own, you can find the perfect beach outfit without leaving your house. Swimsuitsforall is an online retailer that specializes in offering plus-sized swimwear with style (check out their selection at swimsuitsforall.com/plus-size-swimwear).
They make looking good and feeling confident as easy as visiting a website! You can also check out their social movement #CurvesInBikinis and join the conversation that beauty knows no bounds and can't be limited by size.
Don't be ashamed of your body, be proud! Instead, choose from a range of fabulously flattering plus-size swimwear that can conceal problem areas while playing up all your wonderful curves. When you head online to shop for beachwear, you can say goodbye to department stores for good. Your next spectacular swimsuit is just a few clicks away.