This post is all about swimsuits to hide belly pooch! Before kids, I did not have fat anywhere. I worked out ALL the time and was so dang fit! Now that I have kids, I have what you call a belly pooch. It is not big by any means, but it's there. I KNOW it's there. My swimsuits do not look the same on me anymore and so searching for swimsuits is hard because they have to fit just 'so'. I need a swimsuit to hide my belly pooch!
4 Swimsuits To Hide Belly Pooch
Swimsuits to hide belly pooch? Do they make these kinds of swimsuits? I think so! I just have to search relentlessly online to find the right swimsuit for me. There are so many different shapes and sizes which make each swimsuit so different. And so hard to choose from! Fortunately, I did find some great selections of swimsuits on Amazon.com.
In my quest to find the perfect swimsuit to hide my belly pooch, I searched these fabulous sites and found 4 suits that fit the bill! Read on to see what I found.
**Prices are current at the time of this posting, but prices and inventory are subject to change.
1. The first swimsuit I came across is this sexy swimsuit I found on Amazon! The brand is Xuan2Xuan3 (never heard of it before now, but has really good reviews…), and is a halter one-piece tankini! The black color camouflages any belly bulge you may have and helps make your midsection less noticeable. I LOVE this suit! It comes in 7 other colors if you don't prefer the black one. It retails for $22.59 (totally affordable!). Grab it HERE!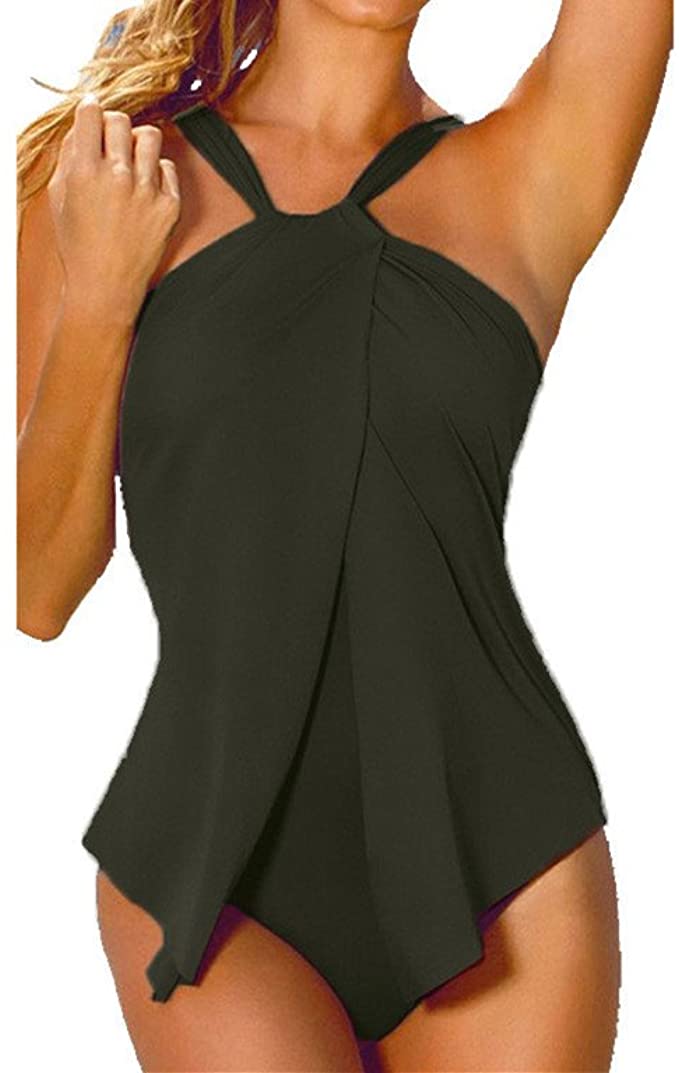 2. The second swimsuit I found to help cover a belly pooch is by Tempt Me on Amazon. I really like this swimsuit because of the vertical stripes on the top. We all know that wearing vertical stripes can be very slimming! I also love the extra high bottoms! They can hide that belly so well! The bottoms are high-waisted and have support and tummy control, yay! This stunning swimsuit retails for $31.99!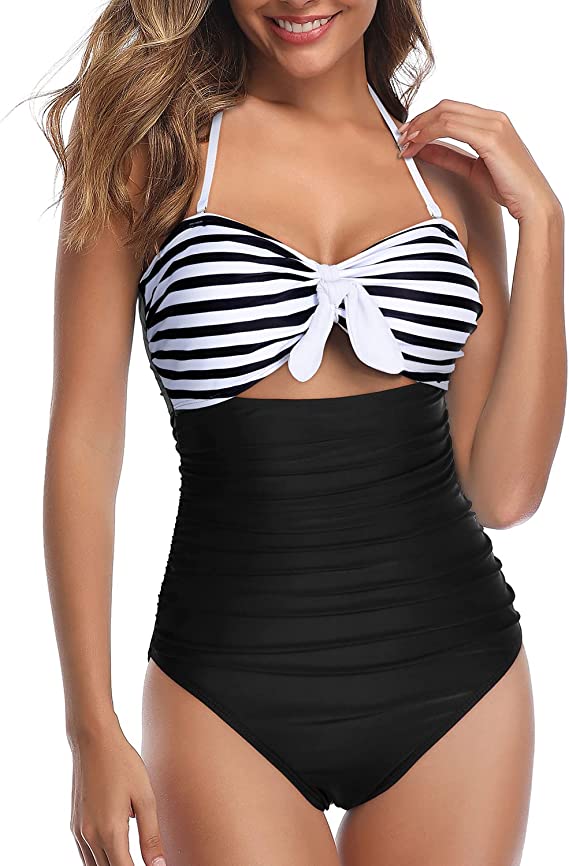 3. This Ekouaer Womens One Piece Swimsuit is SO dang CUTE! I absolutely love it! This is an Elegant Inspired Vintage Pin up Monokinis Tummy Control Swimsuit. It comes in tons of different colors and you can find it on Amazon.com. It retails for only $33.89 and you can click the coupon box for $3 off right now!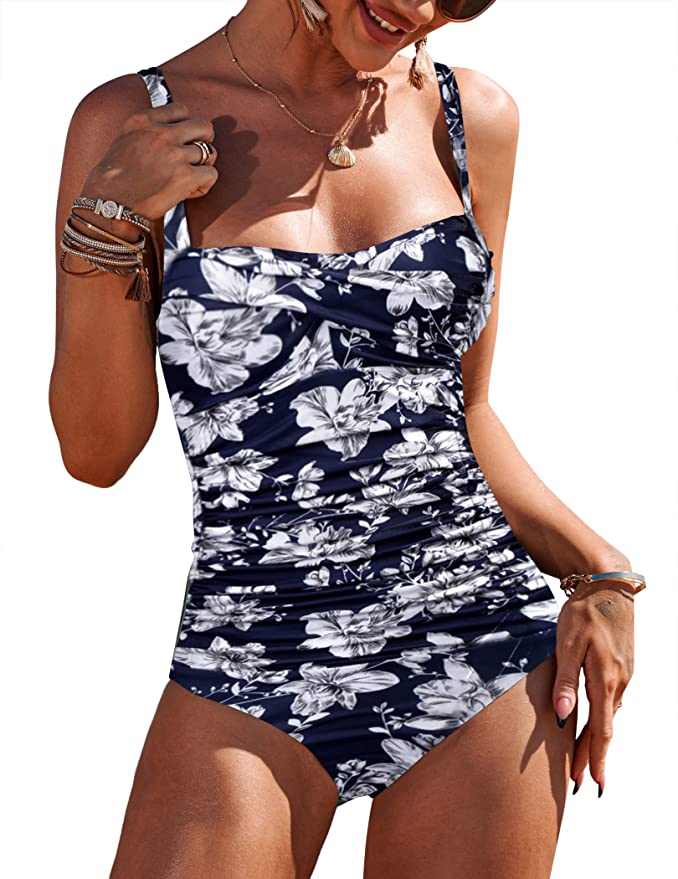 4. This swimsuit is by JomeDesign and is a Two-Piece Tankini. It is sporty and super cute! It comes in 4 different colors. It retails for only $21.99 on Amazon.com.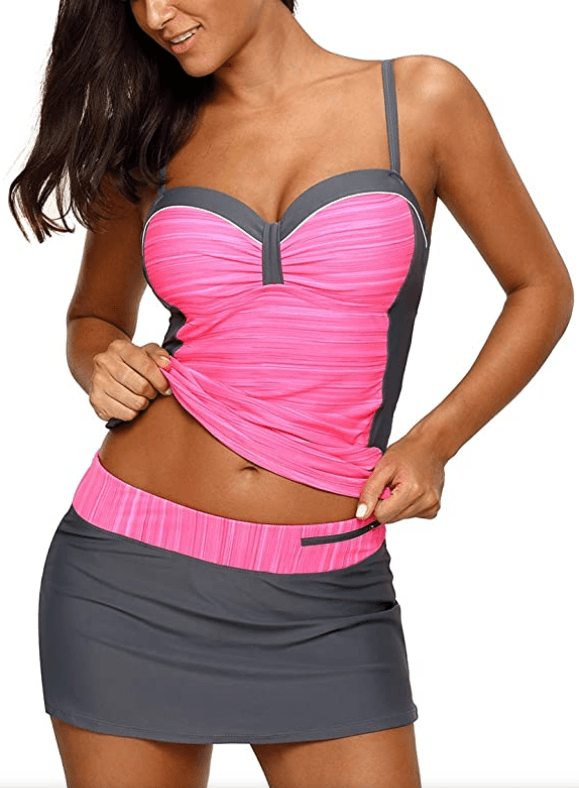 If you are looking for more help with swimsuit shopping, I have a post that gives tips on choosing the best bathing suit for your body type. Or if you need larger sizes, you can check out my post on the Best Plus-Sized Bathing Suits I am sure to have something that will make the process less stressful!
Tips On How To Get Rid Of Your Belly Pooch
If you want to do more than just hide it, you can work on getting rid of the belly pooch, too. Exercise and eating right can definitely help when it comes to getting a flat belly. These are the top 5 ways I have found to help get rid of my belly pooch:

**This is not intended to be medical advice. Please consult your physician before beginning any health or exercise program.
*Drink an apple cider vinegar drink every day. I drink this concoction once a day, at night. I put it in a small cup and drink it quickly. I have noticed my belly pooch is going down a bit more and my joints feel SO much better!
*Fasting. Intermittent fasting is actually said to be good for you. Intermittent Fasting involves alternating cycles of fasting and eating. Many people report feeling better and having more energy when eating this way. Research shows that intermittent fasting has benefits for weight loss, metabolic health, and disease prevention and may even help you live longer.
If this way of eating isn't for you, we broke down the 3 most talked-about diet trends so that you can find a way that is! Of course, this is not meant to be medical advice. Always consult your doctor when making any major changes to your diet and exercise regime.
*Go walking. This is a no-brainer, but if you can't jog or run or are just beginning your fitness journey, I recommend walking each day. You don't have to walk a mile, just do what you can and each day try to go a little further than the last. Walking is great for losing that belly pooch.
*Sit-ups are another effective way to try and get a flatter stomach. I started at just 20 sit-ups a day and now I am up to 40. I know that is not a big deal to some people, but to me, it is huge because I always feel too busy to exercise. Now I know I am making exercise a priority and I am doing something each day to get rid of my belly pooch. I feel stronger already!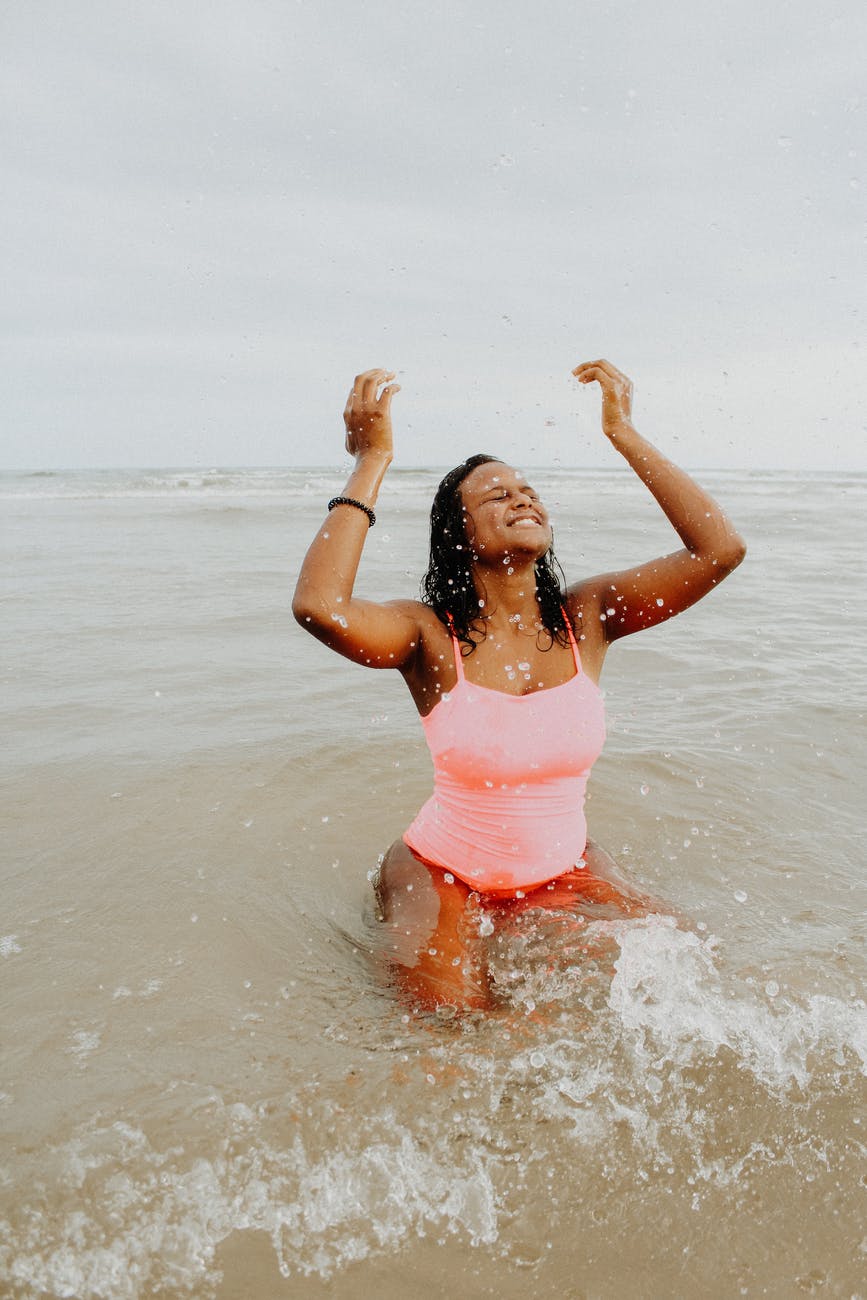 *De-stress! Stress plays a HUGE factor in not only your health but your weight too. If you are holding onto stubborn belly fat and have done everything you can to get rid of it, you may be under a lot of stress. I suggest trying yoga or doing some deep breathing exercises to help you focus and de-stress after a hard day or week.
*Workout! I started my fitness journey, in 2020 and I have not looked back. One day I just said 'Now is the time!' and I have been lifting weights and doing workouts from my favorite workout gurus on Youtube. You can read all the workouts I am doing by going to this blog post: 'Effective Exercises for Saddlebags and Cellulite'. Those were my 'bad' areas! I also created a new fitness blog, so be sure to check that out for workouts and everything fitness related!
If you do all of the suggested things above, you may not need any swimsuits that hide belly pooch!
What do you do to de-stress? Any tricks to add for how you get rid of that belly pooch? What about your favorite bathing suit for covering it up? Share below!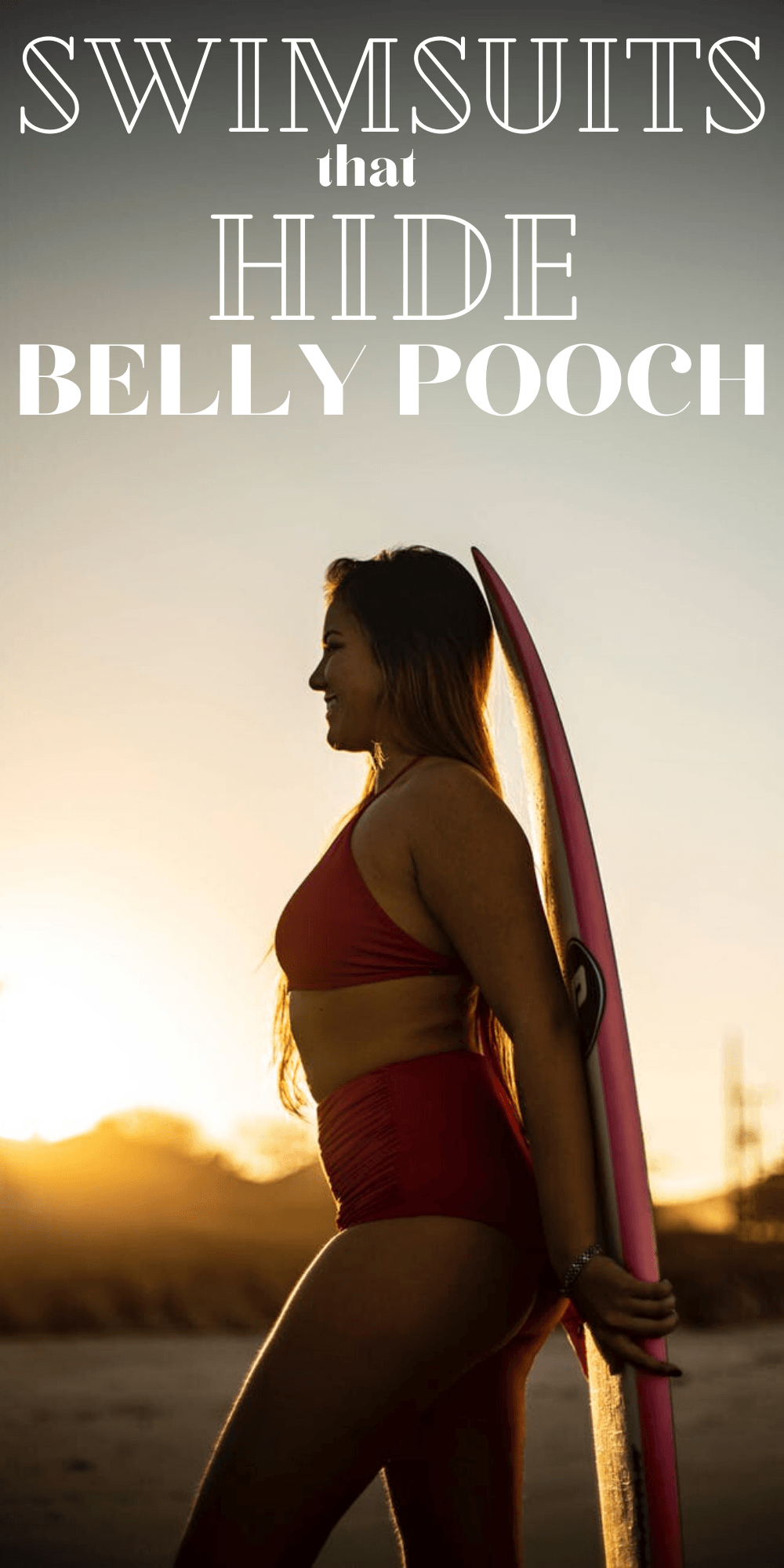 Do you have a belly pooch? What swimsuits to hide belly pooch do you suggest?