This post is all about my 7 Secrets To Youthful Skin! Do you want to know my secrets to youthful skin? I have 7 tried and true skincare secrets I will share with you, below. I am 47 years old (will be 48 at the end of October, sigh…) and I get told often how young I look. That obviously makes me feel VERY good about myself, but to be honest, I have been taking care of my skin for as long as I can remember. I would stand in my mom's bathroom next to her and use her youthful serums and face lotions on my face and neck, EVERY single night!
My mom taught me very early on that skincare at any age is super important and to NEVER forget my neck area and my temples. Those are some of the very first places to show signs of aging (and your hands!!).
*This post includes my affiliate links
7 Secrets To Youthful Skin
As I approach my 48th birthday, I am more determined than ever to keep my skin looking its best. And why shouldn't I? I've taken care of it for years now and it has served me well. If you're wondering how to achieve youthful skin no matter your age, you're in the right place. Below are seven secrets that have worked for me – and they can work for you too!
I look tired in this pic because I was!! So sorry for that!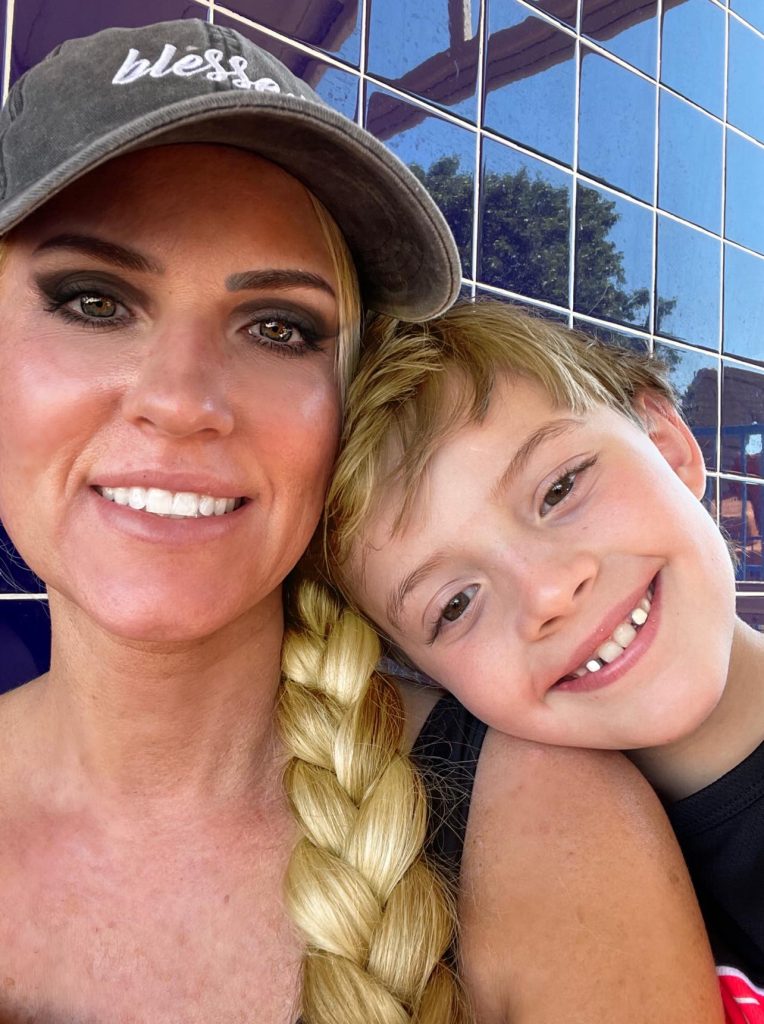 Use a serum: Serums are packed with active ingredients that can help improve your skin's appearance. They're also lightweight, so they won't clog pores. I apply VIRG-N Youth Activation Serum Concentrate after cleansing and exfoliating my skin, and before applying moisturizer. I LOVE LOVE LOVE this youth activation serum! Why? Because it works! It makes my skin SOO soft but it is also helping with my fine lines and any dark spots I have (and I have a few!).
Virg-N is a topical emulsion serum concentrate with high amounts of active ingredients in one lightweight product, which sinks deep into the skin to get to work. This topical helps to reduce fine lines and deep wrinkles, improve collagen and elasticity, increase skin tightening/firmness, and improve skin dullness. It has a tint to it but it does NOT tint your skin.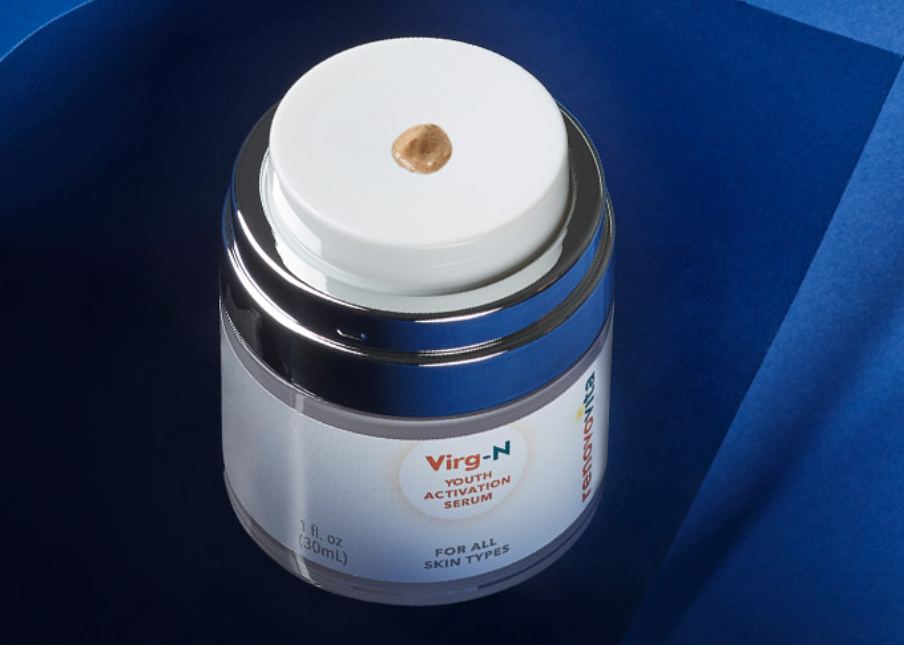 Virg-N Youth Activation Serum concentrate is an inexpensive alternative with an innovative approach. Because it works at restoring and rejuvenating your cellular health and renewing skin cells into a more youthful form, you will look younger and reduce wrinkles without expensive and painful injections, implants, facials, chemical peels, laser treatments, and dermatology visits. It also beats using the hyaluron pen!
How to use it: Use it twice daily, in the morning and at night before bedtime on a clean face. It is causing the cells on our faces to regenerate and as they are exfoliated show new skin below the surface. You might even consider taking a picture before you start using it, and then again after a month so you can see the difference. If you take before and after pictures, take them in the same room with the same lighting. It smells good, it is scented with essential oils and the jar dispenses the exact amount of product that you require and lasts for a month.
Sunscreen: Protect your skin from the sun by using broad-spectrum sunscreen with an SPF of 30 or higher. Also, try to limit your time in the sun, and wear a hat when outdoors.
Cleansing: Cleanse your skin twice a day to remove dirt, oil, or makeup. Use a gentle cleanser that doesn't strip away natural oils.
Exfoliating: Exfoliate two or three times a week to help improve your skin's texture and give you a healthy glow. Use a gentle scrub OR use the Trophy Skin Microdermabrasion device. I have this, use it twice a week, and absolutely swear by it!! I LOVE it.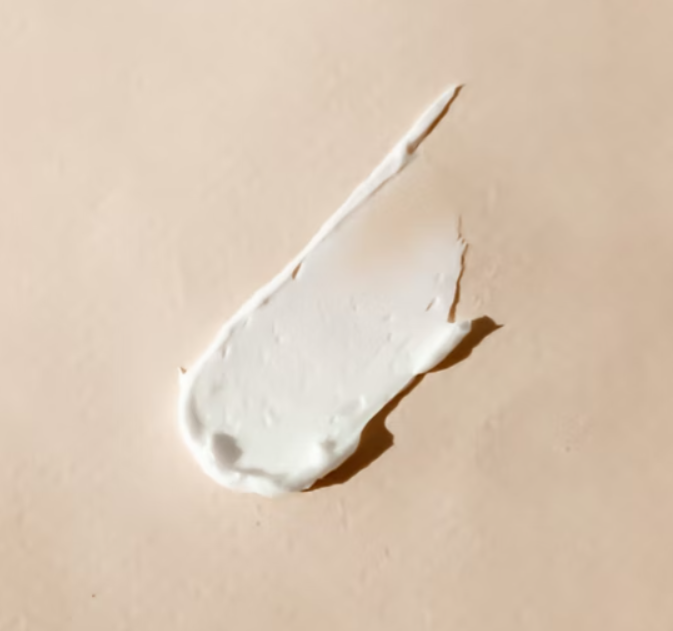 Moisturizing: Moisturize regularly to keep your skin hydrated and reduce the appearance of fine lines and wrinkles. Apply a thick moisturizer at night and a thinner layer in the morning for the best results.
Sleep: Get seven to eight hours of sleep every night! Sleep is important for overall health, and can also help improve the appearance of your skin. I know that sleep isn't always going to happen, especially when you have insomnia like me most nights, but try to get as much sleep as you can, when you can. It really does help!!
Diet: Eat plenty of fruits, vegetables, and water to help your skin look its best. Drink LOTS of water!!! I love using this water jug every day to help me drink my water each day! I also take a collagen powder each day to help with the elasticity of my skin and it also helps with my nails growing and my hair! Also avoid smoking, as it can cause premature aging and wrinkles.
If you follow these 7 Secrets To Youthful Skin, you'll be on your way to achieving youthful skin in no time! Do you have any secrets to add? Share them in the comments below!
Buy
You can purchase my favorite youthful serum, Virg-N Youth Activation Serum concentrate online. It retails for $98.97 and is worth it!
Here are the other products I love to help with obtaining youthful skin:
*Trophy Skin Microdermabrasion device
*WITH-N Cell Renewal Activation Capsules