Did you know that constantly managing your home's humidity level can help prevent allergies? A smart humidifier, like the Airdog Humidifier, (Best Allergy Humidifier) helps maintain the most comfortable humidity level and provides relief from itchy eyes, sneezing, coughing, and other allergy symptoms. Plus, helps improve your health overall because you won't be dealing with all of the annoying allergy symptoms as much.
As we transform from the colder weather to Spring, there will be a variety of allergens in the air which can create a multitude of situations for those with respiratory issues. The Airdog mist-free Humidifier can help filter and clean those allergens to create a cleaner air environment.
*This post includes my affiliate links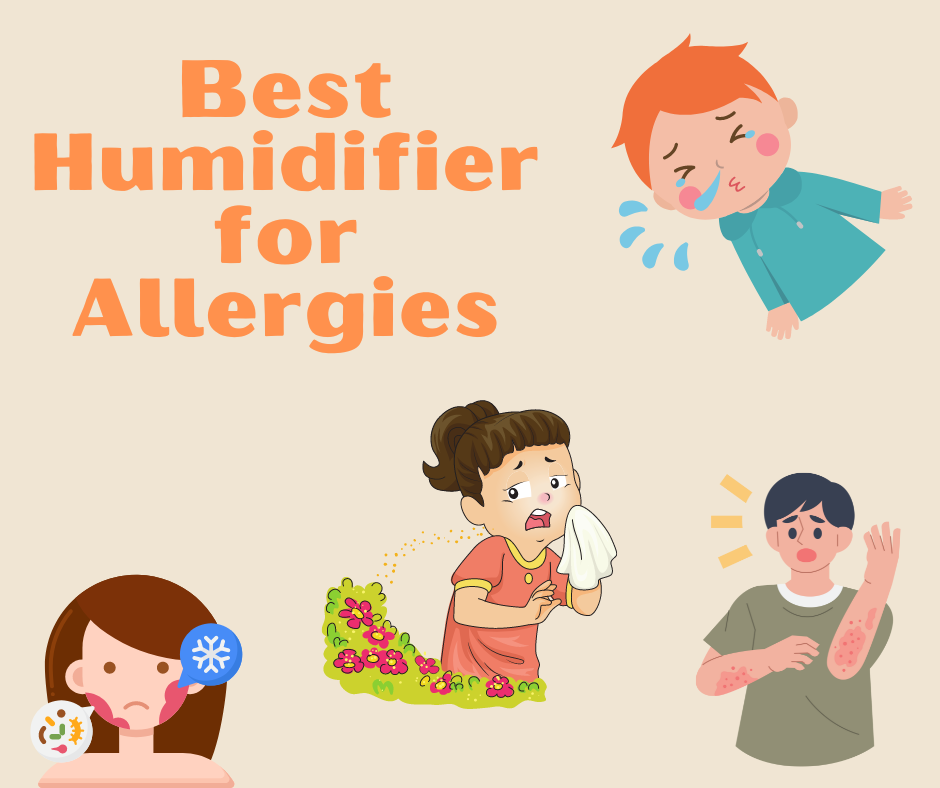 Best Allergy Humidifier
The best allergy humidifier is the Airdog mist-free humidifier. It is a great option because it uses nanoscale evaporative humidification to provide clean air without worrying about wet walls or floors, water droplets, and white powder residue. Plus, its 99.99% germ-free technology may help prevent a host of health issues that are caused by dry air. Read on to learn more about the benefits of an Airdog mist-free humidifier!
How Is This Humidifier Different?
Different from traditional ultrasonic humidifiers on the market today that generate a substantial amount of mist and only provide localized humidity, Airdog's Mist-Free Air Humidifier adopts the principle of Nano Cold Evaporative humidification, no fog, no dust, and cleans the inhaled air.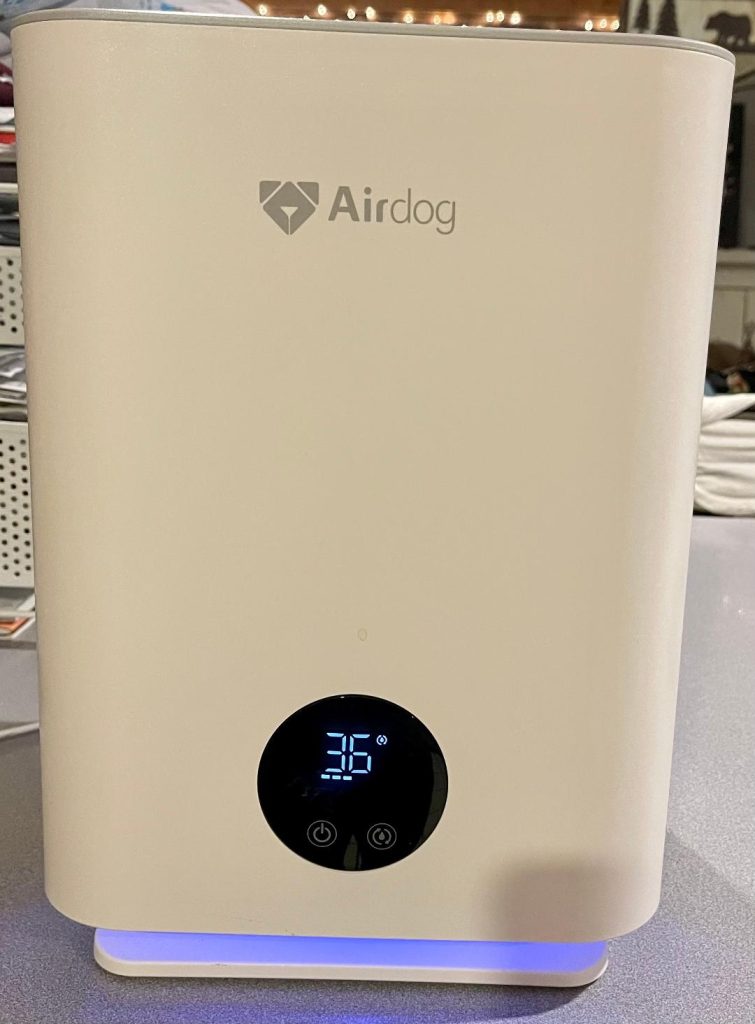 How a Humidifier Can Help Prevent Allergies
The main benefit of using a humidifier is that it helps to reduce the number of airborne allergens in your home. The air humidifier covers an area of up to 376 sq.ft². It is ideal for bedrooms, large rooms, offices, and the whole house. This mist-free humidifier is great for a larger space. OR, you can use this in a small space too. Wherever you do decide to use this mist-free humidifier, you will be happy with it.
Increasing the humidity levels makes the air less hospitable to pollen, dust mites, pet dander, and other allergens. This means they will not linger in the air as long, reducing your exposure to them and making life more comfortable for allergy sufferers.
Another benefit of using a humidifier is that it can reduce dryness in your home. This is especially important during cold winter months when heaters are constantly running and drying out the air indoors. Dry air can aggravate existing allergies, so having a source of moisture in the air can make breathing easier for those with allergies or asthma.
This humidifier can also help with dry skin, moisture levels in your home, mist levels, indoor air, sore throat, dry throats, nasal congestions, runny nose, seasonal allergies, sinus infections, hay fever, dry eyes, and so much more! The added moisture in our home is a lifesaver for sure.
Constant Humidity & Remote Control
Traditional ultrasonic humidifiers can only humidify the area that's immediately near the humidifier. Airdog humidifiers can humidify the whole room, so you are able to enjoy clean and fresh air in every corner of your space!
The Airdog mist-free humidifier with humidistat provides the most comfortable humidity level possible in any room. It senses indoor humidity and automatically adjusts its fan speed to maintain optimal levels. This powerful range of 10ft allows you to control it from anywhere in the room with its touch panel or remote control.
This makes it easy and convenient to adjust settings like mist output and timer functions without having to leave your seat. Airdog's mist-free humidifier comes with 6 adjustable speeds so you can find the perfect balance for your family's needs.
The air filter on this device also helps remove dust particles from your home's air which helps reduce allergens and improve overall air quality. In addition, its silent mode allows you to sleep soundly without being disturbed by any noise from the machine itself. 35dB super low noise level, is even quieter than a whisper!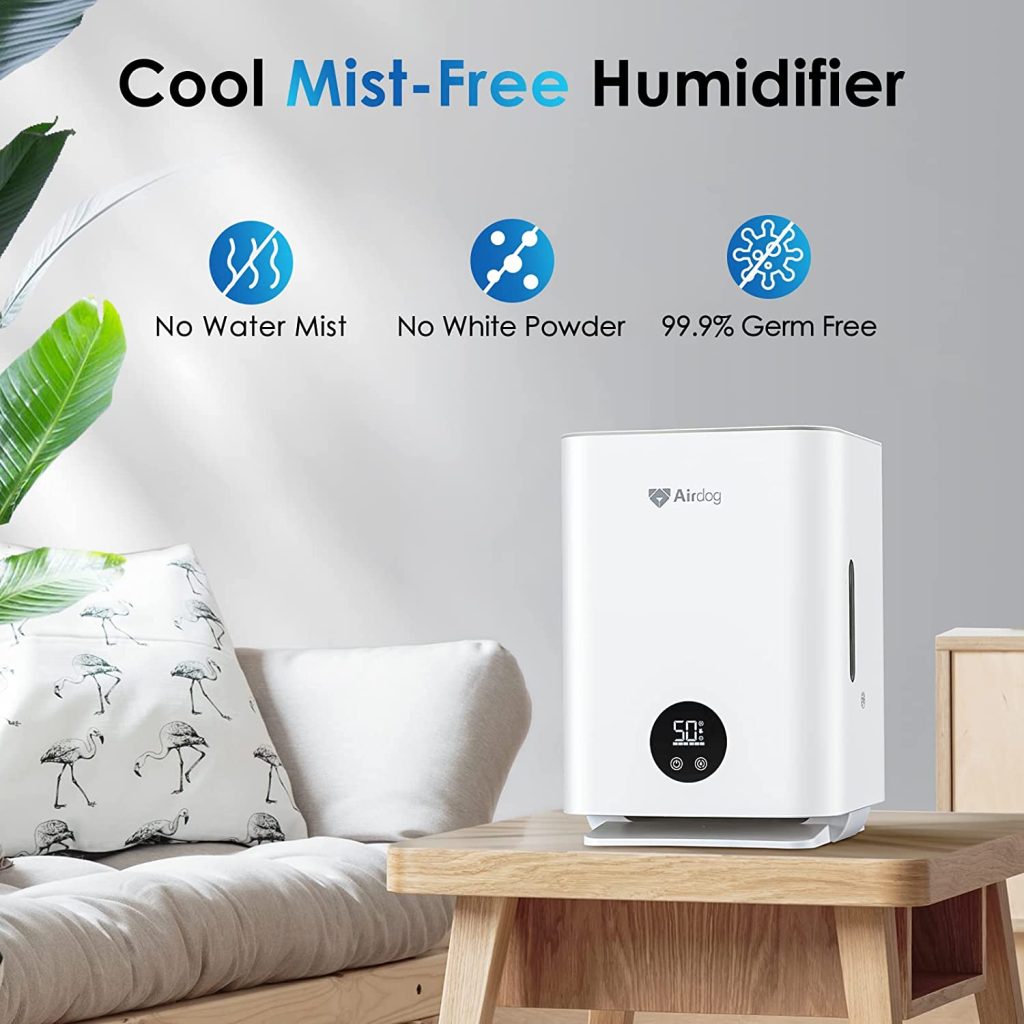 Easy To Refill & Clean
Not only is this mini-humidifier powerful, but it also provides a thoughtful design that makes refilling and cleaning a breeze. The 3L water tank has a large opening on top or bottom so you won't have trouble topping up after periods of extended use. Regular cleaning of the mist-free part of the humidifier only requires wiping it down with a damp cloth for maximum convenience. For optimal use, it is recommended to clean the air filter every week and change the filter every three months.
Airdog Best Allergy Humidifier Features Worth Mentioning Again:
*UV Sterilization: Removes 99.99% of Viruses & bacteria (ultraviolet light technology). Airdog applies 4 steps to ensure bacteria and virus-free moisture. This air filtration system offers clean air for babies, individuals who are pregnant, seniors, pets, and those who are allergy-prone.
*Touch Panel & Remote Control: You can control the air indicator via a touch panel or remote control. This remote control conveniently attaches to the humidifier body. With it, you can control the humidifier remotely (mist settings) within 10 Ft.
*Intelligent Constant Humidity: In the smart mode, the evaporative humidifier with humidistat detects indoor humidity and automatically adjusts the fan speed to maintain the most comfortable humidity level. This gives us the ideal humidity level for our home.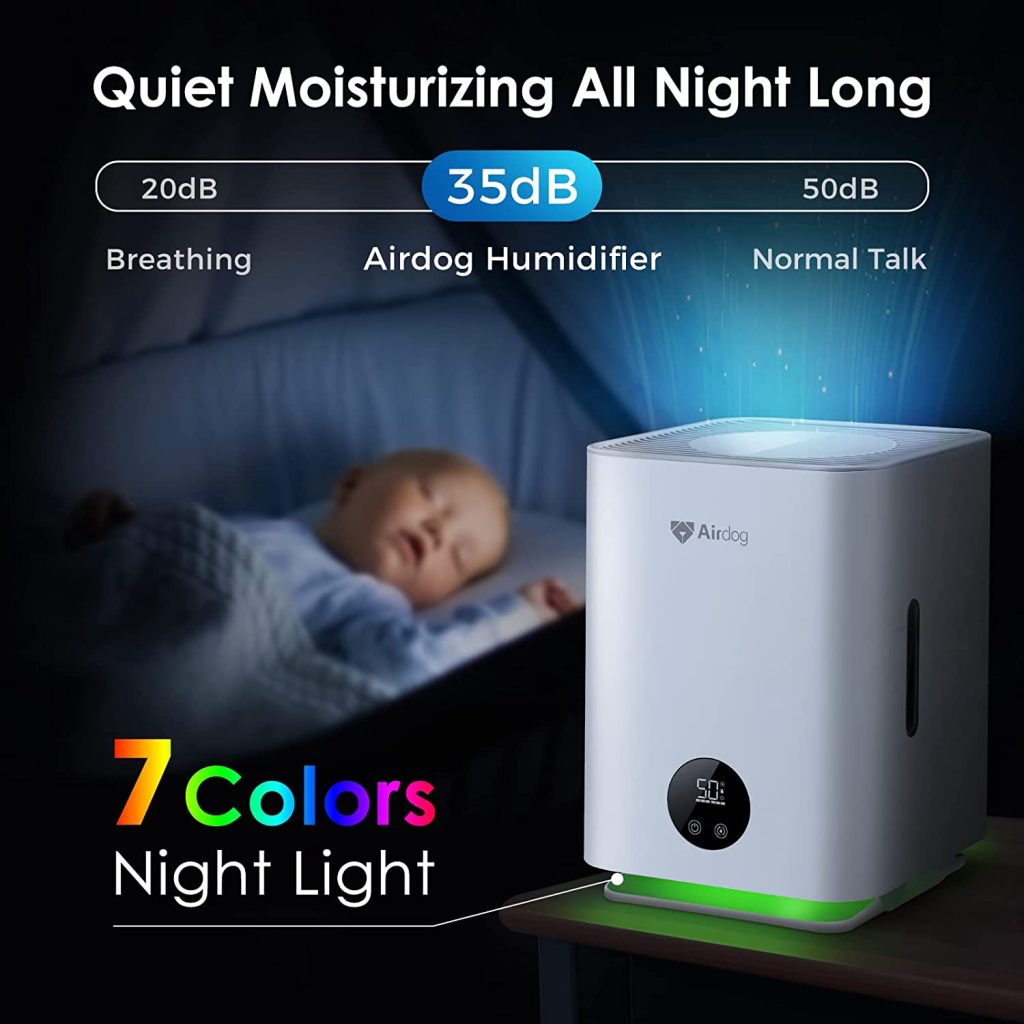 *Ultra-quiet Lasts All Night: The Airdog evaporative humidifier operates with an ultra-low noise level of 35dB, quieter than a whisper. Turn on " Sleep Mode " for a good night's sleep. It can work up to 12 hours at top speed. It's ideal for children and the elderly. I love the quiet operation of this mist-free humidifier!
*7-color Rainbow Light: The Air Dog humidifier has 7 kinds of ambient lights (we love the night light!), creating a colorful and romantic environment, relaxing you at home or in an office setting. Note: you can not set the LED light color. They just automatically cycle through each color.
*Filling Up the Mist-Free Humidifier: Add water by pouring directly into the top or by opening the cover. It can be filled with tap water or distilled water. Simple and easy to use! 250ML/H humidification capacity and 3L large-capacity water tank ensure comfortable humidity for 12 hours. Usage Tip: Keep an eye on the water overflow port. Pouring water directly along the upper right corner may cause water to leak.
*Easy to Clean: The most convenient and thoughtful design for your family. The Airdog humidifier has an open tank for easy cleaning, while other humidifiers have a closed tank and are difficult to clean.
*Filter Type: cartridge. You can purchase a replacement filter directly from the Airdog website. The filter should be changed every 3 months with constant, daily use.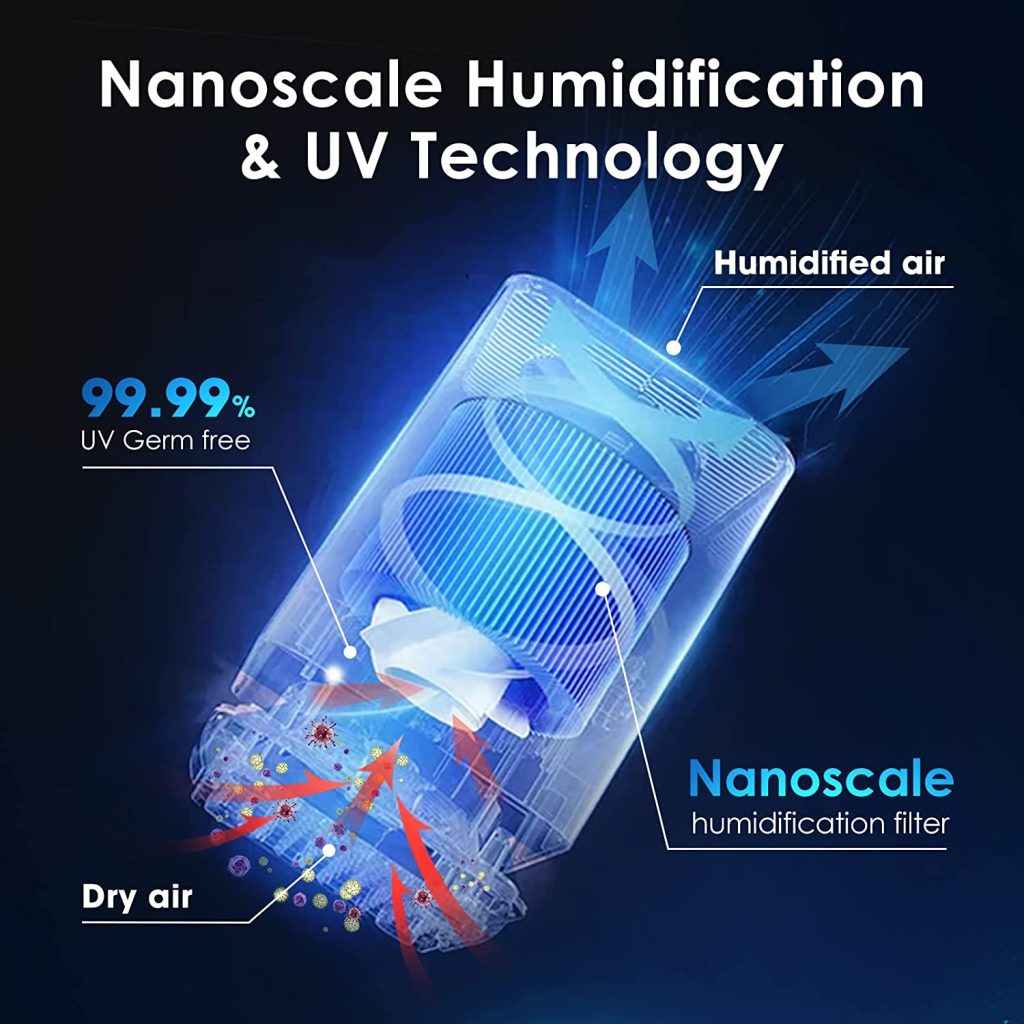 The Airdog Mist-Free Humidifier is the perfect humidifier for our family. We live in Idaho and the weather here is SO cold right now and can be SO dry!!! Cold climates really make for some dry skin in the wintertime! So, using this humidifier has not only helped our dry skin so much but has also helped in so many different ways too! My sinus passages don't feel so dry either, which is a good thing because I tend to get a bloody nose when my nasal passages get too dry! This humidifier was a good choice for our family.
Best Allergy Humidifier: Airdog Mist-Free Humidifier (Where To Buy)
You can check out the Airdog Mist Free Humidifier and see if it is the right humidifier for you and your family on the Airdog website. They also sell Air Purifiers, fans, and accessories (see what they sell, below!)
Air Purifiers:
*Airdog X3 Home Air Purifier
*Airdog X5 Home Air Purifier (I have this one and LOVE it! You can read my review of it HERE)
*Airdog X8 Air Purifier
*Airdog Pro Air Purifier
*Airdog V5 Car Air Purifier
*Fans
Win!
For this giveaway, there will be TWO lucky winners! One person is going to win the Airdog Mist-Free Humidifier and one person is going to win the Aroma Diffuser! Yay!
Rules
The contest is open to US 18+. The giveaway will end on March 25, 2023, at 11:59 PM MT. I am not responsible for lost or stolen mail. By entering this giveaway you give me permission and consent to share your email with the sponsor and they will add your email to their newsletter!
PIN IT