I have to admit, I rarely shop for myself let alone buy sheets or comfortable luxury bedding for myself. However, since I have started to 'self-care' a bit more, I am starting to care a bit more about things like this.
Having some nice sheets, and comfortable luxury bedding (at affordable prices of course!) to crawl into each night after a long, hard day is a MUST. Now I know this and now I make sure my bed is my comfy place!
I used to just slap sheets onto my bed not caring about the thread count or how they looked. And, believe it or not, I did not sleep all that well because of this. A good mattress is also very important (but we will talk about that another day!).
Since reviewing some comfortable luxury bedding (at affordable prices) recently, my bed is now literally the SOFTEST most COMFORTABLE bed EVER. I can't explain it enough! I am not just saying this either. My bed is soooo comfy!
*This post includes my affiliate links.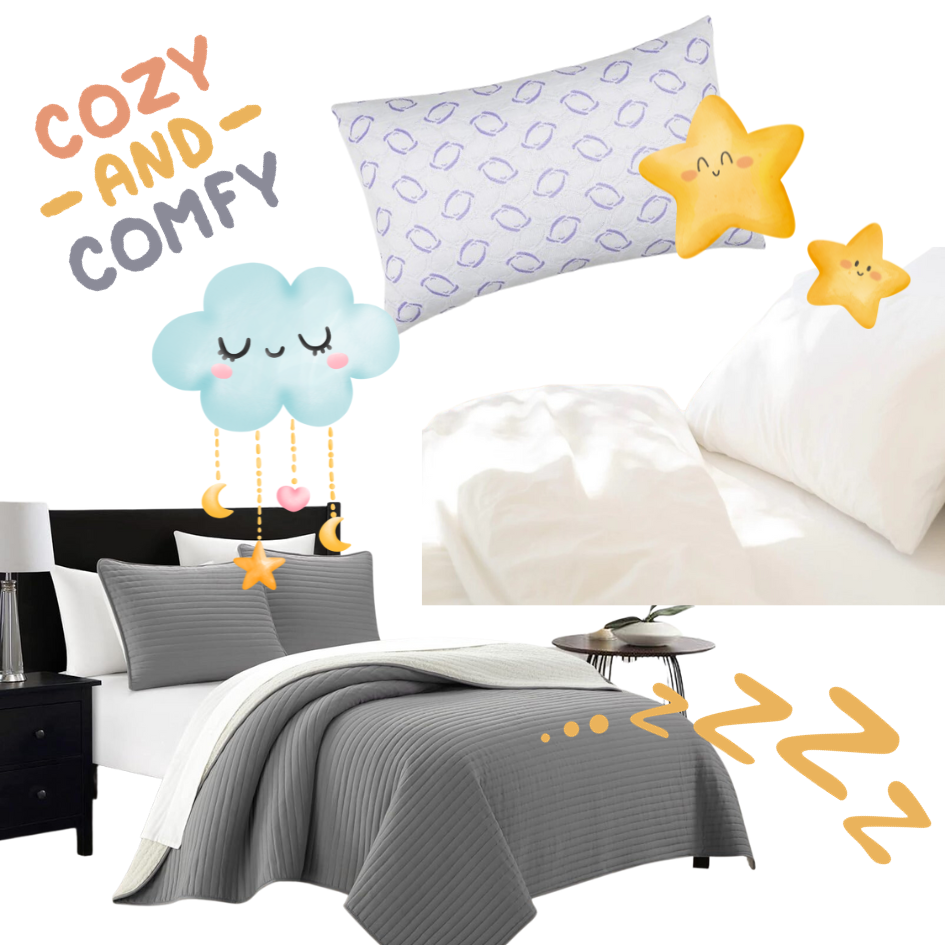 The older I get the more I realize that taking care of me, is something that HAS to be done each day or I can't be the best mom to my kids and wife to my hubs.
I have gorgeous, comfortable luxury bedding on my bed and I sleep so well now. I received some gorgeous comfortable luxury bedding from a few different brands and together, the bedding I received makes me sleep like a baby! I almost can't wait to crawl into my bed each night because of the coziness of it!
Best Comfortable Luxury Bedding (At Affordable Prices)
Below are the products I received to review. Each product is from a different brand, but each one helps me sleep SO much better at night. Let's get started!
---
St Paul 3 Piece Sherpa Lined Quilt Set From Chic Home
Now, I was absolutely shocked at how this 3 piece quilt set from Chic Home was priced only because it is literally the softest bedding I have ever felt and slept in, in my entire life. No joke!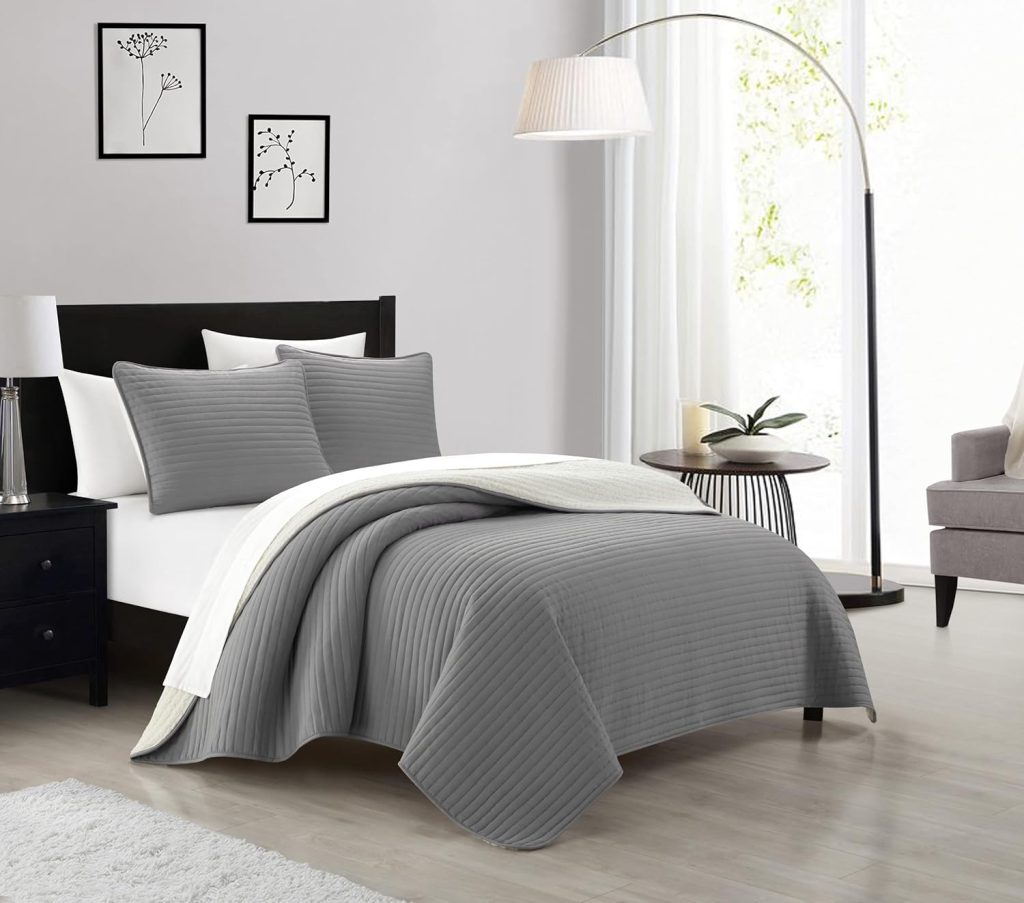 This quilt set is ONLY $33.95 for a twin, $40.95 for a Queen, and $43.95 for a King (on sale right now, too!!). All of these prices are on their official website (not on Amazon).
I was BLOWN away with that price for what I received! This has to be my favorite bedding I have ever owned and I have owned a lot of bedding in the past (and reviewed a lot of bedding too!).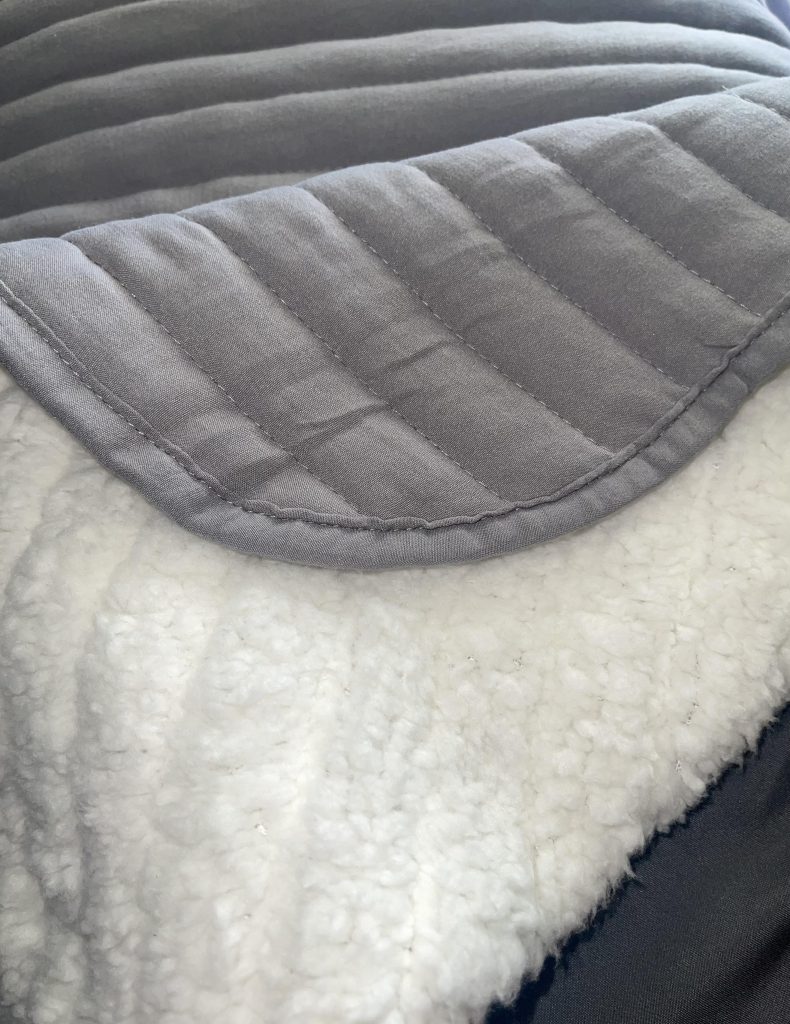 This St. Paul 3 Piece Sherpa Lined Quilt Set comes in a few different colors. I received the grey, but it also comes in blue, green, taupe, and wine! All are really pretty colors so there is something for everyone's taste.
Video Of The St. Paul Quilt Set
Description
Give your bedroom a fresh, clean look with the contemporary St. Paul quilt set from Chic Home. The quilt features a minimalist, striped solid color design on the face with a super soft faux fur backing on the reverse for the perfect blend of style and comfort. Two design-coordinated pillow shams complete the look.
Features
Silky soft brushed microfiber cotton-feel material on the face with plush sherpa-lined backing
Minimalist, striped solid color design
Luxuriously soft feel for a great night's sleep with less tossing and turning
Hypoallergenic down alternative is perfect for those allergic to traditional down
Built to last with premium fabrics and expert stitching
I am just so impressed with this quilt set and the price it is selling for. If you are searching for luxury bedding without the high price, this is definitely for you!
You can purchase the 3-piece St. Paul Quilt Set on their website OR on Amazon.com! Get an EXTRA 20% OFF* with the coupon Code: THANKYOU at checkout (on their website only).
---
FluffCo Sheets
I also received the Sheet Kit from FluffCo! The Sheet Kit has a fitted sheet, flat sheet, 2 pillowcases, and a duvet cover! Everything you need for a great night's sleep in one package!
These sheets are comfy and durable. The sheets have a double needle edge so they are strong and I can tell these sheets will last us a long time. The sheets are 100% cotton and have a 300 thread count.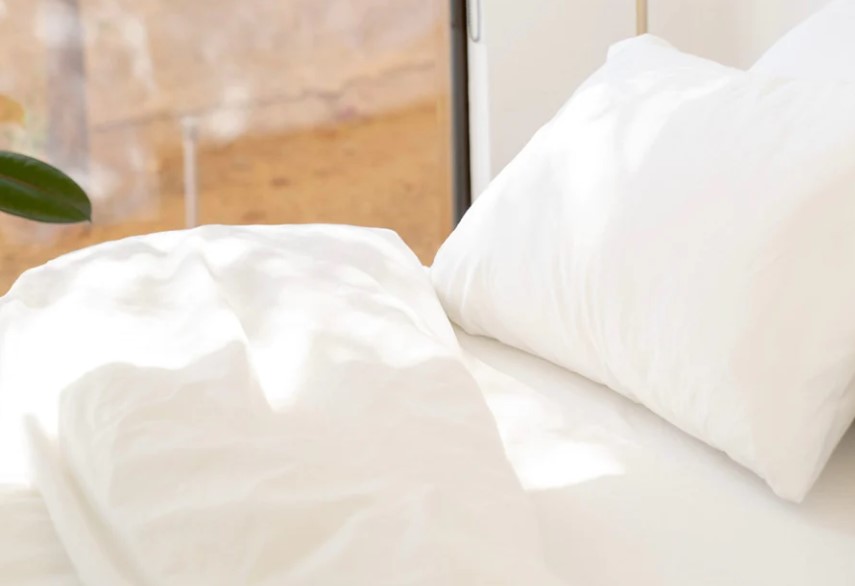 They also have deep pockets so they won't come off the corners of your bed (even if you are someone who tosses and turns all night long)!
These are 5-star hotel quality sheets, made from the same suppliers that sell to luxury hotel chains around the world. Each sheet is made with 100% comb cotton and 300TC white sateen. The material is luxurious yet crisp, offering a cooling effect that is designed to keep you comfortable all night long.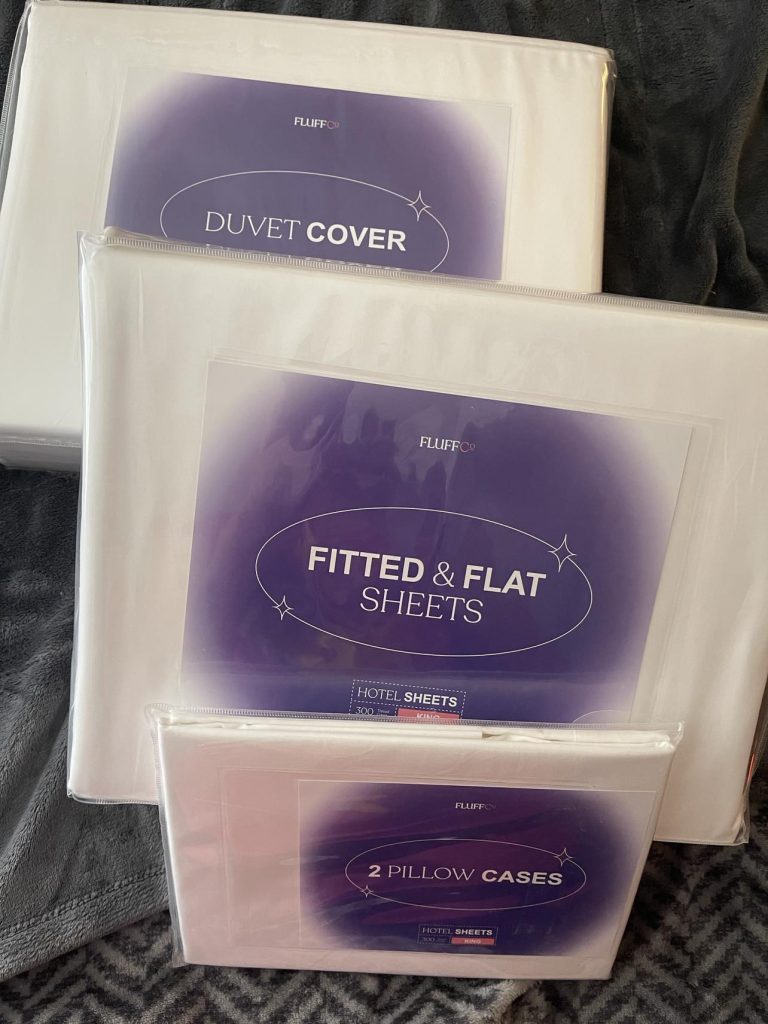 These sheets definitely keep me and my hubby cool at night. I have found that I sweat LESS when I have these sheets on my bed. So, I really love that about these sheets. I got the king-sized sheets and duvet cover and let me tell you, the sheets are HUGE.
They cover every inch of our king-sized bed and then some! So, lots of sheets for your money. I love this because I am not left with dealing with untucked, pulled-out sheets. Everything stays tucked in! Makes making the bed SO much easier every morning!
You can check out the bedding products that FluffCo carries by visiting them online! You can check out their Sheet Kit and learn more about it too!
---
OmniPillow
You have to have a comfy pillow if you have a comfy bed, right? In order to sleep well at night a good pillow is essential! That is where the OmniPillow comes into play!
This pillow comes rolled up tightly and as soon as you pull it from the packaging, it puffs up almost instantly! And, then you have a puffy, SOFT pillow!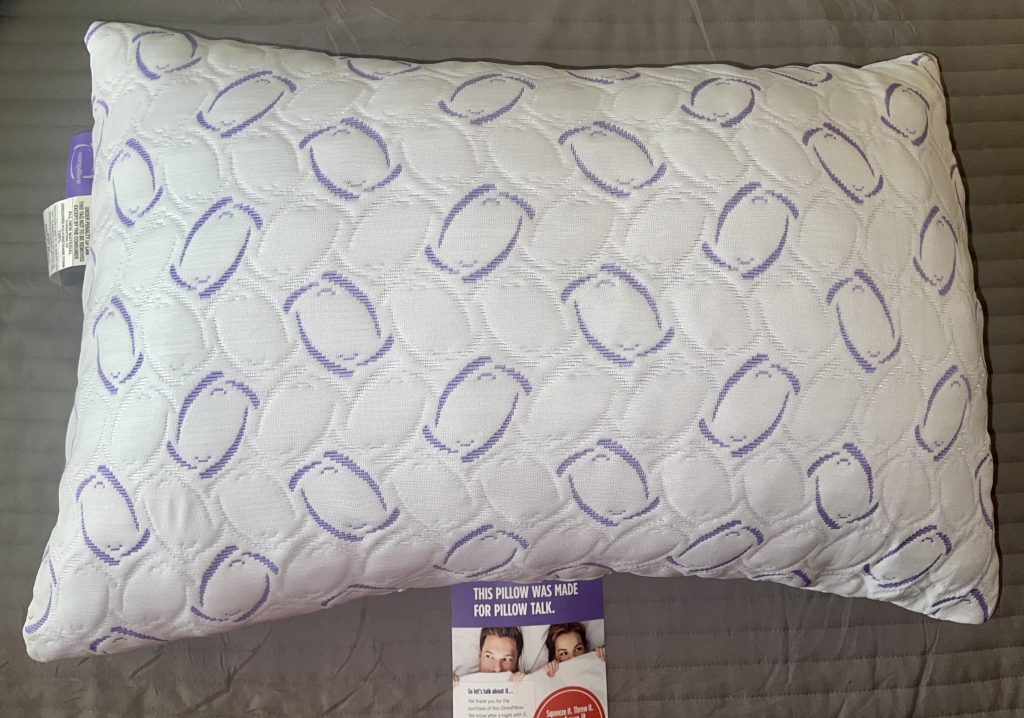 It does have a scent to it so you should 'air' it out for at least 24 hours before sleeping on it. But, the smell goes away completely and all that is left is one of the softest pillows EVER!
Don't bother wasting sleepless nights with other pillows, get the OmniPillow instead and save yourself those tough nights of tossing and turning and flipping your pillow over and over again!
The first night I slept on the OmniPillow I slept SO dang good. My head and neck felt supportive yet the pillow was soft and so comfortable.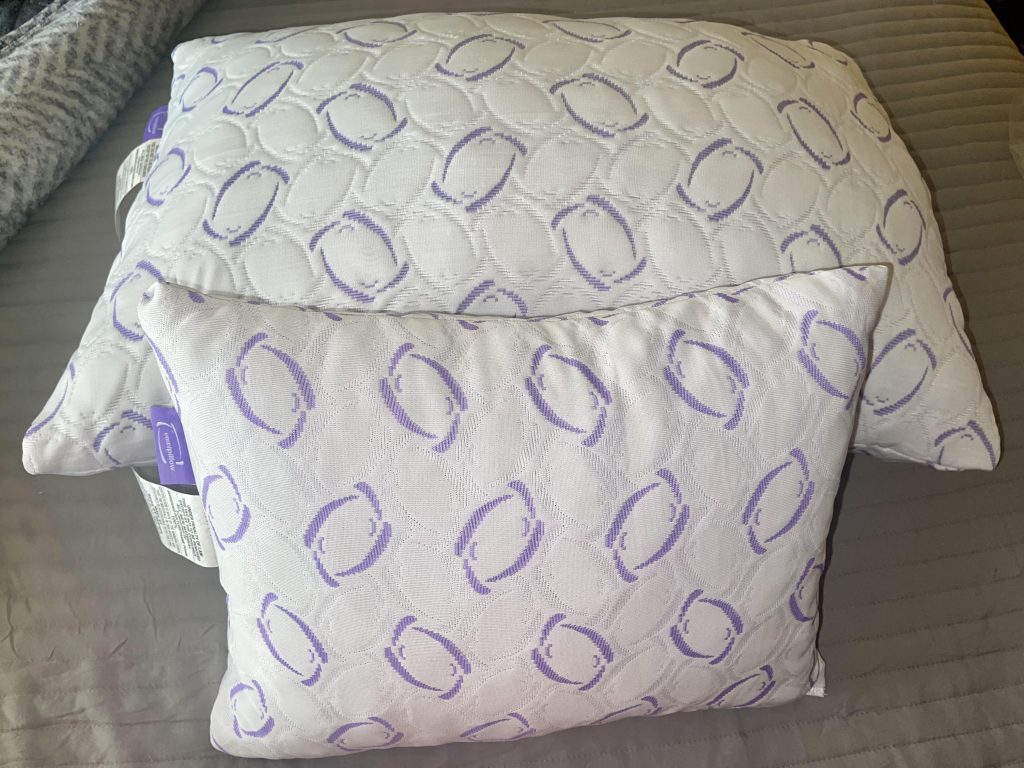 The OmniPillow provides the cool, comfortable support you'll love so you can get the rest you need. Thanks to a NASA-inspired foam and breathable, hypo-allergenic cover, you'll awake refreshed and ready every morning.
The OmniPillow comes in several different sizes; travel, queen, king, body pillow, kids pillow, and neck pillow. I received the queen-sized pillow and a travel pillow (which I can't wait to use when we go on a road trip in two weeks!).
Unboxing The OmniPillow Video
OmniPillow Features
*Hypoallergenic
*Side, back, and stomach-sleeper friendly
*Microbe-resistant outer cover
*Supportive foam interior with billions of microcapsules
*Regulates temperature, promotes airflow, and holds less heat
The OmniPillow offers free shipping plus a 90-night trial so you can see if this pillow lives up to your standards! It also comes with an OmniCube! You can check out the OmniPillow on their website and on Amazon.com!
---
All of the wonderful bedding products above are sure to help you fall asleep and stay asleep all night long! A warm quilt comforter, clean and cool sheets, and a great supportive pillow, who could ask for more???
Win!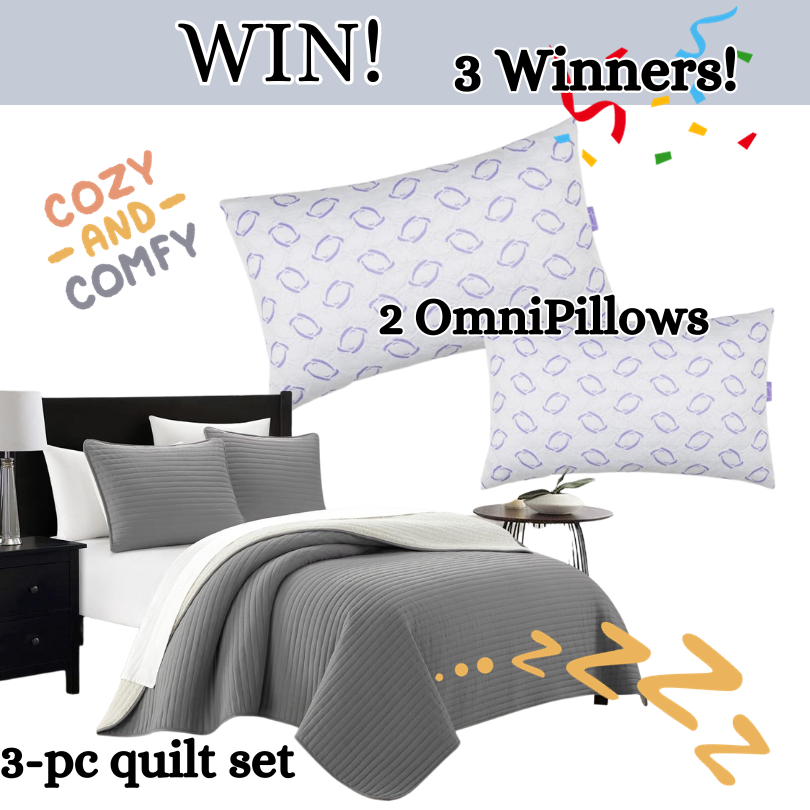 There will be THREE winners! Here is what you could win:
*TWO people will win an OmniPillow (winner's choice of size in king or queen)
*ONE person will win the St. Paul 3-piece quilt set from Chic Home (winner's choice of color and size)
Yay!!!
Rules
The contest is open to the US, 18+. The giveaway will end on October 24, 2023, at 11:59 PM. I am not responsible for lost or stolen mail.