It doesn't matter what age you are, you should ALWAYS take good care of your skin! There are many ways to make your skin better too. If you have fine lines, large pores, oily skin, textured skin, acne, etc, there are always ways to make your skin better!
When I was younger, I would be the girl on the trampoline during the hot summer months, soaking up the sun with baby oil and sun in in my hair. Ugh. If I only knew the damage all that tanning would do to my skin, I would NEVER have laid out for hours and tanned! When you are young you never ever think much towards the 'older' you one day. After all, you are young, and being old is SO far away!
I thought this too! But now that I am 46 years old (gulp, how did that even happen??), I know all too well how FAST time goes by. I still feel like I am a teenager! I have energy, I think like a younger person and I am very silly at times. Age is just a number but just know, if you are young now, you WILL get old one day, it is inevitable!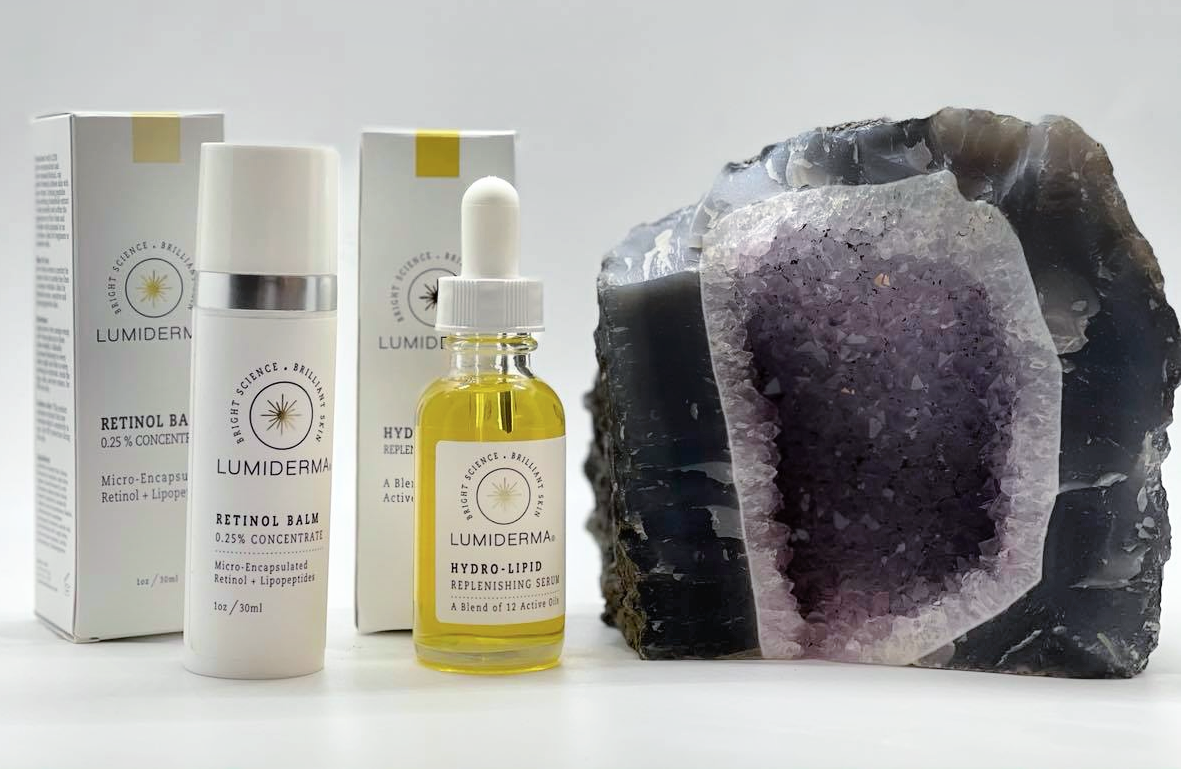 How To Make Your Skin Better
A brand I recently came across is Lumiderma. At Lumiderma, they dedicated their entire line of skincare to preserve your radiance as you gather experience and years. Lumiderma believes in celebrating how multifaceted women are and prioritizes helping women be their best selves.
Lumiderma's products are pure and contain powerhouse ingredients like vitamin c, fruit acids, vegan retinol, and more to produce clean beauty products. They specially formulate their skincare blends to even out melanin production, boost collagen supply, plump up skin moisture to keep your Glow molecules refreshed. This means even, clear, firm, and most importantly, radiant skin. And, this skin care was everything I was looking for, for my aging skin.
As I have gotten older my skin tone has become a bit dull and I hate that! I use microdermabrasion weekly so that helps my skin tremendously, but I also needed a skincare product I can put on my skin right after I use my microdermabrasion device. Because, right after you exfoliate your face, is the best time to apply good working skin care serums and creams because your face will drink it up more than if you did not exfoliate. It is just a fact!
I received two wonderful skincare products from Lumiderma. The two products I received were the Lumiderma Retinol Balm and Lumiderma Hydro-Lipid Replenishing Serum. I have been using these two products for a week and I already see a difference in my skin tone and fine lines on my face.
I have tried SO many skincare products and many are just okay, some are awesome and some are keepers like Lumiderma. My skin feels moisturized, dewy, plumper, and just brighter overall. I will have to check out their other products too because if I like these two products that were sent to me, then I know I will probably like the other skincare products that they offer.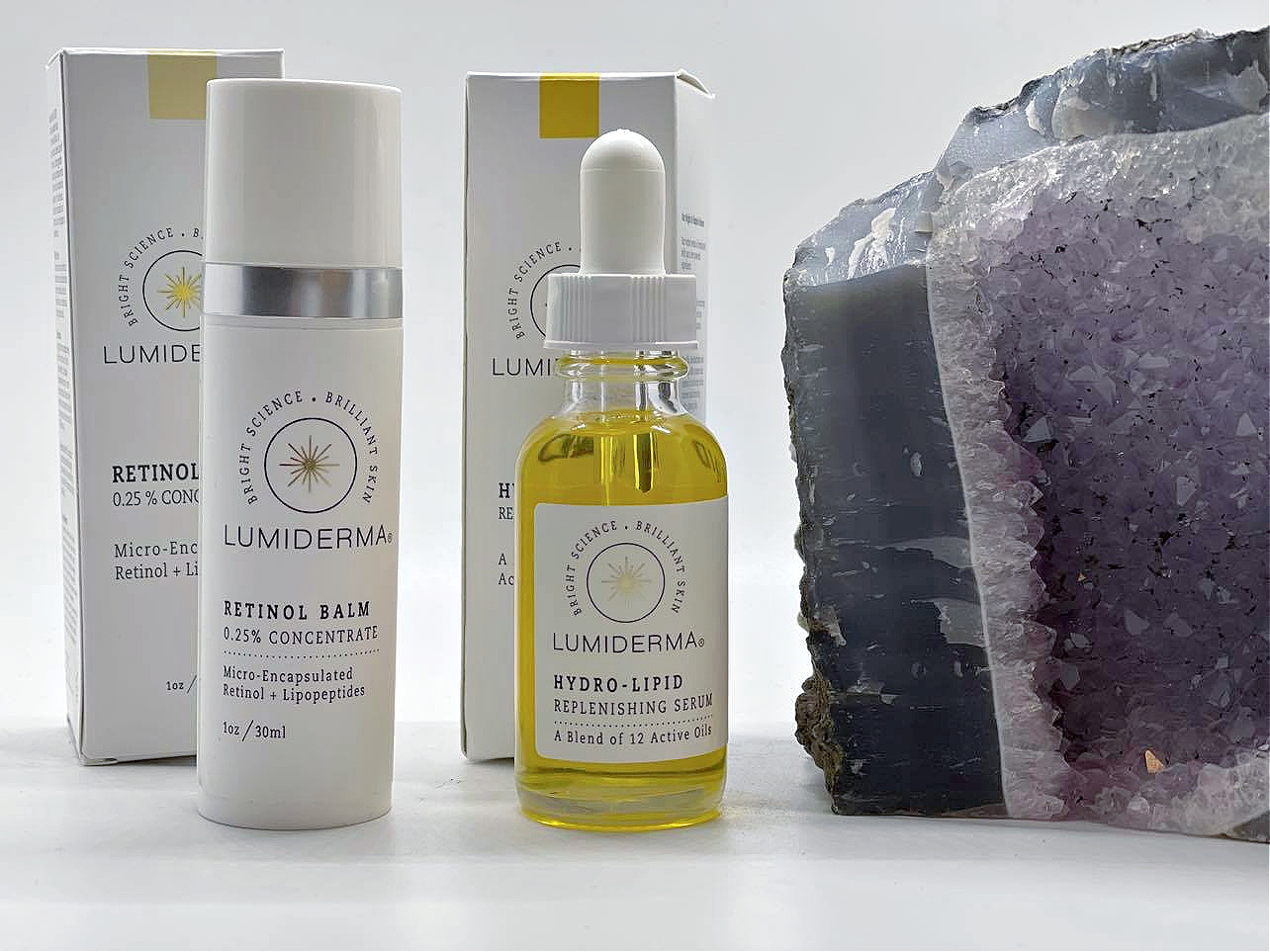 Lumiderma Hydro-Lipid Replenishing Serum
The Lumiderma Hydro-Lipid Replenishing Serum definitely has made my skin better in one week. This serum is a multi-rich botanical lightweight serum oil that restores and protects your skin while it deeply hydrates it too. I use this all over my face, my neck, AND my chest area. I love how dewy and moisturized it makes my skin look and feel. So nice! It is a really good defense serum.
The Hydro-Lipid Replenishing Serum is perfect for all skin types, but sensitive too, for rosacea-prone, or dehydrated skin. This is a light and calming oil serum.
The face serum boasts benefits like moisturizing dry skin, rejuvenating, and feeding the skin while promoting cellular turnover—meaning your skin is bright and buoyant. It has potent antioxidants that protect from free radicals while addressing irritation, or other imbalances.
How To Use
For a light yet nourishing morning and night routine, apply 2-3 drops to fingers and pat gently over clean skin around the face and eyes. Can be used as a regular moisturizer or intense hydrating treatment, which can be shared with elbows, cuticles, and damp or dry hair for a deep dose of moisture!
When creating this mighty yet featherlight serum, Lumiderma gravitated towards favorite ingredients that would create the best blend of skin-radiance: Marula, Avocado and Jojoba Oils, Rose Hip, Sea Buckthorn, Carrot, Rosemary, and Amaranth. This one is like a super smoothie for the skin!
The glow behind this formula comes from a few simple but powerful ingredients:
Squalane
Rose Hip, Sea Buckthorn, Maracuja Oils
Marula, Avocado, and Jojoba Oils
Carrot, Rosemary, and Amaranth
Neroli and Orange Oils
What's Not In It
Lumiderma thinks this should go without saying, but just in case, they will tell you! This hydrating oil serum is free of artificial fragrances or dyes, Mineral Oils, Formaldehyde, Silicones. And since a typical oil type serum can't have PEGs and Parabens, this product doesn't have those either! Yay!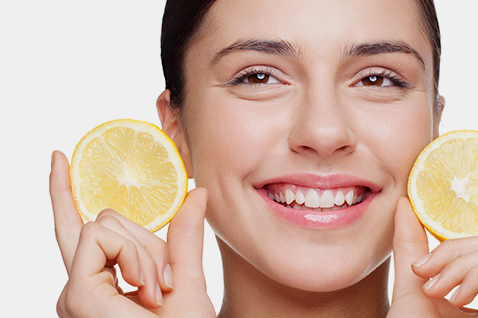 Lumiderma Retinol Balm
The Lumiderma Retinol Balm is another awesome skincare product that I have been using with the serum. Before I started using this and the oil serum my skin had become a bit textured. I am not sure why as I exfoliate and have never had textured skin. I was desperately trying every product I owned (before these two products came to me) and NOTHING was helping.
I was really starting to get upset because I have never had this happen to me before. Maybe I was allergic to something? I don't know. But I do know, when I started using these two products, my skin, in about 3 days, was smooth again. So I absolutely believe in these products and love them! This treatment cream is the best! It is a good overnight cream face product.
I know that retinol can be intimidating and maybe a bit scary for some people but it doesn't have to be! It seems like an intensive treatment, but I promise it isn't. Lumiderma retinol balm is gentle yet super effective. It is the best way to get smoother, firmer, radiant skin without any redness or irritations.
Lumiderma created this blend with micro-encapsulated and time-released 0.25% retinol, which regenerates skin cells and collagen. It even helps with those pesky dark spots while layering in firming peptides and soothing chamomile extract. This helps your skin to get smooth and to glow! I love how it rejuvenates my skin. It is a great defense against those fine lines and wrinkles.
How To Use
Apply in the evening to clean skin, avoiding the eye area. Even with the chamomile extract if you see mild irritation or redness, use it every other night until your skin adjusts (this might take a week or two for the skin to reset). For maximum radiance, follow with our Hydro-Lipid Replenishing Serum. And, don't forget: while using this retinol balm, a broad spectrum UVA/UVB SPF 30 sunscreen is a MUST during the day! Don't use it if you are pregnant.
Who It's For:
This retinol serum is perfect for mature skin to soothe fine lines or deeper wrinkles.
Specially formulated retinol serum for acne or blemish-prone skin to help reduce scarring.
For sun worshipers, this retinol serum will help with hyperpigmentation or photodamage.
What It Does
The Lumiderma retinol balm boasts benefits of cellular regeneration and collagen renewal for firmer, bouncier skin. This powerful formula works all night to eliminate the look of fine lines and wrinkles while minimizing hyperpigmentation or photodamage (those dark spots, often near your eyes or forehead). And if you're worried about red, irritated skin because of the powerful formula, they got you covered! Their retinol serum is specially formulated with chamomile extract to keep skin soothed.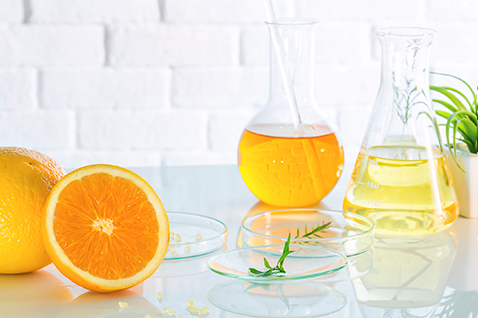 What's In It
You might think that retinol is an intense exfoliant — but really retinol works at a much more profound level by regulating certain functions at a molecular level, actually causing your skin to begin producing more collagen and speed up cell turnover. This ultimately equals smoother fine lines, even skin tone, and a luminous glow from the inside out.
Lumiderma formula uses micro-encapsulated and time-released 0.25% retinol, meaning that the retinol stays more stable than other formulas (this is a good thing!) and can penetrate the deepest layers of tissue for powerful results.
This retinol balm is formulated with just a few powerful ingredients:
25% Micro-Encapsulated Retinol
Lipopeptides
Cell Renewing Amino Sugar (N-Acetyl Glucosamine)
Chamomile Extract (Bisabolol)
What's Not In it
The Lumiderma retinol face balm is free of parabens, synthetic dyes, artificial fragrances, PEGs, TEA, Mineral Oil, Formaldehyde, Propylene Glycol, and Silicones.
Science shows that glowing, uniform skin can make you look 10 years younger and this can be
achieved with Lumiderma's products. I am so happy with my results from using these two products so far, that is why this post is so long! These are truly great skincare products that help make your skin better.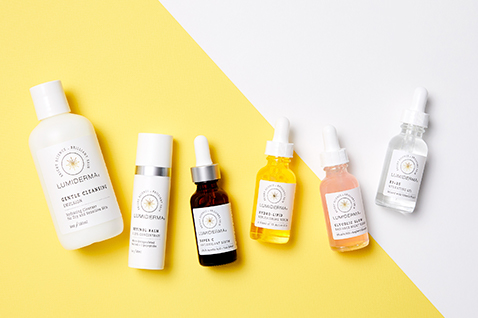 COUPON CODE!
Here is a coupon code for 20% off Lumiderma! Now, you can give it a try with a nice discount! Here is the code: KD20
Shop!
You can visit
Lumiderma Skincare
online and check out the other skincare products to help make your skin better! Be sure to sign up for their newsletter and join their Radiant Family to get 10% off your first order plus special offers, recipes, and wellness inspiration!
In what ways are you taking care of your skin this winter? How are you making your skin better? What skin care products are you using? Tell me, in the comments below!
PIN IT