If you have kids then you know how expensive the holidays can get. Whether you buy your child everything on their wishlist or can only afford one thing from their list, it is priceless to see their expression on Christmas morning! I always like to grab toy deals and save as much money as I can. It is almost like a game for me. There are some Must-Have Toys To Buy On Black Friday, below, that you don't want to miss out on!
My youngest loves race cars and stunt cars. He will race them for hours on my kitchen floor or will drive the remote-controlled car around the house running into every wall he can find. He just really likes these sorts of toys.
*This post includes my affiliate links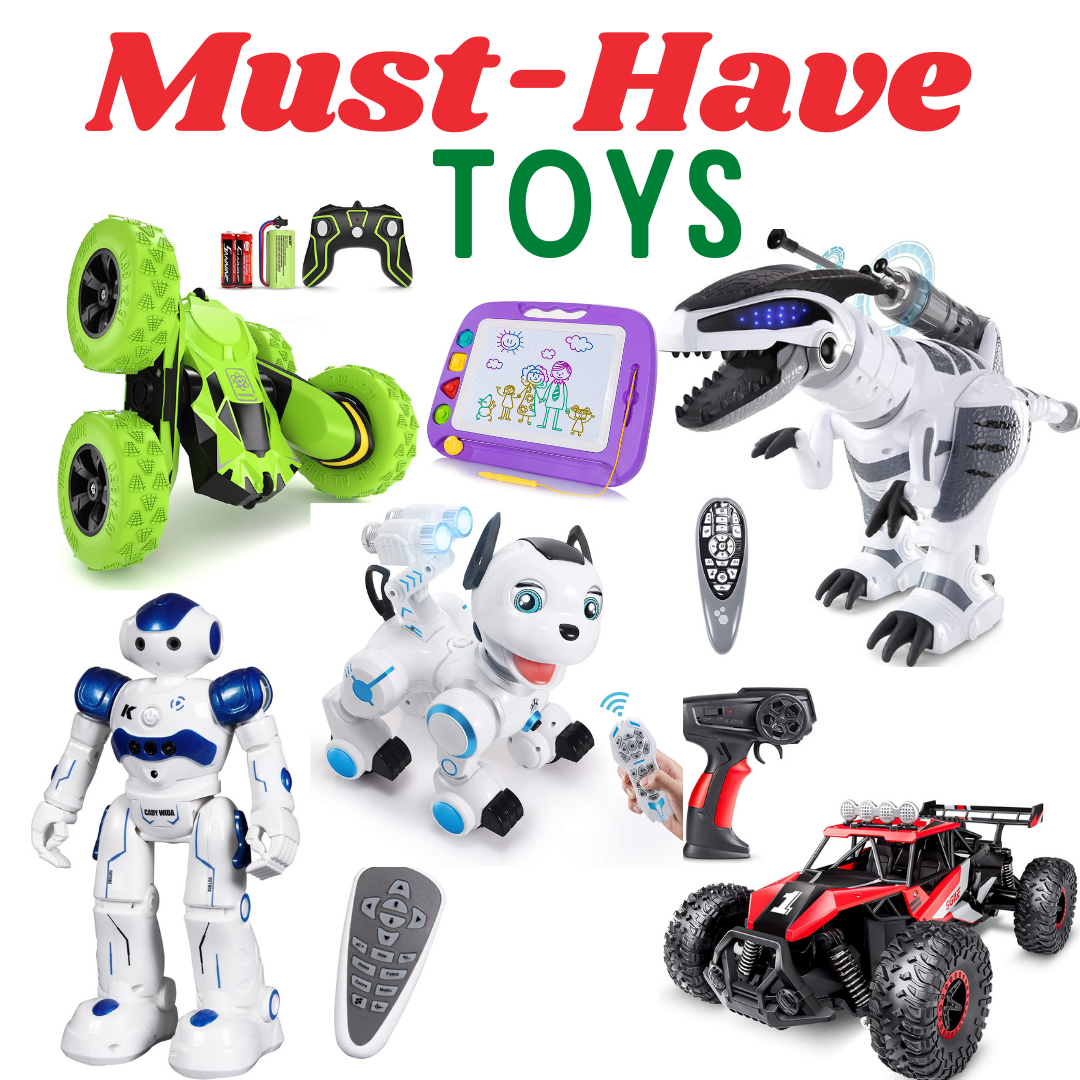 He also likes robots a lot! He has a lot of fun making robots walk around doing silly things. I would say remote-controlled toys are his absolute favorite kind of toys to receive! You can go wrong with remote control toys or any toy that doesn't create a mess!
5 Must-Have Toys To Buy On Black Friday
Below are my top 5 must-have toys to buy on Black Friday from SGILE toy, a toy company on Amazon.com:
1. SGILE RC Robot Toy: With its trendy look and multiple functions, the SGILE RC Robot Toy makes an ideal birthday or Christmas gift for your child. They will love to play with it and keep it as a great companion. Save 20% with the coupon!
Features:
*Quick responses to various hand gesture command
*The intelligent programming, patrol, and obstacle avoidance
*Dancing, singing, robot language
*Move forward, backward, left, and right accordingly
&
SGILE RC Robot Toy, Gesture Sensing Remote Control Robot for Kid 3-8

2. SGILE Robot Dog is an RC Dog Toy Interactive Intelligent Walk, Sing, Dance, Programmable Robot for Kids. Save 20% with the coupon! Such a cute Must-Have Toy To Buy On Black Friday!
Features:
*Programming: Turn on the programming function, I will show you all the actions preset by my little master.
*Sing and Dance: With cheerful music, I will perform funny dances for my little master anytime anywhere!
*Patrol: I have sharp instincts. I can accompany my little master to walk around and protect him.
&
3. SGILE RC Stunt Car Toy, Remote Control Car with 2 Sided 360 Rotation for kids of all ages. Get your friends together for unlimited racing fun. Let's find out who can perform the best stunt every time! Save 10% now!
Features:
*Pair and Play! For uninterrupted play, please pair one by one to avoid cross-pairing.
*Powerful Dual Motors: Two powerful motors ensure lasting playtime, stronger performance, and endless stunts.
*Convenient Size: With its lightweight construction and 16 x 15 x 7cm size, this stunt car is easy to carry wherever you go.
*Battery Charging: Red light turns on when charging and turns off when fully charged.
&
SGILE RC Stunt Car Toy, Remote Control Car

4. SGILE RC Dinosaur Robot Toy, Smart Programmable Interactive Walk Sing Dance for Kids Gift. Save 10% now!
Features:
*Tail Whip: The dinosaur's tail can whip flexibly, fully showing its strength. Tail and body are separate and can be easily assembled.
*Sing and Dance: The dinosaur toy will slide and walk with music and flashing eyes.
*USB Charging: The battery is removable. Connect the equipped cable to the computer USB port for 2-3h charging. Remote Controller needs 2 x AAA batteries which are not included in the package.
&
5. SGILE Remote Control Drift Car! This car does some seriously cool drifts, sharp turns, and more! Save 10% now! This is definitely a Must-Have Toy To Buy On Black Friday!
Features:
*Sharp Turns: Perform precise sharp turns with the RC car using its easy-to-use remote controller.
*Cool Drifts: Fitted with quality TPR rubber tires that enable smooth and stable drifting at high speeds.
*Rocky Drive: Four deep tread off-road tires provide an easy drive on rocky terrains.
*50 Mins Playtime: Two 6V 600mAh rechargeable batteries provide a total power play of 50 mins.
&
SGILE Remote Control Drift Car

6. SGILE Magnetic Drawing Board Toy for Kids! Draw, write and play games on the erasable sketch pad using the stylus to develop your child's creativity and practice coordination. Also, it helps your child to learn numbers and letters. So fun!
Features:
*Stamps Won't Get Lost: Magnetized to the drawing pad, the premium stamps won't fall off even shake casually.
*Sturdy String: The pen string will be firmly tightened to the board no matter how heavy to swing.
*Left or Right Hand Friendly: Right or left hand both can draw with the appropriate length of the string.
*Easy-Carry Handle: The light structure and round-edge handle are convenient to grip and easy to carry out.
*No Mess: Leave mess-up away, enjoy your family time with the drawing board.
*Vivid and Smooth: The premium drawing surface provides more vivid and smooth drawings.
&
Pay attention to all the Black Friday and Cyber Monday Deals that will be going on and try to score the BEST must-have toys to buy on Black Friday! Your kids won't be disappointed!
PIN IT