If you are like me, you don't like putting products on your child that you don't know about. Reading labels is fine, but do you really know what those ingredients are? Chances, are you don't!
So why not buy natural kids skincare products from a company you can trust? From ingredients that you are familiar with. That is where Bubbsi comes in!
*Natural Kids Skincare Products From Bubbsi. Products were received. This post includes my affiliate links.
Natural Kids Skincare Products
Bubbsi is a new natural kids skincare products line and they are amazing products! They are very new so right now they only have a whipped coconut oil body cream and coconut oil balm, however, at the end of this month, they are introducing their creamy coconut oil baby shampoo + body wash! Can't wait to have my kids try that out!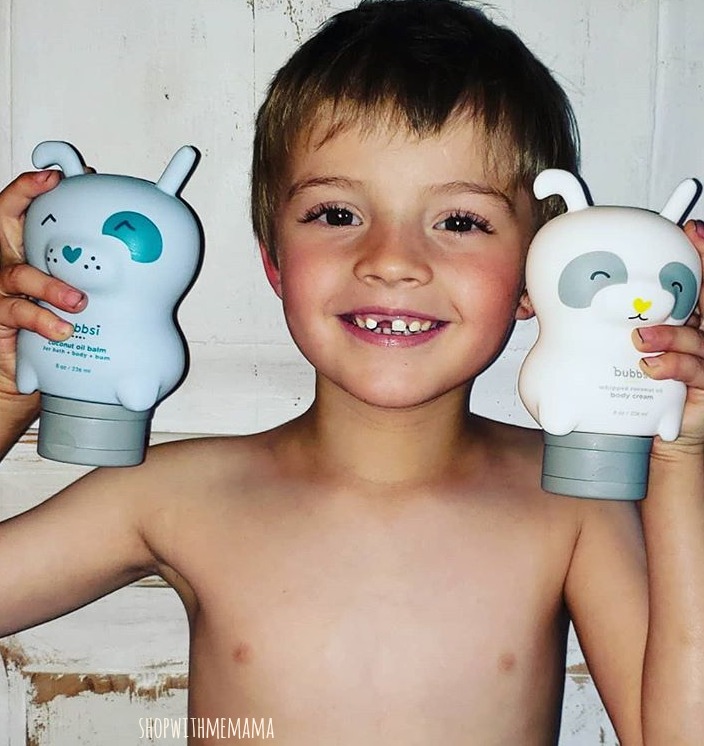 What sets Bubbsi Natural Kids Skincare apart from the rest?
Well, they are natural! They noticed that baby care products have gotten a bit too serious and sometimes even scary lately. Bubbsi was born from the desire to create truly clean + efficacious skincare products that little ones can still have fun with.
With naturally nourishing formulas that are designed to delight, Bubbsi hopes to make skincare healthy, easy, and fun (yes, fun!) for your family.
My youngest who is 6, thinks that the little Bubbsi characters are silly and loves using them to squirt out his whipped coconut oil body lotion cream and coconut oil balm and smear it on his skin! This is great for his sensitive skin.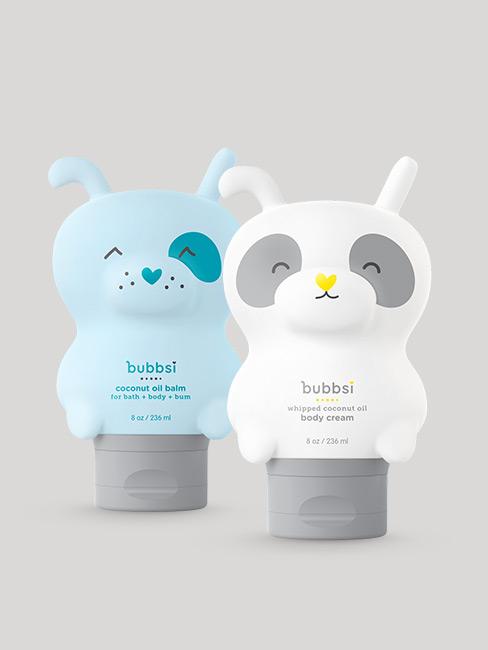 Bubbsi is loyal to the oils but not to the mess that oils can bring. Their formulas use high levels of certified organic, cold-pressed coconut oil to deliver natural hydration…but without all the mess. Nourished skin is at your fingertips with their non-greasy formulas and easy-squeezy bottles!
Did I mention how good these products smell?!? They DO! They have a Light all-natural scent: Coconut, vanilla and a spoonful of giggles! Mmmmm!!!
About Bubbsi whipped coconut oil body cream
The leader of our gang, and the centerpiece of your little one's skincare ritual. Their ultra-nourishing, non-greasy blend of organic Coconut Oil, Shea Butter and Vitamin E is whipped into a velvety cream that melts on the skin, absorbs quickly and softens immediately. Use this daily on your face & body, especially after bathing when the skin is damp to lock in moisture.
Massage onto baby or if you have an older child, let them apply to themselves, once or twice daily to see immediate softness. Baby massage is also known to promote brain development, circulation and sleep. Nourishment for the skin and soul!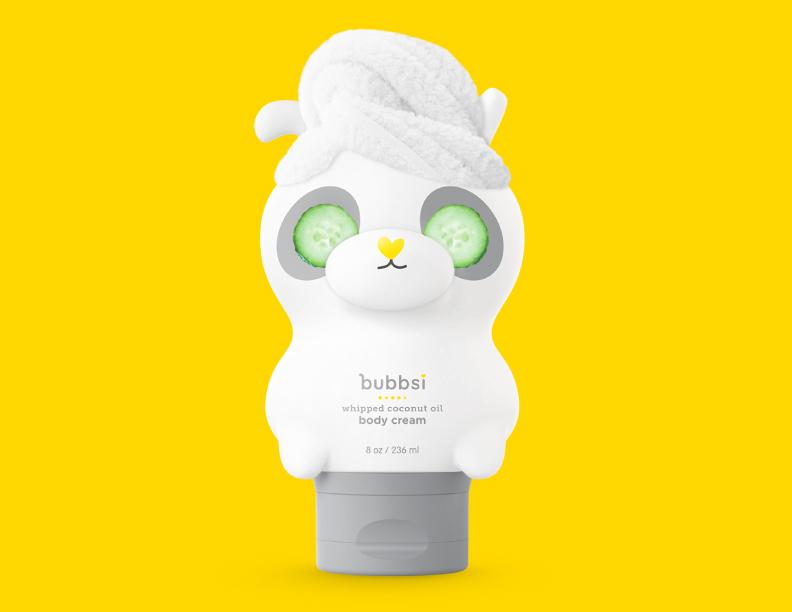 About Bubbsi coconut oil balm
Use on all RUFF areas as needed with this multipurpose, no-mess, deep-moisturizing balm that forms a protective barrier on the skin. So many ways to use it:
*Soothe dry patches like chapped cheeks, elbows, knees, and tissue nose.
*Protect the baby's diaper area.
*Remove cradle cap
Tip: throw this pup in the bath for the most moisturizing cleanse ever!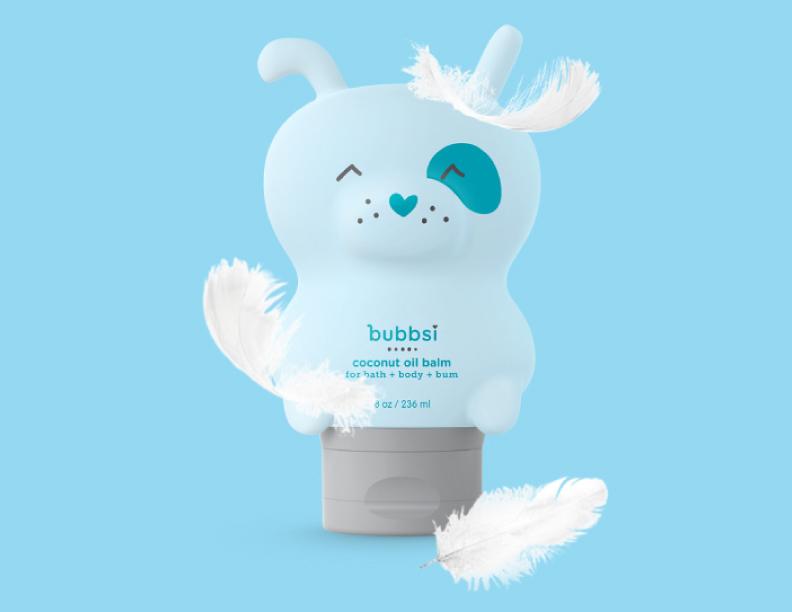 Bubbsi also carries the moisture duo! So, if you want to purchase the two products you see above, together, you can! We love this moisturizing duo!
Refill. Reuse. #Reduceplastic
Their food-grade silicone bottles are non-toxic and made to be refilled with their value sizes. So you can keep these bubs out of the landfill and in your home.
GOOD FOR YOUR BODY,
GOOD FOR THE EARTH.
The bottles that the product comes in is refillable which makes this an even more exciting product to purchase and use! The bottles are SO soft and squishy and you can buy a refillable product to put into these cute bottles! And, your child will want to play with them because they are so squishy and soft! I even like feeling them.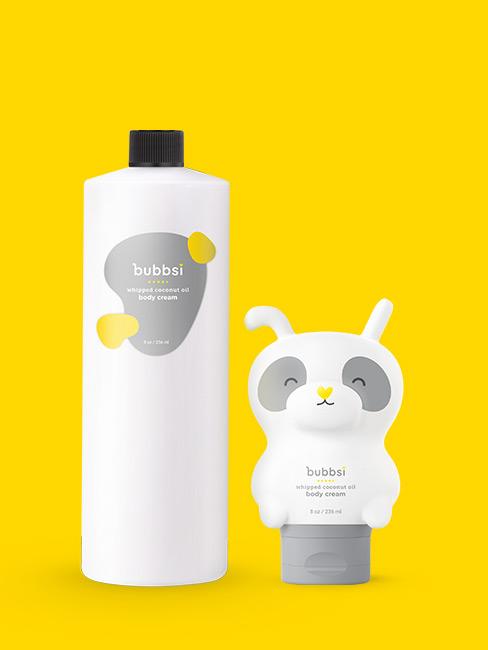 Full of yummies, free of yuckies!
*All formulas over 95% naturally derived
*High levels of organic, cold-pressed coconut oil
*Light, all-natural scent
*No parabens, phthalates, sulfates, mineral oil or dyes
*Dermatologist & Pediatrician Tested
*Free of common allergens & Allergy tested
*no synthetic fragrances
We use a lot of essential oils (like lavender, tea tree, etc.), for health purposes like for skincare and other things. However, the Bubbsi products are taking over our skincare routine for sure!
Normally, we use bubble bath with my kids baths, but we had to stop doing that recently because my kids skin was getting irritated. Now we use Epsom salts only and after their bath we use Bubbsi products, only, on their skin. Since doing this, my two youngest kids skin has become so much softer and less irritated. We are so happy!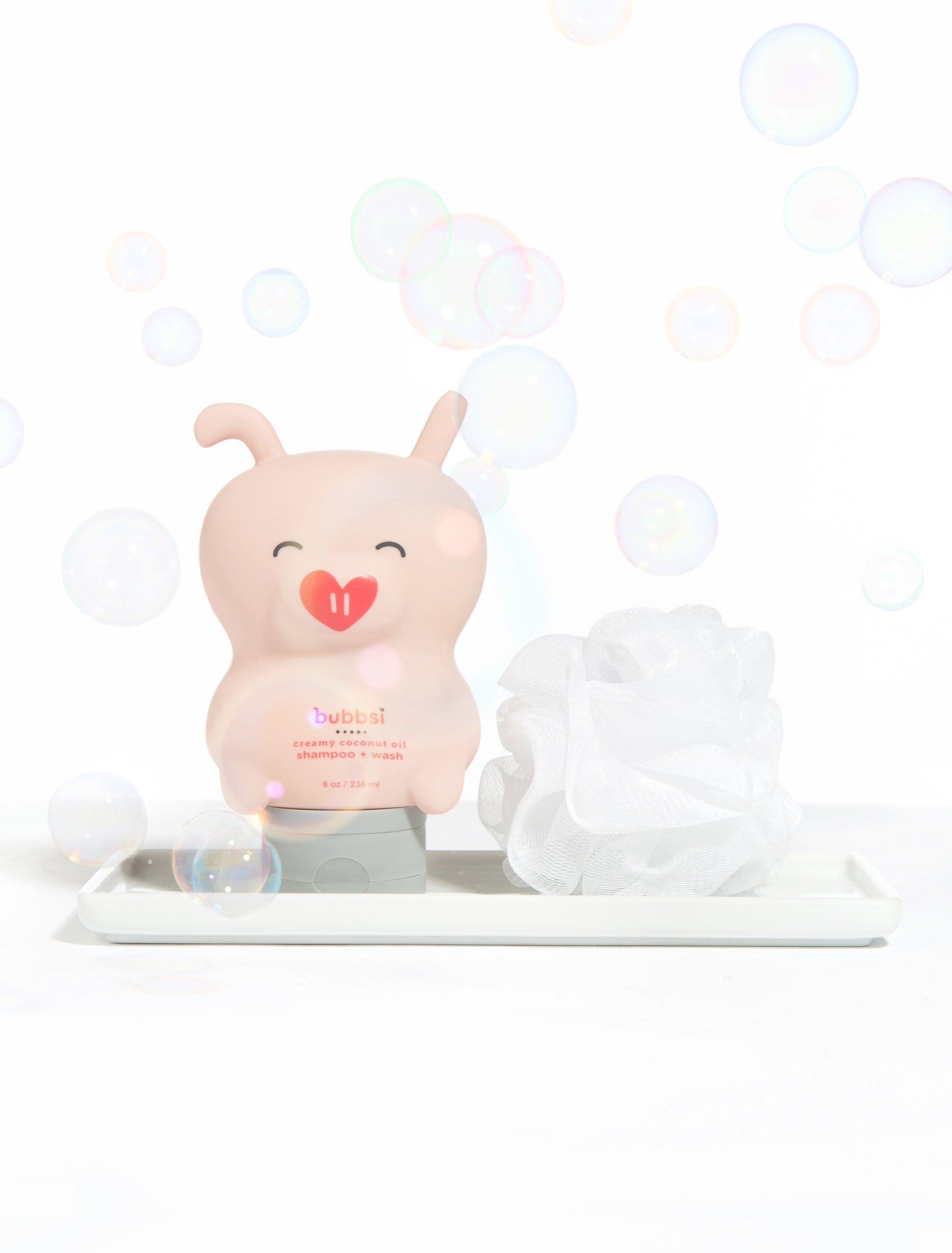 I can wait for Bubbsi to come out with their body wash + shampoo, because that will be replacing the natural bar of soap that my kids are using right now for their showers/bath.
Bubbsi Can Help With Eczema
For some children, eczema can actually be worse in warmer weather. My two youngest have horrible eczema and it can be SO painful for them, so we have to be SO careful what goes on their skin.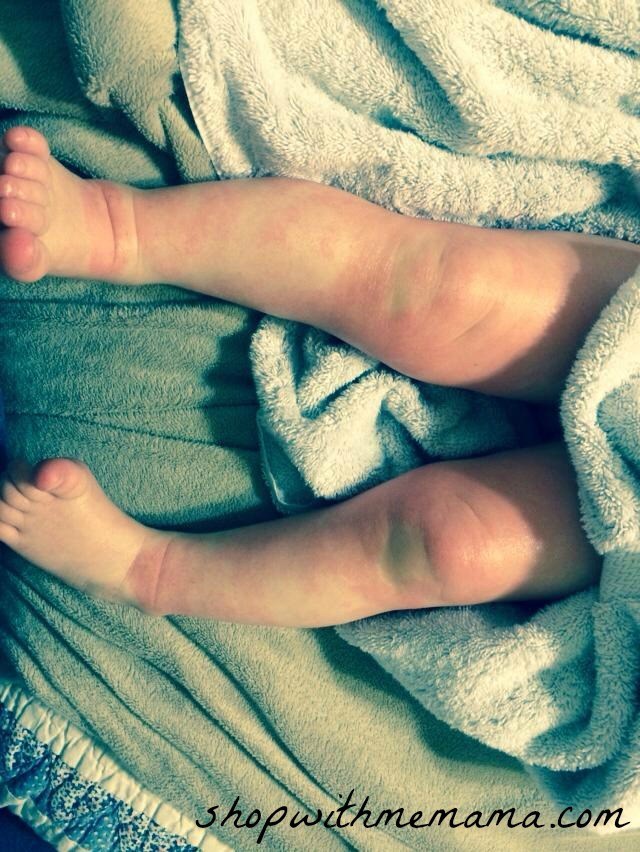 Humidity and high temperatures, combined with sweating, swimming in chlorinated water, and sunscreen can all cause unexpected flare-ups. Here are some of the great ways Bubbsi's all-natural, coconut oil-based products are being used by parents to make sure eczema doesn't get in the way of kids' summer fun!
Oceans and pools can drain the skin of its natural moisture. Wash with a gentle, sulfate-free cleanser like our creamy Shampoo + Body Wash to prevent further dehydration.
After showering, apply our rich, non-greasy Body Cream to lock in hydration. Because it absorbs quickly, it's perfect for hot and humid weather!
For extra dry or irritated skin, try a soothing oil bath with our multipurpose Oil Balm followed with an application of the same balm on trouble spots.
All of their products contain organic coconut oil – a natural anti-inflammatory and skin soother.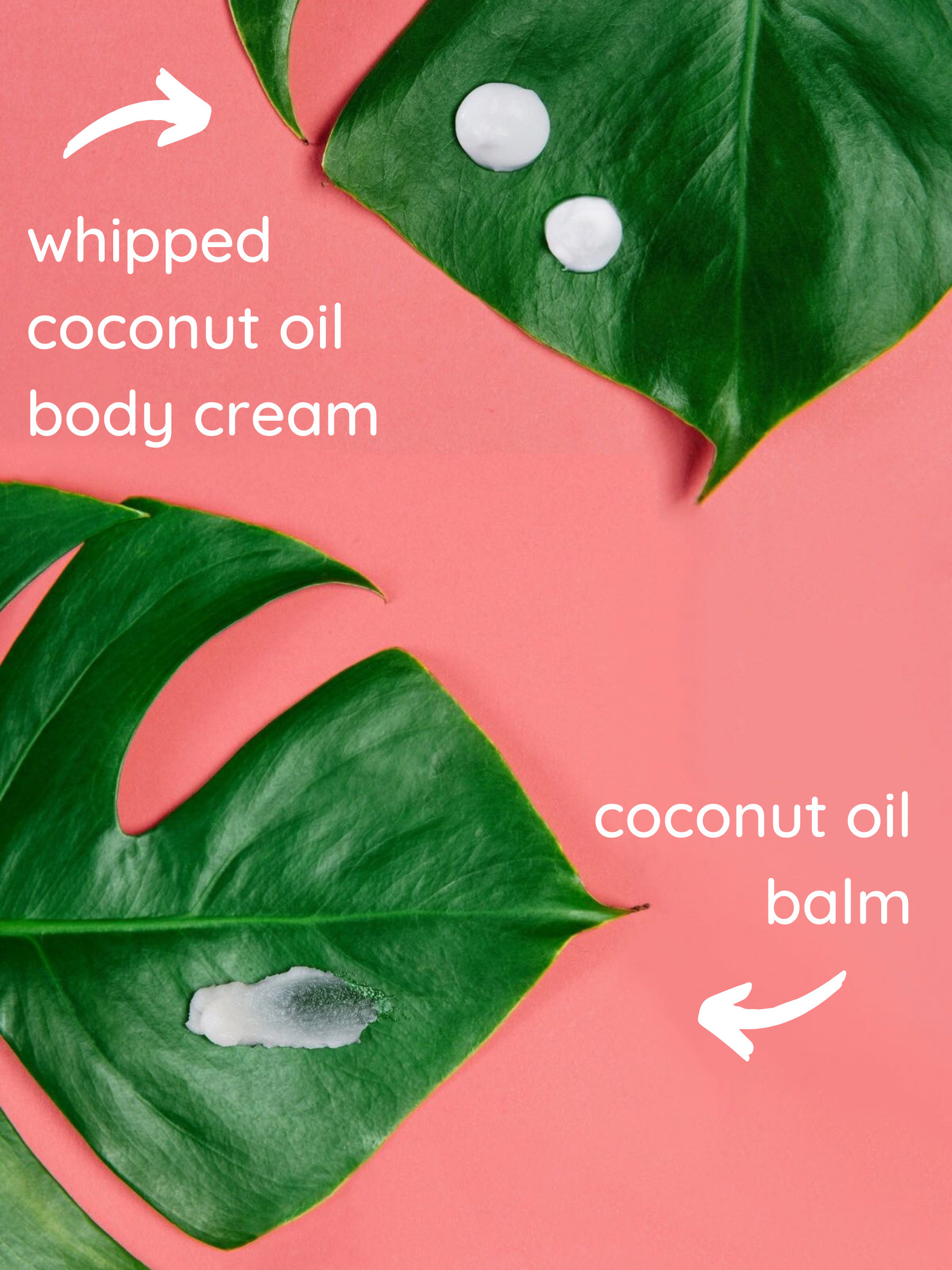 Tips To Massage Your Baby With Bubbsi
*Find a spot that is relaxing and quiet
*Squirt some Bubbsi oil balm onto your hands and rub them together
*Use a gentle touch, not too much pressure!
*Softly knead your baby's body starting from feet on up
*Softly talk to your baby or you can play soft music
Free Printable Baby Massage Checklist!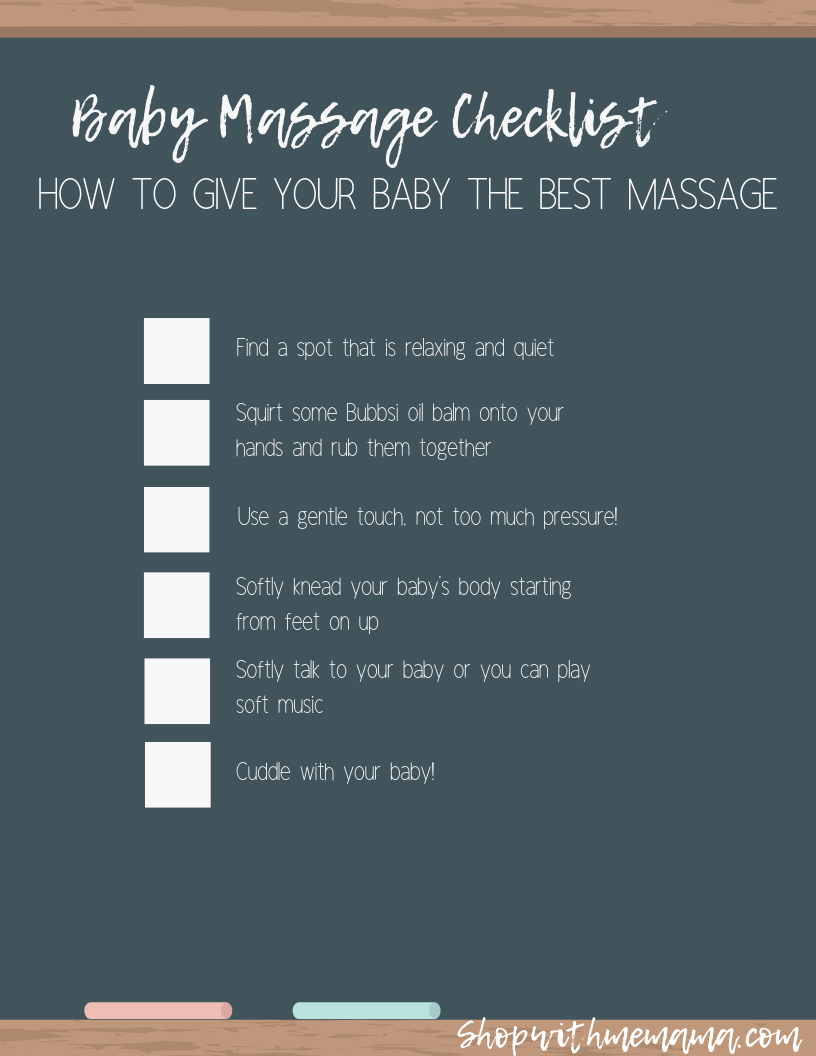 What Type of Coconut Oil Does Bubbsi Use?
Bubbsi is pretty picky about how they source their coconut oil to ensure that it retains its goodness. See below, for some explanations:
Cold pressed: their coconut oil is pressed out of coconut insides without the addition of any heat, which means that it retains more antioxidants and nutrients than a heat refined version
COSMOS-certified organic: their coconut oil source is certified organic according to the high standards set by COSMOS, a non-profit international certification body for natural & organic ingredients and products.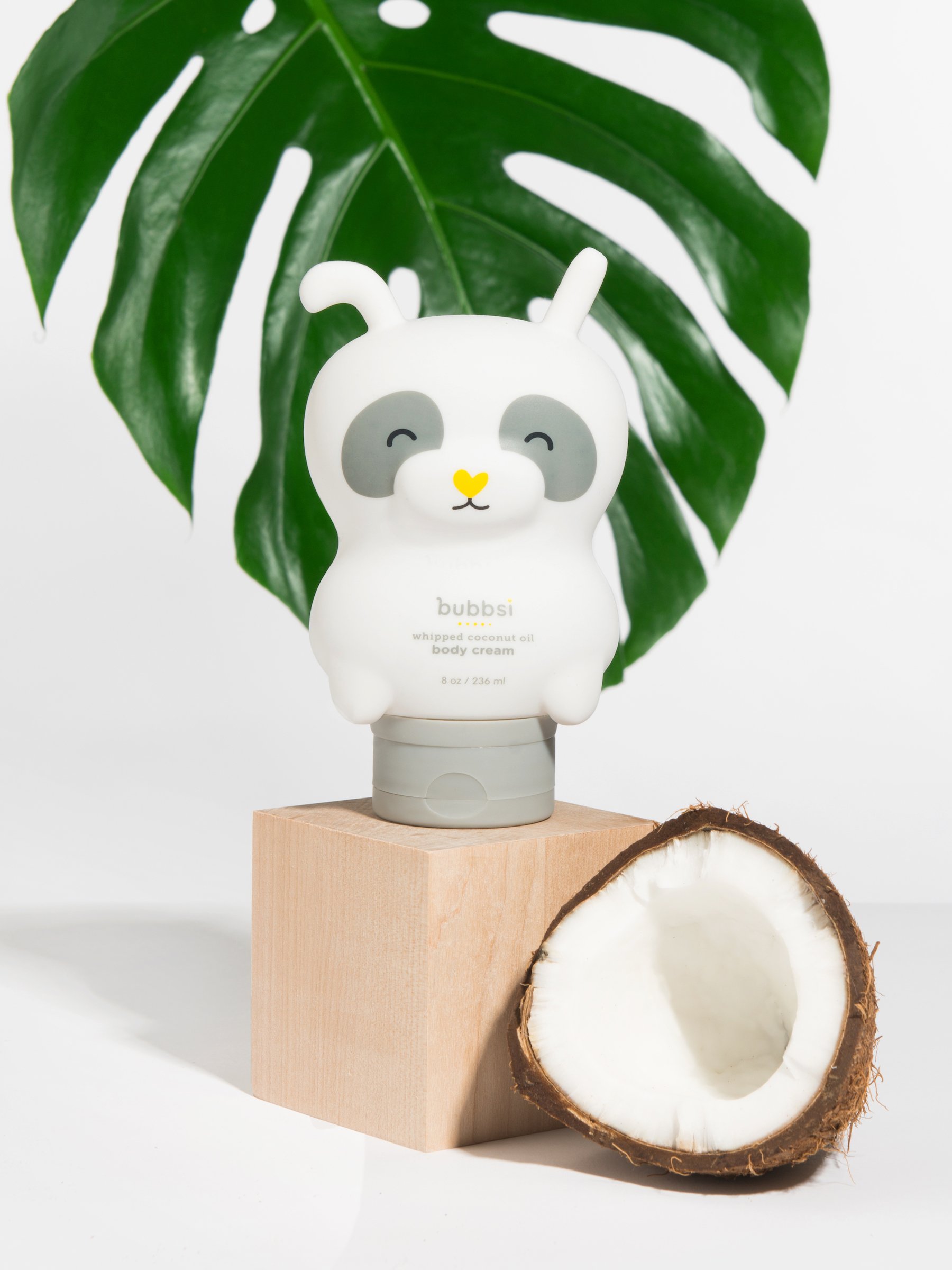 What is NOT in Bubbsi Products:
*Parabens, phthalates, sulfates, mineral oils
*Synthetic dyes and fragrance
*Harsh chemicals, potential carcinogens, and endocrine disruptors
*Common natural irritants and allergens
*Nearly 1,400 ingredients that are banned in EU cosmetics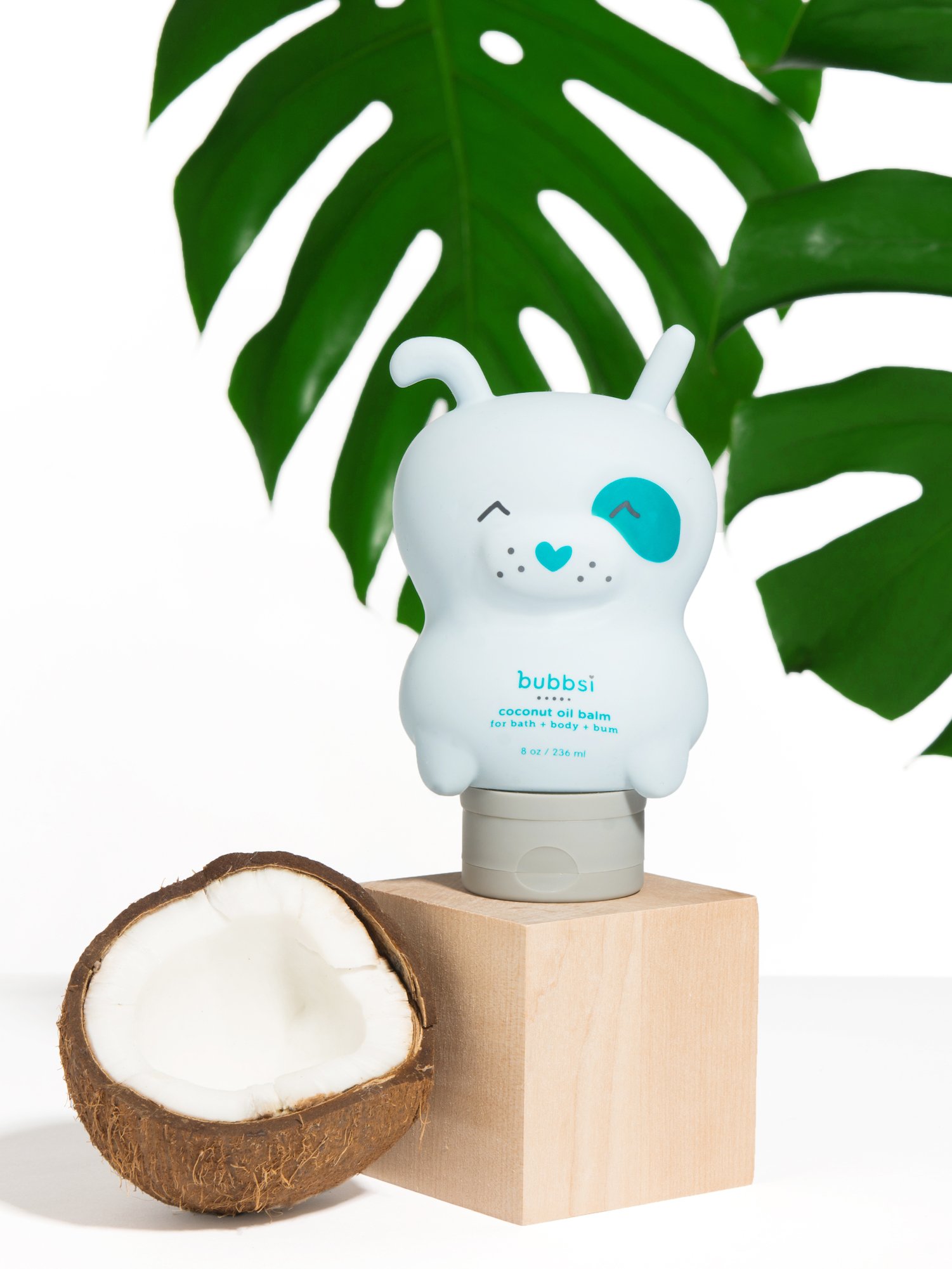 Ingredients (Let's be transparent!)
Body Cream Ingredients: Aqua (Water)*, Cocos Nucifera (Coconut) Oil*, Glycerin*, Butyrospermum Parkii (Shea) Butter*, Coco Caprylate/Caprate*, Behenyl Alcohol*, Glyceryl Stearate*, Hydroxyethyl Acrylate/Sodium Acryloyldimethyl Taurate Copolymer, Glyceryl Stearate Citrate*, Fragrance*, 1,2 Hexanediol*, Caprylyl Glycol*, Sclerotium Gum*, Tocopheryl Acetate*, Polysorbate 60*, Sorbitan Isostearate*, Sodium Hydroxide
Oil Balm Ingredients: Helianthus Annuus (Sunflower) Seed Oil*, Cocos Nucifera (Coconut) Oil**, Polyglyceryl-3 Polyricinoleate*, Hydrogenated Coconut Oil*, Polyglyceryl-4 Caprate*, Helianthus Annuus (Sunflower) Seed Wax*, Glyceryl Behenate*, Fragrance*, Aqua (Water)*, Tocopherol*
**Organic *Natural or naturally derived
All-natural fragrance ingredients: Triethyl Citrate, Vanillin, Gamma-Nonalactone, Gamma Decalactone Maltol, Juniperus Mexicana Oil, Ethyl Caproate / Ethyl Hexanoate, Gamma Undecalactone, Benzaldehyde, Methylbenzyl Acetate
10% Off Coupon!
Use the code: SHOPMAMA10 for 10% off your first purchase!
Shop!
You can purchase the Bubbsi Natural Kids Skincare Products online at https://lovebubbsi.com/. The Coconut Oil Body Cream Retails for $22 for 8 oz.
The Coconut Oil Balm Retails for $24 for 8 oz. And The Moisture Duo (both products) Retail for $46. The Creamy Oil Coconut Shampoo and Body Wash (which comes out later this month!) will retail for $20 for 8 oz.