Do you have a teen and are you searching for the best natural skincare for teenage skin? Then you have come to the right place! I found some amazing skincare for teenagers (and beyond!) and want to share it with you because my 14-year-old daughter is LOVING this stuff!
Sweetwater Labs has some amazing, natural products. Their products are animal cruelty-free, vegan (except for their goat's milk soaps!), and non-GMO. Every month they happily give a percentage of their profits to numerous charities close to their heart.
Their reasonable prices reflect their values and mission to make very high-quality organic skincare available to everyone! They guarantee all their products for full refund or exchange with zero hassle. What more could you ask for in a brand?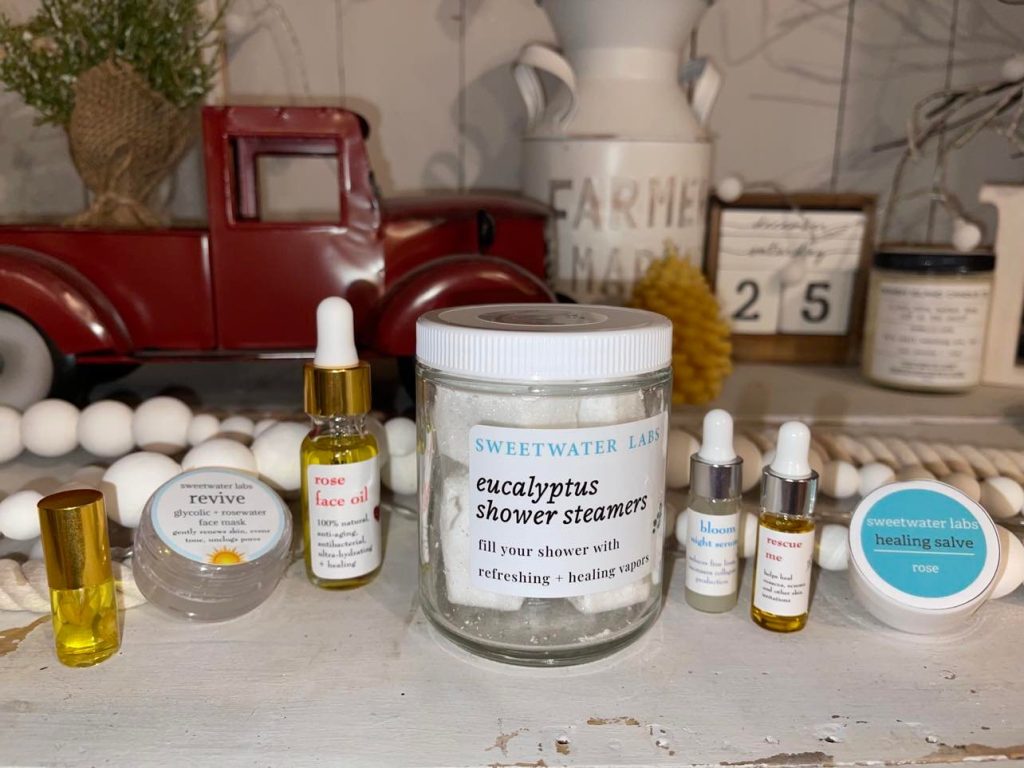 We received some amazing products from Sweetwater Labs. Here is what we got:
Bloom Night Serum
Rescue Me Serum
Revive Glycolic Acid+Rosewater Mask
Rose Face Oil
Eucalyptus Shower Steamers
Miracle Healing Salve in Rose
Bliss Flower Infused Perfume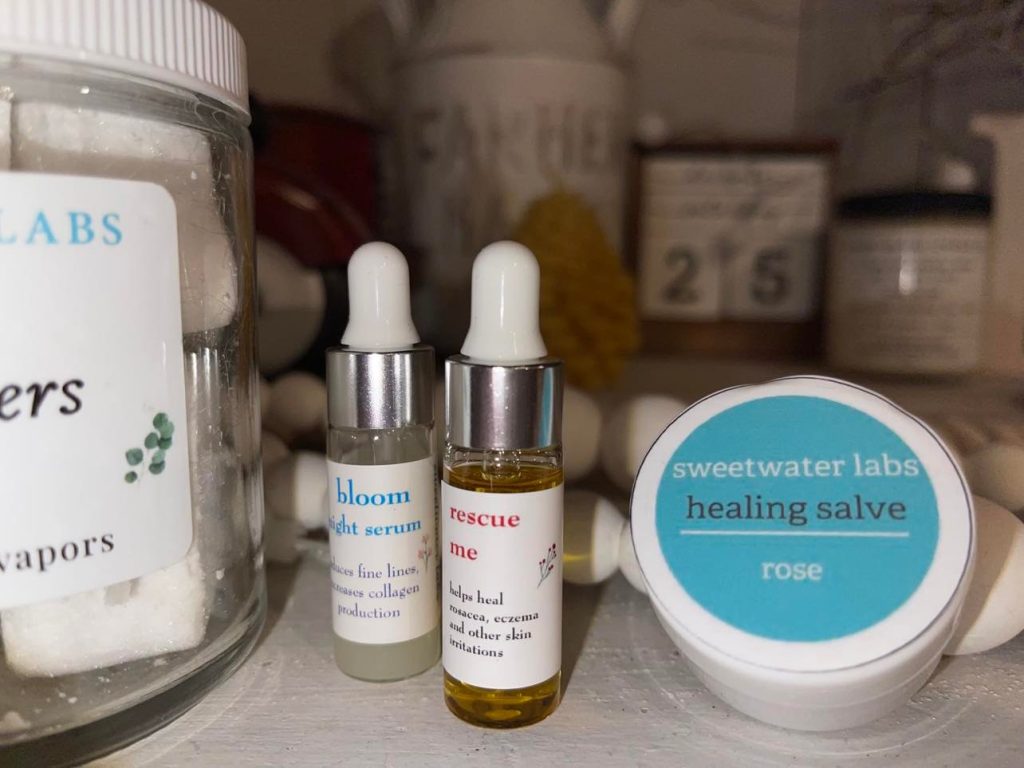 This was such a fun package for my daughter and me to open up together! We love natural products so this was just so cool to receive and test out!
Natural Skincare for Teenage Skin And Beyond!
Let's Talk About Each Natural Skincare for Teenage Skin And Beyond that we received, shall we???
Bloom Night Serum
The Bloom Night Serum is wonderful! I love using it every night after I wash my face. This reduces the appearance of fine lines, improves collagen production, and makes your face a super soft feeling, and looking.
This amazing night serum is a powerful renewing combination of retinol, peptides + plant stem cells. This formula reduces the appearance of fine lines and wrinkles, smooths, and plumps skin by increasing collagen production + improving the skin barrier. The orchid stem cells restore elasticity + firmness to the skin. Unlike other brands, this formula is gentle + non-irritating.
Rescue Me Serum
Rescue Me Serum is one of my daughter's favorites because she does have eczema and this helps heal skin irritations (eczema, rosacea, and rash) and relieves itching.
*Heals skin irritations fast
*Made from only 100% natural ingredients
*Treats eczema, rosacea, rashes, and other skin irritations
*Relieves and calms itching
*Can be used on the face or body
*CAUTION: Contains trace amount of bee product
Revive Glycolic Acid+Rosewater Mask
The Revive Glycolic Acid+Rosewater Mask is another favorite of my daughter and mine! I love how radiant my skin looks after I use this stuff!
Benefits of our Glycolic Mask:
*Removes dead skin cells (they clog pores + give skin a "dull look") and reveals brighter, more even-toned skin without manual exfoliation
*Shrinks pores
*Reduces the appearance of fine lines and wrinkles
*Helps reduce acne and acne scarring + hyperpigmentation
*Rosewater helps balance out the skin's pH to calm and reduce inflammation
Unlike many glycolic treatments at spas, this Glycolic Mask is gentle enough to use 2-3X per week! I use this as an actual mask on my face and leave it on until the morning. Then I rinse it off and my skin looks SO healthy! I love this mask!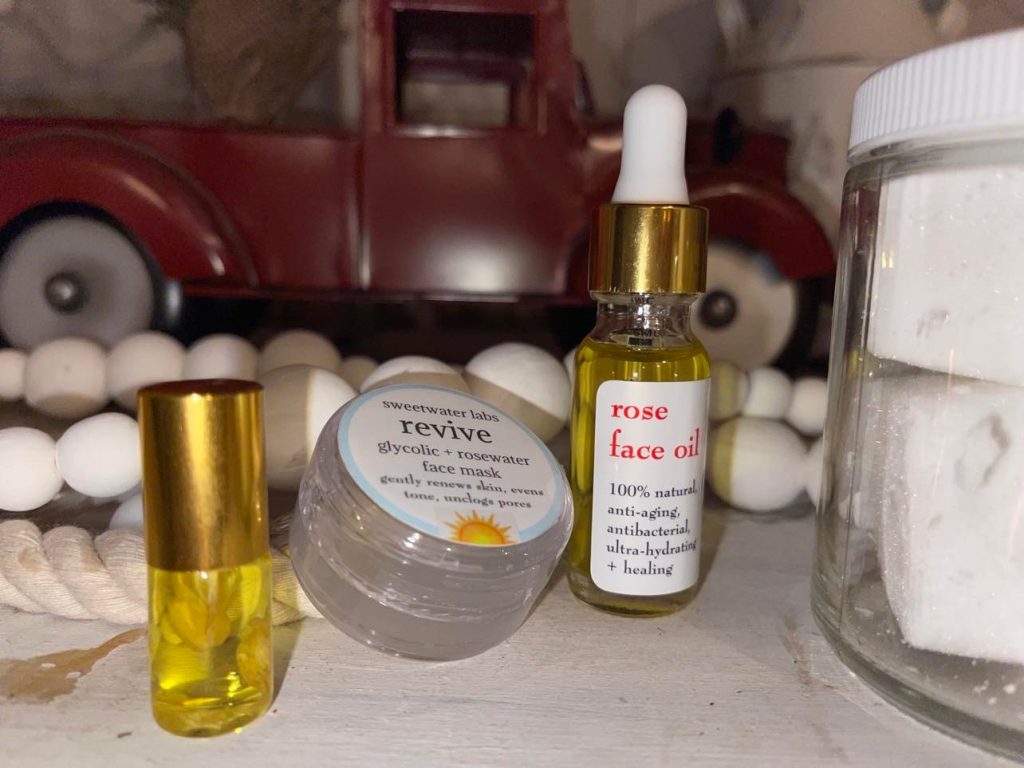 Rose Face Oil: Natural Skincare for Teenage Skin And Beyond!
My daughter LOVES the Rose Face Oil and uses it all the time! The powerful combination of Pure Bulgarian Rose Oil with its antiseptic, anti-inflammatory, and skin tissue regenerating properties with argan oil which is packed with vitamin E, omega 6 fatty acids, and linoleic acids to help fight fine lines and minimize scars.
What It Does:
*Significant improvement in skin texture and appearance quickly
*Does not clog pores, and is wonderful for sensitive skin
*Can be used for face, body, and hair
*Reduces sebum production, promoting clearer skin and acne reduction
*Helps heal scars and damaged skin
Eucalyptus Shower Steamers
I absolutely love these Eucalyptus Shower Steamers! They are so easy to use and work so well! Turn your shower into a spa experience!
The refreshing vapors of eucalyptus are known to relax muscles, decongest, invigorate, and destress. Eucalyptus oil is also known for its anti-bacterial + anti-viral properties.
Drop a cube on the floor of the shower and feel your stress melt away. This is also a wonderful way to wake up in the morning!
Directions, In the shower
Place one cube on the shower floor but NOT directly in the stream of water but near water, so the cube can be activated so vapors can start to fill your shower with the invigorating cleansing smell of eucalyptus/eucalyptus-lavender.
This cube is NOT intended for baths as the concentration of oils is stronger than traditional bath bombs.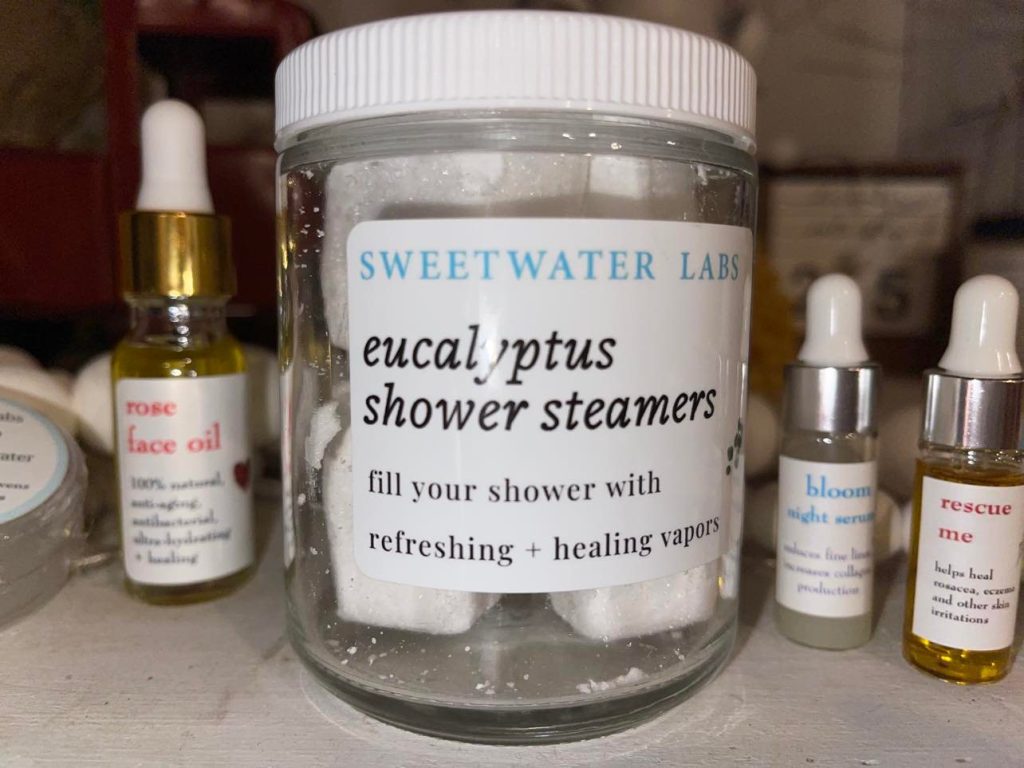 Miracle Healing Salve in Rose
The Miracle Healing Salve in Rose scent is amazing too. This stuff instantly relieves dry skin + other skin irritations. My daughter uses this every day.
This is a 100% organic healing salve and lotion with a rose scent. It is made from natural and super-healing medicinal ingredients.
This body butter is great for your whole body including your hands and face. You can also use this on your lips! It helps to speed up and heal cuts, rashes, eczema, and other skin irritants.
This sure makes our skin SOFT and feel good. It helps with tightness in your skin from dry skin and just relieves any dryness and rough skin. We use it everywhere!
Bliss Flower Infused Perfume
Last but not least, is the Bliss Flower Infused Perfume! I don't normally like perfumes and neither does my daughter but this is nice.
This is not only perfume but also a stress reliever and mood lifter and has anti-oxidant and anti-inflammatory properties too! Plus, it is all-natural so I feel better about using this on my skin.
Specially sourced concentrated pure flower essential oil (mixture of rose geranium, neroli, white orchid, jasmine, and vetiver). Very concentrated formula. One application goes a long way. So, you only need a TINY amount!
So if you are searching for skincare for yourself OR your teenage child, Sweetwater Labs has it all. Since this is natural skincare, it is safe for skin of all ages!