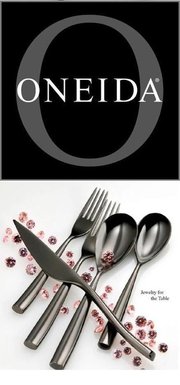 Oneida Entertaining Tips For the Fourth Of July!
Practically all my dishes here at my home are Oneida. Love the dishes and products that Oneida carries. They last forever and have such pretty styles to choose from.
With Fourth of July almost here (umm.. Monday?!), I thought you all might be interested in some entertaining tips for the fourth of July, from Oneida!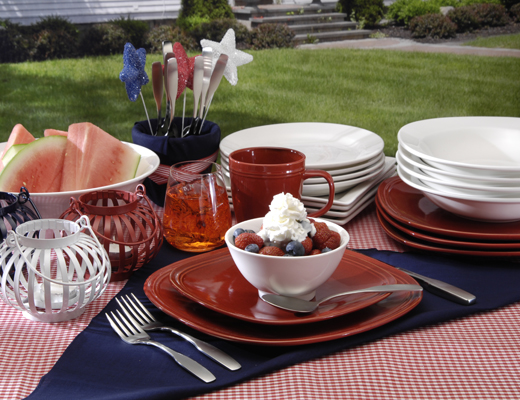 July 4th is a great time to celebrate our Nation's Independence and invite friends and extended family over to share in the festivities and fireworks. You can start your party planning with red, white and blue tableware and a stars and stripes theme.
Looking for inspiration? Asheville Red Dinnerware (Shown above) or Asheville Denim can be mixed and matched with all-white Chefs Table. Chefs Table dinnerware, which is so versatile and comes in many exciting shapes and sizes. These patriotic patterns aren't just for the Fourth. You can enjoy them year round too.  Plus, you can always mix up the look later in the season by incorporating another color with contrasting linens, candles and flowers. Do the unexpected…pair red plates with hot pink linens or denim dinnerware with bright yellow.  Contrast all white tableware with black linens. The possibilities are endless with these all-purpose patterns.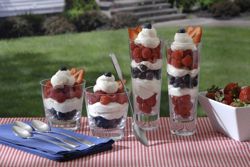 And who wouldn't want to add a bit of sparkle to their table tops? With Oneida's real stainless Steele flatware and brilliant crystal glassware, you will achieve that sparkle!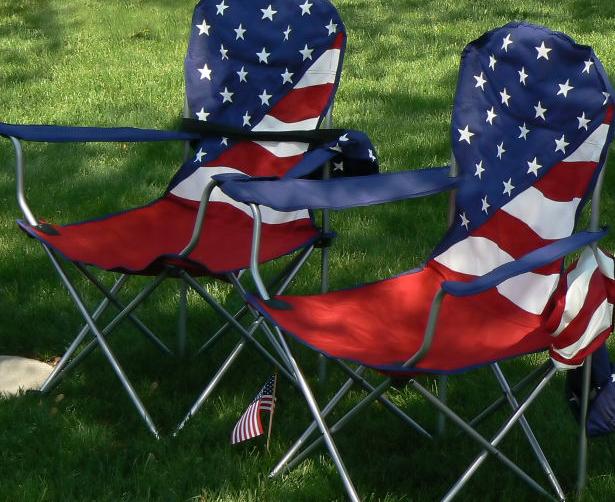 Start planning your menu ahead of time, buy what you can in advance. But, the day of the party, stock up on your fruits,veggies and breads, so they are fresh! This time of year is made for being laid back and having those delicious barbecues and pot luck dinners with friends and family!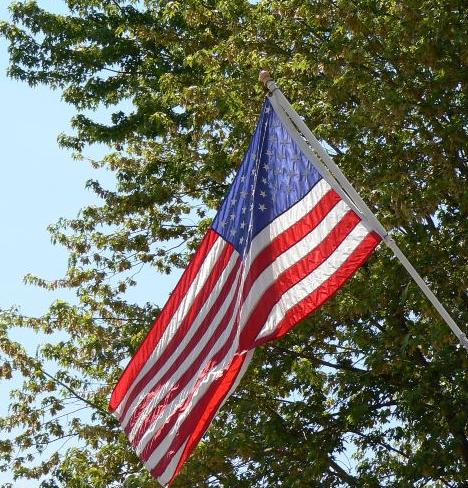 Patriotic Party Tips from Oneida:
*Wrap a flower pots with a red or navy linen and tie with a contrasting ribbon. Plant a red or white geranium in each one. It's a perfect party favor and patio decoration.
*Swap your regular placemats or napkins for red, white or blue fabric or better yet, bandanas for a cool, casual look.
Create "bouquets" out of sparklers and party decorations in a tall clear glass or short vase as a table centerpiece (or at each place setting) with a book of matches nearby.
*Freeze blueberries and raspberries on a cookie sheet. Use as ice cubes to keep drinks cold.
*Create great desserts by layering berries, vanilla ice cream and whipped cream in tall dessert glasses.
*Serve all-American foods such as corn on the cob, hot dogs, hamburgers, watermelon, and apple pie.
*Play patriotic music during dinner like the star-spangled banner, America the Beautiful and I'm a Yankee Doodle Dandy.
*Set up backyard games like croquet, badminton, jump ropes and capture the flag.
*Make sure to fly your American flag appropriately. Check out the flag etiquette link below.
*If lighting fireworks, make sure there are plenty of fire extinguishers nearby and check with your local authorities for rules and regulations.
Flag Etiquette Link:
www.usflag.org/flagetiquette.html
Strange Fourth of July Fact:
John Adams and Thomas Jefferson both died on July 4, 1826–the 50th anniversary of the adoption of the Declaration of Independence.
| | |
| --- | --- |
| Apple Pie, The Great American Tradition | |
Author:
Total time:
1 hour 10 mins
A delicious Apple Pie for Anytime of the year!
Ingredients
Dough
2 Cups Flour
1 Tsp. Salt
2/3 cup plus 2 tablespoons shortening
4-6 Tablespoons cold water
Pie Filling
1/2 Cup sugar
1/4 Cup all-purpose flour
1/2 teaspoon cinnamon
1/2 teaspoon ground nutmeg
1/8 teaspoon salt
8 cups thinly sliced peeled apples (about 8 medium)
2 tablespoons butter
Instructions
Making the pastry…
Mix 2 cups flour and 1 tsp. salt. Cut in shortening with two knives until particles are the size of small peas. Sprinkle with cold water 1 tablespoon at a time, turning with fork until all flour is moistened. You can add 1-2 teaspoons more water if needed.
Form pastry into ball with clean hands. Divide in half. Shape into 2 flattened rounds on lightly floured surface. Wrap in plastic wrap, refrigerate for about 1 hour until dough is firm and cold, yet pliable. This allows the shortening to become slightly firm and more flaky.
Heat oven to 425 degrees. Flour rolling pin and roll one pastry round into glass pie plate 2 inches larger than upside down 9-inch plate. Fold pastry into fourths, place in pie plate. Unfold and ease into flap, pressing firmly against bottom and sides.
In a large bowl, mix sugar, 1/4 cup flour, cinnamon, nutmeg, and 1/8 teaspoon salt. Add apples and mix until well coated. Spoon into pastry-lined pie plate. Cut butter into small pieces and sprinkle over apple filling. Trim overhanging edge of pastry 1/2 inch from rim of pie plate.
Roll other round of pastry into 10-inch round. Fold into fourths and cut slits so steam can escape. Unfold top pastry over filling, trim overhanging edge 1 inch from pie plate. Fold and roll top edge under lower edge, pressing on rim to seal. Flute with fork as desired. Cover edges/rim of pie with 2 inch foil strips to prevent over browning of crust.
Bake 40-50 minutes or until crust is brown and juice begins to bubble up through slits in crust. Remove foil strips last 15 minutes of baking. Serve warm with vanilla ice cream or whipped cream.