This post is all about Traveling with Kids in the Car: 6 Tips Every Mom Needs to Know! We know how hard it can be traveling with your kids. The journey may seem like a mission impossible when you have a toddler or a baby. We are well aware that traveling with toddlers is not an easy task.
Still, you can easily turn it into a fun experience with the proper planning and approach. The benefits of road trips with toddlers can be pretty appealing. Not to mention, they are also less expensive than traveling by air.
Therefore, to make the most out of your road trip, it is essential that you take a number of safety precautions before getting on the road.
However, being a mom, you shouldn't only focus on safety, you must also plan ahead so you can maximize your time and avoid distractions while driving your favorite mom car.
Other than keeping the essential mom gadgets in your cars, such as a portable garbage can, first aid box, safety hooks, and holders, there are some other things that you should prepare for your road trip. For instance, in order to keep your kids busy during the long haul, you should pack their favorite toddler toys for car trips.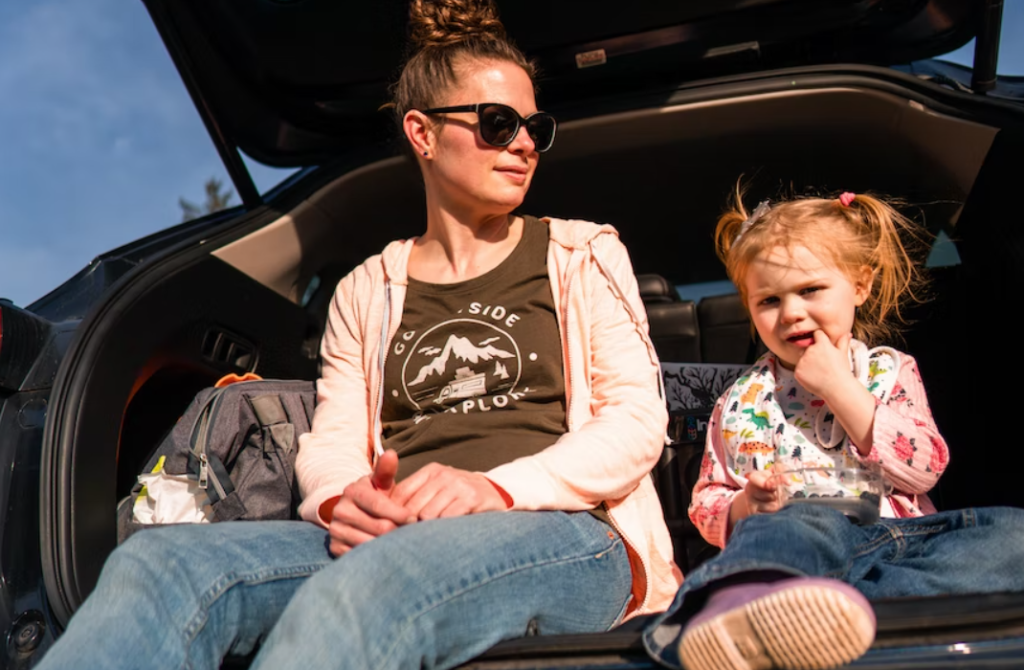 Traveling with Kids in the Car: 6 Tips Every Mom Needs to Know
This will ensure that your children won't disturb or distract you while driving, especially when you're traveling alone with kids without another adult.
1. Getting Ready for the Road
As parents, we know that uninterrupted traveling is a dream that will never come true. However, to keep unnecessary stops to a minimum, you must prepare for the trip beforehand. To do so, you must prepare an itinerary and pack accordingly. Some of the things that you will need for your trip are:
*Basic medications
*Snacks
*Games and toys
*A cooler with drinks
*A kid-friendly playlist
These are just some of the things that'll surely make your trip a bit more comfortable. As far as safety is concerned, here are some safety precautions you must follow before driving with kids in your car.
2. Fasten your Seat Belts
Car seat belts can save your life. Don't forget to buckle up your seatbelt to ensure your safety. If you are going for a drive with kids, ensure all passengers wear seat belts. They must be properly fastened. A seat belt usually has shoulder and lap straps. Be sure to teach your kids how to fasten their seatbelts.
Seat belts should not be fastened under the armpits, as they are less effective during car crash tests. However, it does look more comfortable. But that is not the appropriate way to fasten a belt. Also, never share a seatbelt between passengers.
3. Ensure that the Kids are Seated in the Rear Seat
While traveling with kids, ensure they are seated in the car's rear seat. For safety and to avoid injury, under 12 kids must be seated in the rear seat.
Kids should not be seated in the front seat because, in case of an accident resulting in the deployment of the airbags, they can be more harmful to kids as they are designed to protect adults or heavy-body passengers.
Therefore, kids must be seated in the rear seat to avoid such circumstances. Moreover, when kids are in the back seat, they can easily play their favorite games or participate in other fun activities.
4. Baby Seats are a Must for Toddlers
Before going on a road trip with kids, make sure to have a baby seat in your car. Newborns or toddlers must be seated in baby seats for their protection and safety. A baby seat allows for fastening the seat belt more effectively in the case of toddlers.
Kids are safer in car seats instead in the passenger seats. Make sure that the baby seat is installed correctly. Avoid leaving your kids in the cars alone.
5. Maintain the Cars Decorum
When going on a long drive or a road trip, the last thing you want is the noise and yelling of kids during the drive. Therefore, it is necessary to maintain the decorum of the car to make a peaceful driving environment for the driver. Making noise and yelling at kids in the car may distract the driver and can cause serious harm.
However, if the yelling and crying of kids are uncontrollable, like in the case of newborns or toddlers, the driver must keep him/herself calm and should stay focused while driving.
6. Don't Forget to Lock the Doors and Use the Child Lock
Before going on a road trip with family, ensure that all the doors are properly locked. In the case of kids, you must use the child lock to avoid any unpleasant circumstances.
Child lock is an important feature of the car for the safety purpose of toddlers. Check the door lock indication of the car in case you do not remember to lock the doors.
Family trips can be challenging. When you have kids, road trips aren't about making a great time, riding quietly, or getting to the hotel by six o'clock.
It's a time to enjoy the second ice cream cone to calm everyone down and to pull over to look at the mountains. Take advantage of the moments. We hope this makes your road trip adventure with small children easier and more fun!
I hope you have enjoyed my post about Traveling with Kids in the Car: 6 Tips Every Mom Needs to Know. Do you have anything you want to add? Please leave me a comment below if you do! Thanks!