CONTEST OVER! CONGRATS TO
Jessie C. Shaw #431!!

We all like yummy snacks especially if they are low salt and low-calorie! I think they taste better knowing you are not eating all the unhealthy stuff!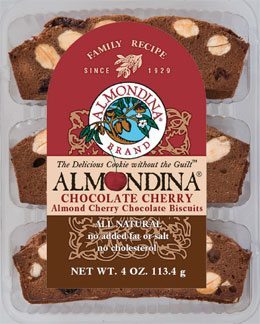 Almondina sent me some delicious and yummy Almondina goodies and my whole family has been enjoying them so much. The Almondina's are like tasty little cookies without all that guilt!  Almondina cookies are sold in all 50 States and several foreign countries. They are readily available at stores such as Fairway, Publix, Hy Vee, Giant Eagle, Brookshire, Mollie Stone's, Hannaford, Jewel, Whole Foods, The Fresh Market, Trader Joes, TJ Maxx, Marshalls and many others. So, you can purchase them quite easily!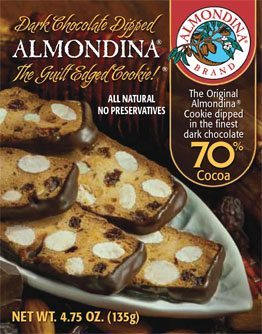 I thought this was the perfect time to share Almondina with you all, because of the back-to-school rush going on right now. This is great for a snack for you or your child. These are individually packaged and great for on the go or simply put in your child's lunch box or backpack for easy and healthy snacking during the day.
Almondina® – these are a delicious, thin and light cookie without the guilt and is an all-natural,  crispy almond cookie has no cholesterol and no added fat, salt, or preservatives and has only 30 calories. The Almondina story is terrific & heartwarming and you can check that out here!
Almondina® biscuits in the following flavors:
· Original – America 's all natural favorite with almonds and raisins
· Chocolate Cherry – We combined the world's finest dark chocolate
with plump cherries to produce an irresistible, decadent treat without guilt.
· Choconut – Rich tasting crunchy chocolate, but low in calories
· Cinnaroma® – The original biscuit for cinnamon lovers
· Gingerspice – Trend setting, with chunks of Australian ginger
· AlmonDuo® – Double-nut wonder with almonds and pistachios
· AnniversaryT – Award winning delight with a touch of anise
· BranTreats® – Made with oat bran and the finest cinnamon "Cookies For Breakfast"
· Sesame – Irresistible, exotic, flavorful
- Seasonal Pumpkin Spice – A seasonal attraction with a delightful touch of fall spices combined with the highest quality almonds and
pepitas(pumpkin seeds)
· Chocolate Dipped – the Original® dipped in the finest, pure, rich dark chocolate was
previously offered only certain times of the year is now available year round
My absolute favorite was the chocolate ones of course! So good and they had what seemed like a kind of gooey bits of chocolate throughout it, making it even more yummy and enjoyable to eat. The other ones were good too, but I prefered the chocolate ones the best as did my family. These are also really yummy with  cream cheese, Brie or other soft French cheeses, on them OR crumbled as an ice cream topping !! Lots of possibilities!
Buy
You can purchase Almondina by locating a store nearest you that carries them!!
Win
One person is going to win an Almondina Sampler pack!! YUM!
How?
Easy! Just use the Rafflecopter form below!
Disclosure:
I was sent product to sample and try out. All opinions are mine.