Skincare is one of the most important things you can do for your health, but it's also something that many people don't know much about. It's easy to make a mistake in skincare and end up with problems like acne, dryness, wrinkles, or other unsightly conditions. With the right products though, you can have healthy glowing skin all year round! In this post, I'll be sharing my favorite skin beauty products on the market today to add to your own routine.
I tried TONS of skin and beauty products and put them to the test! Below you will find my list of the best skin beauty products you will ever need this summer!
Testing beauty products and devices are what I live for! I absolutely LOVE all things beauty and skincare! I even started a new Instagram page dedicated to skin beauty products! Check it out and follow me! If you want I will follow back too, just let me know!
*This post includes my affiliate links
Best Skin Beauty Products You Will EVER Need
Let's get to it, shall we??? In no particular order, here are the best of the best skin beauty products EVER! Or at least I think so!
Viking Beauty Secrets
Viking Beauty Secrets is a Certified Organic skincare brand using the finest Northern European ingredients. We believe that healthy skin is a sign of a healthy body. I got the chance to review two of their products! I reviewed the Certified Organic Eye Cream With Nordic Berries and their gentle volcanic exfoliator (also certified organic).
Certified Organic Eye Cream With Nordic Berries
The Certified Organic Eye Cream With Nordic Berries is a fast-absorbing eye prep and great to get the eyes glowing with vitamins before the makeup is applied. It replenishes the delicate skin around the eyes and helps to neutralize daily environmental damage. I love this skin beauty product to help keep my under-eye area young-looking.
Retails for $34.00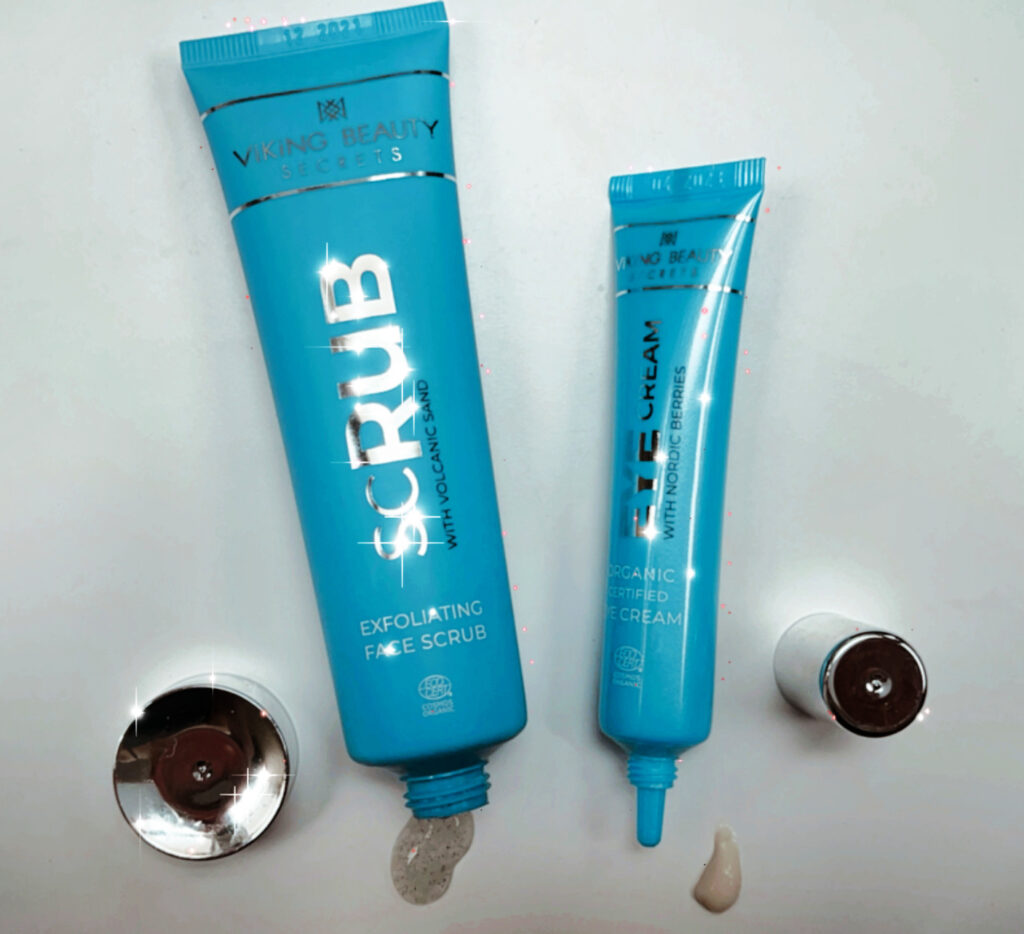 Exfoliating Face Scrub
The exfoliating Face Scrub with Icelandic Black Volcanic Sand and Rowanberries sloths off dead skin cells and leaves your face really soft. The oil-based formula turns into a milky lather in contact with water. The rich minerals of the Icelandic black volcanic sand deeply cleanse and draw out toxins from the skin, while Rowanberries and Arctic Raspberries nourish the renewed skin. Gentle enough for sensitive skin.
Retails for $33.00
For 20% off your purchase, use code VIKINGBEAUTY (on Amazon and on VikingBeauty.com).
MySKinBuddy
I am not sure if you saw my blog post about The Box by Dr. Ava, but if you didn't you should go check it out! In this box, MySkinBuddy was included (it is a dermatologist curated beauty subscription box!) in the Spring 21 box! The MySkinBuddy is an anti-aging device with tons of treatments nestled into one little device!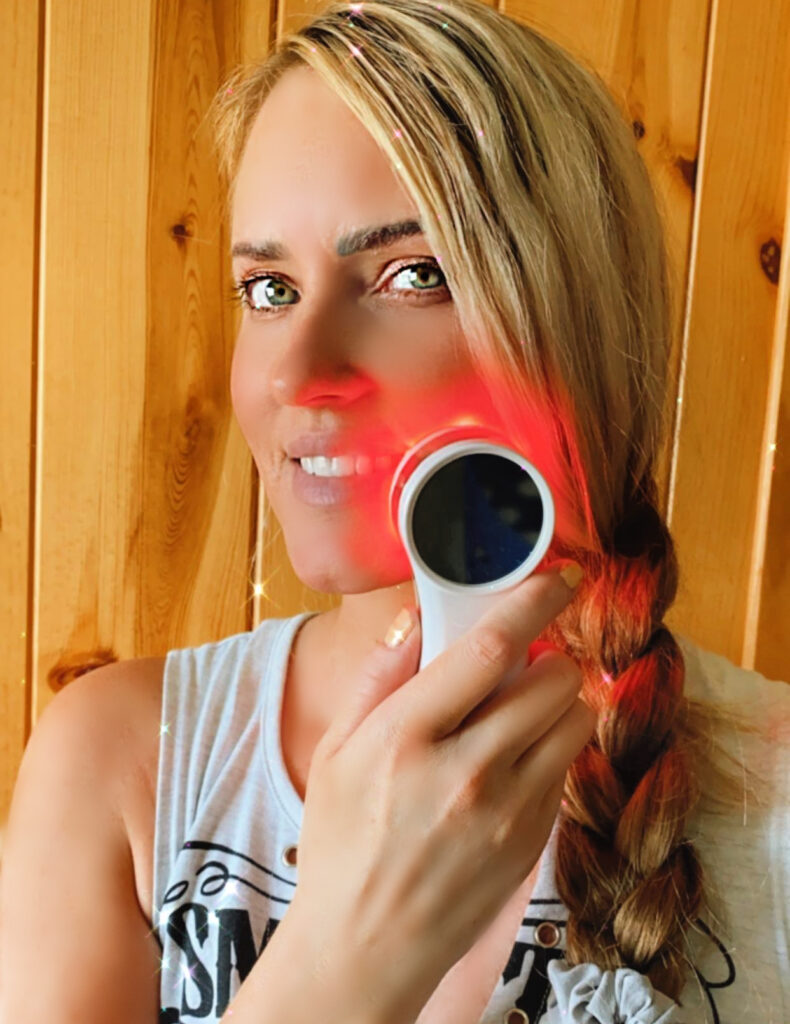 MYSKINBUDDY™ is a revolutionary handheld facial device that utilizes four proven technologies to help you achieve a clearer complexion, brighter and more even skin tone, and a more youthful appearance. This is lightweight and simple to use! I use it probably about every day of the week, in the evenings, after my shower. I swear my face feels 'tighter' and my age spots are fading a little bit.
I use it with ALL of my skincare. It assists in deep cleansing, gentle exfoliation, and enhanced product penetration through negatively and positively charged ions. It can be used with any cleanser, toner, serum, or moisturizer. It is safe for all skin types and makes a great compliment to your daily skincare routine.
MySkinBuddy Retails for $295. You can learn more about it and buy it HERE. If you are interested in learning more and purchasing The Box by Dr. Ava, you can do that by going HERE.
Sunburn and Suntan Soap
These are all great products from Wild Organic Skin. offers essential oil-based scent combinations, making colors from seeds, flowers, and plant extracts to create a variety of chromatic hues, all without using man-made micas. No more toxic products with artificial fragrances.
The Original Sunburn Soap.
The first shower after getting burned is a crucial moment in determining how long and painful your sunburn will be. Ingredients in conventional soaps make your sunburn feel worse. The Original Sunburn Soap contains certified organic, all-natural ingredients that rehydrate and exfoliate the skin while decreasing redness, irritation, and pain.
Retails for $14.95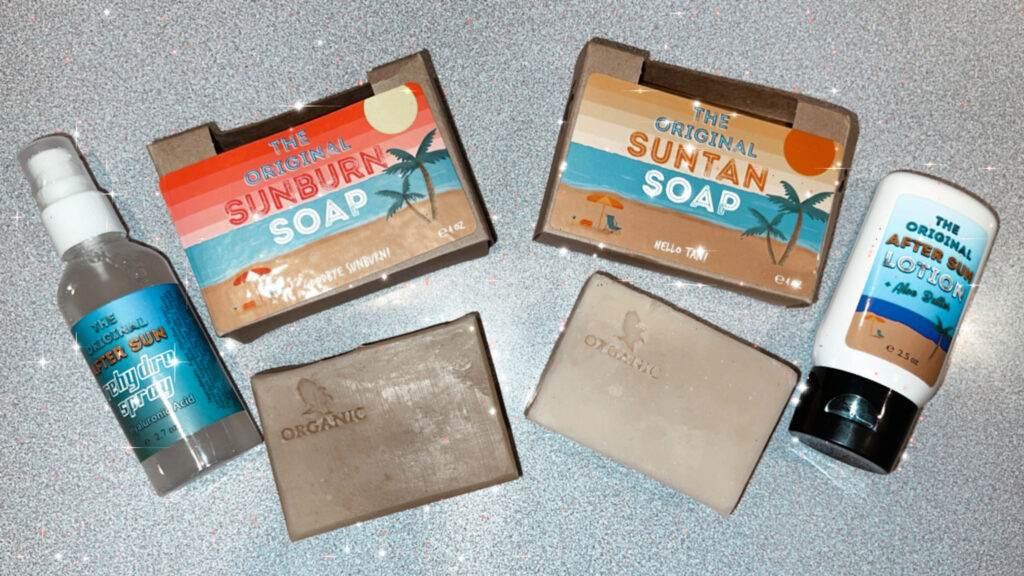 *Naked* After Sun Lotion +Aloe Butter.
The *Naked* After Sun Lotion with Aloe Butter is combined with a few other beneficial ingredients, makes a lotion that eases your sunburn, bronzes your tan, and deeply moisturizes your skin. I love this after sun lotion and have used it several times since I received it. It is so moisturizing and keeps my skin so soft!
Retails for $9.97
The Original Suntan Soap
The Original Suntan Soap is for people who already have a base tan. But, today you've been out in the sun, and you got a little crispy. This soap will help ease that dry, sticky, redness and have you looking golden bronze tomorrow. And, this essential oil scent blend is like a sweet ocean breeze.
Retails for $14.95
*Naked* Rehydro Spray +Hyaluronic Acid
Don't dry out when the weather's hot, get some moisture on the spot with the *Naked* Rehydro Spray +Hyaluronic Acid! Use this toner anytime throughout the day, to keep your skin youthful and fresh with just one spray. Made with Hyaluronic Acid for extra-strength moisturization.
Retails for $12.95
CocoBaba Coconut Body Oil Skin Beauty Product
The CocoBaba Coconut Body Oil is silky and never greasy. This is a natural beauty secret that features 100% organic coconut oil. Locks in moisture and reduces the appearance of stretch marks to smooth and soothe skin.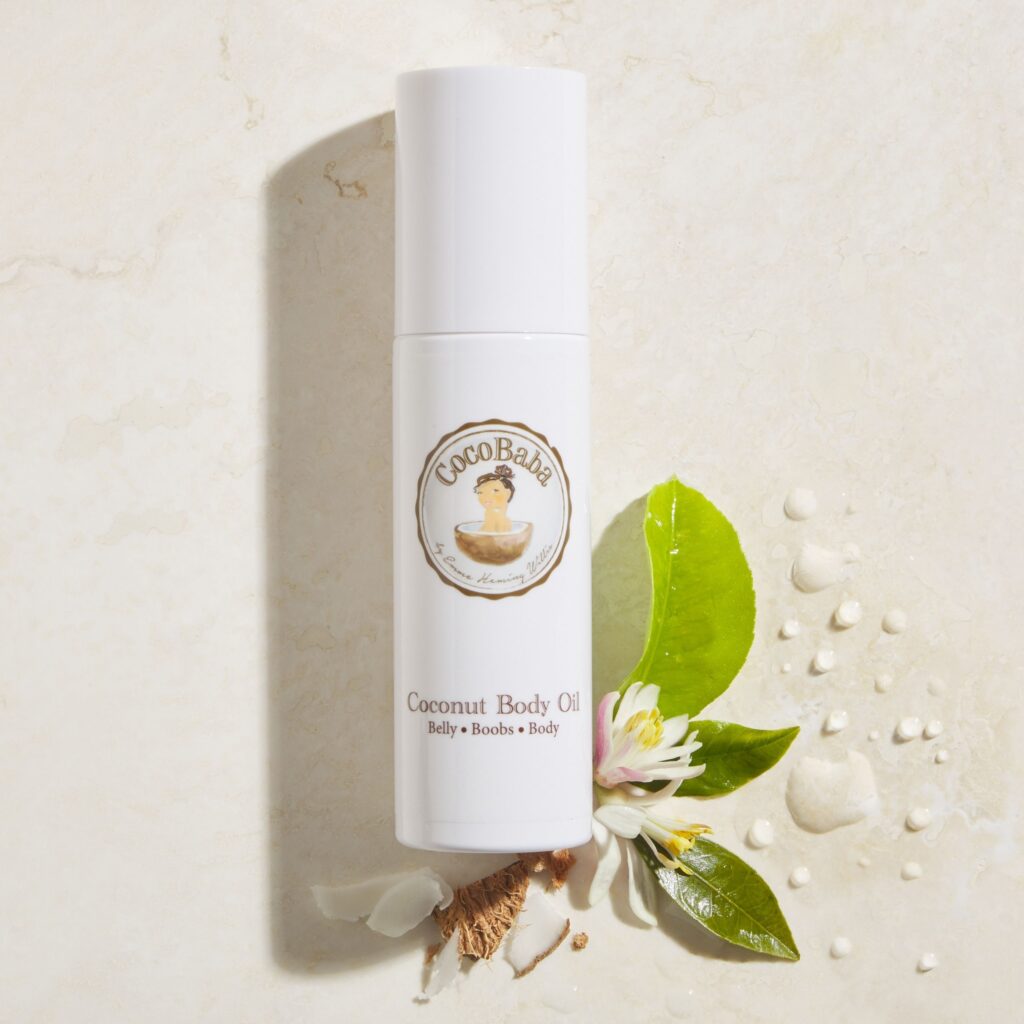 Features:
*Protects against dehydration and dry, itchy skin
*Softens and reduces the appearance of stretch marks
*Preserves skin elasticity
*Scented with aromatics
Use: Apply to your belly, boobs, and whole body. After bath or shower, or on dry skin.
Tip: Use right after CocoBaba Butter Mousse to lock in a daily dose of moisture.
Retails for $24.99 Use coupon code: SWMM20 for 20% off the CocoBaba bundle from now until July 31st!
OLITA Tinted Organic Mineral Sunscreen Lotion SPF 30
If you are out in the sun this summer, then you should be wearing SPF! The OLITA Tinted Organic Mineral Sunscreen Lotion SPF 30 is not only safe but keeps your skin protected from the sun while also giving you a tan hue! I LOVE this stuff!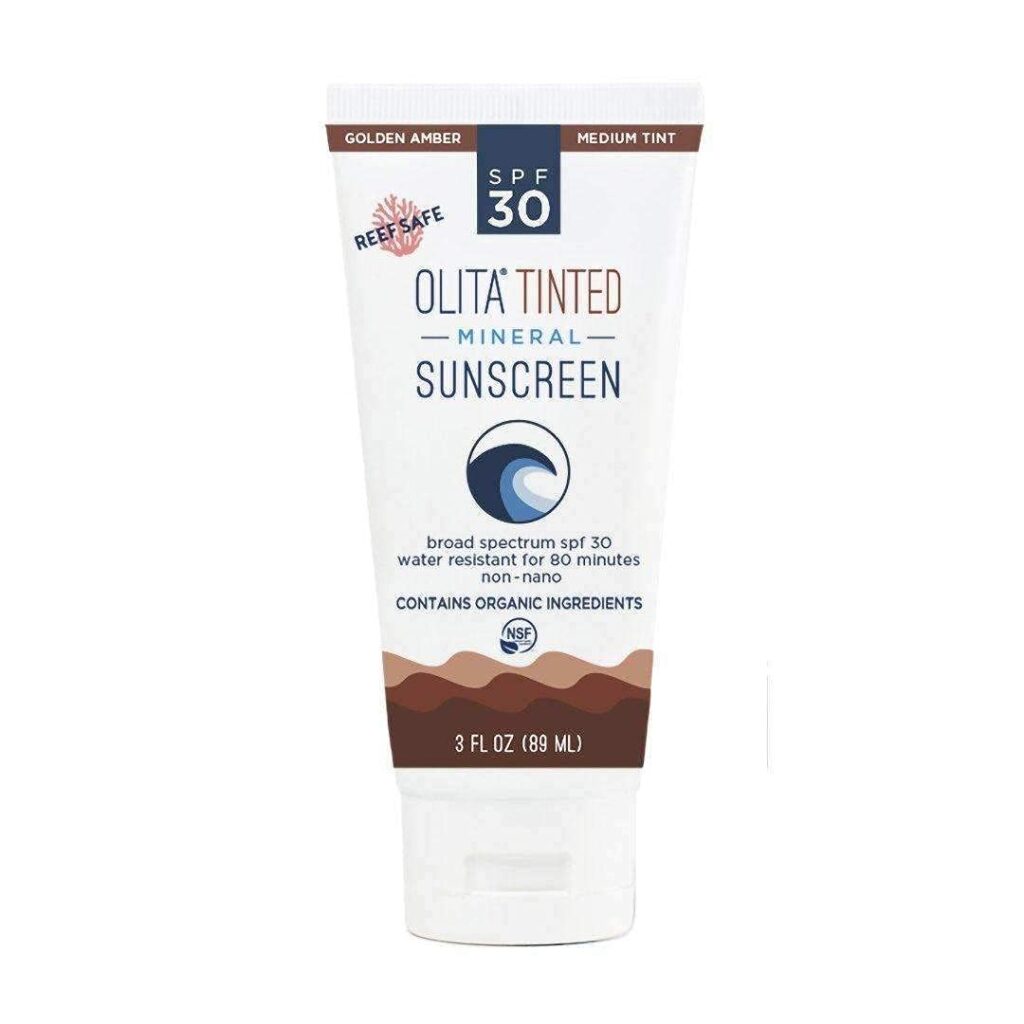 Give yourself an instant tan or match your darker skin tone with OLITA's new Organic and Reef Safe SPF 30 Golden Amber tinted mineral sunscreen. This medium tint gives a golden amber glow to blending in with darker skin tones and gives a bronzing effect on lighter skin tones! I love this skin beauty product!
There is nothing harmful in any of these organic products – not for you or coral reefs. OLITA donates 10% of every purchase to ocean conservation by partnering with the Coral Reef Alliance. That's protection with a purpose.
Retails for $20, BUT you can save 20% right now when you use the Amazon coupon! Just make sure you click the 20% off box before putting it in your cart!
Botanical Republic
The Botanical Republic is a Korean-American-owned luxury skincare line made in Los Angeles that uses organic, natural, and wildcrafted plant-based ingredients. They utilize a small batch process, so all use of synthetic preservatives and harmful chemicals is eliminated, meaning you get the freshest products possible, which is great news for your skin.
Regenerate Reviving Serum
Give skin an instant dose of rich hydration with Regenerate Reviving Serum, a deeply nourishing serum blended with antioxidant oils. Each moisturizing oil is hand-picked based on its vitamin and essential fatty acid profile to promote cell renewal and increase circulation.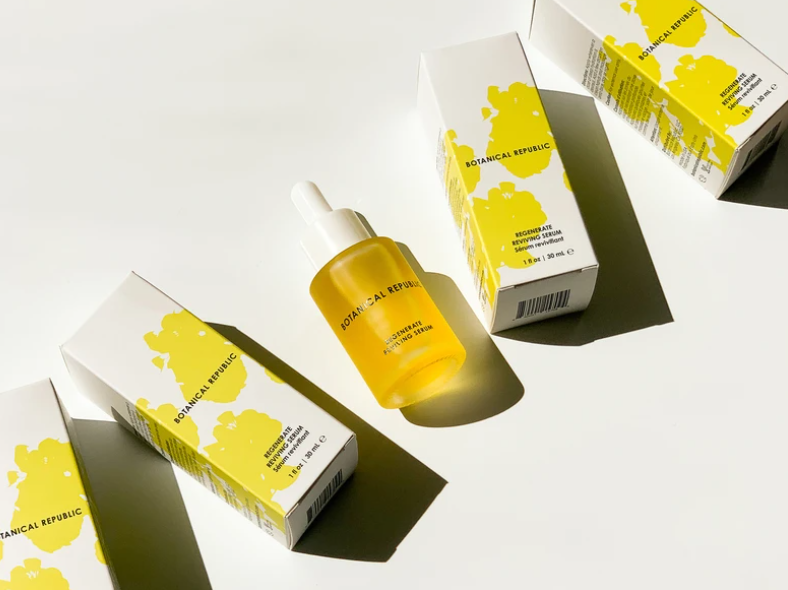 Use this luxurious hydrator daily, morning and evening, to quench dehydrated areas. The result is a plush, luminous complexion that feels supple all day. The luxurious hydrating formula even softens the look of blemishes, hyperpigmentation, and age spots.
Retails for $48
Nourish Hydrating Cleansing Oil
This pure Nourish Hydrating Cleansing Oil is a multi-tasking essential that doubles as a gentle makeup remover and a luxe shaving oil. A powerful formula that removes makeup with ease, while deeply cleansing the skin efficiently wiping away oil and impurities that sink deep within the pores.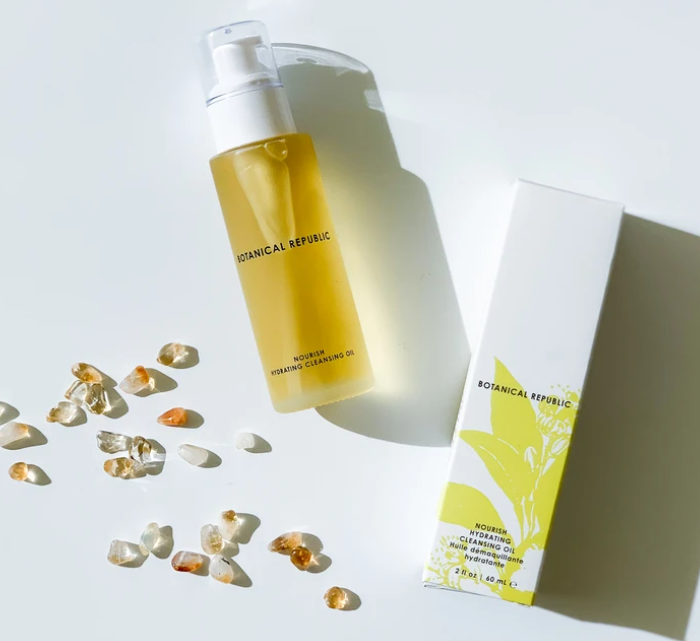 Simply rinse off with water to reveal skin that's both soft and intensely moisturized. This hydrating oil is a soap-free, non-detergent cleanser that never strips the skin or disrupts its acid mantle.
Retails for $34
KIMTRUE Skincare
Beauty starts with clean skin. KIMTRUE seeks beauty in every detail. As a quality beauty brand that centers development on customer needs, we are dedicated to giving perfect radiance to every inch of your skin and hair. Dedicated to the detailed needs of our customers so we may provide a personalized, quality care experience.
Multi-Functional Ceramide Repair Emulsion Body Lotion
The multi-functional ceramide repair emulsion body lotion smells EXACTLY like grapes!!! Talk about an added benefit! YUM! A little goes a long way and you really need to rub it in because it goes on thick. It does absorb quickly though and leaves my skin smelling amazing and moisturized really well. It restores moisture and instantly soothes chronically dry skin. Perfect for use in the summertime and wintertime!
Retails for $19.99
Brightening Hand Cream With Niacinamide
The brightening hand cream with Niacinamide is perfect for dry hands or hands that are aging like mine. This is so creamy and nice and blends right into my hands and leaves them soft and smooth looking. I like to use this as often as I can throughout the day. It is also a hand brightening cream so it will help brighten up the skin on your hands and help fade those age spots if you have any.
Retails for $7.99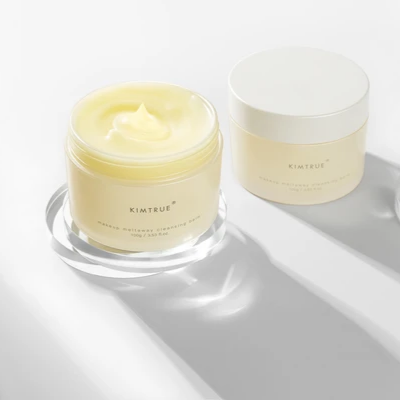 Makeup Meltaway Cleansing Balm
If you want a way to take off your eye makeup and face makeup, I absolutely highly recommend the Makeup Meltaway Cleansing Balm With Bilberry & Moringa Seed Extracts!! Oh my goodness, it is BUTTERY soft and literally melts into your skin using your body heat! It melts off your makeup so easily and leaves your skin super soft! I have even used this to shave with because I love it so much! This is an awesome skin beauty product!
Retails for $19.99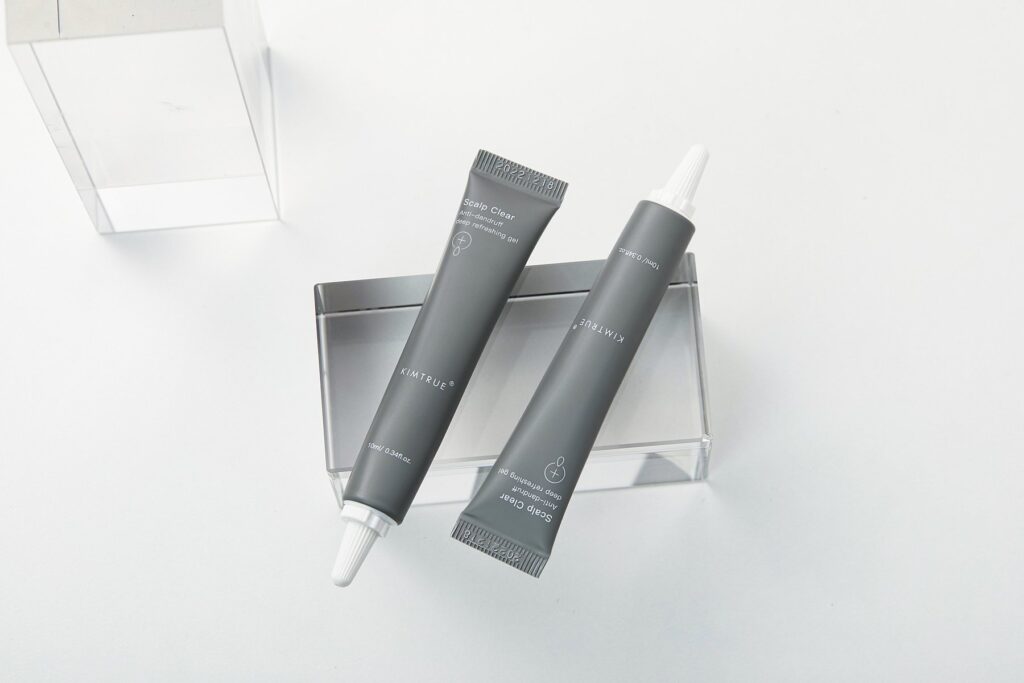 Scalp Clear Anti-Dandruff Deep Refreshing Gel
The Scalp Clear Anti-Dandruff Deep Refreshing Gel improves oily hair, itchy scalps, and hydrates the head to eliminate the buildup of dead skin cells that causes dandruff. I have used this twice so far and love the way it cleans my scalp. I don't have dandruff but I do have a dry scalp and some itchiness due to my allergies and having a dog! This seems to help alleviate the itchiness and soothes my dry scalp nicely.
Retails for $12.99 for 5 tubes
SilcSkin
You don't have to deal with invasive surgeries or needles to fight against wrinkles. Developed by an Emmy-award winning Hollywood makeup artist,
SilcSkin
is the world-leading brand in non-invasive anti-wrinkle solutions and is the first of its kind to use natural silicone patches that adhere to your skin while you sleep—without using toxic adhesives—to keep all areas of your body smooth and wrinkle-free, safely and effectively without irritation.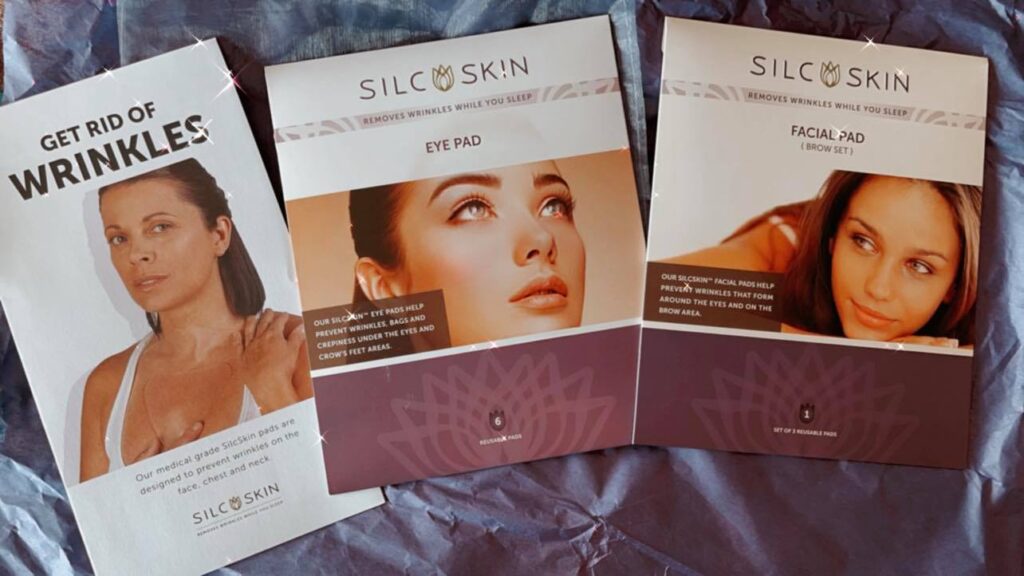 I tried the eye pads for the first time the other night and when I opened the packaged I was really confused. But, I guess they are just silicone patches that stick to your skin (really well I might add!). I wore the eye patches for half the night and took them off at around 3 am. Not because they were irritating me, but because I am not used to sleeping with anything on my face. But, they are very comfortable and stayed put!
When you are done using them, you can put them back in the package, sticking them to a plastic thing it came with. These eye pads are specifically designed to prevent wrinkles, bags, and crepiness under the eyes and the crow's feet area. These are reusable for up to 30 days!
Retails for $31.99
BeeSpa
Developed from a secret recipe from a beekeeper's grandmother, all-natural BeeSpa works quickly to provide relief to cracked and dry skin on your hands, feet, and everywhere in-between. I love both products I received which were the BeeSpa hand and foot cream and the BeeSpa luxury body cream.
This stuff is amazing and is SO richly moisturizing! It leaves my skin dewy-looking too. I actually use this on my chest area and it really makes the crepeiness go away! And, it smells like honey 🙂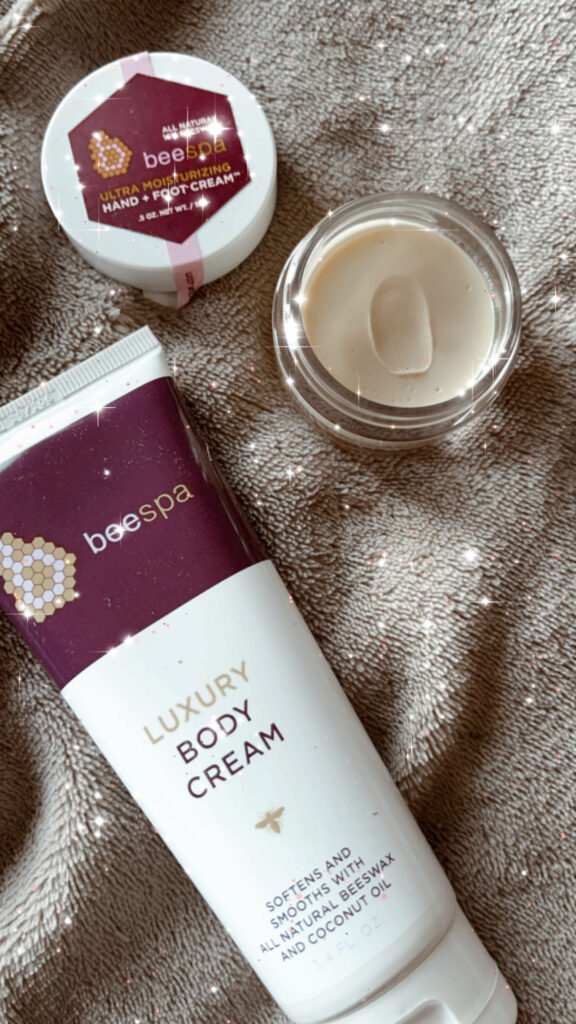 The Luxury Body Cream retails for $18.99 and the hand + foot cream retails for $12.99.
Jill Turnbull Makeup
Intertwining Beauty and Simplicity, their products are made without harmful or unnecessary ingredients and always cruelty-free. Their packaging is fully recyclable made locally in the USA. And the makeup I was sent to review, I love!
No Sweat Foundation
It is summertime and every woman needs a good no sweat foundation! 16-hour maximum coverage formula that delivers a sheer, creamy, flawless second skin, that's smudge and transfer-resistant, even in the harshest conditions. A little goes a long way and it blends in so nicely with a blender or using the brush that I received with it. Use the code SHOPWITHMEMAMA for 10% off sitewide on all JillTurnbull.com thru July 31st, 2021.
Retails for $49.99
No Colour Powder
The No Colour Powder is a long-lasting formula that combines lightweight, breathable triple-milled rice powder, which blends in fine lines and wrinkles, ensures smudge resistance, keeping your foundation in place, and stays shine-free all day. I love using this right over my foundation because it blends everything in and makes my skin look really good.
Retails for $32.00
Magic Drops
Personalize your beauty favorites by adding our Revolutionary Magic Drops. This can transform your no sweat foundation and other makeup you have. Add Magic Drops to your shimmer or eye shadow to intensify pigment or turn it into an eyeliner. Use Magic Drops to clean up any imperfections or mess during your makeup process. I LOVE these drops!
Retails for $29
Glow Stix
These are my new FAVORITE glow stix! They are so shimmery and make my skin GLOW! They give just the right shimmer and color and I am in love with the results! Perfect for summery, glowing skin! Intensely pigmented cream highlighters designed to blend effortlessly into your skin.
They are Multi-purpose and can be used as a highlighter, eye shimmer, lipstick, or contour! I keep one in my purse at all times! They come in two colors (both of which I have), Bare, which is a shimmery bronze, and Nude which is a light, shimmery pink! So pretty!
They retail for $32.00
Qür
Open up a world of moisture with the flick of your thumb. Balance those outdoor days with essential summer skincare protection. Qür innovative patented lip balms are powered with SPF 15 to protect and moisturize your lips. Formulated with Shea Butter, Almond Oil, Jojoba Oil, and Coconut Oil, this all-rounder balm fits in your palm with no cap to unscrew or a twist to turn.
Qür's Clip Balm™
Unclip, slide, apply, moisturize and go! Balance a busy day with this slim (almost flat), soft-finish balm that clips to your belt, bag, activewear, and more. Formulated with Shea Butter, Almond Oil, Jojoba Oil, and Coconut Oil, Clip Balm™ nourishes and smooths lips.
Retails for $15.00 for a two-pack
Qür's NEW 360™ with SPF 15
Open up a world of moisture with the flick of your thumb. Balance those outdoor days with essential summer skincare protection. These innovative patented lip balms are powered with SPF 15 to protect and moisturize your lips. Formulated with Shea Butter, Almond Oil, Jojoba Oil, and Coconut Oil, this all-rounder balm fits in your palm with no cap to unscrew or a twist to turn.
Retails for $15.00 for a 2-pack
Queen of Styles Mink Lashes
Mink lash collection and lash accessories from Queen of Styles are the bomb. These lashes are double and triple-layered. You can get 20 wears out of them. There is also a lash adhesive liner. It goes on like eyeliner but dries like lash glue! It makes putting on lashes easier and faster. The lash adhesive liner comes in rose gold, gold, and ambrosia.
I received the mink lashes called 'Walker' and they are very bold, thick, long and so lush! These are definitely not an everyday sort of lash to wear, but maybe for a night out on the town.
The adhesive eyeliner is brilliant! I love that I can also just wear this as an eyeliner! No waste going on here! The liner glides on effortlessly and is a bit tacky so that you can apply your mink lashes!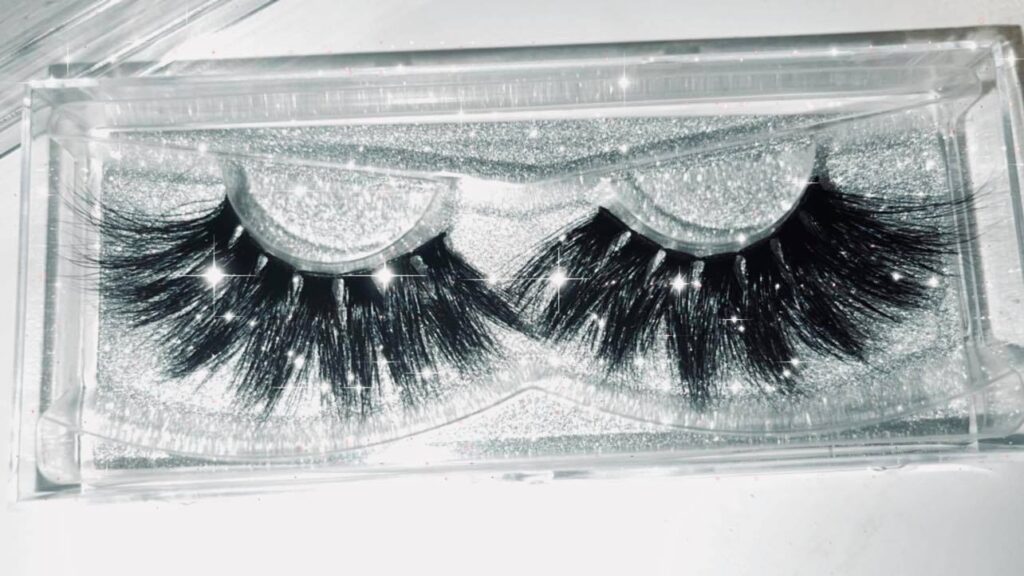 These mink lashes retail for $19.99 and the eyeliner lash adhesive retails for $14.99
ACTSYL
Hair regrowing products.
ACTSYL – L Lash Growth Treatment
ACTSYL®-L Lash Growth Treatment – (the latest product in the Actsyl family of specialty hair loss products specifically designed for women) will help you achieve that goal! Formulated with clinically proven ingredients that are proven to increase lash length, add thickness, and reduce lash loss, Actsyl-L delivers results. Achieve noticeably thicker and fuller lashes within four weeks and experience a dramatic 45% increase in lash density in 8 weeks.
Retails for only $31.99
Actsyl-D Active Conditioning Mist
I love the scent of this! Makes my hair manageable and I can easily comb through it after washing it, thanks to this detangler spray! Actsyl-D Hair Detangling Spray is specially formulated to improve the brushing process by protecting the hair shaft from tangling and heat damage after showering. Your hair will feel softer and silkier with a shine that lasts for days. Directions for Use: Apply 4-8 pumps to wet hair after showering before brushing, heat treating, or drying with a towel.
Retails for $17.99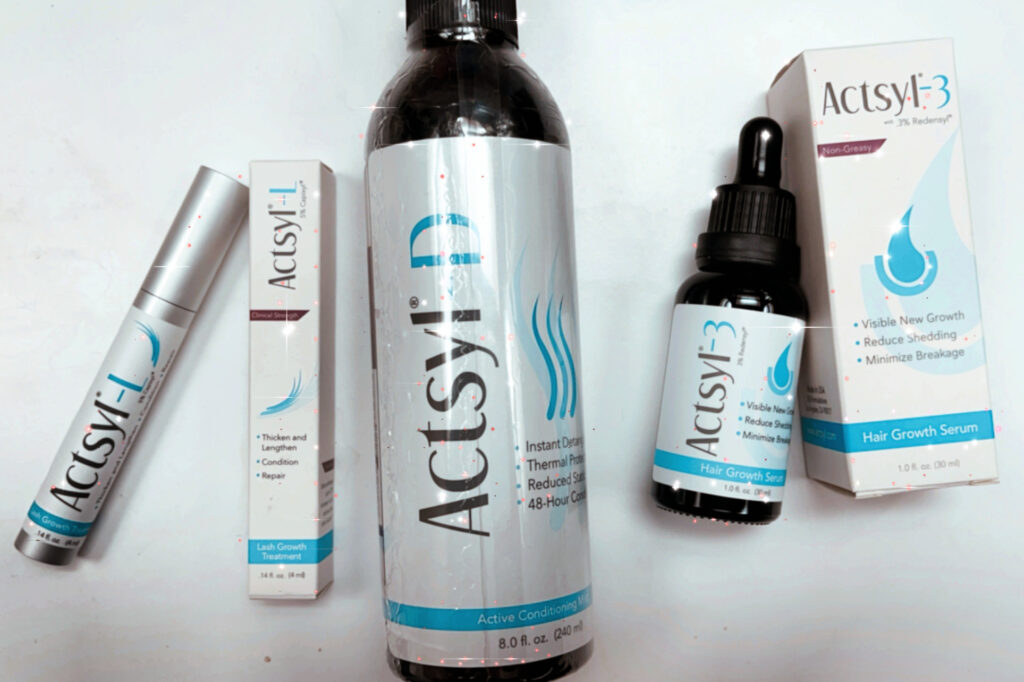 Actsyl-3 Hair Growth Serum with Redensyl
This is a specially formulated, quick-absorbing serum that increases hair growth, while also increasing hair thickness and strength. The powerful ingredients in Actsyl have been proven to combat the main factors causing hair thinning and loss in women, giving real results from the first application. The advanced ingredients in Actsyl-3 have been proven to promote new hair growth, while also increasing the thickness of existing hair during the growth phase.
Retails for $24.99
Zimba Whitening Strips
Zimba Whitens Teeth for 60% less than the other guys using premium, natural, & reduced-sensitivity ingredients. I absolutely cannot use Crest Whitening strips because they hurt my teeth so bad! My teeth are way too sensitive for those whitening strips. So, until now I could not do much with whitening my teeth! I was too afraid that they would hurt like before.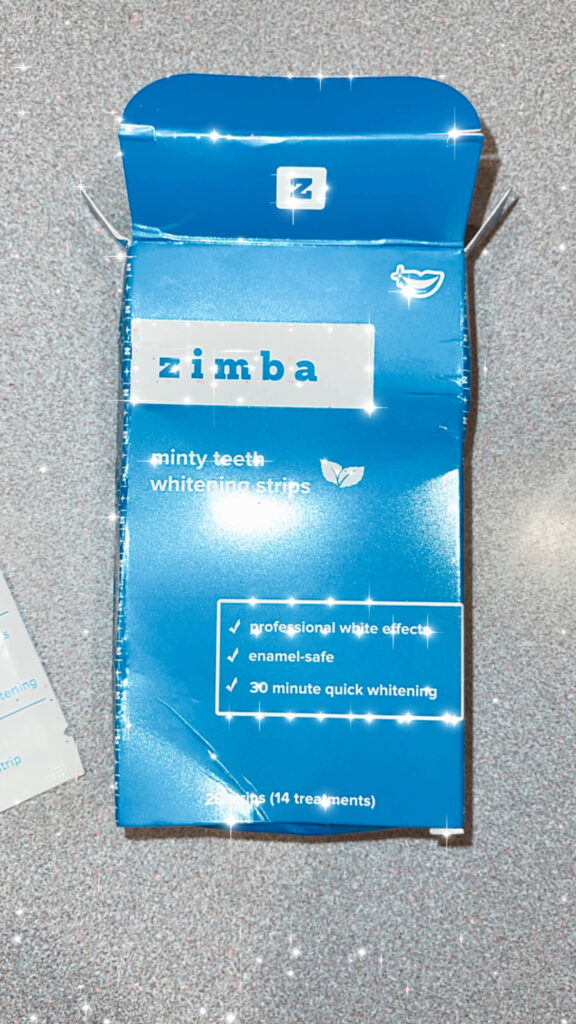 Then, I was sent Zimba Whitening Strips to try, and let me tell you, they DO NOT hurt my teeth! And???? My teeth are getting WHITE! I couldn't believe, after only using them ONE time, my teeth were turning whiter. I have now used them a total of 3 times and my teeth haven't been this white in SO long! My hubby has even started using them. No sensitivity with the same effects as the Crest White strips. I am SO happy!! The Zimba Whitening Strips are made with natural coconut and mint oil and they are safe for your teeth.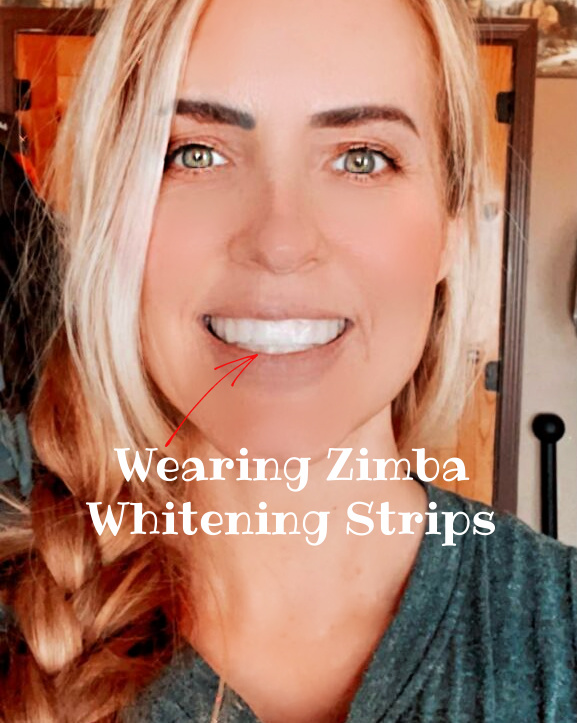 They come in 9 different flavors:
*Mint
*Spearmint
*Wintergreen
*Peppermint
*Coconut
*Cinnamon
*Peach
*Strawberry (sold out)
*Watermelon (sold out)
They retail for $24.99 (on sale from $49.99). Get 10% off your order by using the coupon code: SHOPWITHMEMAMA at checkout!
hollyhoux
At HollyHoux, we believe that every person is unique and beautiful. No matter your age, gender, origin, the color of skin, or ethnicity, we know that there's beauty in all of us.
Refresher Mist Assorted Set
HollyHoux Refresher Mist comes in 5 mood-enhancing fragrances and formulas that brighten, revitalize, soothe, calm, and restore balance to the skin. Spritz any time of the day for an instant energizing boost or calming skin moment. Skin instantly looks and feels refreshed.
REFRESHER MIST Citrus (53mL)
REFRESHER MIST Green Tea (53mL)
REFRESHER MIST Rose (53mL)
REFRESHER MIST Lavender (53mL)
REFRESHER MIST Crystal (53mL)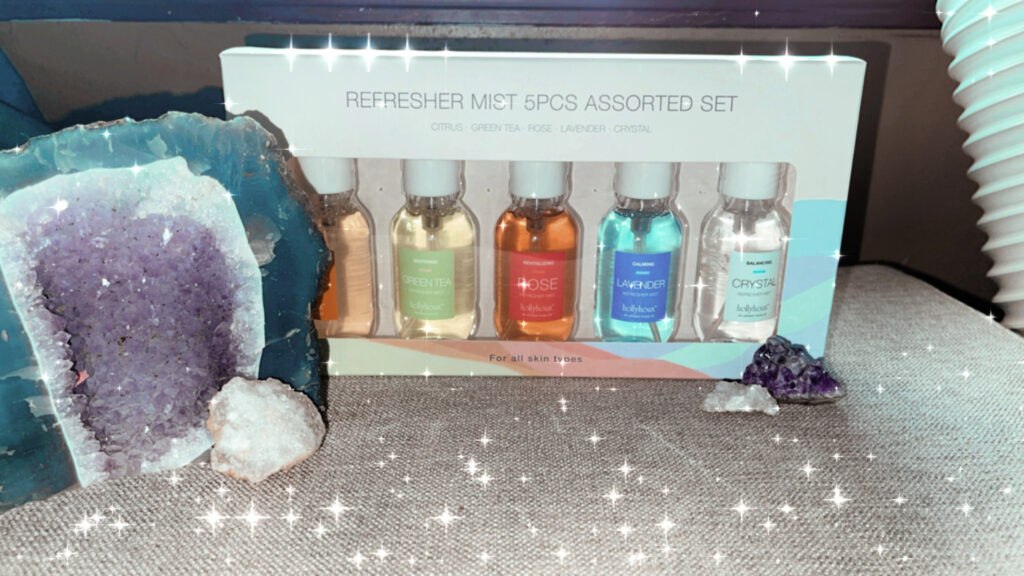 Close your eyes and spray onto the face as desired. Mist any time of the day for an instant energizing boost. Skin looks and feels refreshed.
Retails for $30.00
Cool Liquid Cushion Flawless Skin Pact
This revolutionary Cool Liquid Cushion Flawless Skin Pact is an all-in-one cushion pact that does it all. Just tap tap the cushion to cut the greasy shine. Skin looks instantly airbrushed and pores look smaller. The added bonus? It's cool to the touch so it's like having a personal A/C for your face. Cool? Exactly! This cushion was specially formulated using 16 different types of herbs and an innovative water powder to protect the skin, provide hydration and soothe the skin as it blocks oil. The water powder will absorb sebum and sweat and blur any smudged makeup so it looks instantly retouched without that heavy powder feel. Use over makeup for a flawless glow.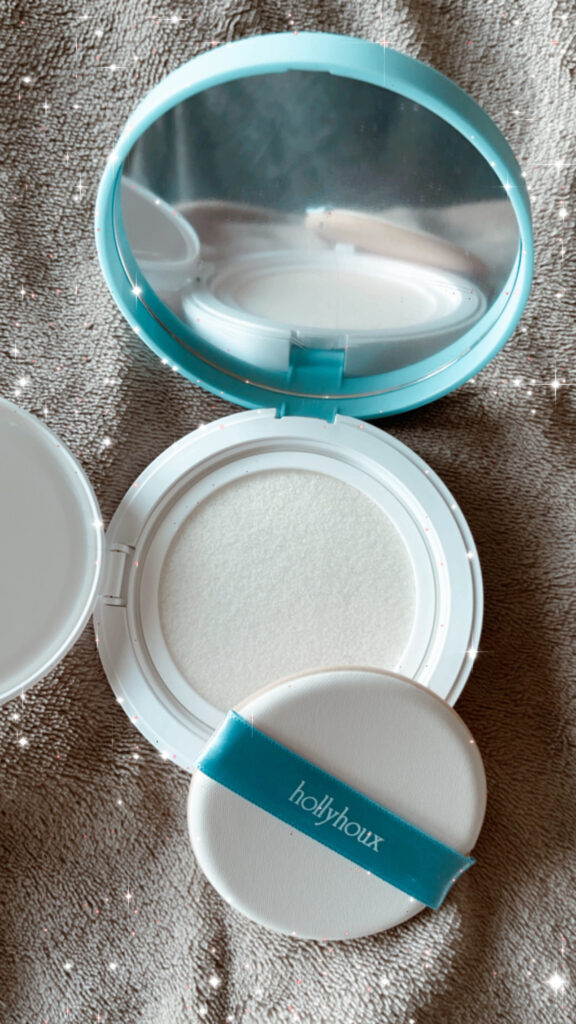 Retails for $17.00
Hemp Crate Co
With Hemp Crate Co, you get new CBD products each month from only the best CBD brands and manufacturers. Hemp Crate Co. provides a wide range of curation – from CBD bath bombs to CBD toothpaste and delicious tinctures – from trusted CBD partners such as Lazarus Naturals, Tranquility Teas, Royal & Pure, CBD is Better, and more.
CBD can be confusing and expensive. Hemp Crate Co wants to make it simple and affordable. They do the hard part of finding CBD brands with affordable prices and high-quality products so that you can sit back and relax. Choose your Hemp Crate, choose your subscription plan, and receive your box in the mail! It is that easy!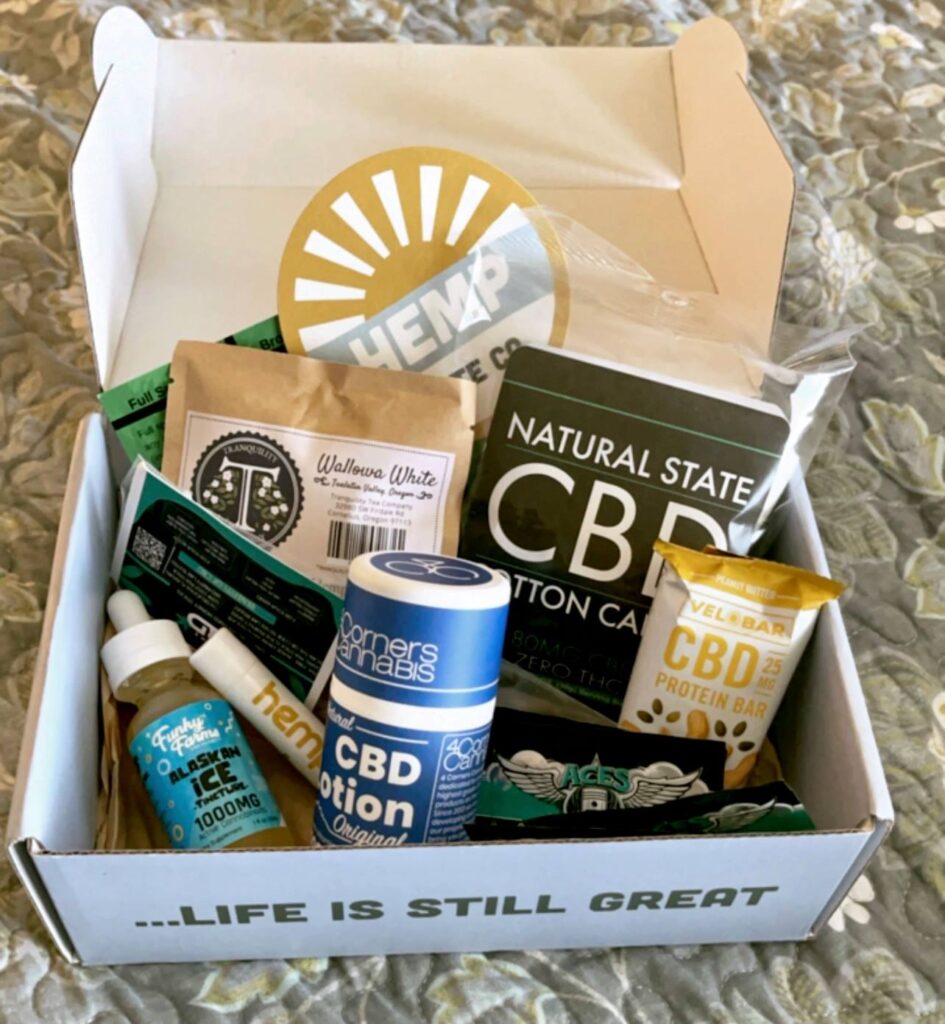 Hemp Crates start at $49.99 and go up from there.
Wildbloom
WildBloom skincare is proud to bring you some of the purest, safest, most effective natural skin care products on the market. Everything they make is fresh and crafted in small batches. They never use synthetic fragrance, harsh chemicals, phthalates, parabens, or retinol, to name a few.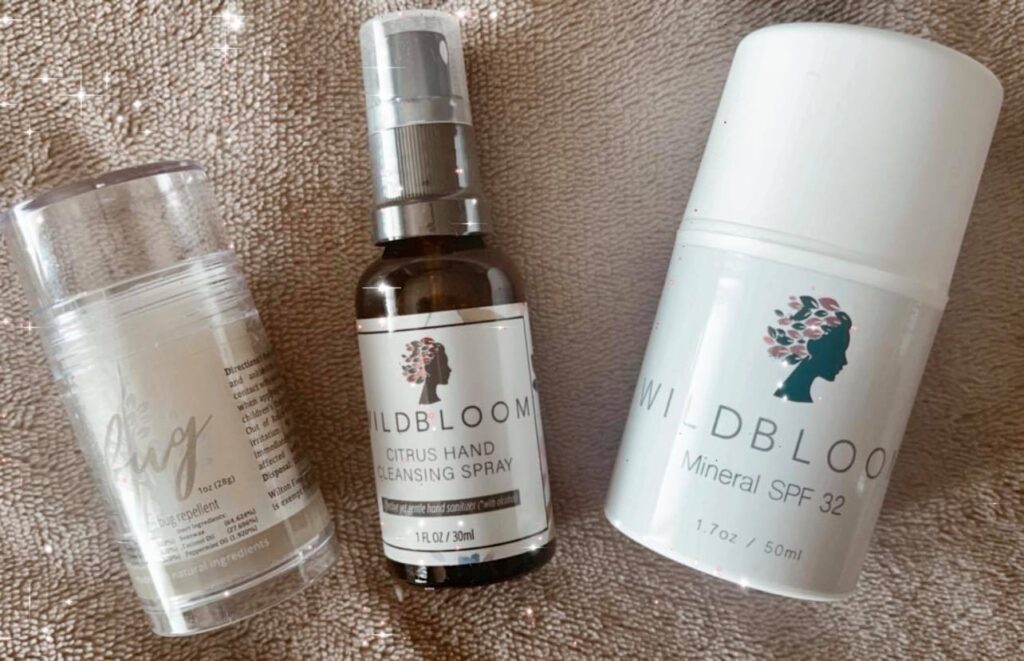 All-Natural Rub-On Bug Repellent
This unique bug repellent balm is formulated using only all-natural ingredients so you can feel good about using it on the entire family. Rubs on and stays on until washed off with soap for up to 12 hours, providing an effective barrier against bugs. Perfect for kids, travel, and throwing into your bag – no messy sprays or fuss!
Retails for $7.99 (on sale right now from $9.99)
Tinted Mineral SPF Lotion
Their tinted and untinted Mineral Face Tint SPF 32 is an incredibly pure chemical-free, fragrance-free sunscreen with full UVA & UVB sun protection. This product helps prevent sunburn, evens skin tone, and promotes a healthy complexion. This comes in 3 different variants; Natural Glow (for light-to-medium, neutral skin tones), Sun-Kissed (for medium to tan skin tones), and Untinted (for everyone!).
Retails for $36.00
Citrus Hand Cleansing Spray
This Citrus hand cleansing spray is 70% Alcohol and the hint of citrus makes this an excellent on-the-go cleanser for hands and surfaces. This uses the most skin-friendly, sustainably sourced, non-GMO alcohol to keep skin soft and moisturized. Stock up for personal use, at work, in restaurants, and around the home whenever extra cleansing is necessary. This product is vegan.
Retails for $6.00
Spongelle
I absolutely LOVE all Spongelle products! My favorite product of theirs of all time is their Spongelle Pedi Buffer. These have a sponge on one side and an exfoliating sponge on the other side. I know they are supposed to be for your feet, but, I use these ALL the time before I apply my sunless tanners and it makes my sunless tanners go on SO nicely! Spongelle sells tons of different cleansing sponges though, and everyone I have tried in the past, I have loved.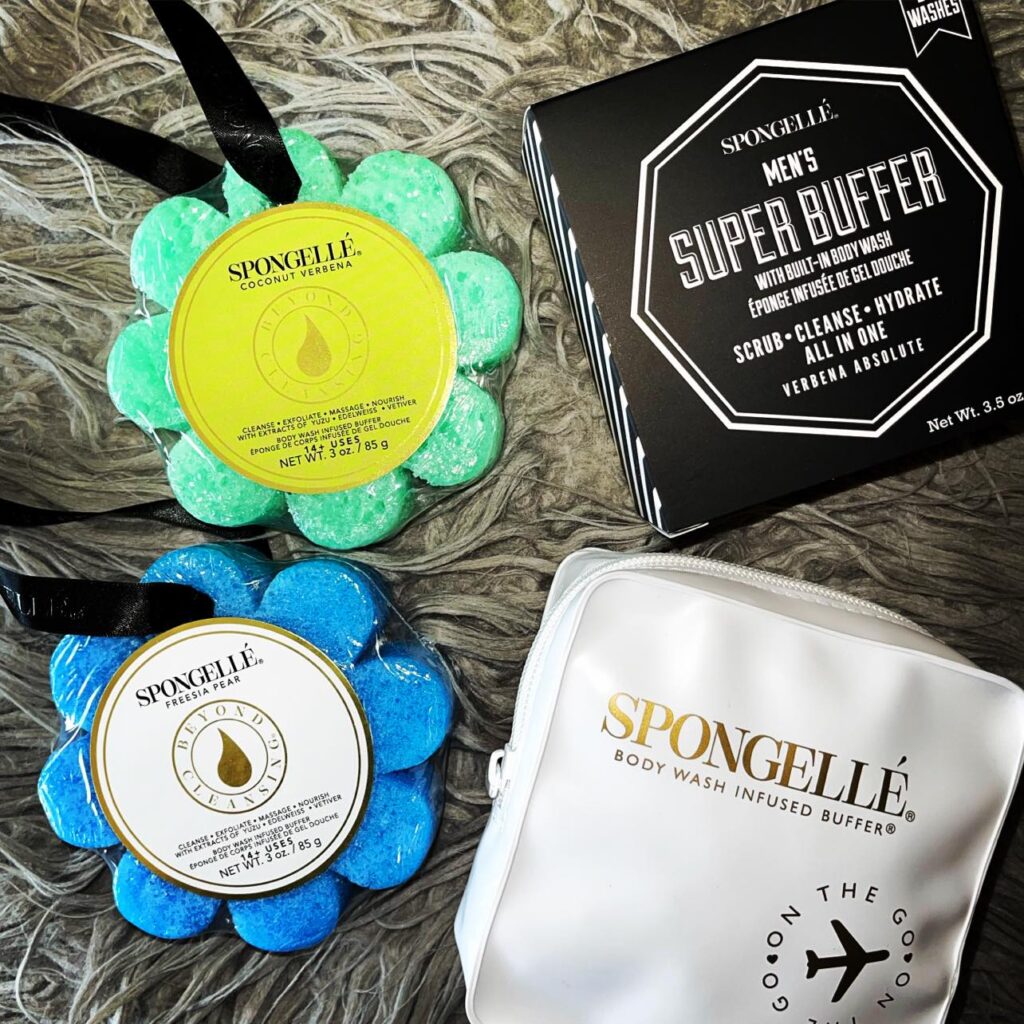 Coconut Verbena Wild Flower Bath Sponge
Transport yourself to a tropical destination with the coconut verbena wildflower bath sponge! It is a refreshing blend of coconut and light juicy citrus. Glide along with their hydrating bath sponge and body buffer to gently cleanse and exfoliate, leaving your skin dreamy-soft. This smells so dang good too and leaves my skin soft and smelling delightful!
Retails for $14.00
Freesia Pear Wild Flower Bath Sponge
Awaken your senses with this freesia pear wild flower bath sponge. This is a cozy cologne of freesia and juicy pear. Delight in our iconic, bath sponge meets body buffer, to thoroughly cleanse and deeply exfoliate with a spritz of our signature blend.
Retails for $14.00
20+ Men's Super Buffer Spongelle
I got the 20+ men's super buffer Spongelle for my hubby and he loves it. It not only smells really nice, but it leaves my hubby's skin so soft too. The Men's Super Buffer has a built-in body wash that will transform his shower experience.
The invigorating scent of Verbena Absolute is the perfect scent to kick-start your day, take to the gym, or refresh in the evenings. Enriched with a blend of energizing extracts, this All In One Men's Treatment will cleanse, scrub and hydrate for 20+ washes.
Retails for $18.00
Spongelle Travel Case
This is a must-have if you own a Spongelle product! When I travel I always take my Spongelle with me. This travel case is something that I need! This waterproof case is perfect for storing and protecting your favorite body wash-infused buffer on the go. The travel case fits one of most Spongellé body buffers with the exception of Spongology body buffer, contouring glove, and back buffer. Comes in black or white.
Retails for $6.00
Get 25% off your first purchase at Spongelle!
7th Heaven Face Mask
I absolutely LOVE face masks and use them regularly! One that I found out about and used recently, was the Tea Tree Peel Off Mask from 7th Heaven! These are affordable (super affordable!) and this particular mask leaves my skin feeling SO soft afterward! This is a must-have for both combo and oily skin. (GREAT for tweens/teens with acne).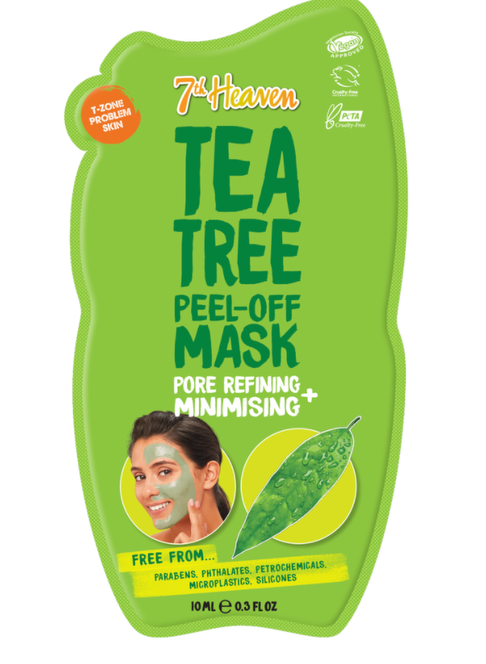 Tea tree is the "it" ingredient this summer as it banishes away blemishes, balances the skin's oil levels, and soothes irritated skin. In this formula, it is paired with witch hazel and willowherb to remove dead skin cells, deep cleanse and refresh. The peel-off format (be sure and let it dry completely – leave on about 15 minutes) makes it gentler than a scrub which can irritate acne or blemish-prone skin. As a bonus, it comes in a single-serve sachet which makes it perfect for travel, and it's available at Walmart for just $1.37. Plus, it is cruelty-free and vegan!
Rock the Locks Hair Color & Conditioners
If your child (or you!) wants to change your hair color for just a short amount of time, then you need to check out Rock the Locks Hair Color & Conditioners! This is a fun way to experiment with different hair colors, safely! ROCK THE LOCKS Hair Color & Conditioners (available in Hot Pink & Purple) instantly infuse color into hair every time you condition.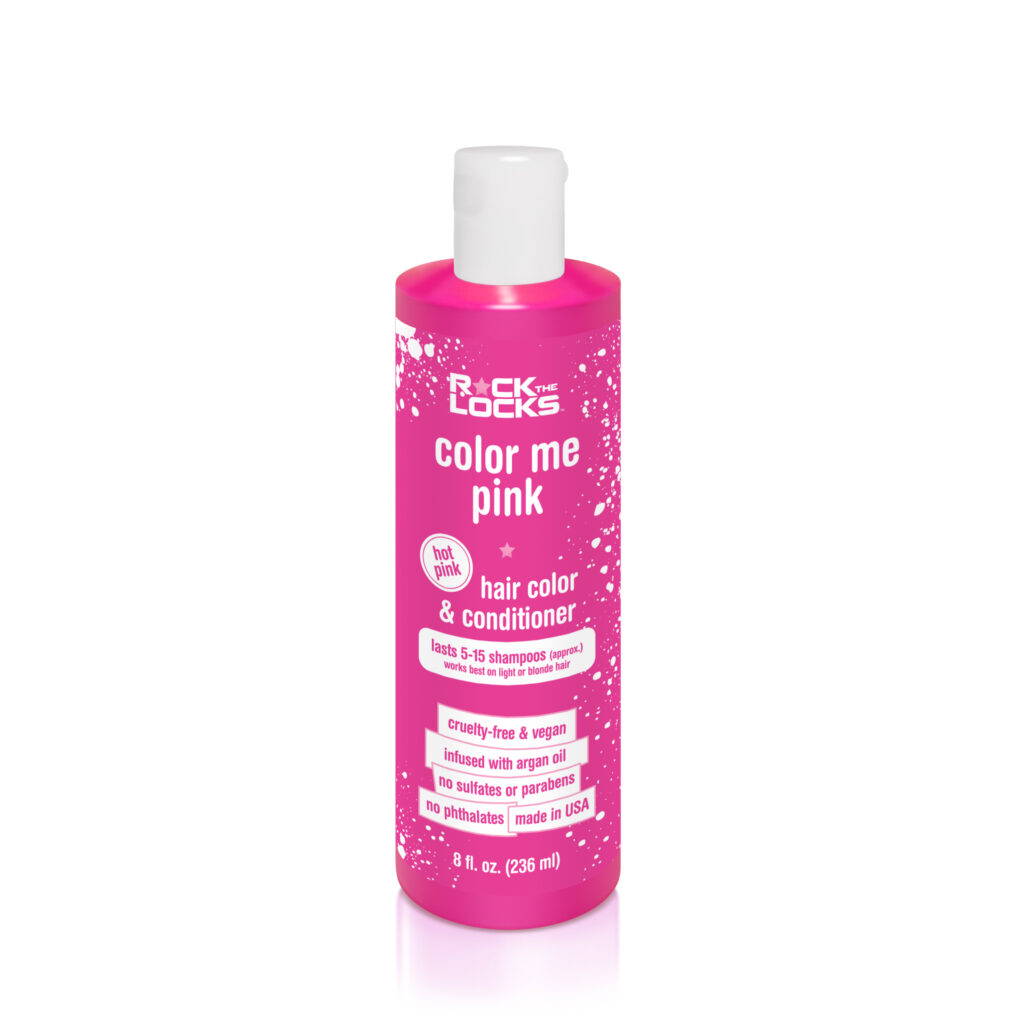 It's Hair Color AND Conditioner (in one!). These Kid-friendly, Conditioning Hair Colors last 5-15 shampoos and can be used as often as desired – so get creative again & again! Vegan!! Clean, Colorful, and FUN with No phthalates, sulfates, or parabens! Launching in Walmart stores (& Walmart.com) end of July. Now they just need to come out with more pretty colors!
Retails for $5.98 at Walmart.com!
Pure Beauty
I know I talk a lot about Pure Beauty Skincare products but they really are THAT good. I am almost out of these products, but I plan on buying more. I noticed my skincare was being used and confronted my daughter. Well, apparently she absolutely loves this brand too because she has been using it too. Now I know why my skin beauty products are disappearing so quickly!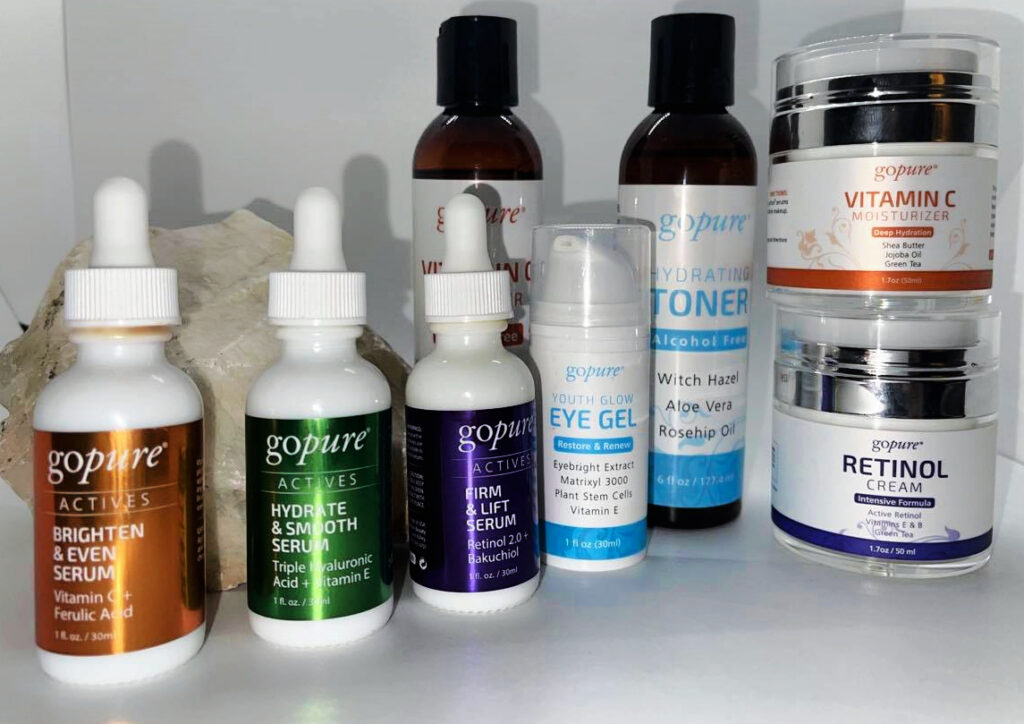 goPure Beauty is a revolutionary skincare line developed with one goal in mind – exceptional skincare products based on the most potent active ingredients and botanical extracts. goPure is focused on bringing you the most high-quality skincare products at the lowest possible price.
Right now, GoPure Beauty is having a 15% sitewide sale for the Fourth of July. Use code SAVE15 at checkout!
Luxury White Gold Caviar
The luxury white gold caviar is a unique combination of Caviar and 24k gold leaf provides the skin with an immediate sense of wellbeing, treating redness and smoothing fine lines while balancing the skin's tone and promoting a healthy glow. Suitable for all skin types. I love using this on my face and neck area. It feels kind of like water, but maybe a tiny bit thicker. It smooths on my skin nicely and leaves my skin so nice feeling!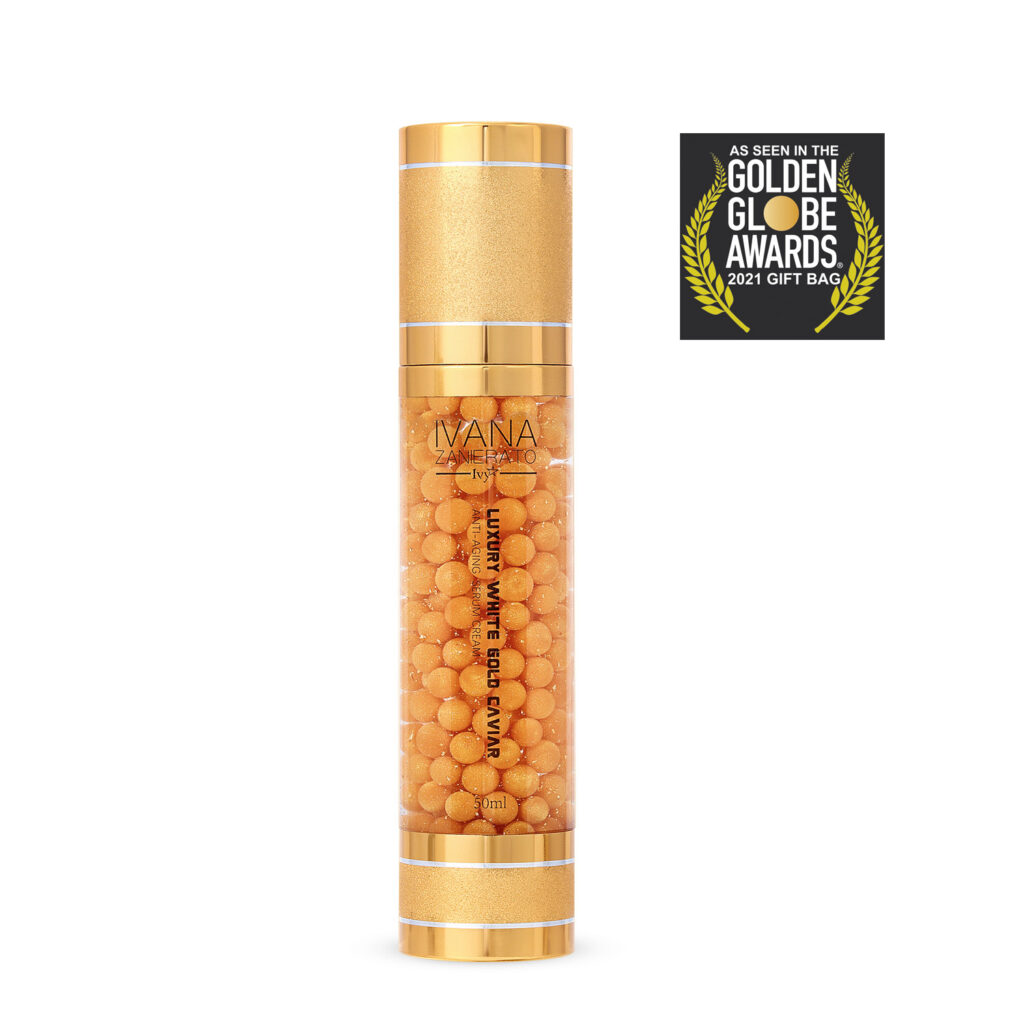 Retails for $140.00
Peet Bros
Join the palm-free revolution! Free of palm oil that's proven to be destructive to the planet. Peet Bros soaps and lotions are filled with ingredients that are good for your skin, with all-natural ingredients such as shea butter, olive oil, hemp oil, and CBD. These products are more moisturizing without the harmful palm oil fillers because the best possible soap and lotions for your skin should also be the best possible soap and lotion for the planet.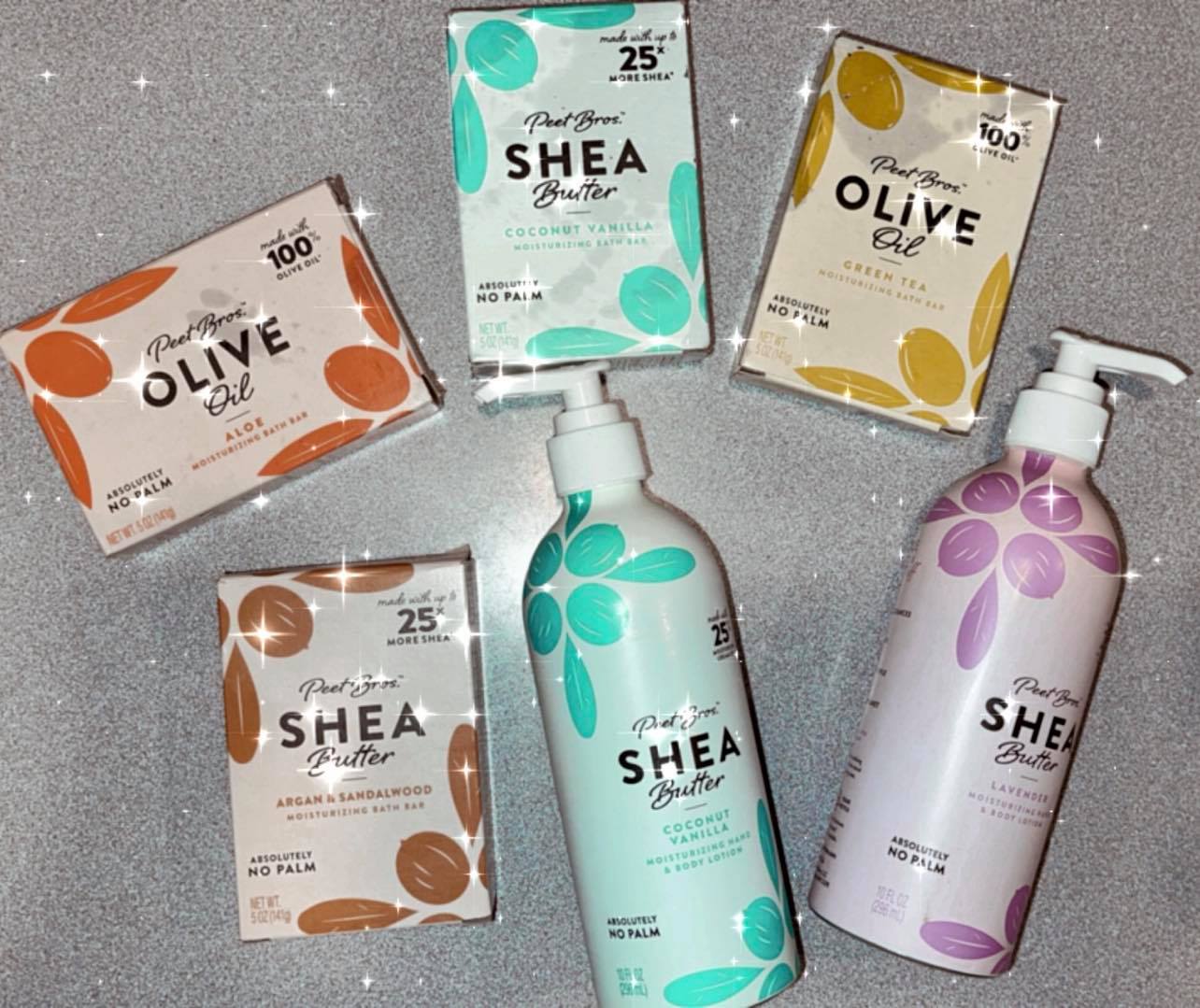 Shea Butter Lotion
I received the two Shea butter lotions: lavender and coconut vanilla! These smell so good and moisturize really well. It not only absorbs quickly, but it leaves your skin feeling hydrated without being sticky and greasy. Soft and touchable skin is within reach!
Retails for $14.00
Bar Soap
I also received four bars of their soap! I love using products that are actually GOOD for your skin and safe! These smell really nice and clean my skin really well. 100% palm-free bar soap is made with pure Olive Oil and other natural ingredients for a super-moisturizing lather and a buttery feel that will leave your whole body clean. I also received a Natural Soap Saver Bag too which is really nice because I can pop my bar of soap in there and use it and never waste any of it!
Retails for $7.00 per bar of soap
Natural Soap Saver Bag Retails for $7.00
NIRA Skincare Laser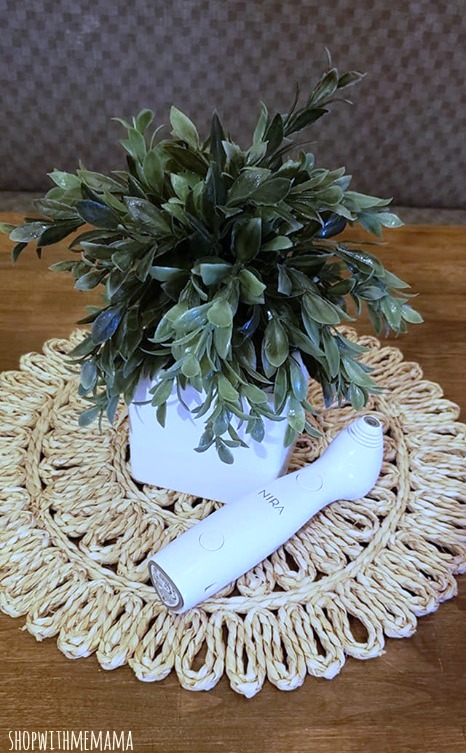 I had to add this one too! This is also a great skin beauty device that helps with wrinkles and fine lines! The MySkinBuddy you see above is great for penetrating your skincare products deeply into your skin and helps plump out your face and fine lines, but the NIRA skincare laser helps more with dark spots, fine lines, and stuff like that! It is truly a great device!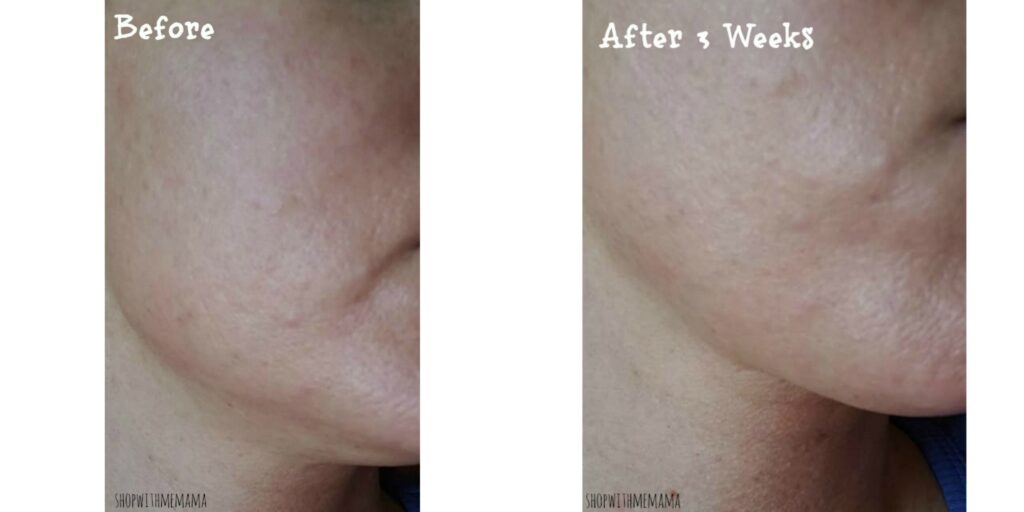 The NIRA Skincare Laser (read my full review of the skincare laser here) is clinically proven to reduce fine lines and wrinkles for visible results at home and without pain or redness. Using the same advanced laser technology as dermatologists, the NIRA Skincare Laser stimulates natural collagen production to naturally renew skin and smooth wrinkles around the eyes.
Retails for $399 (on sale from $498!)
Henson Shaver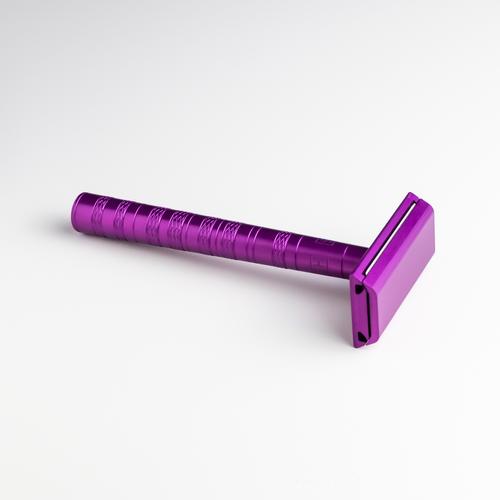 The Henson AL13 is a marriage of 21st-century machining with a simple design. Presenting the blade without chatter at a safe angle results in a smooth and comfortable shave. Your skin will feel amazing after using this razor. It comes in 8 different colors! The Henson is designed to present the blade at the optimum shaving angle, with as little blade exposure as possible. It gives me the BEST shave ever!
Retails for $69.99 and comes with 5 blades. You can purchase blades separately if you need extra blades.
Win!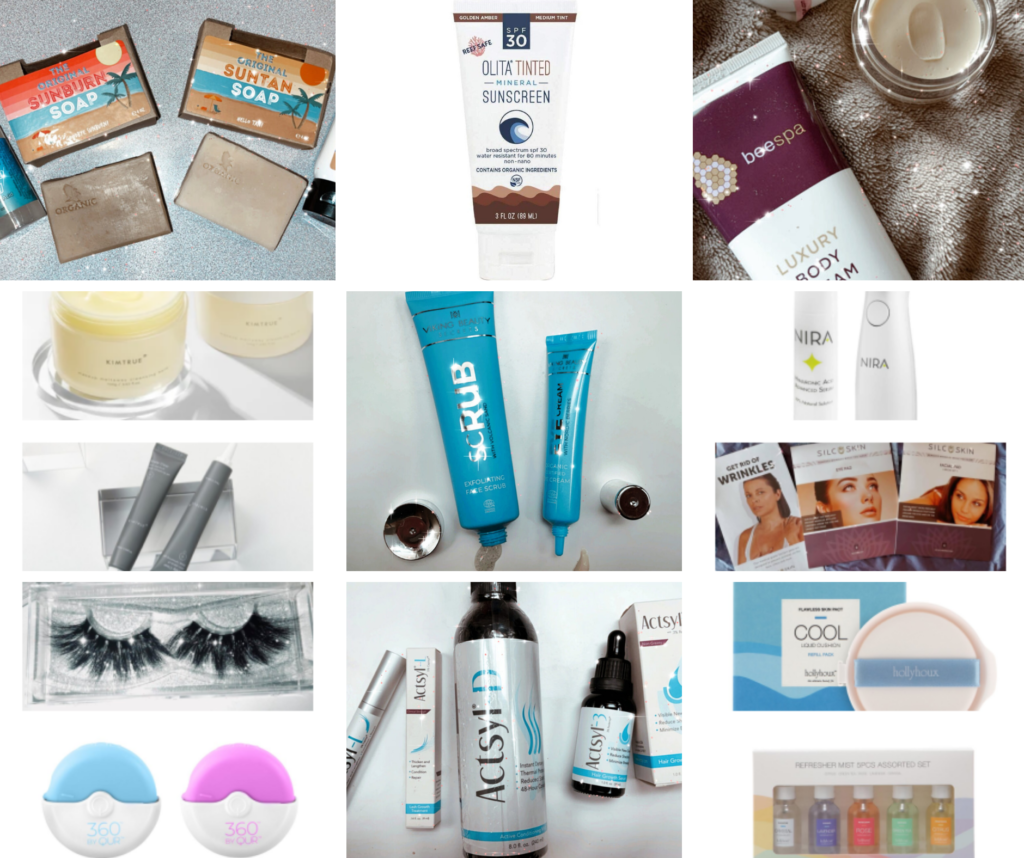 One lucky person is going to win ALL of the following skin beauty products:
*Viking Skincare Eye Cream And Night Cream
*Queen Of Styles Mink Lashes And Adhesive Eyeliner
*HollyHoux Refresher Mist 5 Piece Assorted Set
*HollyHoux Cool Liquid Cushion Flawless Skin Pact
*ACTSYL – L Lash Growth Treatment
*Actsyl-D Active Conditioning Mist
*Actsyl-3 Hair Growth Serum with Redensyl
*OLITA Tinted Organic Mineral Sunscreen Lotion SPF 30
*Forever Summer Skincare Kit From Wild Organic Skincare
*KIMTRUE Makeup Meltaway Cleansing Balm
*KIMTRUE Anti-Dandruff Deep Refreshing Gel
*BeeSpa Body Lotion And Hand+Foot Cream Mini
ARV $847!!!!!
Rules
The contest is open to US residents ages 18+. This giveaway will end on July 20, 2021, at 11:59 pm MT. The winner will have only 48 hours to claim their win or a new winner will be selected. I am NOT responsible for lost or stolen mail (DUH!).