I have always enjoyed using coconut on my skin. My three kids all suffered from severe eczema, so I really couldn't use any store-bought skincare for them as it always hurt their skin so much! I felt terrible! So, we have used coconut skincare and other natural skin care products for quite a while now.
I am always on the lookout for new natural skincare products to use on our skin. I came across a brand called Cap 'n Coconut and had to check out their skincare and hair care line.
*This post includes my affiliate links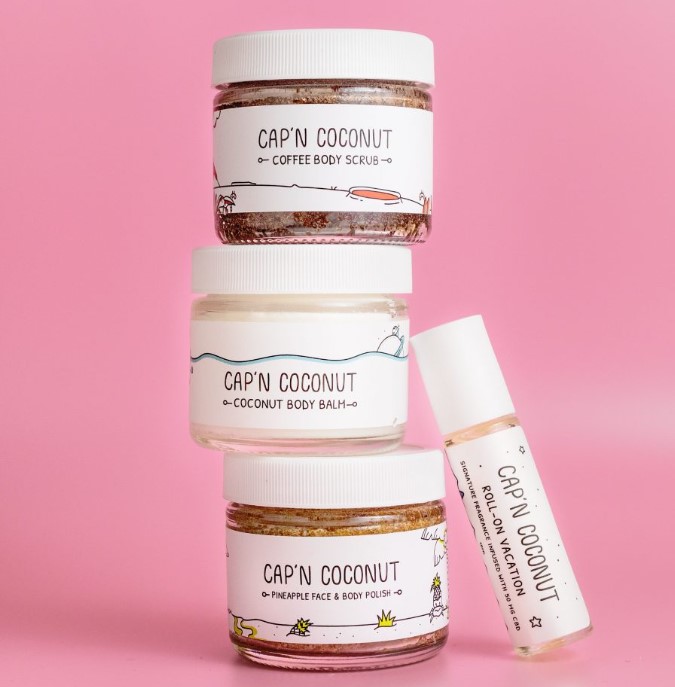 Cap 'N Coconut Carries Some Wonderful Skincare Products:
*Body Balm
*Coconut Milk Bath
*Coffee Body Scrub
*Mermaid Hair Spray
*Nourishing Lip Balm
*Pineapple Face And Body Polish
*Roll On Vacation Scents
And More!
---
Cap 'n Coconut Skincare
I received the Cap 'n Coconut Vacation Vibes Combo which comes with the following products:
+ Mini Pineapple Face Polish
+ Mini Coconut Body Balm
+ Mini Coffee Body Scrub
+ Roll-On Vacation
I loved everything that came in this bundle!
---
Here Is The Description Of The Vacation Vibes Combo:
Whether you're headed out the door or just need a little bit more, we have you covered with our Cap'n Coconut Vacation Vibes Combo.
This combo is one of our favorites to gift because you get a little bit of everything when it comes to exfoliants and moisturizers and an extra zen boost from our relaxing signature fragrance oil. It's perfect for the jet-setters or wanna-be travelers in your life who need a little extra sunshine in their day.
---
The Mini Pineapple Face and Body Polish are perfect for exfoliating your skin in the shower or bath! It has moisturizing oils, soothing honey, scrubby sugar, and a twist of pineapple that creates a light putty with a gentle, juicy formula to slough off those dead skin cells easily.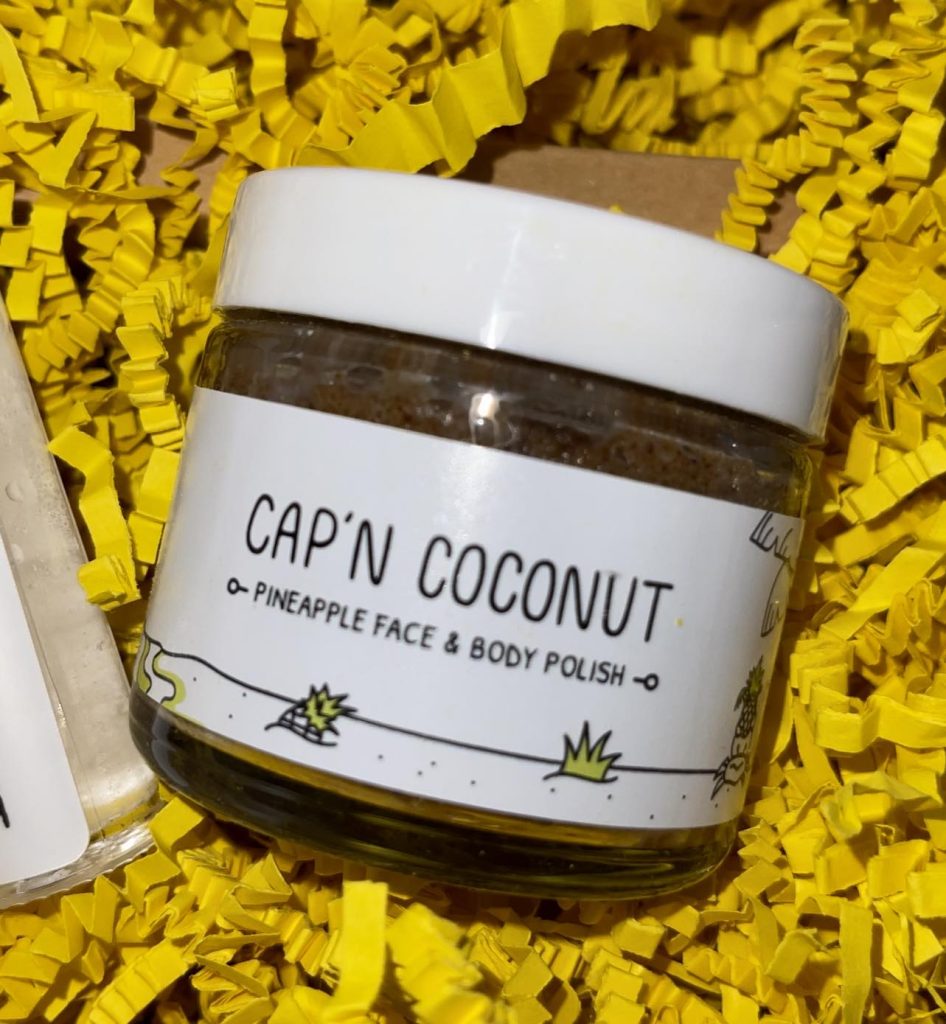 HOW TO:

Massage it onto your face (

especially around your nose

), lips, and neck. Gently remove with a warm wet towel or rinse.

APPLICATIONS:

Gentle Lip & Face Exfoliation, Bikini-Zone Exfoliation, Sensitive Skin Exfoliation, Makeup Removal, Spray Tan Removal, Shave-Prep, Arm Bump (

keratosis pilaris

) Soothing, Dry Lip Crumbles

INGREDIENTS:

Organic Coconut Oil, Organic Coconut Sugar, Organic Cane Sugar, Organic Jojoba Oil, Organic Raw Honey, Vitamin E Oil, Organic Pineapple Oil, Organic Pineapple Essential Oils
---
The Mini Coconut Body Balm is my all-time FAVORITE product I think, so far from Cap 'n Coconut!! Why? Because I LOVE coconut body oil and this body balm literally melts into your skin leaving it so soft and smelling just like a beachy tropical vacation and coconuts!! No need for body lotion! Ahhh!! So nice!!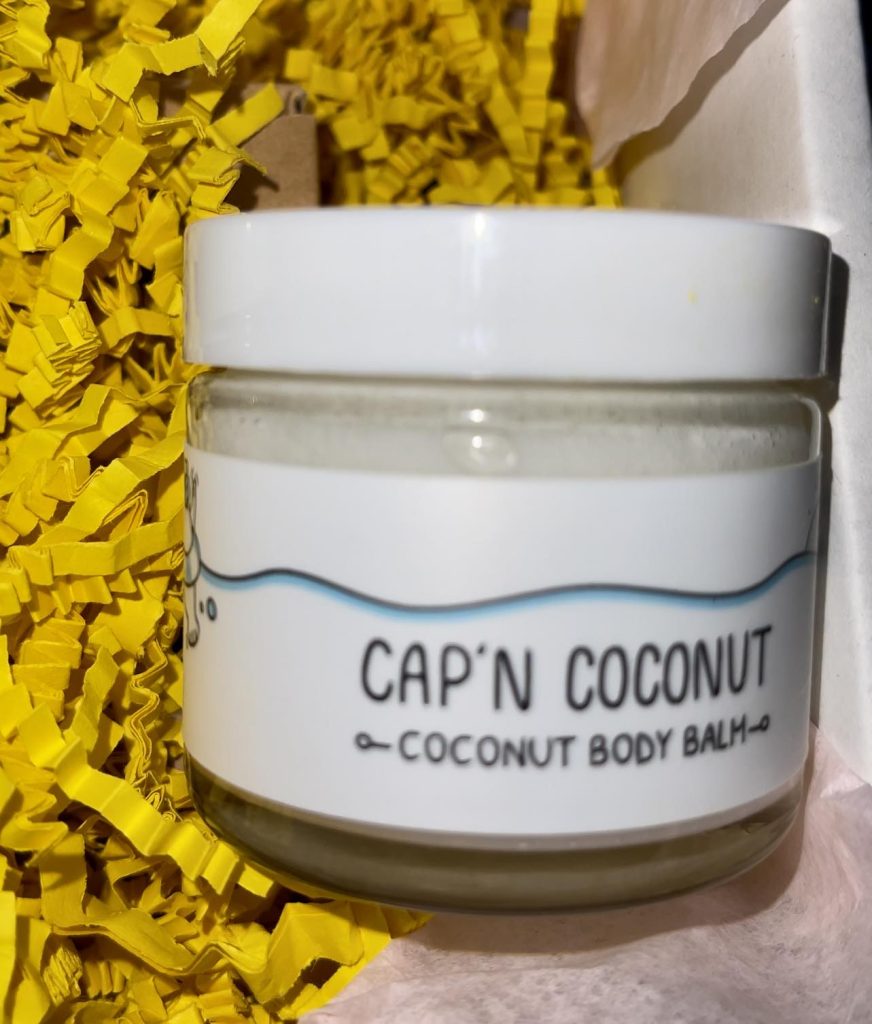 | | |
| --- | --- |
| HOW-TO: | A little bit goes a long way! Massage all over your body—legs, lips, even the tips of your hair. |
| APPLICATIONS: | Overall moisturizing, Itchy or flaky skin, Makeup removal, Shaving and post-shaving, Braids, Scalp moisturizer, Eczema, Sunburn soothing, Post-hair removal, Massage |
| INGREDIENTS: | Organic coconut oil, vitamin E oil, jojoba oil, vanilla, and coconut essential oils. |
---
The Mini Coffee Body Scrub is also so very nice! It takes off all the rough, dead skin patches and leaves behind only soft, supple skin! This is a wonderful body scrub to use right before you apply your sunless tanner because it evens out your skin and creates a smooth surface for that self-tanner!!!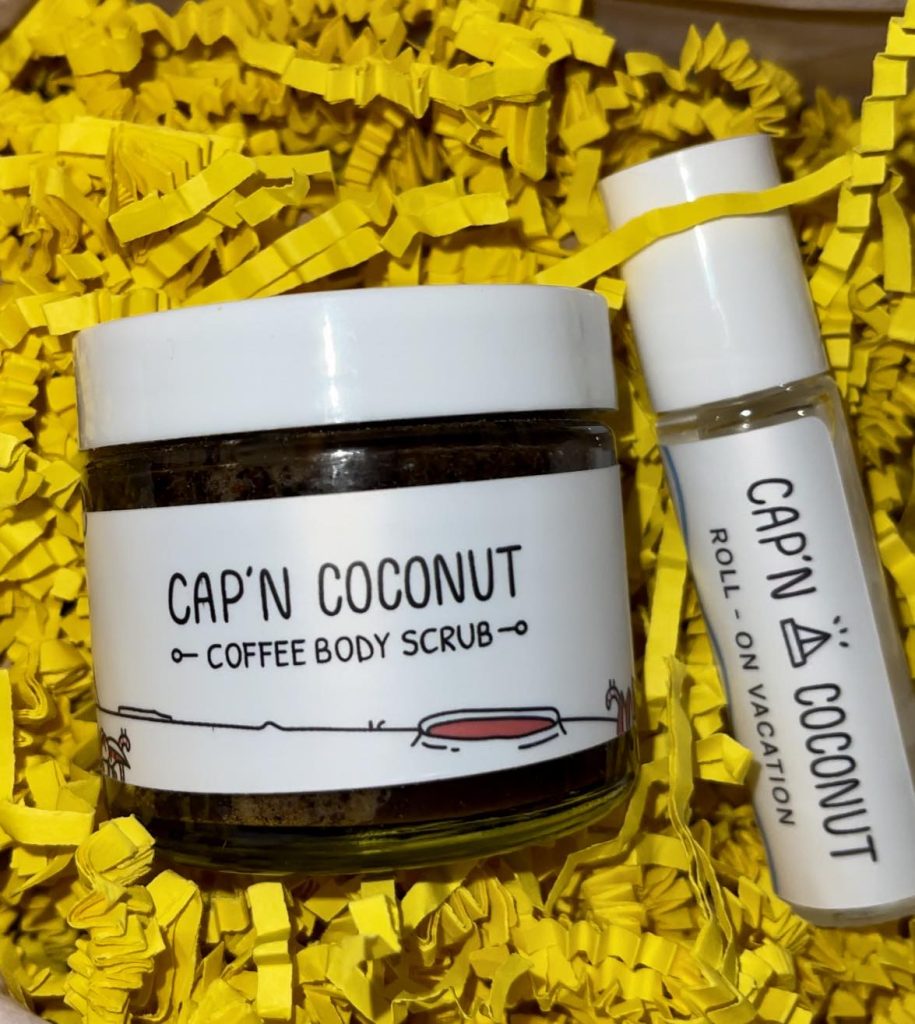 HOW TO: Massage all over your skin, from your neck to your toes. Rinse off in the shower or remove with a warm wet towel.
APPLICATIONS: Deep exfoliation, Shaving prep & post, Uncovering uncomfortable ingrown hairs, Stretch mark minimizing, Stimulation & circulation to assist in cellulite reduction, Removing old spray tans.
INGREDIENTS: Organic Coconut oil, Locally Roasted & Ethically Sourced Coffee Beans, Organic Coconut Sugar, Organic Cane Sugar, Organic Jojoba Oil, Vitamin E Oil, Organic Vanilla and Coconut Essential Oils.
---
Last, but not least, the Roll On Vacation! I love smelling like a tropical vacation, ahh! Who doesn't? So the roll-on tropical vacation is a MUST-HAVE! I drop this in my bag and bring it with me on the go when I need a lift me up, I will roll this onto my wrists and neck! Mmmmm!!!
The Roll On Vacation is their signature oil-based fragrance that is infused with coconut and vanilla botanicals and 50 MG of CBD to moisturize, relieve pain, and smell divine at the same time!
| | |
| --- | --- |
| HOW TO: | Roll wherever you need relief & want to smell delightful. |
| APPLICATIONS: | Neck & Shoulder Pain, Sinus Pressure, Headaches, Muscle Pain, Joint Pain, Perfume Oil, Aromatherapy |
| INGREDIENTS: | Organic fractionated coconut oil, vitamin E oil, 50 mg CBD isolate, organic vanilla essential oils, and organic coconut essential oils. |
With summer in full swing, it is nice to have natural skin care available to use on our sunkissed summer skin! I really want to try their lip care next! My lips are always in need of some yummy lip balm!
Buy
You can browse Cap 'n Coconut skincare by visiting them online here! They also have an Etsy shop!
Reduce, Reuse, Refill
Send your empties back to them! They will responsibly recycle anything that cannot be sanitized, reused, and refilled. Just tell them what you want to send back (jars, ice packs, fill…anything they sent you!) and they will send you a pre-paid shipping label! How about that??!
Join The Club
Join the Cap'n Coconut Beach Club by subscribing to our newsletter. Be the first to try new products with members' early access, receive event invitations, participate in our packaging reuse program, and stay connected with us behind the scenes. Sign up for their newsletter on their website!
Gifts, Goodies, & Giveaways, Oh My!!!
Never miss a Giveaway, limited-release bundle, or surprise gift by joining their Instagram community!