The Frozen Garden's mission is to make real food convenient without any supplements, powders, or gimmicks. The Frozen Garden Vegan Frozen Food Delivery offers handcrafted products with 100% real food and sourced ingredients from local farmers. They strive to simplify how you nourish your body while minimizing the negative impact on the environment by ensuring that nothing goes to waste.
The best part about Frozen Garden is that they do NOT require you to subscribe to them in order to buy their healthy products! That is one of the things that drew me to this particular brand. Everywhere, you are required to subscribe to a food delivery service, but not when you order from Frozen Garden! I hope that never changes!
*This post includes my affiliate links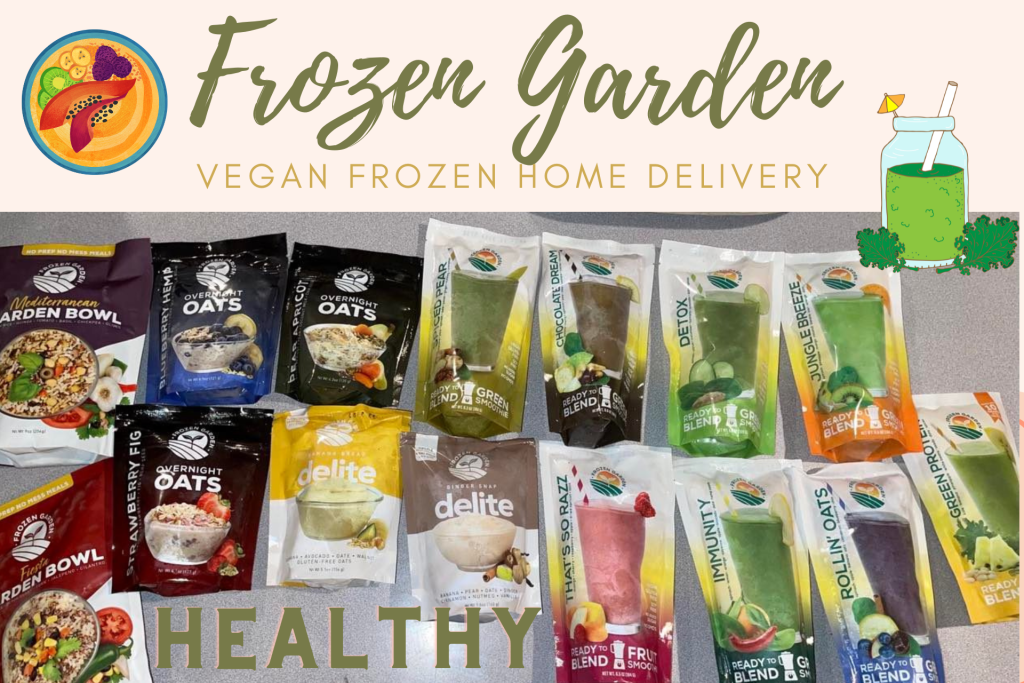 What Makes Frozen Garden Unique?
*Frozen Garden products are handcrafted using 100% whole fruits, vegetables, seeds, and spices.
*Frozen Garden makes healthy eating simple with their frozen smoothie blends, easy overnight oats, garden bowl grains, delite healthy desserts, and fusion flavored water infusions.
*All their products are vegan, dairy-free, gluten-free, GMO-free, and contain no added sugar.
*No subscription is necessary to buy their yummy foods!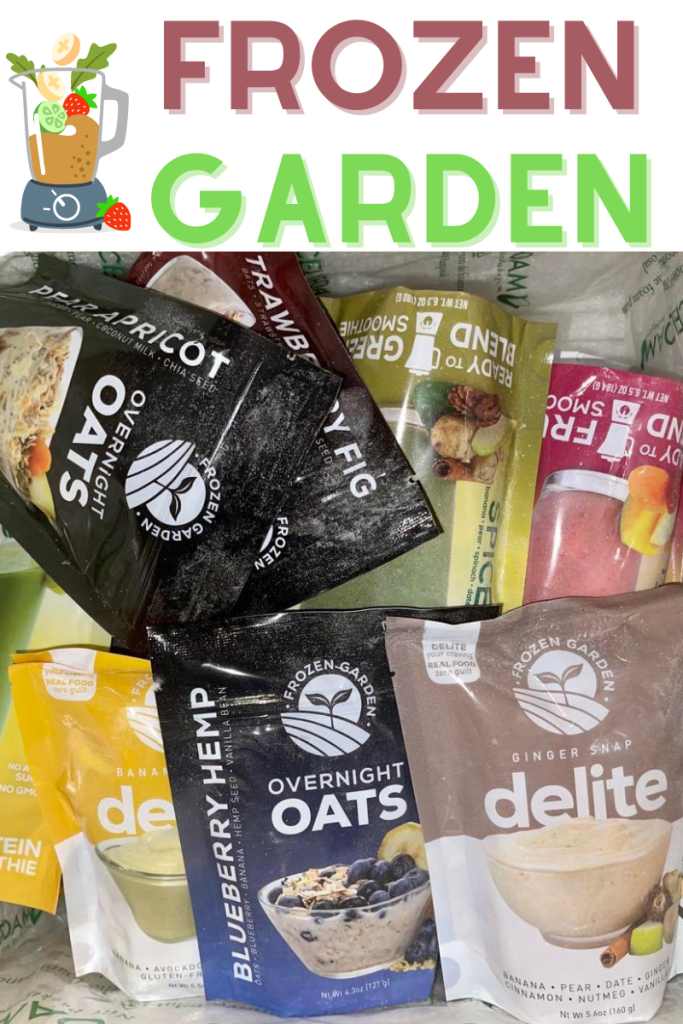 I received an assortment of their frozen garden smoothies, garden bowls, and pretty much a yummy variety pack of their most popular products. They came frozen and packaged with dry ice so they kept cold and fresh.
My son and I are the healthiest in our family so he and I enjoyed these! I still have a few left but man they are delicious! I was very surprised at how yummy they were. My favorite out of all of them was the Chocolate Dream Green Smoothie! It was SOOO good!
The Chocolate Dream Green Smoothie is a chocolate lover's dream come true. It's made with cacao, banana, spinach, and cashews, and is perfect for a quick snack or breakfast on the go. The cacao in the drink can help reduce stress and keep you energized, while the bananas and cherries add natural sweetness and digestive benefits. It is so yummy!
Another favorite of mine from our smoothie delivery was the banana bread delite! YUM!!! The Banana Bread Delite is the perfect quick and healthy dessert for any banana lover! Made with real bananas, this delicious treat is perfect for satisfying your sweet tooth without all the guilt.
With no added sugar, you can feel good about indulging in this smoothie ice cream or healthy milkshake. And because it's made with only the cleanest real food ingredients, you'll be getting all the flavor of homemade banana bread without any of the fuss! Truly, so dang good!
I also really loved the 'That's So Razz' smoothie from Frozen Garden. This raspberry smoothie is made with a blend of fresh fruits and it's ready in seconds. With bold, delicious flavors, That's So Razz is perfect for breakfast or a mid-day snack. Frozen Garden's fruit smoothies are packed with essential vitamins and minerals that will keep you feeling energized all day long!
See the video below! YUMMY!
My son loved the Green Protein Smoothie! This was his number one smoothie from this order. He is trying to build muscle and have more energy to get fit. This protein smoothie is packed with 10 grams of protein from real foods like flaxseed, pumpkin seeds, and white beans, this smoothie is perfect for busy mornings.
The kale and fruits provide essential vitamins and minerals, while the seeds help to keep you feeling full until your next meal. Plus, the addition of coriander, cinnamon, and cardamom creates an aromatic blend of spices to delight your senses.
My oldest son also really enjoyed the Jungle Breeze Green Smoothie. This is a tropical-tasting smoothie. The coconut, pineapple, and spinach come together in this delicious and nutritious smoothie. Packed with vitamins and minerals, our Jungle Breeze Green Smoothie is the perfect way to start your day or refuel after a workout. Plus, the tropical flavors will make you feel like you're on vacation – no matter where you are!
The Best Vegan Delivery Service!
I you are looking for a vegan meal delivery service that can provide you with delicious, frozen food options, then look no further than Frozen Garden! Their Frozen Garden Sampler Pack is the perfect way to try a variety of their most popular items and see what you like best.
You'll get Smoothies, Overnight Oats, Garden Bowls, Delites, and Fusions. With their convenient delivery with no subscription required, you'll have everything you need to enjoy a tasty, nutritious meal without any of the hassles.
The Frozen Garden Sampler Pack includes 14 Products:
Chocolate Dream Green Smoothie (1)
Detox Green Smoothie (1)
Green Protein Smoothie (1)
Purple Passion Fruit Smoothie (1)
Rollin' Oats Green Smoothie (1)
Fiesta Garden Bowl (1)
Hawaiian Garden Bowl (1)
Edamame Peanut Garden Bowl (1)
Pear Apricot Overnight Oats (1)
Blueberry Hemp Overnight Oats (1)
Banana Bread Delite (1)
Oatmeal Cookie Delite (1)
Lemon-Pineapple-Ginger Fusion (1)
Raspberry-Mango-Mint Fusion (1)
We were so impressed with Frozen Garden and its array of healthy, vegan products! Such a wonderful selection to choose from on their site. There is definitely something for everyone's taste buds! We love smoothie bowls and healthy eating so this vegan home delivery service was priceless for us!
Coupon Code!
Use discount code SAVE10 to save 10% on any order of $200 or more.
For those that prefer text to emails, they now have an SMS Newsletter as well as text notifications for your order details and shipping notification! Just text FROZEN to 833-342-4762 and you'll get a 10% coupon code to use on your next order!
Enjoy Free Shipping on Orders of $150+ at TheFrozenGarden.com. No code required.
Winter Sale!
Get 10% off Frozen Garden Garden Bowls! Just use the coupon code: WINTER10 at checkout! This deal ends on February 28th!
Join Their Newsletter And Save!
Join The Frozen Garden Text Newsletter and get a 10% Off discount code and stay in the loop on their latest deals, new products, and more!
Buy!
Simply add your cart with a minimum of $49 (Due to the logistics of shipping frozen, there is a $49 minimum order). and they will ship to your doorstep with NO subscription required! This is one of the best food delivery over other delivery services I have tried in the past for meal kits. Check out their website!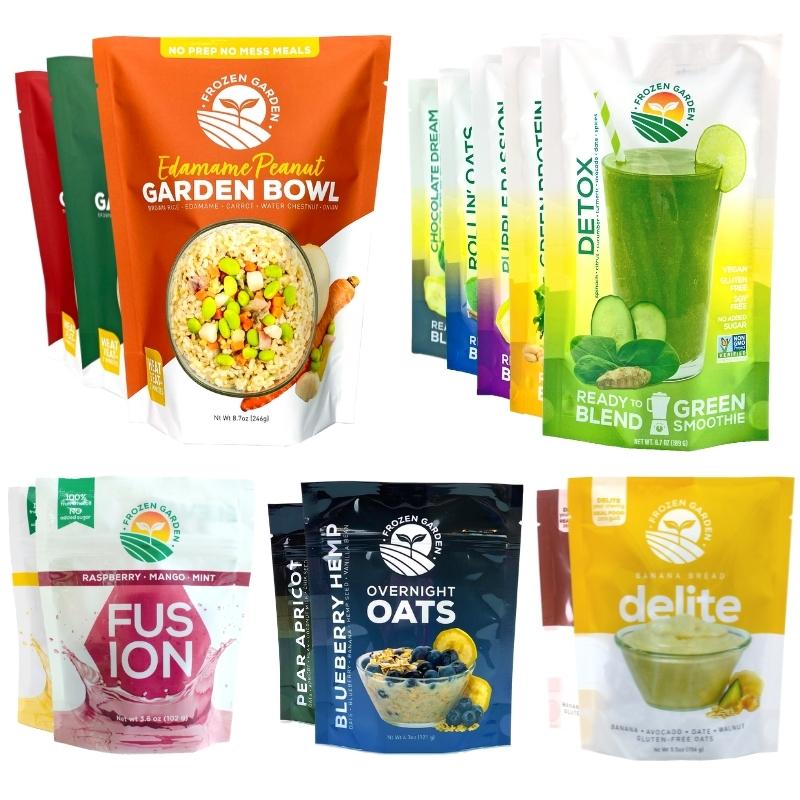 Win!
One lucky person is going to win the Frozen Garden Sampler Pack (see the picture above!!)! ARV $99.99!! Yay!
Rules
The contest is open to US 18+. The giveaway will end on March 7, 2023, at 11:59 PM MT. The winner will have 48 hours to confirm their win after I email them, or a new winner will be chosen. I am not responsible for lost or stolen mail.