In this blog post, we will talk about how to get plump hydrated skin. The cooler months are upon us, which means that for many of us, our skin is about to take a beating. Dry, winter weather can sap moisture from our skin, leaving it feeling rough, tight, and maybe even a little bit flaky. But don't despair! There are steps you can take to prevent your skin from becoming a victim of the winter elements. Below, we'll discuss why hydration is so important for your skin during the winter and introduce you to some products that can help you achieve and maintain healthy, hydrated skin all season long as well as plump skin naturally for glowing skin!
Why Hydration is Important for Your Skin
During the winter months, the air is drier than usual due to the lack of humidity (of course this depends on where you live…). This can lead to moisture being pulled out of your skin, resulting in dryness, irritation, and an overall loss of radiance. You really have to up your skincare routine!
In extreme cases, dry skin can even lead to cracking and bleeding. That's why it's so important to keep your skin hydrated during the winter months. When your skin is properly hydrated, it's better able to defend itself against the drying effects of cold weather. It also helps to keep those dead skin cells from accumulating that make your skin look dull and tired skin.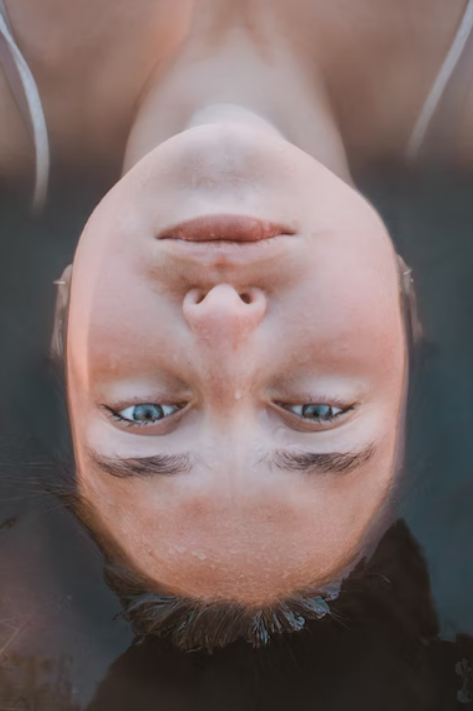 How To Get Plump Hydrated Skin
There are a few key things you can do to prevent your skin from becoming dry and dehydrated this winter. Below you will find tips on how to get plump hydrated skin:
*Firstly, make sure you're drinking plenty of water throughout the day. This will help to keep your whole body—including your skin—hydrated from the inside out.
*Secondly, switch out your regular cleanser for a gentler one that won't strip away essential moisture from your skin.
*Be sure to use a moisturizer regularly—preferably one that contains hyaluronic acid or glycerin, which are both ingredients that work to draw moisture into the skin.
*Drink a collagen drink! After all, beauty and skincare come from deep within your body! If you are not taking care of your body, it will definitely show in your outward appearance and in your skin!
Products To Help Plump And Hydrate Your Skin
If you're looking for products that can help you achieve and maintain healthy winter skin, look no further! We've rounded up some of our favorites below:
*PURR: Gua Sha Gift Set
This dynamic duo is great for an everyday glow. The kit comes with PURR Face Serum (30ml) and a white Jade Gua Sha Stone! This is a serum that's light, yet highly potent. It hydrates and brightens your skin. It also helps to reduce the signs of stress, fatigue, fine lines, and those pesky wrinkles! It leaves your face and neck area feeling fresh, revived, and energized! This face serum is crafted with the finest organic camellia oil, rosehip oil, and pomegranate seed oil.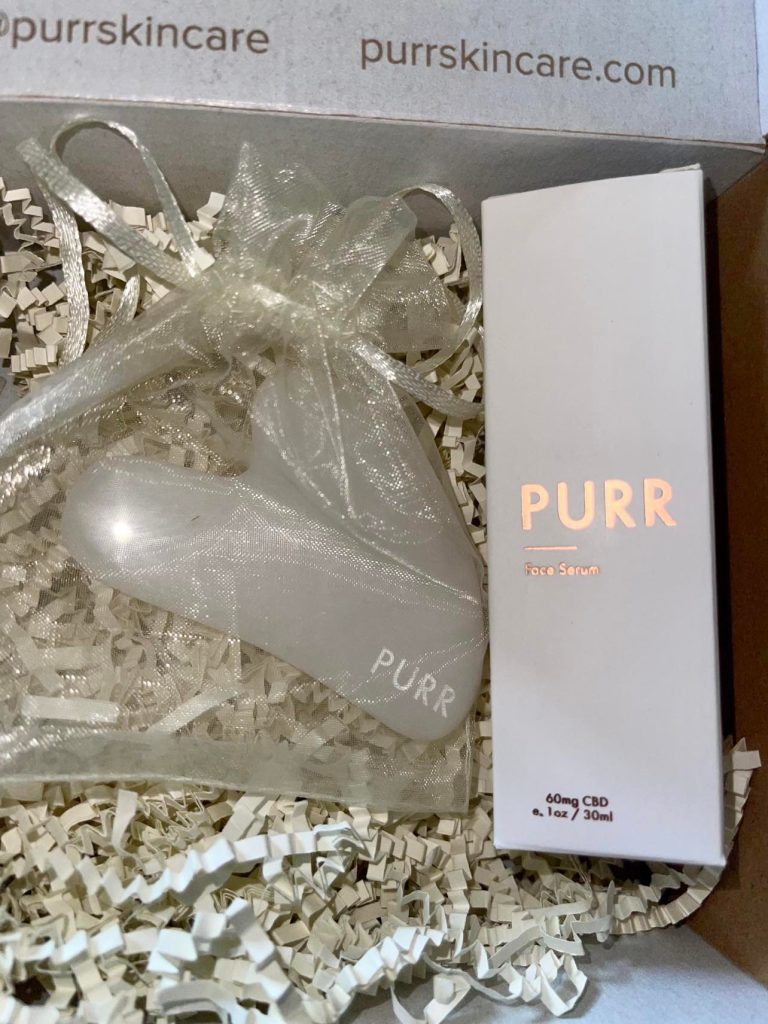 When this face serum is used with the white Jade Gua Sha, your face will almost instantly liven up! Just add 1-3 drops of this face serum to the palm of your hand, then rub your hands together to warm up the serum. Next, massage into your face, neck, and décolletage (upper chest) in an upward, circular motion. Use the Gua Sha tool following these exercises. Make sure you do both sides of the face!
*Mahina Beaute: Intensive Hand + Foot Balm
The Mahina Beaute Intensive Hand + Foot Balm is a plant-based balm that contains restorative cupuacu and cocoa butter that helps to protect and nourish hands and feet ravaged by time and environmental stressors. Its high antioxidant content naturally repairs the skin's moisture barrier. Botanicals, such as helichrysum, frankincense, sage, geranium, and vetiver, further support the skin's cellular rejuvenation.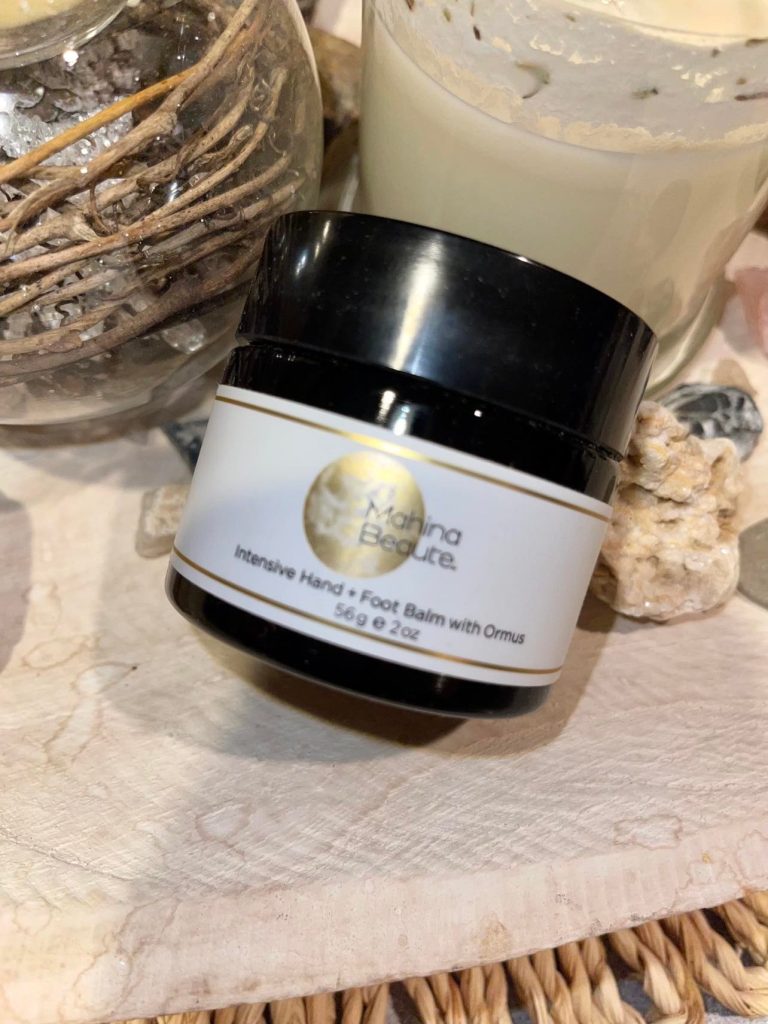 A little goes a long way! Great for hands, and feet – massage a generous portion onto your feet, then slip on your thickest, fluffiest socks ever and go relax for a while! When you take off those fluffy socks, your feet will be SOOO soft! If you want the same effect for your hands, slather this on your hands and then put on a pair of thin cotton gloves and go to bed! When you wake up, pull off those gloves and be prepared to have the softest hands EVER!
*Ooh La La Skincare: Eczema Eraser Body Butter & Moisturizing Cream & Pina Colada Body Butter
I love these products! You get to choose which essential oils (up to 4!) you want in your body butter, the intensity of the scent and you can add a 'booster' oil too! Your customized Ooh La La Body Butter & Moisturizing Cream is a creamy butter that melts into your skin leaving a silky feel and a youthful glow. A moisturizing cream created with the earth's finest ingredients. They recommend using it while still wet after showering or bathing for the best results!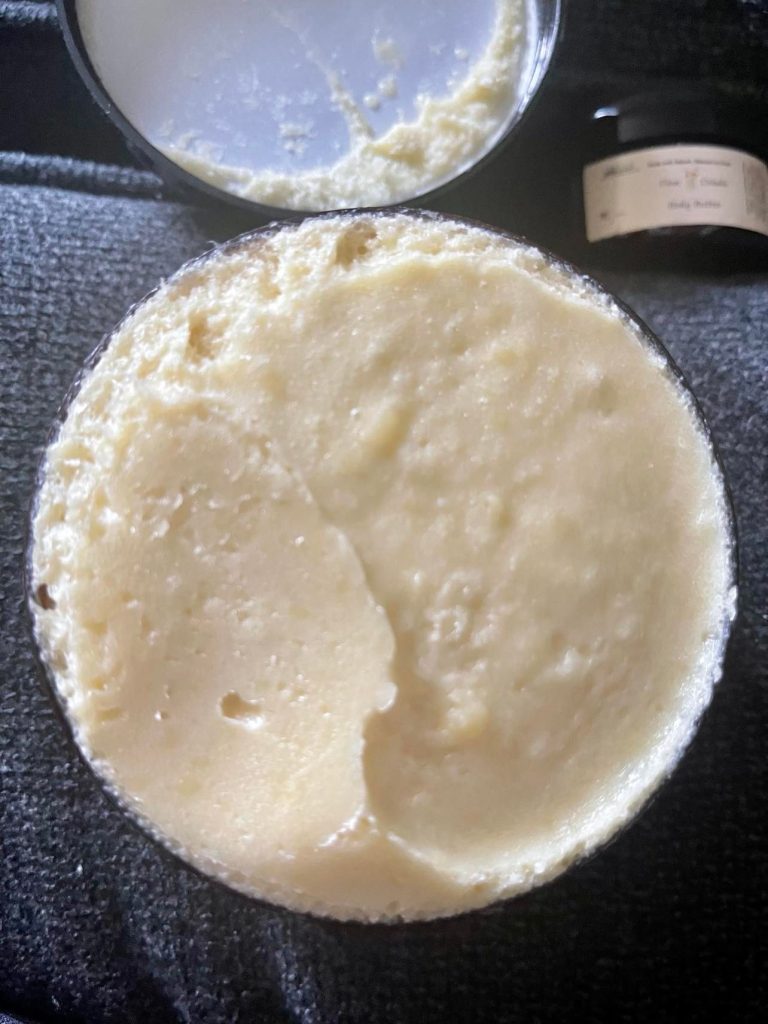 The eczema eraser is a natural product that helps to relieve eczema. This cream helps to soothe and heal your eczema leaving your skin soft and free from any itching. This product is safe for all skin types and for children too. You can purchase both on their site! See the links above!
*AcARRE Beauty Multi-Use Bioactive Dry Beauty Oil
This invigorating bioactive dry beauty oil is the new natural for the beauty minimalist, crafted using plant biodiversity to bring balance to your skin and scalp. Rich in antioxidants, fatty acids, and vitamins that help re-balance the microbiome and assist in the prevention of aging. This bioactive dry beauty oil seals in moisture from scalp to toe leaving your skin feeling nourished and rejuvenated with a healthy satiny glow.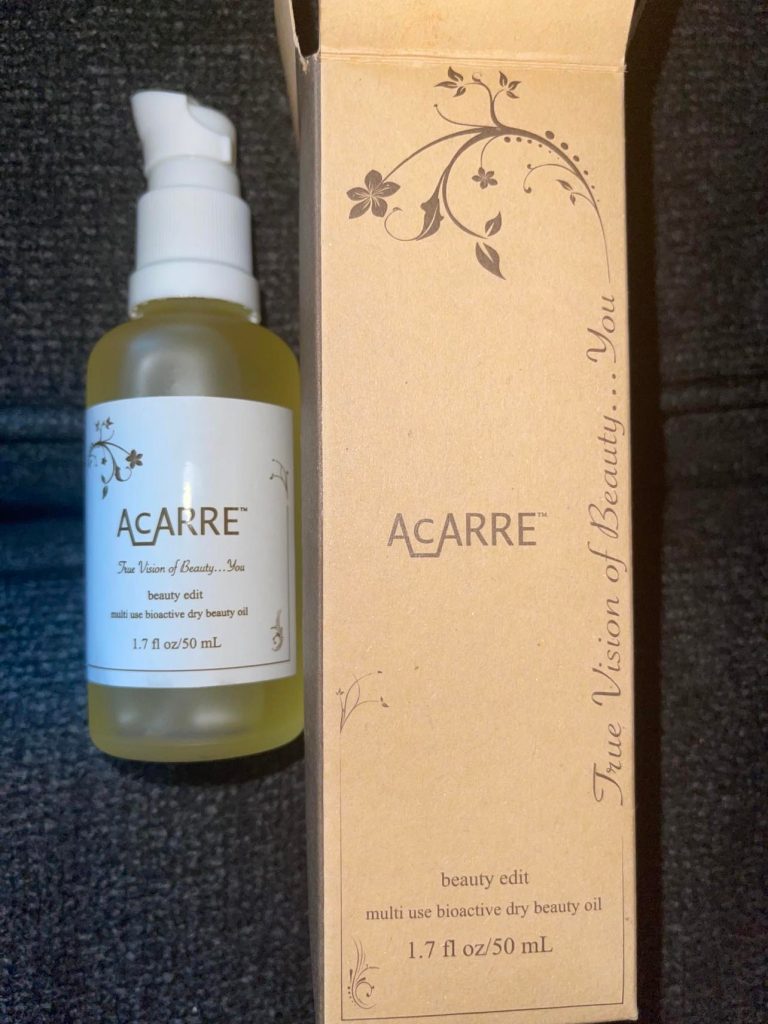 Help your skin lock in moisture, at night apply 1-2 drops to the palm of your hands, massage, and apply to your face for skin regeneration. The oil will drink right into your skin, so no need to rinse. Wash in the morning as normal. See the link above to purchase!
*JOY MOY The Ultimate BioBotanical™ Face Elixir
This is great for Day & Night Use for Mature Skin! This is the Ultimate BioBotanical™ Face Elixir that aids in bringing back a radiant glow with Black Cumin Seed – known as "The Miracle Seed" – which revitalizes the appearance of tired, dull skin, particularly when applied prior to vital overnight skin cell regeneration.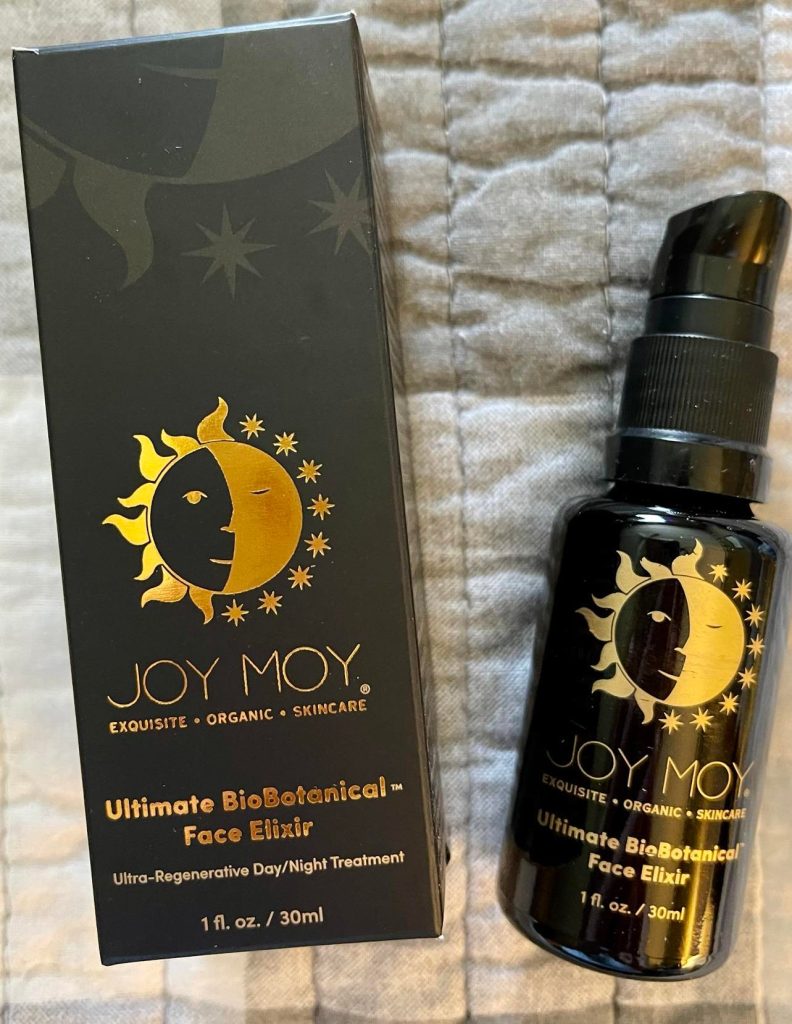 This face elixir makes my face and neck SO dang soft! I love this stuff! Nowhere will you find this formula with the same purity, efficacy, or ingredient combinations packaged in UV-protective glassware. Click on the link above to shop!
*Radixir Confidence Serum: How To Get Plump Hydrated Skin
I love the Radixir Confidence Serum! I have almost used it all since receiving it! It makes my skin feel so soft and my skin is glowing after I use it. I just LOVE it!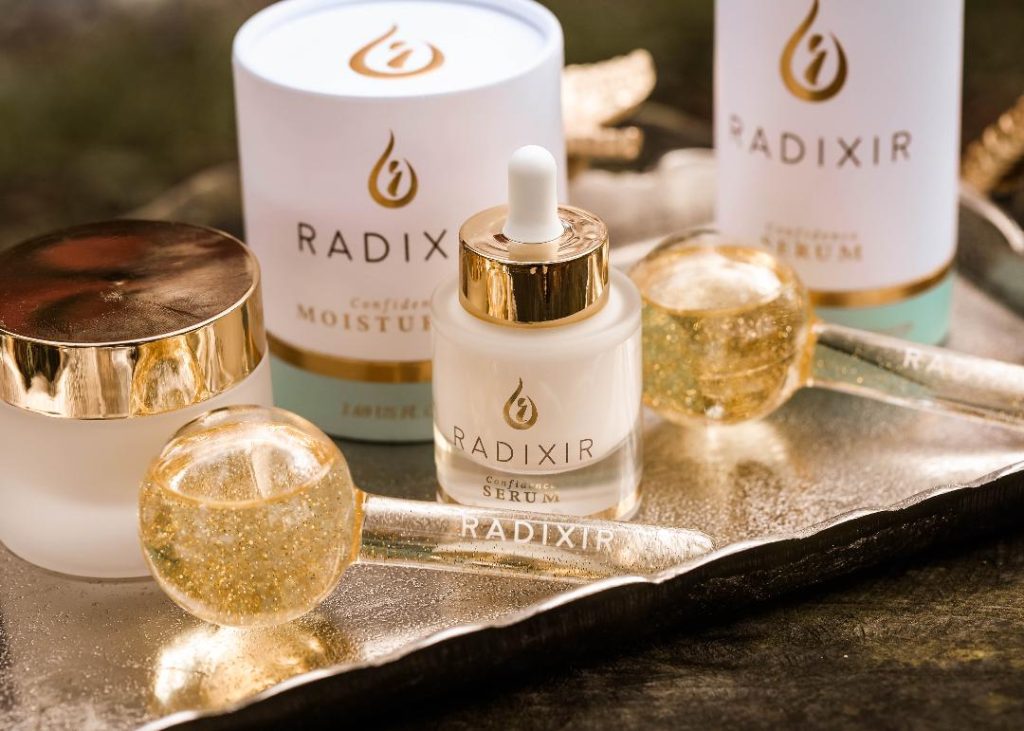 Detox your congested skin the Natural Way with this high-Performance serum packed full of clean, anti-aging actives. Formulated with niacinamide, plant stem cells and skin balancing plant oils, this light but incredibly hydrating serum feeds and repairs your skin without blocking the pores.
The Radixir Confidence Moisturizer helps to rebalance congested skin the natural way with this light, but extremely hydrating moisturizer. Formulated with a purifying blend of squalene grapeseed oil and tea tree oil. It absorbs quickly into the skin without blocking pores. It's perfect for under make-up allowing for added protection from ingredients that may stress your skin. This moisturizer will nourish skin throughout the day but can also be used as a day and night routine.
These products are wonderful to use with the Radixir Ice Globe Facial Massagers! The ice globe facial massagers roll away stressed, puffed skin and tighten pores. Created with premium quality glass, our cooling globes speed up blood circulation for tighter, brighter skin that will leave your skin glowing. Use before applying makeup or when your skin requires an instant pick me up.
*Beauty Matcha Starter Kit from Kroma Wellness
I loved opening up this package! The presentation was beautiful! I really liked how everything was set up when I opened up the package! So fun!
Beauty Matcha Starter Kit is filled with everything you need to make the most perfect, collagen-rich, superfood-enhanced, and delicious matcha latte. This exclusive box includes the Kroma Beauty Matcha Latte (60 servings) made with the finest Ceremonial Grade Matcha along with their exclusive 'Elemental' gold tumbler, their custom gold frother, and, of course, a gold measuring spoon! This exclusive box makes the perfect gift for anyone!
At Kroma, they believe in the power of food as medicine and that mother nature is our greatest resource to naturally fuel our mind, body, and soul. They are obsessed with Superfoods (and Adaptogens) because these nutrient-rich foods and super herbs are the most powerful preventative 'medicine' known to improve overall health and well-being. Their founder has hand selected the highest quality, purest, most nutrient-dense, and ethically sourced superfoods from around the world to create functional foods and beverages that nourish, heal and transform the entire body!
Coupon Code: Use the coupon code SHOPWITHMEMAMA15 to receive 15% off your first purchase of all Kroma Lifestyle Resets and Daily Essentials on kromawellness.com. (You must be first-time clients and NEW to Kroma Wellness in order to use your 15% off discount code).
Click this link to learn more and buy your kit!
*Lazy Coconuts Radical Paste Shampoo and Radical Paste Face Wash
Lazy Coconuts Radical Paste Shampoo and face wash are awesome! Each tin is 11x more concentrated than traditional liquid shampoos with no water added and no bad stuff like silicone or fragrances. These tiny tins are perfect for everyday use or travel and much easier to use than those soggy, disintegrating bars.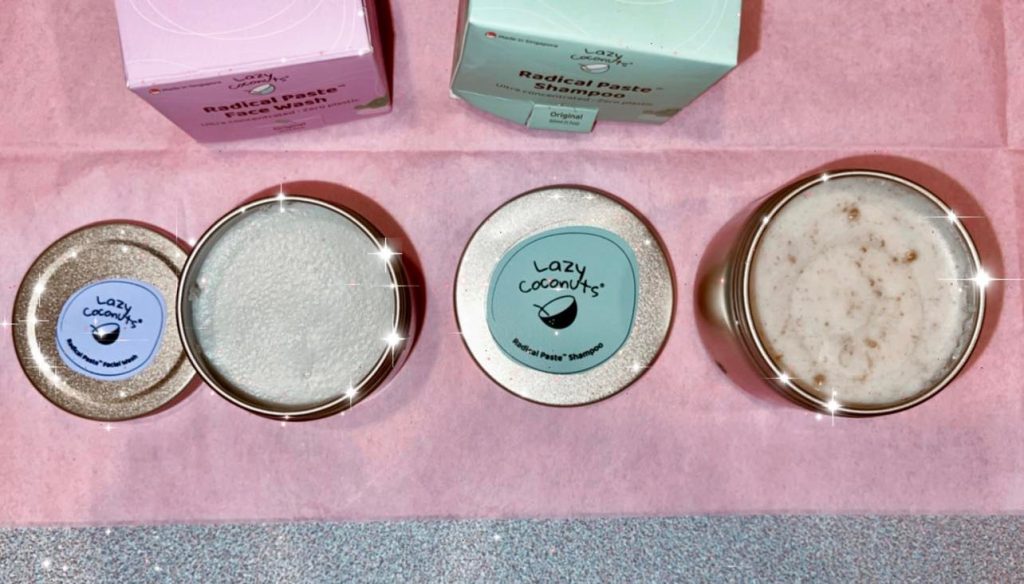 They started Lazy Coconuts in 2019 with a mission to make awesome products that have a real impact on reducing plastic waste and carbon emissions. But not just any products. They have seen firsthand that buying sustainability often implies accepting products that don't work as well. Lazy Coconuts products don't ask you to compromise sustainability for quality, they are sustainable and accessible to everyone. For those who tried to switch to greener products, but miss the effectiveness of modern products. For those who want to switch, but don't have time to research the right sustainable products for them. Lazy Coconuts is for everyone who feels the pain of making good decisions for their family and the planet. Go green, be lazy.
The Lazy Coconut Radical Paste and face wash retails for $22.95 each.
*FACE UP Mask & Peeling Pads
This metamorphic, age-reversing mask treatment transforms the appearance of your skin in minutes. If you're looking to tighten, lift and deeply hydrate your skin, D'Care FACE UP Mask is a quick 15-minute 'Face Lift' in a bottle. FACE UP Masks are the answer for creating the smoothest makeup canvas for your camera-ready complexion. It's super easy to use. Simply mix the lifting serum ampoule into the gel pack, apply the mixture to your face with the brush, then watch and feel your face literally tighten before your eyes.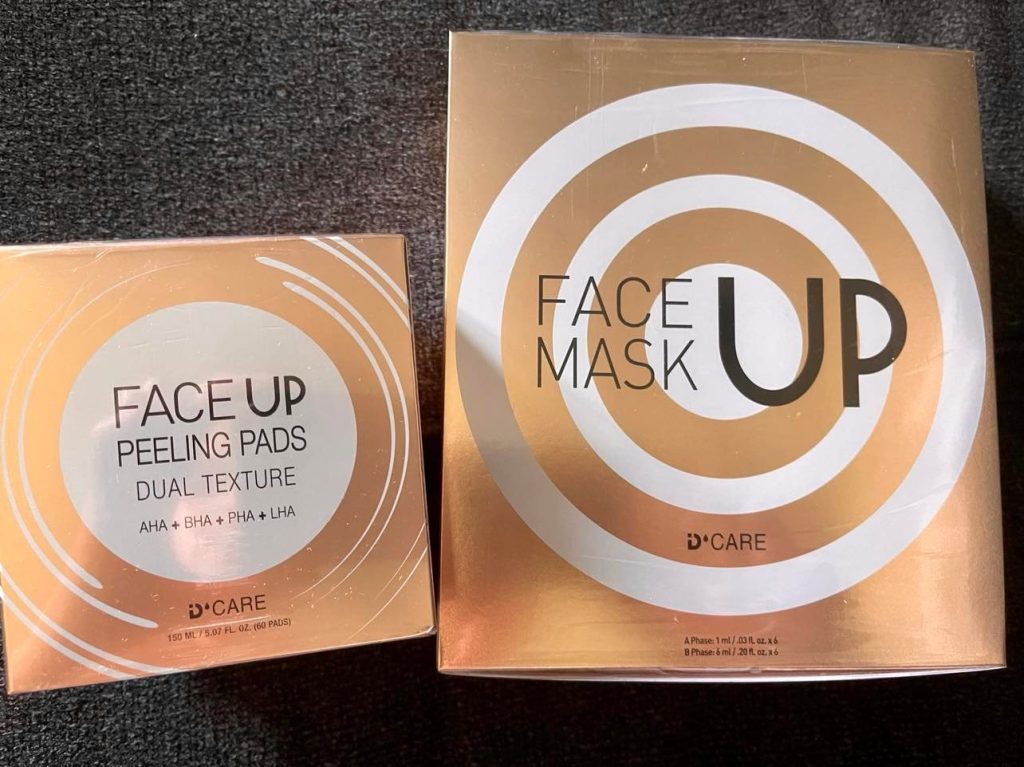 The Anti-aging Peeling Pads work to resurface your skin through exfoliation to lift away dead skin, creating a brighter, smoother, more even skin tone and complexion that is free from blemishes. Face Up Masks and peeling pads are available on Amazon.
Don't let dry winter weather ruin your beautiful complexion! By following these simple tips and using some amazing products, you can achieve healthy, hydrated skin all season long.
Win!
ONE very very very lucky person is going to win the following products: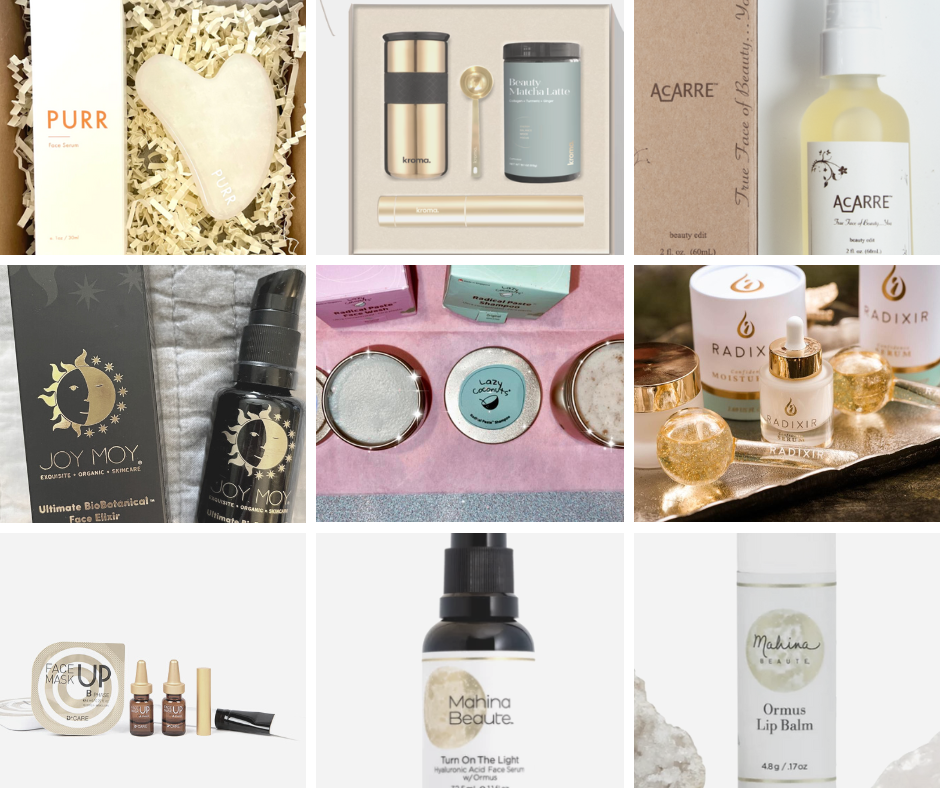 *Radixir Confidence Moisturizer, Radixir Confidence Serum, and Radixir Ice Globes Facial Massager
*Gift box with gua sha and face serum from PURR
*Kroma Wellness Beauty Matcha Starter Kit
*Mahina 1 Turn On The Light face serum and 1 lip balm
*LET'S GET STARTED! Face Up Mask 2Pk
*AcARRE Beauty Multi-Use Bioactive Dry Beauty Oil
*JOY MOY The Ultimate BioBotanical™ Face Elixir
*Lazy Coconuts hair balm and face wash
ARV $750!!
Rules ('cause we gotta have 'em!)
The contest is open to US 18+. The giveaway will end on October 23, 2022, at 11:59 PM MT. The winner will have 48 hours to confirm their win after I email them, or a new winner will be chosen. I am not responsible for lost or stolen mail.
PIN IT