OMG. I am devouring the best, Easy Chicken Enchiladas Recipe ever! And, I made 'em myself! So dang easy! The kids even eat them! What is the recipe, you ask? It is below.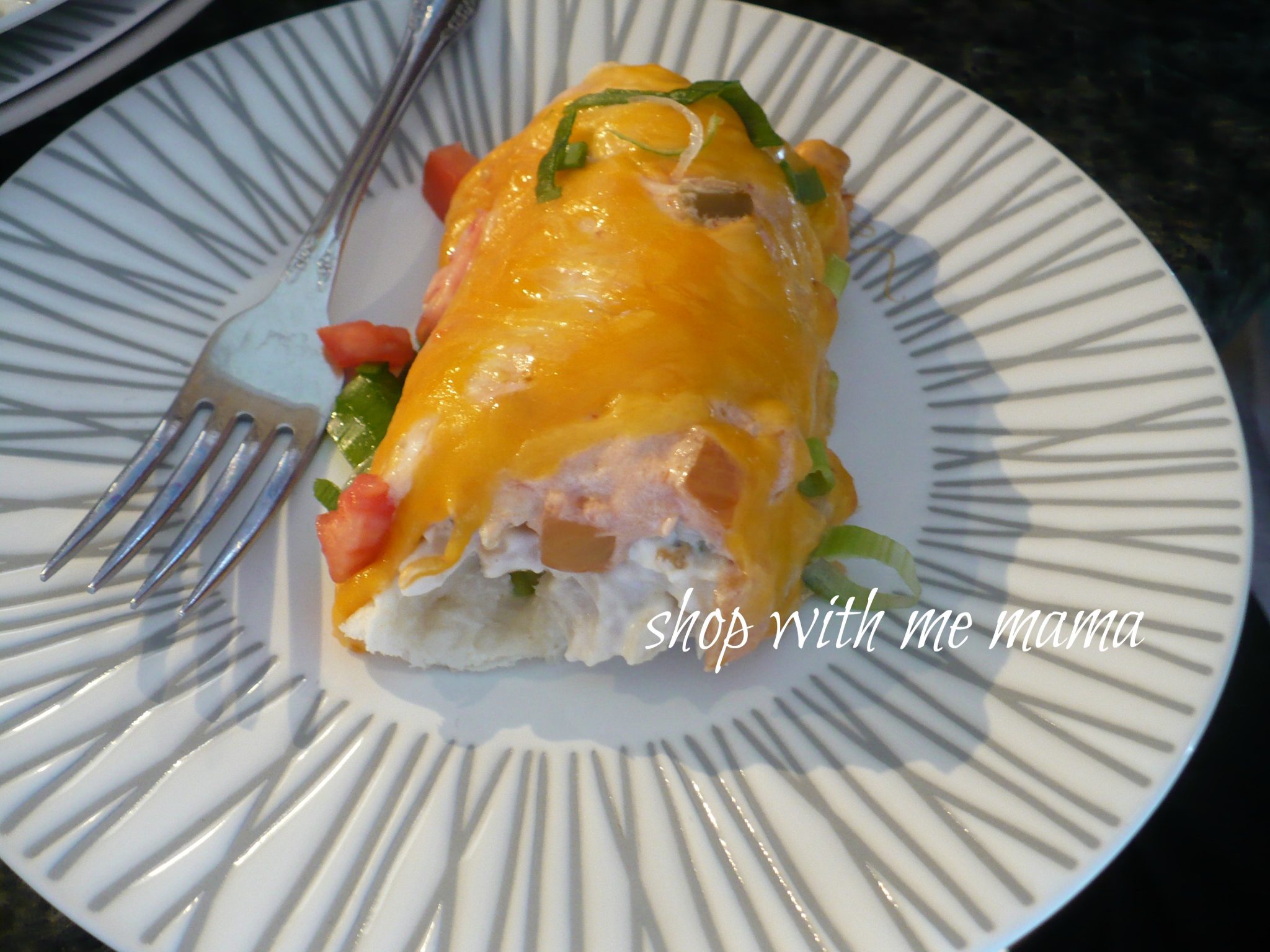 Easy Chicken Enchiladas Recipe
To make this very simple, you need to go to the store and buy an already-cooked rotisserie chicken.
Ingredients:
*cut up a rotisserie chicken and cube it (need two cups)
*8 0z. Package of Cream Cheese
* olives (1/2 large can)
*Shredded Cheddar Cheese (as much as you want)
*Salsa (whatever kind you enjoy)
*Flour tortillas (8-10 smaller ones)
*One cup of sour cream or plain yogurt
*2 Green Onions Chopped
*One Small Tomato Chopped
Preheat oven to 350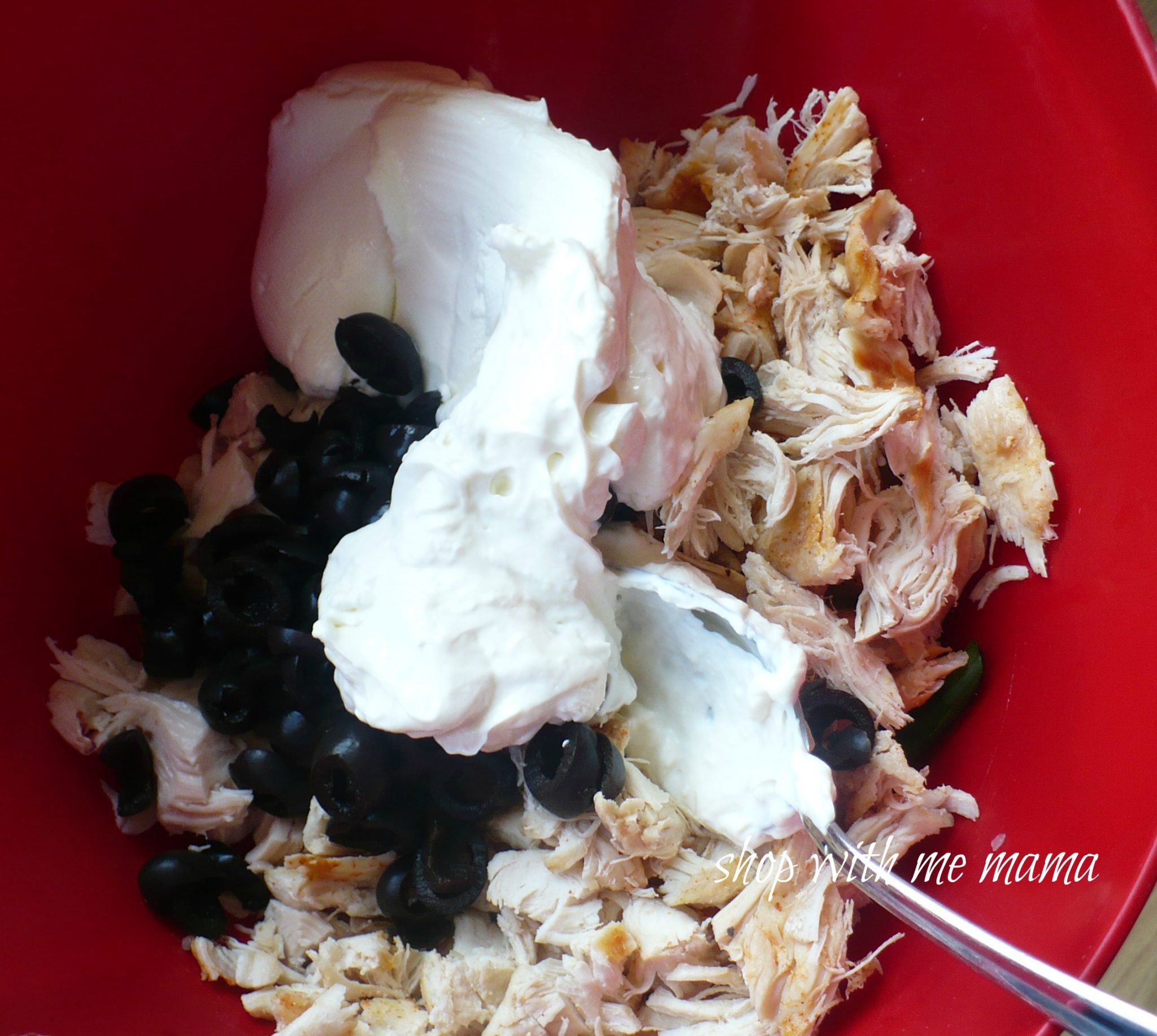 Directions:
*In a bowl, mix the cubed chicken with the cream cheese (soften it in the microwave first to mix easier) and olives
* Lay out the flour tortillas in a 13×9 pan and spoon the mixture into the center of the tortillas
*Fold up the tortillas and put the seam face down in a dish. Next, mix the salsa and sour cream in a bowl and spoon it over the chicken enchiladas
*Put the enchiladas in the oven for 20 minutes, uncovered
*When the timer goes off, put as much shredded cheese on the top as you so desire and cut up olives too. Put back into the oven for 15 minutes
*Take out and add chopped green onions and tomato, let cool, serve, and enjoy!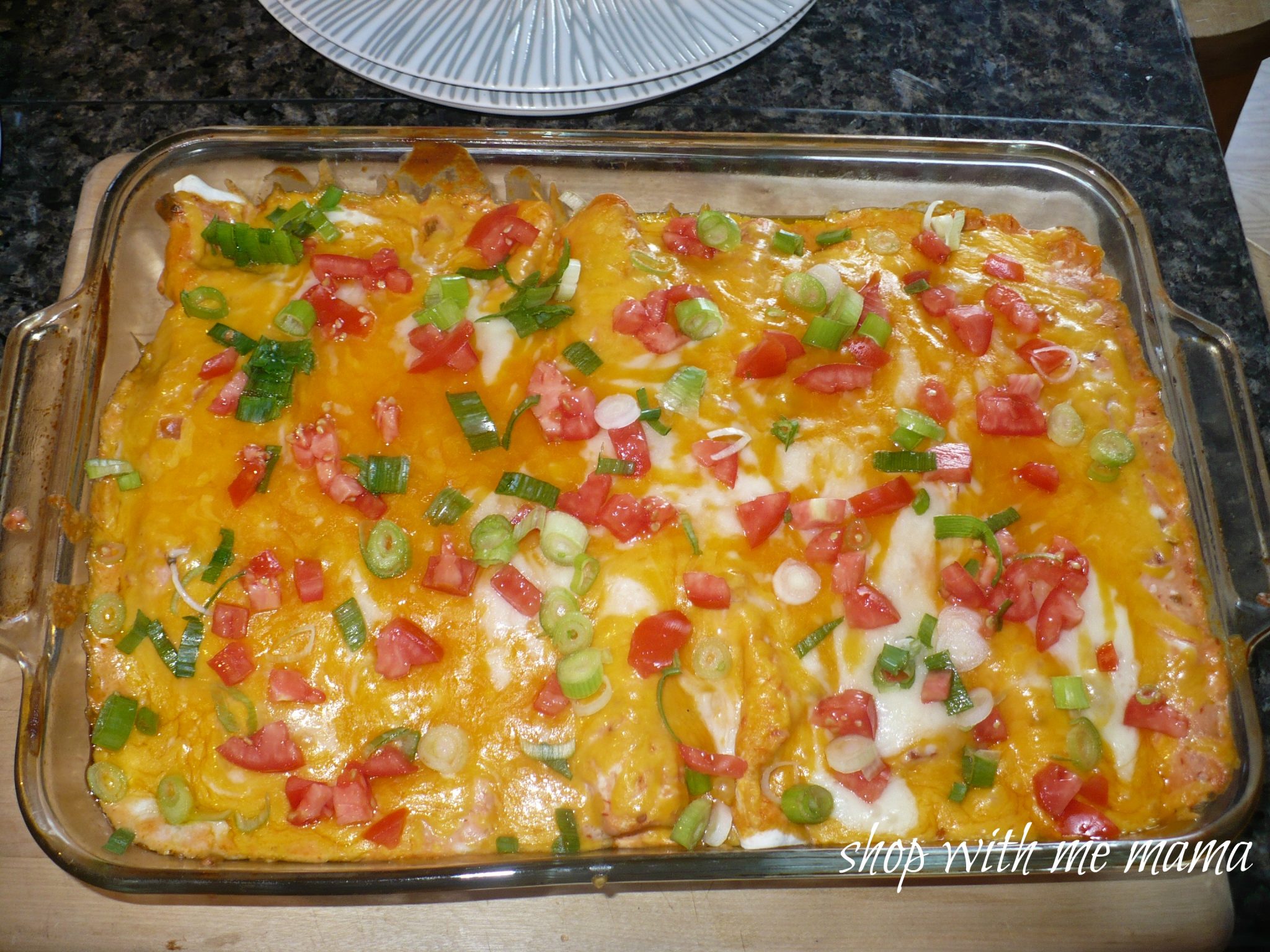 This Easy Chicken Enchiladas Recipe is SUPER easy and sooooo good. They are creamy and I seriously have not had better easy chicken enchiladas (sorry Mom!).
Freeze Leftovers!
If you made too many chicken enchiladas, you can easily freeze them. They freeze really well and when you don't feel like cooking one night, pull these out of the freezer, defrost, and warm up in the oven for a yummy dinner!
More Chicken Recipes!
If you loved this recipe here are a few more chicken recipes for you to make and enjoy:
*Peanut Butter And Ginger Chicken Stir Fry
*Chicken Jalapeno Popper Casserole
*Chicken Dumplings in the Slow Cooker
*Cream Cheese and Chicken Crescent Rolls
How do you like your chicken???
PIN IT!