*Jack Lalanne's Power Juicer Express. Product received. All opinions are mine.
Summertime means eating healthy, homegrown food, right? I mean, if you have a garden you can just go out back and pick your veggies and fruits. My dad has a huge garden every year, and he grows everything!!! Growing up, I LOVED picking those fresh veggies!! Nothing like a fresh tomato right off the vine, sooo good!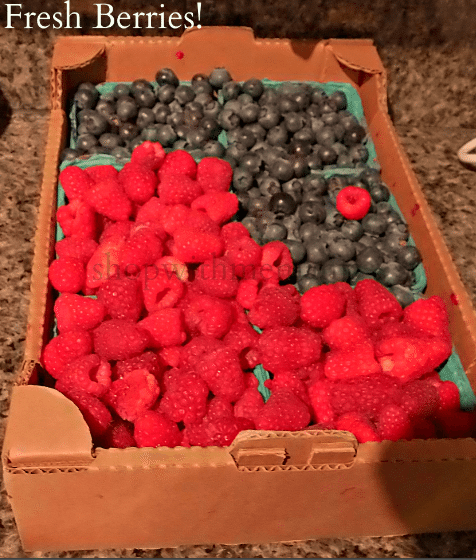 I don't have a garden of my own yet, just not sure where I would put one, but we do go to the farmer's market around here and pick up fresh fruits and veggies and I just LOVE it.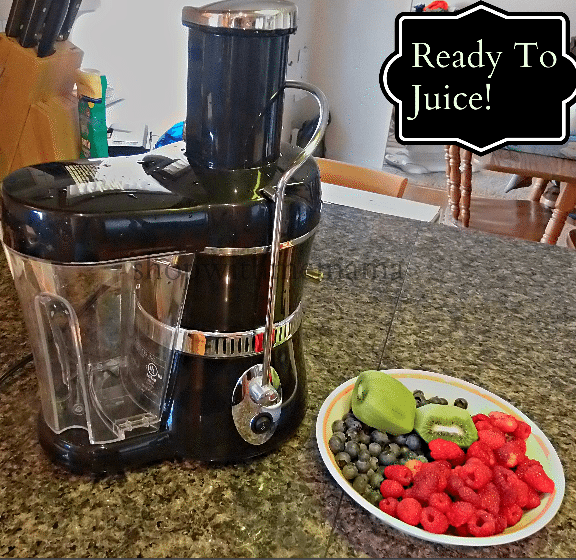 I have always wanted to use a juicer and juice my veggies and fruits. I was always so intrigued hearing about it and seeing what you can do with a juicer. So man was I excited when I was able to review the Jack Lalanne's Power Juicer Express!!!!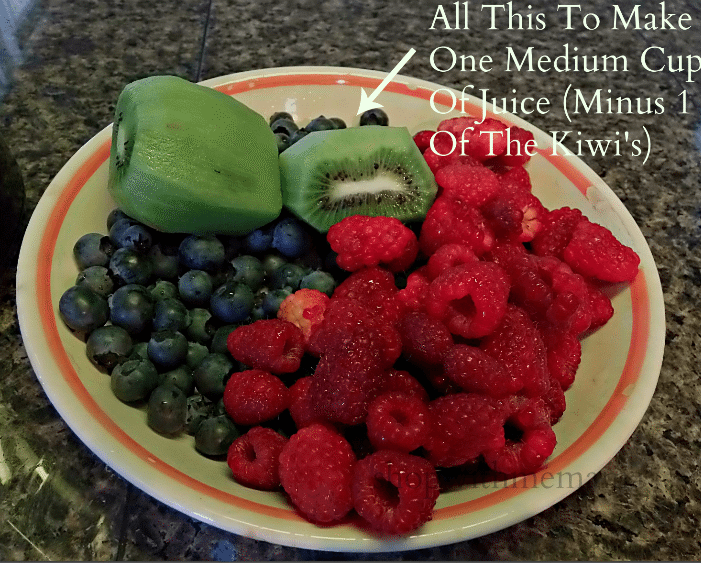 I put this to work the next day! I had my hubby run by the fruit stand on the way home from work so that we could try it out as soon as possible!!
I washed all the parts as suggested and then put it all back together again, which was super easy to do. Once that was done, I peeled my kiwi's and washed my raspberries and blueberries.
Once that was all done, I turned on the machine and waiting for a few seconds, then I started slowly putting in my blueberries and pushing them down SLOWLY with the 'fruit pusher' and slowly but surely some juice came trickling out into my cup!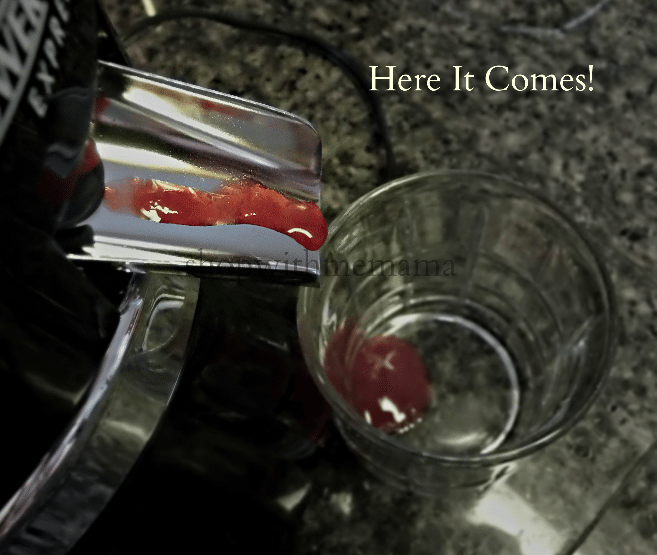 I did the tiny fruits first and then at the end I did the kiwi (bigger fruit) as suggested. They say that once you put in the bigger fruit after doing the little fruits, the juice will just pour out, and it did!
When you are done juicing, let the machine continue running for a minute or so to get everything out and then turn it off. You will hear a sound like a muffled tractor turning off and then it completely stops.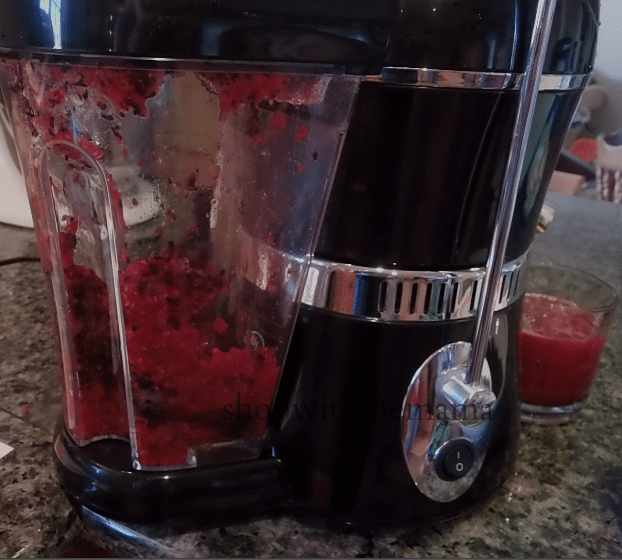 Most all of the raspberries seeds were inside of the 'catcher' part and the skins of the blueberries too! It really did a good job of taking most of the seeds and skins out of the juice.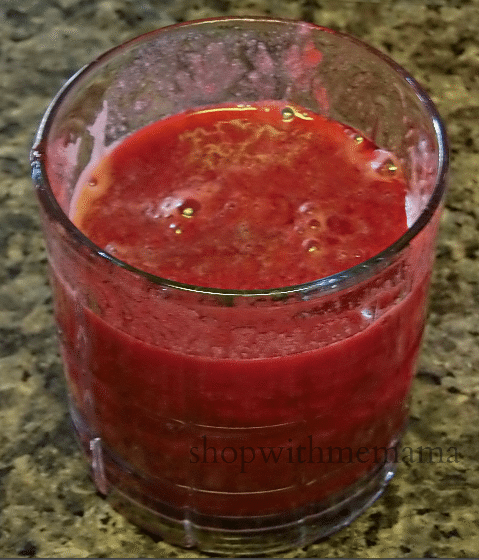 Now we bought ONE flat of berries. We used the WHOLE flat of berries, plus two kiwis, to make TWO medium glasses of juice. I knew it would take a lot of berries or veggies, but did not realize it would take SO much, LOL.
That is why I want to grow my own so that I won't have to worry about the cost of fruits and veggies. At least right now, fruits and veggies are either free (from my dad) or cheaper because of summertime.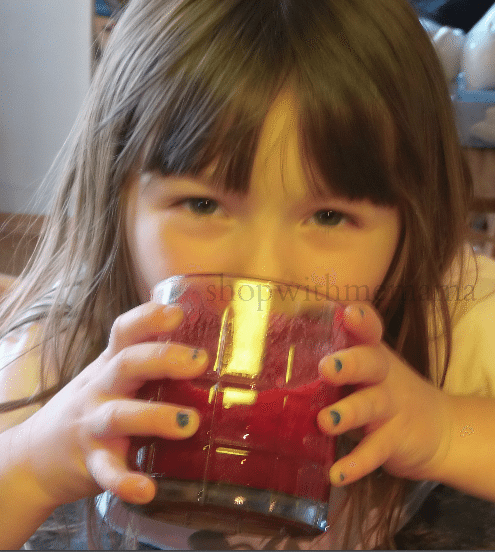 This machine cleans up VERY easily. The only thing that it really could have been hard to clean was when you take the main piece out and you have to clean around the edges. Some of the juices got in there real good and it took me a bit to get it all out. Other than that, parts of it are dishwasher safe and easy to clean and dry.
Jack Lalanne's Power Juicer Express makes up to 30% more than other juicers. It really does squeeze all that juice out!! The juice was very good and refreshing! We all enjoyed those two glasses 😉
Product Features:
Powerful steel blades create fresh juice in seconds.
Extra large feeder fits most fruits and vegetables.
Nondrip spout ensures easy cleanup.
Whisper-quiet stainless steel blades run at 3,600 RPM.
Buy
You can purchase this juicer online at Amazon.com. It retails for $129.99 and comes in black or white.
Have you ever used the Jack Lalanne's Power Juicer Express before?