In this post, we will talk about the awesome Jack Lalanne Juicer Express! We absolutely LOVE it and now we can drink FRESH and HEALTHY juices any time of the year! The Power Juicer Express is a juicer that is designed to quickly and efficiently extract juice from fruits and vegetables. It is a compact and powerful machine that can handle a variety of produce, including hard and soft fruits and vegetables.
I have always wanted to use a juicer and juice my veggies and fruits. I was always so intrigued hearing about it and seeing what you can do with a juicer. So man was I excited when I was able to review Jack Lalanne Power Juicer Express!!!!
We all know that summertime means eating healthy, homegrown food from your garden, right? I mean, if you have a garden you can just go out back and pick your veggies and fruits. My dad has a huge garden every year, and he grows everything!!! Growing up, I LOVED picking those fresh veggies!! Nothing like a fresh tomato right off the vine (I can't count how many times I did that!), sooo good!
*This post includes my affiliate links
Jack Lalanne Juicer Express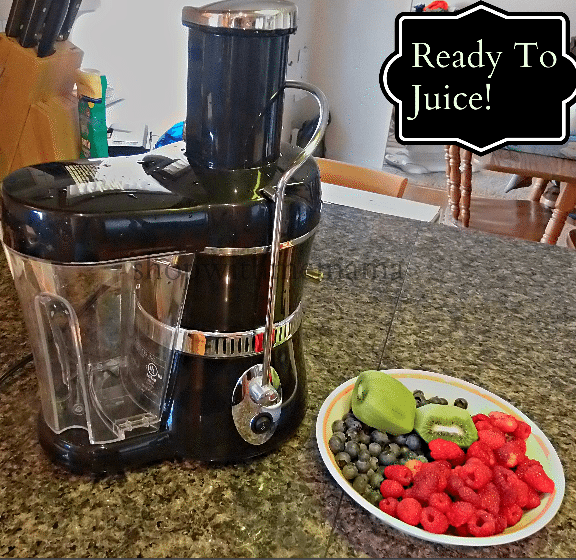 I don't have a garden of my own yet, just not sure where I would put one, but we do go to the farmer's market around here and pick up fresh fruits and veggies or we just run to the grocery store. The price of fruit during the summertime is so much more affordable too than in the fall and wintertime. So, we are going to get our fill of delicious, fresh, and pure juices and I couldn't be more excited!
I put the Jack Lalanne Juicer Express to work the very next day after receiving it in the mail to review. I had my hubby run by the fruit stand on the way home from work so that we could try it out as soon as possible!! I washed all the parts as suggested in my kitchen sink, and then put it all back together again, which was super easy to do. Once that was done, I peeled my kiwis and washed my raspberries and blueberries.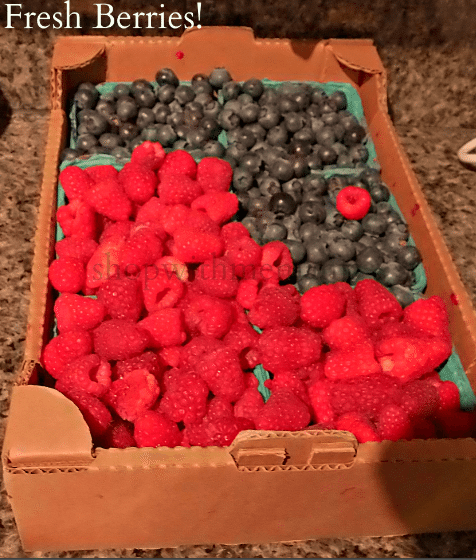 Once everything was washed, I turned on the machine and waited for a few seconds, then I started slowly putting in my blueberries and pushing them down SLOWLY down the chute with the 'fruit pusher', and slowly but surely some juice came trickling out into my cup!
I love that the Power Juicer Express has a large feeding chute. This chute is wide enough to accommodate whole fruits and vegetables, so you don't have to waste time chopping everything up before juicing. This not only saves time but also reduces the amount of prep work you need to do before juicing.
I did the tiny fruits first and then at the end I did the kiwi (bigger fruit) as suggested. They say that once you put in the bigger fruit after doing the little fruits, the juice will just pour out, and it did! It started pouring out pretty quickly so be sure to have your container/s ready!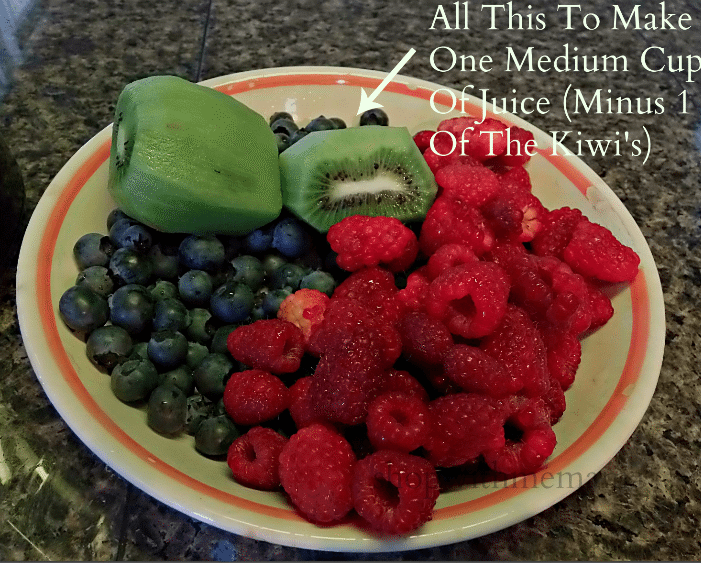 One of the key features of the Power Juicer Express that we love is its high-speed motor. This motor is capable of spinning the juicing blade at speeds of up to 3,600 RPM, which allows it to quickly and easily extract juice from even the toughest produce. The motor is also relatively quiet, so you won't disturb anyone in your household while using it.
When you are done juicing, let the machine continue running for a minute or so to get everything out, and then turn it off. You will hear a sound like a muffled tractor turning off (but certainly not as loud!) and then the Jack Lalanne Juicer express will completely stop and shut off.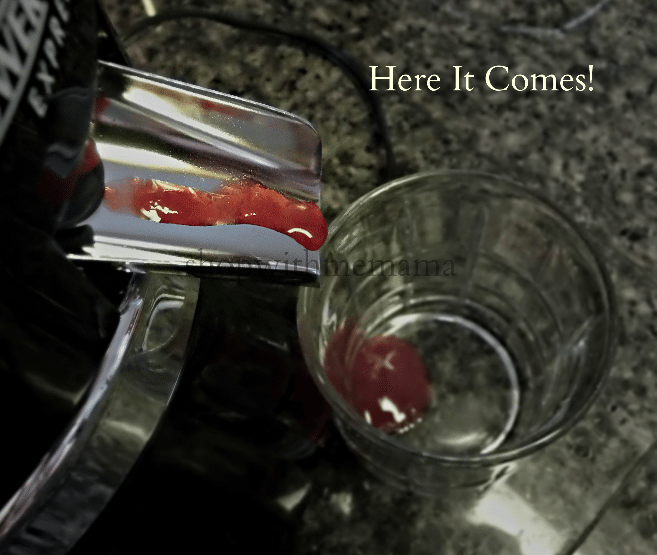 The Power Juicer Express also comes with a pulp collector and a juice pitcher. The pulp collector collects all of the leftover pulp from your juicing, which makes it easy to dispose of later. The juice pitcher, on the other hand, collects all of the fresh juice that you have extracted from your fruits and vegetables. This pitcher has a convenient pouring spout, which makes it easy to transfer the juice to a glass or other container.
Most of the raspberry seeds were inside the pulp collector and the skins of the blueberries too! It really did a good job of taking most of the seeds and skins out of the juice. However, if you want that stuff in your drink, then you can easily scoop it out and add some or all of it to your drink.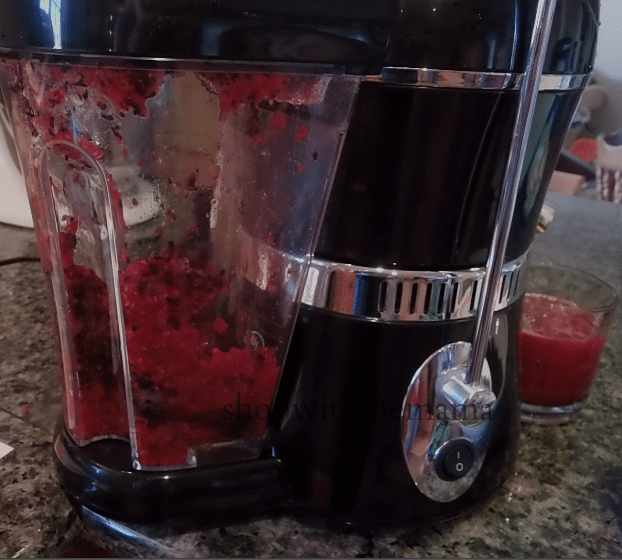 Now we bought ONE flat of berries. We used the WHOLE flat of berries, plus two kiwis, to make TWO medium glasses of juice. I knew it would take a lot of berries or veggies, but did not realize it would take SO much, LOL. But that is okay because as I stated above, the value of fresh fruits is super affordable during the summertime so a flat of berries wasn't going to break the bank. You just need to shop around and find the best deals for fruits in your area.
That is why I want to grow my own so that I won't have to worry about the cost of fruits and veggies during the fall and winter months. At least right now, fruits and veggies are either free (from my dad) or cheaper because of summertime!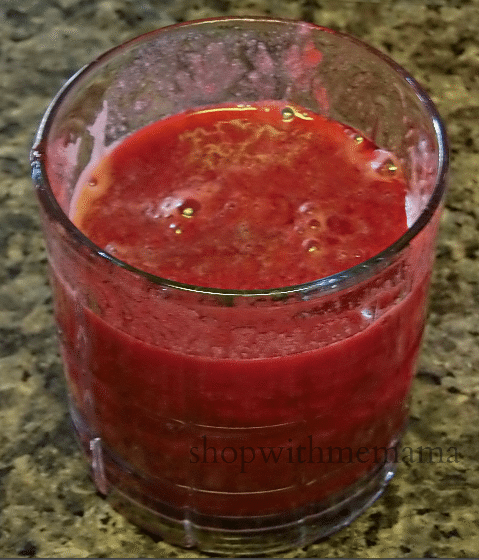 The Power Juicer Express is very versatile. You can use it to make a variety of different juices, including fruit juices, vegetable juices, and even wheatgrass juice. It's also great for making smoothies and other healthy drinks.
This machine cleans up VERY easily. The only thing that really could have been hard to clean was when you take the main piece out and you have to clean around the edges. Some of the juices got in there really well and it took me a bit to get it all out. Other than that, parts of it are dishwasher safe and easy to clean and dry.
Jack Lalanne's Power Juicer Express makes up to 30% more than other juicers. It really does squeeze all that juice out!! The juice was very good and refreshing! We all enjoyed those two glasses 😉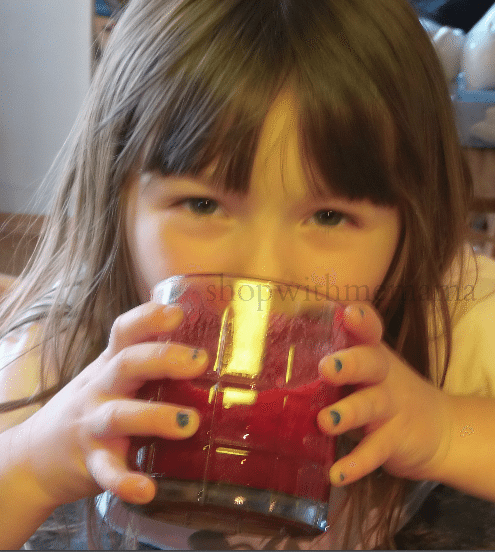 Jack Lalanne Power Juicer Express Product Features:
Powerful steel blades create fresh juice in seconds.
Extra large feeder fits most fruits and vegetables.
The nondrip spout ensures easy cleanup.
Whisper-quiet stainless steel blades (run at 3,600 RPM).
One of the things that set the Power Juicer Express apart from other juicers on the market is its sleek and compact design. This juicer won't take up too much space on your countertop, and it looks great too. It has a modern, clean design that will fit in with any kitchen decor. You can purchase the Jack Lalanne Power Juicer in a couple of different colors I believe. I think it comes in black, white, and stainless steel. I got the black one and love it.
What Is Juicing?
Juicing is a popular method of consuming fruits and vegetables in liquid form. It involves extracting the juice from fruits and vegetables using a juicer, leaving behind the pulp and fiber. While juicing may not be the only way to consume fruits and vegetables, it is a convenient and effective way to increase your intake of these nutrient-dense foods.
Why Should You Try Juicing?
Here are some reasons why juicing is healthy for you:
Provides a concentrated source of nutrients: Juicing provides a concentrated source of vitamins, minerals, and other beneficial plant compounds that are found in fruits and vegetables. By extracting the juice, you can consume a larger quantity of these nutrients in a single serving than you would be able to consume by eating whole fruits and vegetables.
Increases absorption of nutrients: Juicing can help increase the absorption of nutrients from fruits and vegetables. When you consume whole fruits and vegetables, some of the nutrients are bound to the fiber and may not be fully absorbed by the body. Juicing removes the fiber, allowing the body to more easily absorb the nutrients.
Supports hydration: Juicing can help support hydration by providing a source of fluid that is rich in nutrients. Many fruits and vegetables are also high in water content, which can help support hydration levels in the body.
May support weight loss: Juicing can be a healthy addition to a weight loss plan. By consuming a nutrient-dense juice in place of a high-calorie snack or meal, you can reduce your overall calorie intake while still providing your body with the nutrients it needs.
May improve digestion: Juicing can be helpful for individuals who have difficulty digesting fiber-rich foods. By removing the fiber, the digestive system may be able to more easily process the nutrients in the juice more.
Note: It's important to note that juicing should not be used as a replacement for whole fruits and vegetables in the diet. Whole fruits and vegetables contain important fiber that is not found in juice. A balanced and varied diet that includes both whole fruits and vegetables and fresh juices can provide a wide range of nutrients and support overall health and wellness.
Who Was Jack Lalanne???
I thought it was important to add to this article and tell you a bit about Jack Lalanne and who he was! After all, he created this amazing juicer you are so interested in learning more about (or you wouldn't be reading this blog post!)!
Jack Lalanne was a pioneer in the world of health and fitness. He was known as the "Godfather of Fitness" and was a strong advocate for healthy living. He believed that a healthy body and mind were essential for a happy life, and he worked tirelessly to spread this message to the masses. One of his most well-known contributions to the health and wellness world was his invention of the Power Juicer Express!
One of the things that Jack Lalanne was passionate about was promoting healthy living. He believed that juicing was one of the best ways to get all of the essential nutrients that your body needs. With the Power Juicer Express, you can easily incorporate more fruits and vegetables into your diet. Juicing is a great way to get all of the vitamins, minerals, and antioxidants that your body needs to stay healthy and strong.
In conclusion, the Jack Lalanne Juicer Express is a great investment for anyone who is looking to improve their health and wellness. It's a powerful and efficient machine that can handle a variety of produce, and it's easy to use and fairly easy to clean. Plus, it's designed to look great on your countertop.
With the Jack Lalanne Power Juicer Express, you can easily incorporate more fruits and vegetables into your diet, which will help you feel healthier and more energized. If you're looking for a high-quality juicer that won't break the bank, the Power Juicer Express is definitely worth considering.
Buy
You can purchase this juicer online at Amazon.com. It retails for $299.88.
Have you ever used the Jack Lalanne's Power Juicer Express before?